Deal dynamics
As M&A continued its global bull run in 2015, savvy corporations and private equity firms took steps to seize boom-time opportunities and set themselves up for the next market cycle.
US M&A sets new record for value
The overall value of US M&A rose to US$1.98 trillion in 2015, up 41 percent compared with 2014 and surpassing the previous record set in the pre-crisis days of 2006. Indeed, US M&A's total share of global M&A value was 46 percent, the largest since 2001.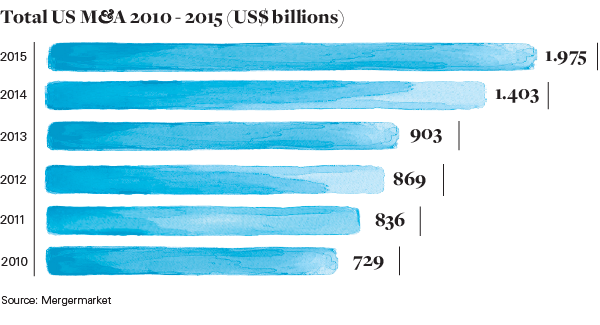 The market was dominated by megadeals, many of which were concentrated in sectors such as pharmaceuticals, medical and biotechnology, and technology, media and telecommunications. But while value surged, volume slowed. The year's final deal count stood at 4,819, down 8 percent from 2014.
One of the major stories of 2015 was the prevalence of Asian players showing a significant interest in US assets. Japan was the third most acquisitive country by volume after Canada and the United Kingdom, accounting for 69 deals, which put it just ahead of China.
Private equity exit value reached US$200 billion in 2015, but both exit value and volume were down compared to 2014. The value of private equity buyouts surged in the second half of the year, bringing the overall value of buyouts to US$190 billion, surpassing 2014 value. However, the number of buyouts as a share of total US M&A fell to 18.2 percent in 2015, the lowest level since 2009.
Although many of the trends that drove activity in recent years are continuing in 2016, there are also many reasons to look forward with caution. But whatever the future holds, 2015 was a year for the record books.
Bigger M&A deals meet stricter merger controls
During the first nine months of 2015, more than one-third of global M&A activity comprised deals worth US$10 billion or more, which is not surprising in a time of business globalization. At the same time, however, the international regulatory environment is growing more restrictive.
Since the 2007 M&A boom, new merger control regimes have proliferated across the globe, leading to heightened execution risk for big cross-border deals. National governments now scrutinize the impact of foreign acquisitions on local jobs, economies and national security. Such regulatory and political risk can cause unprepared parties to withdraw from a transaction, or force them to rethink the deal and make disposals that could undermine the deal's original strategic logic.
To navigate the stricter regimes, companies need legal counsel to identify the jurisdictions where an antitrust filing is required, become familiar with each jurisdiction's precedents and processes, and predict how their deal is likely to be assessed and whether they may need to plan for concessions. Frequent contact with regulators also helps to prevent surprises in timing and process. And extra care taken during document production can supply supporting evidence to allay regulators' concerns.
With ongoing growth in both global M&A activity and merger control stringency projected for 2016, mega-acquirers that nurture a deep understanding of the new regulatory world order stand the best chance of M&A success.
Private equity firms face antitrust fire
In the past, private equity firms typically viewed themselves as arm's-length financial investors in their portfolio companies and, therefore, not liable for their portfolio companies' wrongdoings. But a new trend has arisen where competition regulators are holding them responsible for the behavior of their portfolio companies, even when the portfolio company is not owned fully by the private equity firm.
In April 2014, a new type of cartel fine emerged for the first time in Europe, when a group of private equity investors were fined more than €30 million for the behavior of their portfolio companies. In the wake of this and other similar enforcement proceedings, private equity companies need to be aware of the potentially costly risks involved in purchasing a portfolio company. The European Commission (EC) may impose fines of up to 10 percent of the worldwide turnover of the entire private equity group for the actions of one portfolio company. And the EC can increase a fine by 100 percent for each prior infringement of any entity in the portfolio, with no time limit.
The risk of acquiring a portfolio company can be mitigated by taking the right steps. Due diligence covering horizontal and vertical behavior and abuse of dominance by the portfolio company can identify illegal conduct. This allows steps to be taken to reduce the risk that a private equity firm will be tied to the company's pre-acquisition behavior and be held responsible for activities in which it played no part. The purchase agreement should provide warranties covering any ongoing litigation and conduct discovered during the due diligence that could give rise to litigation, as well as pre-closing conduct uncovered after closing. Finally, private equity firms should set up post-acquisition compliance programs for acquired companies, particularly where the due diligence process has shown inappropriate conduct or simply risky patterns.