Infrastructure catalysts
The need for infrastructure is becoming increasingly urgent worldwide, as emerging markets strive to catch up and developed markets endeavor to keep up in critical sectors such as energy, telecommunications and transportation.
Investors reject myths and embrace project bonds
The bond market is now well established in project finance, despite the fact that the global value of project bonds fell in 2015, following two consecutive years of record highs in 2013 and 2014. Indeed, many of the reasons that investors have historically cited for not using project bonds have been exposed as myths, including the following:
Myth: Completion risk is a deal killer. In sectors where it is already customary to do so, bond investors actually will bear some of the risk of project overruns. Many are also willing to assume completion risk when interest rates are attractive, issuers routinely offer mitigation measures and credit enhancements, and project documentation reduces construction risk.
Myth: Getting consents and waivers is impossible. In fact, project bond covenants are usually more flexible than loan covenants, reducing the need for consents and waivers from large numbers of bondholders in routine matters.
Myth: Project bonds need an investment-grade rating. Despite liquidity and pricing challenges, many high yield, non-investment-grade project bonds have been issued successfully, especially in the private placement market.
Myth: Export credit agencies (ECAs) and bondholders have trouble coexisting. Because ECAs and bondholders would have conflicting objectives in an enforcement action, some believe that ECAs will not co-lend with bondholders. But many ECAs now regard project bonds as an attractive source of alternative capital.
The power of these myths will continue to diminish as more investors from around the world use project bonds to finance large capital projects.
Japan poised to lead Asian infrastructure development
Japan is well positioned to help alleviate Asia's ballooning infrastructure gap, now forecast to reach US$8 trillion by 2020. Japanese sponsors and lenders are already major players in infrastructure development across Asia, but they have the potential to significantly expand their role while boosting economic growth at home.
In 2015, the Japanese government pledged to invest US$110 billion in Asian infrastructure projects over the next five years, and pending legislation would empower the government-owned Japan Bank for International Cooperation to invest in relatively high-risk infrastructure projects in the region.
However, since the financial crisis, increased regulation on Japanese and other global lenders may limit the level of investment that megabanks can commit to, particularly in the relatively high-risk developing Asian economies most in need of infrastructure investment. To continue investing within these constraints, Japanese megabanks may need to partner with other Japanese banks that have substantial cash reserves available for increasing project capital, including regional banks and trust banks.
Japan has an advantage because many Japanese companies have been active throughout the region for decades and already have strong relationships with local partners. As those local companies increasingly shift their focus overseas in pursuit of returns that are not available in their home markets, the opportunities for partnership with Japanese lenders and sponsors are likely to increase.
Coal's changing role generates investor opportunity
Coal-fired power plants still produce nearly 40 percent of the electricity generated in the United States. But a number of factors could push coal's market share down to about 25 percent by 2030. These include increasing emissions regulations; a steady drop in the cost of cleaner alternatives to coal; and falling demand for power from traditional generators due to the rise of distributed generation and demand response technologies.
The final version of the US Clean Power Plan (CPP), unveiled by the Environmental Protection Agency in 2015, presents a particular challenge for coal-fired generators. Plants fueled by natural gas, which is cheaper and cleaner than coal, will take significant market share, as will renewables. The CPP's target 2030 fuel mix puts gas in front with 31 percent, leaving equal shares of 25 percent to coal and renewables.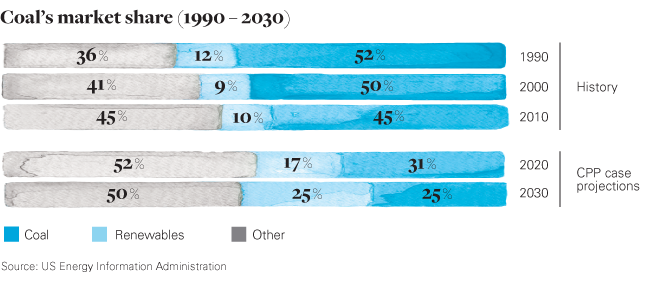 Changing fuel dynamics will force some coal-fired plants to close shop; most others will have to either retrofit to lower their emissions or convert to natural gas. Investors monitoring these developments may discover that there are many opportunities to help generators navigate this new environment.