Market snapshots
Countries and companies facing thresholds of opportunity or challenge are taking innovative steps to shape their futures for success.
Japan makes strides in corporate governance
Reforms that came into effect in 2015 will improve corporate governance in Japan while facilitating profitable growth for Japanese companies. Amendments made to the Company Law require reporting companies to appoint at least one outside director or explain why that is not possible. Traditionally, directors of big Japanese companies were promoted from senior management positions; independent directors often are better positioned to speak up about unrecognized or neglected risks and opportunities.
The Japan Exchange Group (the successor to the Tokyo Stock Exchange) also created a Corporate Governance Code. The new Code calls on (but does not require) listed companies to appoint at least two independent outside directors. It also requires companies to develop and disclose policies regarding crossholdings—with the objective of reducing crossholdings, which can cause conflicts of interest and negatively affect economic incentives.
These developments, which build on reforms implemented via the Stewardship Code in 2014, advance Prime Minister Abe's ambitions to:
Deepen engagement between stockholders and corporate management
Increase the number of outside, independent directors on boards
Facilitate disposal of cross-shareholdings by corporations and "policy stockholdings" by banks
Reposition the investment strategy of the Government Pension Investment Fund
Increase transparency in reporting
Outcomes ultimately depend on how reforms are implemented, but market participants now have the tools to bring about significant changes that could lead to better corporate performance in Japan.
Financial sponsors emerge as big players in European financial institutions M&A market
As market data and the results of the White & Case 2015 FIG M&A Survey show, the volume and value of financial sponsor investments in European financial institutions have increased dramatically since the 2008 banking crisis. New regulations and the reorganization of bank balance sheets have created a rich source of deal flow during an extended period when strategic players have withdrawn from the M&A market.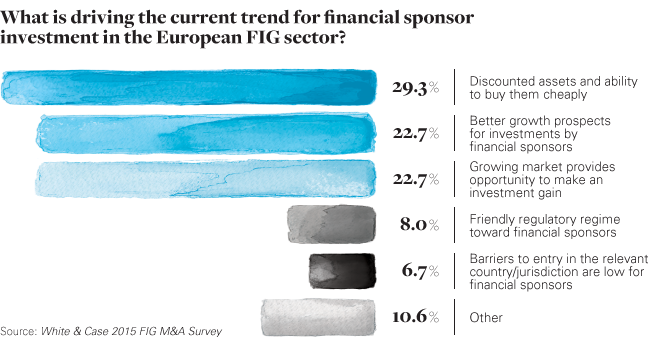 Although strategic players are beginning to return, opportunities for financial sponsors in the European financial institutions M&A market will continue to evolve over the next few years.
Financial sponsors have proven themselves highly adept at managing the complexity that comes with investing in financial institutions
In fintech, the disruption in the financial services industry caused by technological advances has created fertile ground for financial sponsors who excel at promoting innovation and investing in new untested technologies
Bank restructuring still has a long way to go before the market settles. Savvy investors will continue to find opportunities in the disruption
Stress-test pressure on European banks will spark a wave of non-performing loan (NPL) sell-offs across Europe as banks shore up their balance sheets. NPLs (and the services associated with them) offer alternative investors an attractive point of entry that may be overlooked by strategic players
One thing is certain: While the interest in financial services M&A by financial sponsors is a new trend, it is very much here to stay.
South Korea thrives on the world stage
With an expected GDP of US$1.448 trillion in 2015, South Korea is Asia's fourth-largest economy and the twelfth in the world, and also one of Asia's largest outbound investors. With exports making up half of its GDP, it is an export-driven economy. "South Korean companies are some of the most industrious and proactive in the world when it comes to expanding into new markets," says James Lee, Head of White & Case's Korea practice.
South Korea is making big strides globally with infrastructure financing, as both state-owned agencies and the private sector fuel new investment in major ventures. As a country lacking domestic natural resources, South Korea once emphasized projects in areas such as oil and gas, and steel production. But with commodity prices falling, financing institutions are moving toward power and infrastructure assets.
Meanwhile, South Korea is a top destination for foreign investment, with a target of closing 2015 with a record US$20 billion inflow of direct investments. A 2015 World Bank report ranks it as the fifth-easiest country in the world for companies to conduct business.
As outward investment grows, South Korean companies face more disputes. For complex cross-border projects, they are resorting more to international arbitrations. Outward investment also means that large South Korean companies have been targets of numerous US consumer class action lawsuits. International antitrust enforcements are also on the rise, and South Korean companies are not exempt from this regulatory crackdown. But taking proactive steps can reduce the risks.
To foster continued growth, the government plans to implement a "paradigm shift," fostering creativity and innovation in a quest to build a knowledge-based economy, and it is pushing forward a program of reforms.