For more than 40 years, White & Case lawyers have guided clients investing and doing business on the African continent. The first international law firm to open an office in South Africa, we have advised clients on legal matters involving almost all 54 African countries.
Clients value our intimate knowledge of Africa's markets to navigate with confidence the diverse—and at times, challenging—economic and regulatory conditions across Africa.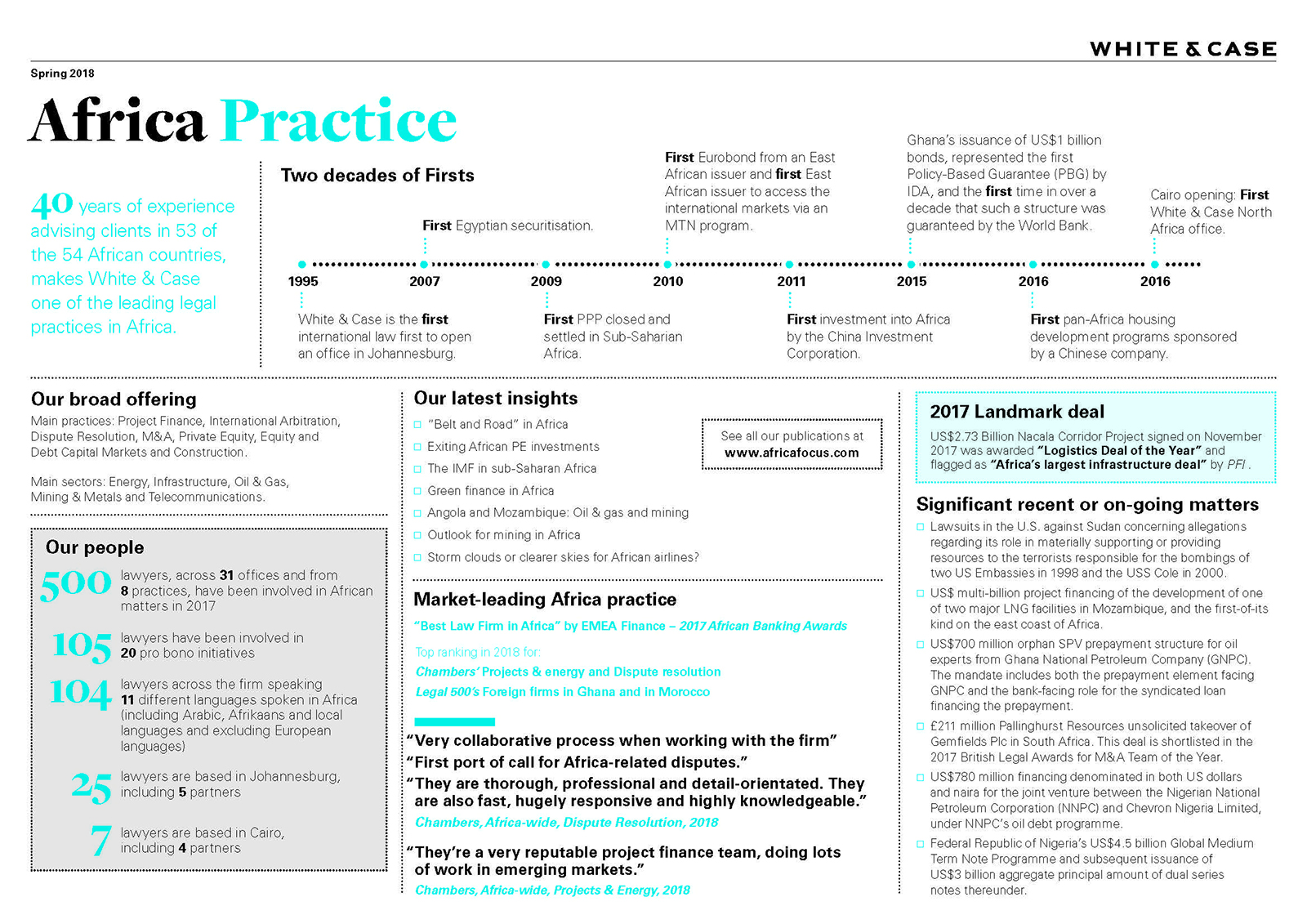 Africa Focus Reports
Visit our Spring 2018 edition of Africa Focus
Visit our Autumn 2017 edition of Africa Focus
Substantial global resources, local presence, major transactions
Our teams of lawyers in Johannesburg, London, Paris, New York, Cairo, Beijing, Washington, DC, São Paulo and the United Arab Emirates serve clients across Anglophone, Francophone and Lusophone Africa on some of the largest matters in Africa, especially:
Infrastructure and Project Finance
Our clients have led some of the most significant infrastructure projects in Africa, including largest and first-of-a-kind rail, airport, road and motorway, bridge, tunnel, port, water, waste, education, health and defense projects. Read more:
M&A and Private equity
Financial institutions
Our bank finance and capital markets teams have a powerful track record of advising banks, financial institutions, companies and sovereigns on transactions involving all major financial markets in Africa. Read more:
Dispute resolution
Mining and metals
Whether acquiring a portfolio of mining properties in Africa, looking to develop a bankable structure for a challenging mining project, negotiating concession terms with a host government, rebalancing your capital structure or bringing a mining company to the capital markets, we have the depth of resources to make this happen.
Oil and gas
Our worldwide team of dedicated lawyers with a deep understanding of all aspects of the oil and gas sector has developed enduring and wide-ranging relationships with sector participants across the hydrocarbon value chain in Africa.
Capital markets
No other international law firm can match our record for African securities transactions, including 90 percent of the public eurobonds issued by sub-Saharan African sovereigns (excluding South Africa) that have successfully come to the market since 2007.
Power
Clients benefit from our experience with all types of power generation plants—fossil fuel, wind, solar, hydroelectric, geothermal, biomass or nuclear—particularly in Africa, where power remains a critical factor in economic development.
Telecommunications
Our lawyers have advised governments, regulatory bodies and telecommunications operators on telecommunications-related transactions, financings and disputes in virtually every country in Africa.
Awards and Recognition
Best Project Finance Law Firm
EMEA Finance Magazine Awards 2016
Construction Team of the Year
African Legal Awards 2016
Airport Finance Law Firm of the Year
Global Transport Finance 2015
Power Deal of the Year: Middle East & Africa
Project Finance International 2016
Tier 1: Ghana, Morocco
The Legal 500 2017
Subscribe