Why join us?
High-profile client projects, nuanced local market knowledge and global capabilities define who we are. As a graduate, you'll work on challenging, sophisticated and complex cross-border matters across both the developed and fast-growth markets where rules are still being made (often with our help). You'll be an integral member of our team and will have genuine responsibility early on in your career.
Our teams in Melbourne and Sydney work with clients in every state of Australia and across the globe on all aspects of the energy, infrastructure and mining & metals sectors, and on high-profile public market and private equity M&A transactions. We offer clients legal services throughout the full life cycle of their projects, including environment and planning, project structuring, project development, project finance, corporate advice, M&A, litigation and arbitration.
Download our global recruitment brochure to learn more.
Our work
Over the past 100 years, we've built an unrivalled network of 44 offices in 30 countries. That investment is the foundation for White & Case's client work in 180 countries today.
Many White & Case clients are multinational organisations with complex needs that require the involvement of multiple Firm offices. Our reputation is built on an ability to execute tough deals in challenging places, whether at the highest levels of global corporate life, in transitioning markets or across our London-New York axis.
Our teams in Melbourne and Sydney work with clients across the Asia-Pacific region and around the globe on all aspects of the energy, infrastructure and mining & metals sectors, and on high-profile public market and private equity M&A transactions.
We offer clients legal services throughout the full life cycle of their projects, including environment & planning, project structuring, project development, project finance, corporate advice, M&A, litigation and arbitration. We are proud of our achievements—global revenue of more than US$2.185 billion, three practices rated Band 1 in Chambers Global, top ranked for diversity and pro bono programs.
In Australia, we are ranked Tier 1 by The Legal 500 for Project Development and Project Finance, and in the wider Asia-Pacific region; and ranked 1st by deal value for Asia Pacific Infrastructure Finance by IJGlobal in their 2019 League Table
Citizens of the world
Global Citizenship
Global Citizenship describes our role—as a business and as individuals—as active participants in the global community.
White & Case is committed to fair and ethical operations that respect the interests of our stakeholders and recognise the importance of our natural environment. All of our global citizenship activities, which include our pro bono work and environmental sustainability, are closely aligned with the UN's Sustainable Development Goals.
Pro Bono
Our global Pro Bono practice is the centerpiece of our community engagement activities. Last year, lawyers in all our offices and in every practice devoted more than 140,000 hours to pro bono matters.
As a graduate in Australia, you will have unparalleled opportunities to do cutting-edge pro bono work on the issues that matter most to you—both locally and cross-border—with many of the world's leading NGOs.
Approximately 60 percent of our pro bono matters help strengthen human rights around the world. We expect every lawyer to complete a minimum of 20 pro bono hours each year.
Examples of Australia pro bono projects:
Justice Connect – Support for Domestic Building Legal Service
Structuring advice for foreign not-for-profit organisations entering Australia
World Bank – Benchmarking infrastructure project
Creating a disaster risk management law index for the International Red Cross
Corporate and structuring advice for charities operating in Australia, such as the Motor Neurone Disease Association of NSW
Reviewing and updating legal compliance registers for the Western Region Centre Against Sexual Assault
Diversity and Inclusion
We say that diversity is in our DNA. Diversity and inclusion are inherent core values for us, embedded in all we do in our offices around the world.
We are naturally diverse because of the work we do, the locations we're in and the type of people and clients we attract. At White & Case, we promote equality at work and an inclusive culture by supporting employee-led diversity networks, flexible working and an open office environment. Our Australia offices host a number of events each year for employees and clients that support our Global Women's Initiative and other global affinity groups such as LGBT+.
I wanted to be a part of a global firm — a firm that could give me opportunities to travel, to work on cross-border matters and with international clients.
Chenez Dyer Bray
Associate, Melbourne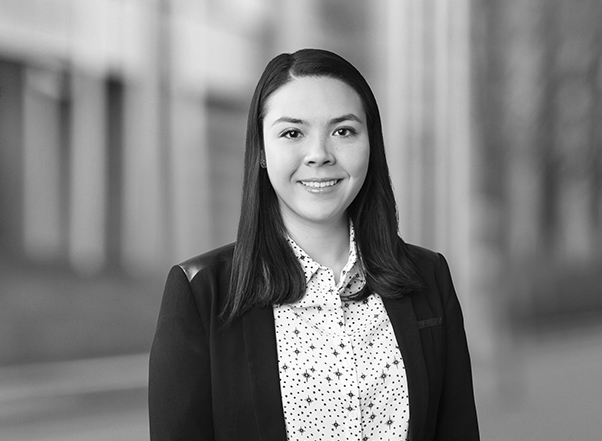 White & Case is the best place to start your legal career given the incredible training and learning opportunities offered by the team in Australia.
Kevin Chen
Associate, Sydney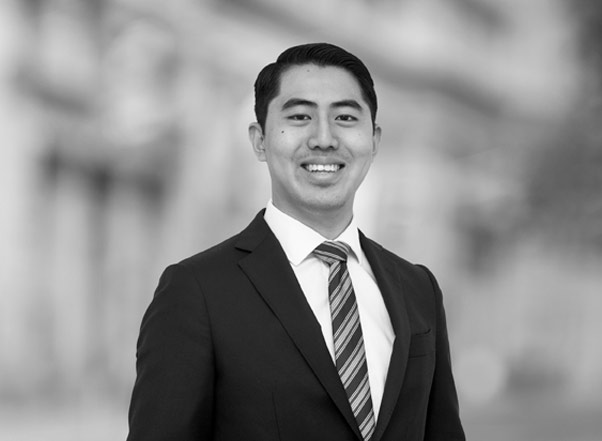 You can really tell that White & Case has made a concerted effort to hire team members that are diverse, get along and enjoy spending time together.
Jessie Huynh
Associate, Melbourne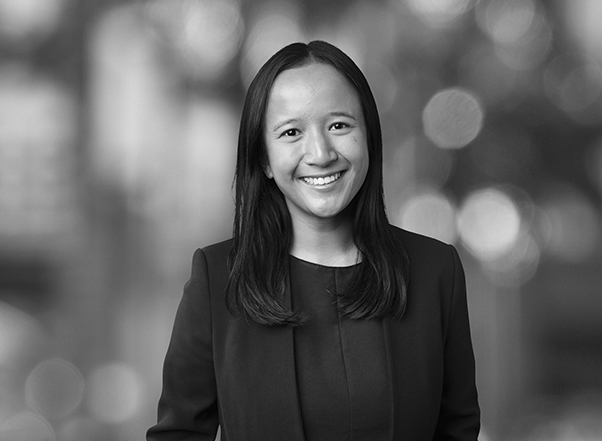 White & Case provides great mentoring and training, and has everything a new lawyer needs to excel in their career.
Yushu Xie
Associate, Melbourne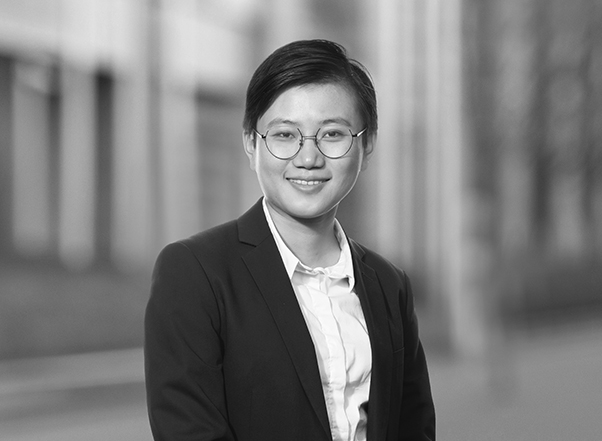 Most of the matters I've worked on have involved other offices—including New York, London, Riyadh and South Africa -—and this has been a great way to work with other lawyers in the Firm.
Ruveena Kaliannan
Associate, Melbourne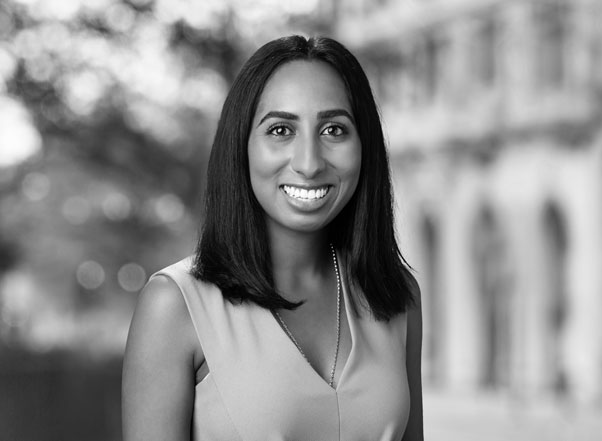 I've been lucky enough to assist in multiple headline-making deals for both the M&A and Asset Finance teams.
Justin Chang
Associate, Melbourne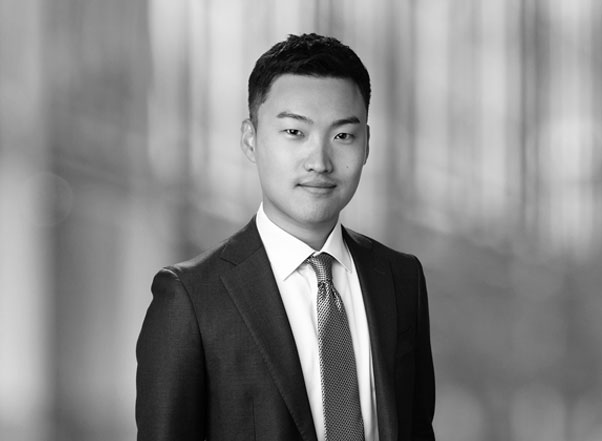 Join us
If you're thinking seriously about a career in law, it's vital you join a firm that feels right. That's why we offer a virtual learning platform and vacation clerkships—so you can find out if White & Case is the right fit for you.
Many of our previous participants find that these immersive experiences help them not only decide on the right career choice and firm, but also build friendships and start to build their professional networks too.
Explore the many different opportunities we provide so you can learn more about our Firm and the work we do.
Virtual learning platform
Our virtual learning platform offers the opportunity to gain first-hand insight into life as a White & Case graduate and experience the realities of cross-border law. There is no cost for the program; it is self-paced to fit around your schedule, and no application form or legal knowledge is required.
You'll gain insight into the fast-paced cutting-edge projects our lawyers and graduates work on, and gain valuable skills by undertaking true-to-life legal tasks. This experience will be recognised on our application forms, and it is a great way to demonstrate your interest in law and White & Case.
Wherever you are based, we want to give everyone the opportunity to get to know us. If you're globally minded and ambitious, join one of our virtual experience programs:
APAC program launching soon.
Vacation clerkships
A vacation clerkship is a great way to experience first-hand what life is like as a White & Case graduate.
You'll be welcomed into our team, where you'll undertake a number of meaningful and challenging tasks. You'll have the opportunity to attend client meetings, work on pro bono matters and broaden your understanding of the life cycle of the deals that your team is working on.
There will be opportunities to learn about our global Firm, our Australia and Asia-Pacific practice areas in more detail, and understand the graduate program we offer. Throughout the clerkship, you will work closely with your Supervisor (a partner), a Mentor (an associate), and a Buddy (a junior associate or current graduate), who will provide you with assistance, advice, and both formal and informal feedback. Additionally, in-house training and events will allow you to better understand the work we do and the service we offer to our clients.
The social side of Firm life is important, and you will have plenty of opportunities to play an active part in our Melbourne or Sydney offices by participating in office-wide social or sporting events—a great chance to get to know our small and engaged team on a more informal level
Vacation clerkship opportunities 2020 – 2021
We want to provide a number of opportunities for potential graduates to experience White & Case, so we offer summer and winter clerkships in our Melbourne and Sydney offices.
Sydney winter vacation clerkships
We offer a small number of winter clerkship positions in our Sydney office. The clerkship will take place during the mid-semester break; however we will be flexible on dates for those studying in trimesters.
Applications for this program open in April. We will not be offering a summer clerkship opportunity in our Sydney office this year.
Melbourne vacation clerkships
We offer summer and winter clerkships in December and July each year in our Melbourne office. We are no longer accepting applications for the 2020-2021 intake.
Applications for the next intake will open in July 2021 and this website page will be updated closer to the time.
Application assessment process
Online application
To apply for any of our opportunities, you will need to complete a brief online application form, which will include uploading your CV, transcripts and covering letter. The covering letter is your opportunity to explain in your own words why you wish to pursue a career in commercial law at White & Case.
Assessment and video interview
Next, you will receive an invitation to complete an online assessment and video interview. The main reason for this is to bring your written application to life. The online assessment includes a series of mini-games, testing your skills on thinking flexibly and attention to detail.
Our video interview process will require you to answer five key questions to demonstrate your experience and skills. You will have the opportunity to complete a practice question to help you feel more at ease, and we share our own hints and tips for success.
Final interview
This is your opportunity to meet with our associates and partners. During the interviews, we would like to get to know you on a personal level, what motivates you and your interest in joining White & Case.
Application dates, how to apply and seeking support
Applications for vacation clerkship positions are closed. If you are a current candidate and require any additional support throughout our process and program, then please do not hesitate to speak with us.
To contact the Recruitment team, please email [email protected] or call (03) 8486 8000.
Women at White & Case – Mentoring program
The Women at White & Case Mentoring Program encourages students to engage in open discussions with women from White & Case who have worked in the industry and to discuss career aspirations, progression and challenges facing women in the legal profession. The program will provide mentors with the opportunity to share their knowledge and provide advice to their mentees based on their own career experiences.
The mentoring program is open for pre-penultimate female law students studying at any law school in Australia who are ambitious, driven and keen to develop ongoing relationships with their White & Case mentors.
Applications are now open and will close on 19 October 2020 (11:59 AEST). Candidates will be required to complete a short application form to be considered for the program. Submission of CV and transcripts are not required.
To apply, please click here
Who we're looking for
There is no such thing as a typical White & Case graduate. We recruit people from all walks of life, from different nationalities and cultural backgrounds.
Even so, there are a few key qualities we always look for.
We're looking for high achievers who want to be part of a dynamic, growing global business. It goes without saying that we expect intelligence and academic excellence, and your interest in us suggests you have the ambition, drive and determination to become a successful global lawyer.
Next, the way you think is crucial. You'll enjoy the intellectual challenge of analysing how the law works and being creative, yet commercial, in how you interpret it. Your clients will come to depend on your lateral thinking, your focus on detail and your ability to resolve complex issues or structure international transactions.
You're a team player, on whom clients and colleagues can rely to perform tasks accurately, efficiently and meet deadlines. You're expected to ask questions about your work or seek feedback on your performance—that's why we have an informal open-door policy.
If you're up to the challenge, then this is the place to be.
Frequently asked questions
How many vacation clerks do you take each year?
Our vacation clerkship intakes vary each year in both Melbourne and Sydney. The majority of places are in our Melbourne office.
Are final-year students and international students eligible to apply for clerkships?
Yes. We accept international students studying for an Australian law degree, and students in their final year of their studies are welcome to apply for our vacation clerkship.
Do you hire paralegals?
We offer casual paralegal positions to our previous vacation clerks on a business needs basis. Ad hoc paralegal positions become available from time-to-time and will be advertised to external candidates via this website.
What should I include in my covering letter?
The covering letter should highlight a commitment to a career in international law, a clear articulation of why you want to work at White & Case, and the requisite skills or experience you have to become a successful graduate.
To whom do I address my covering letter?
Lauren Evans, APAC Recruitment Manager.
How long is your graduate program?
18 months, including 3 x 6 month rotations.
Can I defer my graduate offer?
Yes, we will consider deferrals on a case-by-case basis.
Do you provide PLT as a part of the graduate program?
Yes. We will pay the full course fees for the Practical Legal Training (PLT) through the College of Law, as well as the cost of admission.
What practice areas offer graduate rotations?
Corporate M&A, Project Delivery (Infrastructure), Environment & Planning, Project Finance, Tax, and Commercial Litigation and Arbitration.
How does the international seat rotation work?
We endeavor to provide an international seat rotation during the 18-month program in one of our Asia-Pacific offices. We will take into consideration your preference for location and practice or group. As a truly global firm, international working opportunities are available outside of our graduate program across our wider network.
What benefits does the Firm offer?
After being with the Firm for six months, you can be reimbursed for your gym membership (including Pilates and yoga studios) up to AUD 600 annually.
We also offer:
Discounted corporate health insurance
Wellness programs and support, including Employee Assist Program
Emergency childcare support
Annual flu injections
Daily fresh fruit
Agile and flexible work practices
Events
Our training is comprehensive, the work is cutting edge, career prospects are unlimited and the rewards are excellent. To find out more join us at our events.
Virtual webinar sessions
If you missed our recent webinar insight series where we discussed our Australian practice, graduate experience and clerkship application process – you can review these sessions at our virtual orientation page here
Title
Inside White & Case
W&C Publications
APAC recruiter Lauren on grad positions in Australia [72181]
Getting the inside track on law from senior women [81591]
"As a junior, I feel my voice is heard." [72191]
"Working overseas is a great way to get out of your comfort zone" [81386]
"You can really see yourself grow in leaps and bounds" [81391]
"Learning to adapt has made me more effective as a lawyer" [81396]
Your graduate program, your career
You'll will be part of a challenging graduate program, which gives you genuine responsibility from the very outset of your career—something many firms promise, but few deliver.
You will get to shape how your career develops by being be part of an enterprising team that makes an impact.
Our program structure
We structure our graduate program to meet both your short-term career goals and long-term aspirations. So—how does it work?
You'll rotate through three six-month rotations, to fully equip you with the necessary skills to become a skilled, global commercial lawyer. To gain contentious experience, you can choose rotations in our Disputes and Environment & Planning teams. Alternatively, if contentious work is not for you, you can choose transactional rotations across our Projects, Project Finance and Corporate teams. We support domestic rotations across our Melbourne and Sydney offices to build your connectivity across our Australia team. Wherever possible, we take into account your personal preferences when finalising your seat rotation.
Support and development
Our graduates are assigned a Supervisor, Mentor and a Buddy for each rotation, whose job it is to make sure you get plenty of opportunities to expand the skills, knowledge and experience you need to develop your own career path. As a high-stretch, high-support Firm, we are committed to providing ongoing support and the best on-the-job training possible.
Of course, some of your training will be more formal. You will complete both compulsory and elective modules of the Practice Legal Training provided by the College of Law during your induction and over the course of your graduate program. We also run in-house training, specialist seminars and workshops for graduates, which you are encouraged to attend.
As you manage and plan your career, both during and after your graduate program, you will have plenty of support. Our Associate Career Framework lets you know exactly what is expected of you as an associate at each stage of your development and is supported by an unmatched global program of training courses.
Your overseas seat – guaranteed
Most of our clients are multinational organisations, so almost everything you will work on will cover more than one jurisdiction. To help develop a taste for global thinking, we encourage and support a six-month graduate seat rotation in one of our offices across Asia-Pacific and the wider network including Hong Kong, Singapore, Abu Dhabi and Tokyo. While speaking the local language should help you settle in, it's not vital, as you will be predominantly working on common law matters in English. Wherever you go, we will support relocating you and remain in regular contact throughout your time there to ensure the experience enriches your training and development.
Settling in – Induction and training
Before joining your first rotation, we bring the graduate cohort across Melbourne and Sydney together to attend a bespoke two-week induction program, designed to equip you with the skills and knowledge necessary to start your career as a law graduate.
Sessions include how to time-record, research skills training, how to manage your clients effectively, advocacy and communication skills, financial and business skills and IT training, to name but a few examples. You will also complete your mandatory modules as a part of the Practical Legal Training, and there are opportunities to socialise with your cohort at various events.
In the first few months of working, you will also be invited to attend weekly Lunch & Learn sessions, each dedicated to a practice area at White & Case. These sessions are designed to provide an overview of the practice area, the type of work they do and the tasks you can expect as a graduate working in that area. In addition, you will receive practical training on how to topics such as how to—close a deal, run a DD Report, perfect security and incorporate a company.
Training is also a great opportunity to meet new colleagues from other teams and start building a network of contacts within the Firm, an essential ingredient in your career development .

Your long-term career with us
Our graduate program will equip you with the skills, experience and support you need to kick-start your career in law. Upon being placed permanently in a team, we hope that graduates will stay and use their new-found expertise to help us continue developing. Your training doesn't stop once you complete the program. Continuing personal development is at the heart of all our lawyers' careers, supported by a career framework that clearly sets out what is expected of you as your role develops.
We provide world-class training and development opportunities, which help you build the skills you need to navigate complex transactions for clients around the world. We want enthusiastic, motivated people that we can see being a key part of the Firm in five, ten or fifteen years' time.
Contact us
To contact the Recruitment Team, please email [email protected] or call (03) 8486 8000.
Melbourne
White & Case
Level 32, 525 Collins Street
Melbourne VIC 3000
Australia
T +61 3 8486 8000
Sydney
White & Case
Level 50, Governor Phillip Tower
1 Farrer Place Sydney NSW 2000
Australia
T +61 2 8249 2600