On December 7 at a gala event at the Law Society in London, White & Case was presented with the prestigious "Best Law Firm in Africa" award as part of EMEA Finance magazine's African Banking Awards 2017. White & Case has won the award every year for the last five years.
Both 2016 and 2017 were exceptional years for White & Case's Africa practice, particularly for big-ticket transactions across all major sectors. In 2016 the Firm's Africa practice received approximately 200 new instructions, while 2017 saw 500 of the Firm's legal practitioners work on Africa-related matters.
The winners of the African Banking Awards 2017 were published in the October-November issue of EMEA Finance magazine. This is the tenth anniversary year of the African Banking Awards, which are selected by the publication's editorial team.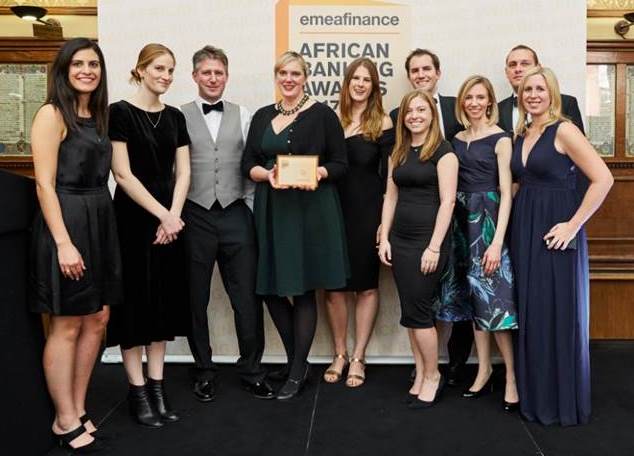 White & Case representatives at the ceremony (left to right): Claudia Hasbun, Callie Wallace,
Stuart Matty, Melissa Butler, Jessica Oliver, Marissa Florio, Paul Gallup, Bree Petersen, Chris Horte and Sara Green.
White & Case Africa head Melissa Butler (London) said of the Firm's Africa practice: "We are extremely pleased to have won EMEA Finance's Best Law Firm in Africa award for the fifth year in a row. This demonstrates our continued dominance in African finance and our view that to stay on top of the game we need to continue to invest in and grow our Africa practice."
"If you haven't encountered White & Case in your business dealings in Africa that certainly would be a surprise," says EMEA Finance Publisher Christopher Moore. "The firm is quite literally everywhere. For the past five years the firm has strutted home with our Best Law Firm in Africa award. The firm has the local know-how and capability to support its clients in all capital market and banking areas and has a rich knowledge in managing a variety of complex and difficult cases as well."
Top