A Canadian in Japan
Associate Michael Richter chairs the Tokyo office's Pro Bono Committee
---
Before he joined White & Case, Tokyo associate Michael Richter rarely had a chance to weave pro bono work into his legal career. Soon after he began as an associate in our Energy, Infrastructure, Project and Asset Finance Practice Group in 2015, the opportunity arose to chair the Tokyo office's Pro Bono and Social Responsibility committee, which meets every month to discuss new pro bono and volunteering possibilities. The committee also participates in a regular pro bono roundtable for Tokyo-based firms and has hosted one of the initial events in the series.
The pro bono work undertaken by Michael and others in our Tokyo office—which is often multi-jurisdictional, calling on knowledge of international as well as Japanese law—is in keeping with Michael's international background. Originally from Canada, he earned a BA at the University of Victoria in British Columbia before pursuing an MA in Asian Studies at Sophia University in Japan. He also has a JD from the University of Victoria and an LLM in International Commercial Arbitration Law from Stockholm University and is called to the bars in New York and Ontario.
"Japan was the first country other than the US I ever traveled to," Michael says. "After my trip, I became very interested in the country and its history. I changed my major, and for a time I thought about becoming a Japanese history professor. Practicing out of our Tokyo office on matters with global reach is in many ways a fulfillment of an interest in this country's culture and history that was first kindled years ago."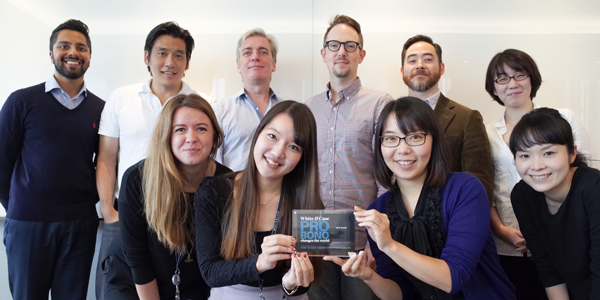 Michael (second row, third from right) with members of the Pro Bono Committee in 2016,
including counsel Seiji Niwa and partners Micah Sadoyama and Simon Collins
An office-wide commitment to refugees
In his capacity as chair of the Pro Bono Committee, Michael says that he is especially proud of our Tokyo's office's contributions to refugees. Japan is not often thought of as a possible home for refugees fleeing global conflict, but in recent years thousands of people have applied annually for refugee status with the Japanese government. They come from countries such as Syria, Ethiopia and the Democratic Republic of Congo.
The hurdles are very high. Of the 10,901 applicants in 2016, only 28 were granted refugee status. Refugee applicants also receive very limited public assistance while their case is being considered and are unable to work for their first six months in Japan. "The situation for refugees in Japan is quite stark," Michael says. "Without pro bono counsel, less than one percent of refugees are granted asylum. When law firms get involved, though, the odds of success increase dramatically."
Led by partners Ayako Kawano and Karl Pires and counsel Seiji Niwa, our lawyers have provided extensive help to a refugee from the Democratic Republic of Congo, assisting the client through the protracted process of petitioning for asylum. In total, the office has contributed upwards of 600 hours of work to Japan Association for Refugees (JAR).
The office also hosted JAR's fifth annual refugee legal aid training in November 2016, which was attended by approximately 50 members of the legal, government and NGO community. The office will also host a roundtable this September for law firms in Tokyo to share their experiences supporting JAR and refugee claimants.
The impact our people are having is especially poignant given the hesitation some felt about taking on this urgently necessary work. "We were a little nervous about getting involved," Michael says. "While a few of the team members had had some experience with refugee issues during law school through classes or legal clinics, most of the team did not have any background in refugee issues." A one-day intensive practical training session provided by JAR together with a desire to make a difference was enough to lay the groundwork for the team's interventions. The office has recently taken on a second claim for a refugee client.
Combatting a hidden issue—child marriage in the US
In addition to chairing the Pro Bono Committee, Michael works directly on a range of pro bono matters. He joined Tokyo partner Alexander Woody and New York associate Brandon Walker on a cross-office team that researched the issue of child marriage for Unchained at Last, which works to combat the problem in a country where many are not fully aware of its incidence: the US.
Between 2000 and 2010 there were more than 170,000 such marriages across 39 US states. Though most states set the minimum age for marriage at 18, exceptions in many jurisdictions allow for child marriages to take place so long as there is parental consent or judicial approval.
The team developed a legal memorandum that provided the backbone for the nonprofit's campaign to gain legislative support for A3091, the first bill to end child marriage in New Jersey. Our lawyers examined existing New Jersey laws that relate to child marriage and identified gaps that would justify legal reform. The issues addressed included emancipation rights and minors' ability to access domestic violence shelters and initiate legal action.
With our research in hand, Unchained at Last launched an intensive, months-long campaign to shore up legislative support for a proposed bill to end child marriage in the state. The New Jersey assembly voted for the bill by a sweeping margin in November 2016; this past March saw its passage by the state senate. Unfortunately, the Governor vetoed the bill—but the work did not end there.
Unchained at Last promptly set about coordinating a campaign to override the veto. In just one sign of the work's impact, shortly after the New Jersey veto, New York Governor Andrew Cuomo signed a law banning marriages involving children 16 or younger. The scope of our pro bono research for Unchained at Last has since expanded to cover other US states, including California, Pennsylvania and Massachusetts. "I was quite proud of our work in support of an organization that is helping to bring renewed focus to this issue," Michael says. "Going forward, we are committed to helping the study expand."
Top