Stay current on your favorite topics
Fintech is disrupting the manner in which financial services and products are delivered and sold, changing the operating model of the entire financial services industry.
According to Accenture, global investment in fintech ventures tripled from US$4.05 billion in 2013 to US$12.2 billion in 2014. Europe was the fastest-growing region in the world, with an increase in fintech investment of 215 percent to US$1.48 billion in 2014.
The rapid growth of fintech has enabled new entrants in financial services to challenge existing business models by engaging customers in new ways, and win significant market share at a fraction of the cost of traditional businesses.
Rapid growth of fintech has enabled new entrants to challenge existing business models in financial services
In payment services, for example, companies and technologies such as PayPal, Apple Pay, Stripe, Marqeta and Skrill, which CVC Capital Partners and Investcorp sold for €1.1 billion in April 2015, have revolutionised the way that payments are made, and provided consumers and businesses with digital services that are convenient and easy to use.
The expansion of price comparison websites for insurance, mortgages, loans and bank accounts serves as another example. Financial services companies used to sell their products through brokers and branch networks, but the rise of price comparison websites has turned that model on its head. The price transparency, speed of purchase and choice offered by the aggregator websites have proved popular with consumers and sparked strong growth. These providers initially started out focusing on car insurance but have been able to add personal insurance, travel insurance and home insurance to their platforms and even expanded into other financial products such as mortgages, personal loans and investments, helping to support growth in revenues without additional expenditure. Revenues at price comparison websites such as London-listed MoneySuperMarket have grown by more than a fifth through the downturn. Germany's Verivox, which delivered a 15-fold money return for its backer Oakley Capital, and Chiarezza in Italy and MisterAssur in France, which are both backed by specialist financial services firm BlackFin, have delivered a similarly strong performance.
Taking over from the old guard
While banks continue to provide loans and bank accounts to most consumers, and have updated their delivery of services to include mobile and online banking, there are parts of the market that banks have vacated in the immediate aftermath of the financial crisis. New opportunities are now open for entrants who have stepped in to fill the vacuum with low-cost, technology focused business models.
JC Flowers, for example, recently participated in a €82.5 million funding round for Berlin-based Kreditech, which provides banking services for customers who don't have credit histories.
Digital crowdfunding and peer to-peer lending platforms have emerged to provide financing for small companies that previously would have turned to banks. Funding Circle, a peer-to-peer lender founded in 2010, has processed more than £1billion-worth of loans to 12,000 businesses since its launch. Funding Circle recently acquired Zencap, a German peer-to-peer lending platform backed by Berlin-based technology incubator Rocket Internet. Zencap has operations in Germany, Spain and the Netherlands and has originated more than €35 million worth of loans since its launch in March 2014.
Fintech companies benefit by avoiding the same degree of regulatory burdens and capital requirements that other financial institutions face
In areas like foreign exchange, meanwhile, where banks pushed up fees and widened spreads in order to boost flagging profits, independent providers have stepped in, too. Currencies Direct, which is backed by Palamon Capital Partners and Corsair Capital, and Moneycorp, which Pollen Street Capital sold to Bridgepoint for £212 million, have focused on offering competitive rates, strong customer service and digital delivery platforms to win business from individuals and small and medium sized enterprises. In July 2015, Deutsche Börse agreed to acquire German web-based currency trading platform 360T, which was backed by Summit Partners, in a transaction worth €725 million. The deal made 360T the most valuable fintech company in Germany, according to the Deutsche Börse deal announcement.
Fintech companies haven't had to worry about legacy issues in the way that banks have had to. They have been able to bring new ideas to market quickly as they do not have to negotiate the bureaucracy of large financial institutions, where decisions tend to take longer and are often subject to more internal hurdles. Fintech companies also benefit by avoiding the same degree of regulatory burdens and capital requirements that other financial institutions face.
Before the financial crisis, banks were in a position to use their vast networks to provide and cross-sell a wide range of financial services to customers. The model has now fractured. Banks continue to provide a diverse range of services, but in certain business areas, such as payment services, they now have to compete against players such as PayPal.
Banks themselves, having observed the successful business models deployed by fintech companies, have recognised the importance of improving the way they use and develop technology, and are investing in fintech, too, in order to achieve this.
Deutsche Bank has reduced its dividend to invest in its technology systems, and has outlined plans to open innovation hubs in London, Berlin and California in an effort to improve the way it uses technology. Santander, meanwhile, has launched a US$100 million fund for similar strategic reasons. This fund will invest in companies that are working on the digital delivery of financial services, online lending, online systems to distribute financial investment products and big data analytics. Commerzbank is doing the same by investing through its CommerzVentures and Main Incubator divisions.
"Fintech companies have disrupted all aspects of the financial services industry. Technology has enabled new companies to reach customers in new ways at a lower cost. Financial sponsors have noticed the trend and have been quick to jump on the train," a senior FIG M&A adviser says.
The attractions of fintech to financial sponsors are obvious. Fintech businesses are growing rapidly, can win large portions of market share for relatively low cost and, crucially, can be scaled up quickly and exited for good multiples.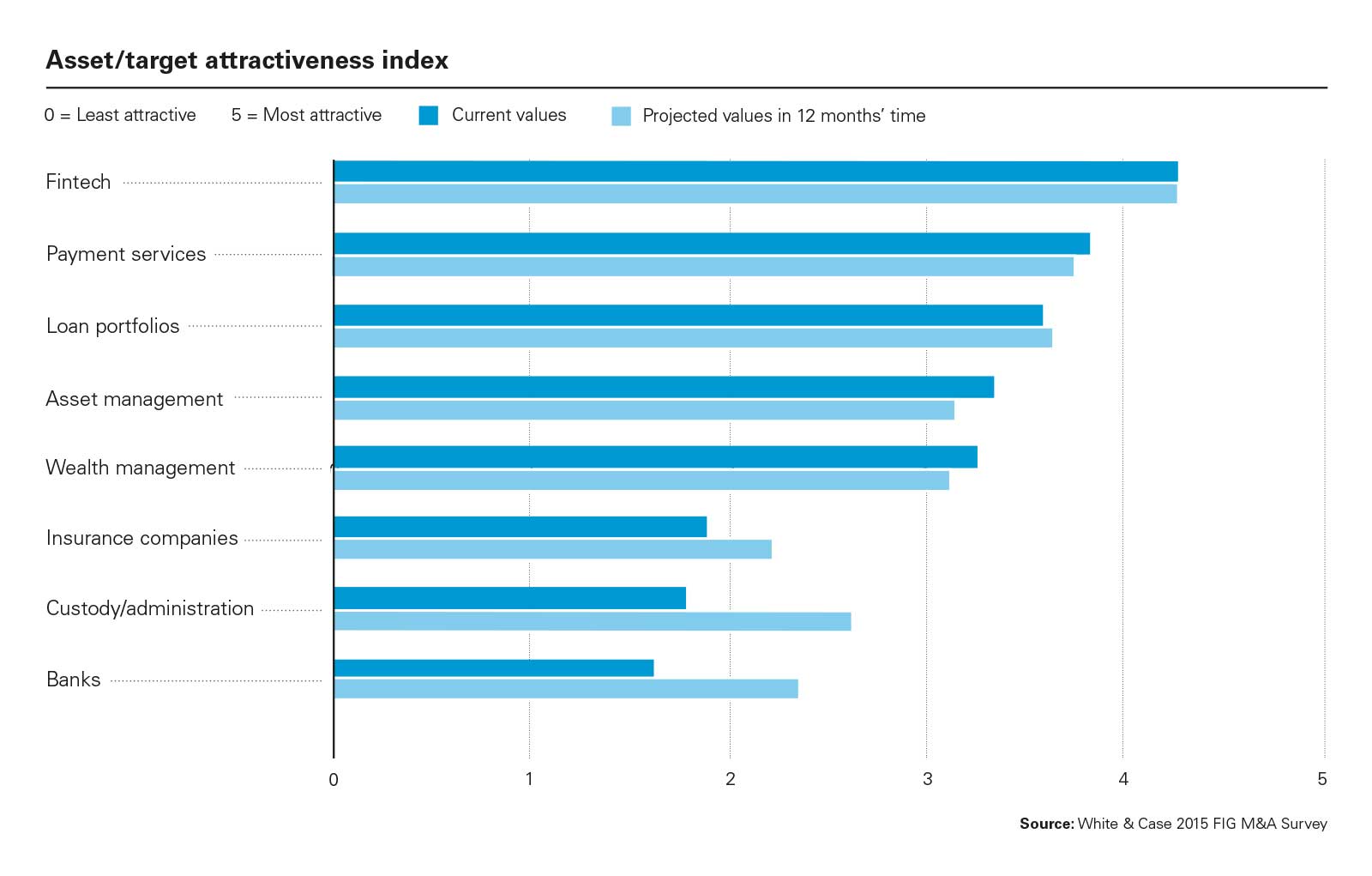 View full image
Further, alternative investors have been ideally placed to fund these companies as they have a higher risk threshold to new concepts relative to established financial services businesses and are in a better position to provide the required resources and experience to what are still young companies that professionalise and manage growth.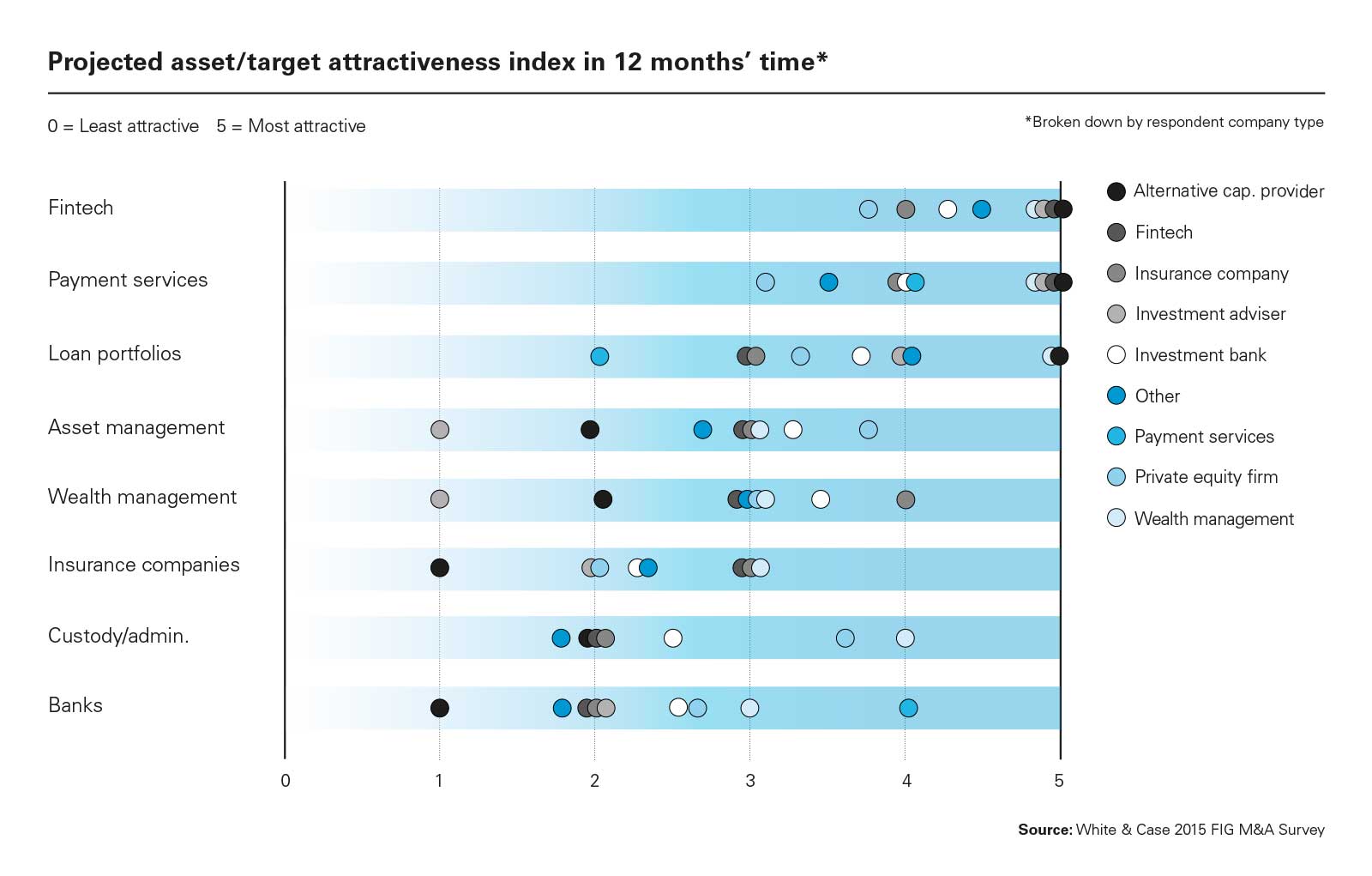 View full image
The large amount of capital that private equity firms have at their disposal also means that they have been an obvious place for fintech companies to turn to when financing is required. A supportive regulatory environment has also helped encourage financial sponsor investment. In the UK, for example, the FCA has launched a fintech unit which has a specific remit to support start-ups in the fintech space. The unit has developed the idea of a "regulatory sandbox" in which fintech regulation will be approached on a case-by-case basis and new technologies can be tested in the market.
"New players are coming into the market with a broad spectrum of different ideas and business models, which is where financial sponsors are strong and able to provide capital," says a director at a private equitybacked financial services company.
To read the full report, please click here.
To read other articles in this report, please click here.
This publication is provided for your convenience and does not constitute legal advice. This publication is protected by copyright.
© 2015 White & Case LLP