Stay current on your favorite topics
Leveraged debt markets in Europe have shown resilience this year. However, with so many factors up in the air in 2017—from politics to interest rates, regulations and investor sentiment—the question remains whether this will remain the case.
While demand is robust, investors are still not willing to accept terms that are too loose.
Political uncertainty
As recent events have shown, predictions should be made with extreme caution. However, political risk is likely to continue to hang over the high yield market, possibly stalling activity. The nationalist populism movements that have been sweeping across the UK, US and Italy may continue in 2017 if far-right National Front leader Marine Le Pen wins the French election in May or anti-euro and establishment party the Five Star Movement makes headway in Italy. Germans also go to the polls in 2017, and Chancellor Angela Merkel could face tough competition from the anti-EU Alternative for Germany (AfD) party.
Uncertainty will also continue over the direction of the Trump administration. While capital markets seemed to have embraced the positive aspects such as increased infrastructure spending and less regulation, trade protectionism will have a negative impact on financial markets. Few, though, at this stage are willing to assess exactly how Trump's policies will materialise. As for Brexit, the one certainty is that the fallout will continue.
However, some issuers have been brave enough to test the waters in the face of such uncertainty. Four companies— including Thomas Cook, Schustermann & Borenstein and Catalent—issued high yield bonds in Euros in December. Indeed, even after the latest political shock in the Italian referendum, deals are by no means dead, as seen in MRH GB's €712 million December loan deal.
Peaking interest
160

Total number of S&P-rated European high yield bonds issued in 2016
Although participants have become used to a low interest rate environment, the tide is turning. In December 2016, the US increased its interest rate by 0.25%, the first hike since December 2015. Whether the Bank of England follows suit is difficult to forecast as there are concerns that increasing rates too quickly could choke off growth, particularly when the outlook in a post-Brexit world is unclear.
Interest rate hikes are not good news for bond markets, and analysts predict the US upward move would be the end of their 30-year bull run. A recent report by Goldman Sachs shows that a 1 percent increase in interest rates could translate into a US$1.1 trillion loss to the Bloomberg Barclays US Aggregate Index. However, while high yield will also take a hit, it has a strong track record during periods of tightening, and sell-offs tend to be short-lived. Research from Alliance Bernstein shows that over the past two decades, high yield has recovered from most losses of more than 5 percent in less than a year. This is partly because high yield is more closely related to business performance, rather than rates.
As for Europe, the ECB is expected to continue its monthly bond buying programme, although it will fall to €60 billion from April. Analysts believe it could change direction in late 2017 if inflation accelerates and the recovery is modest but steady.
In the meantime, yields will remain depressed on investment-grade corporate bonds, forcing investors to look further down the ratings spectrum. However, few will want to expose themselves to too much risk and drop too far down into C-rated debt. Indeed, just ten of this year's European bond issuances had a "C" rating by S&P metrics.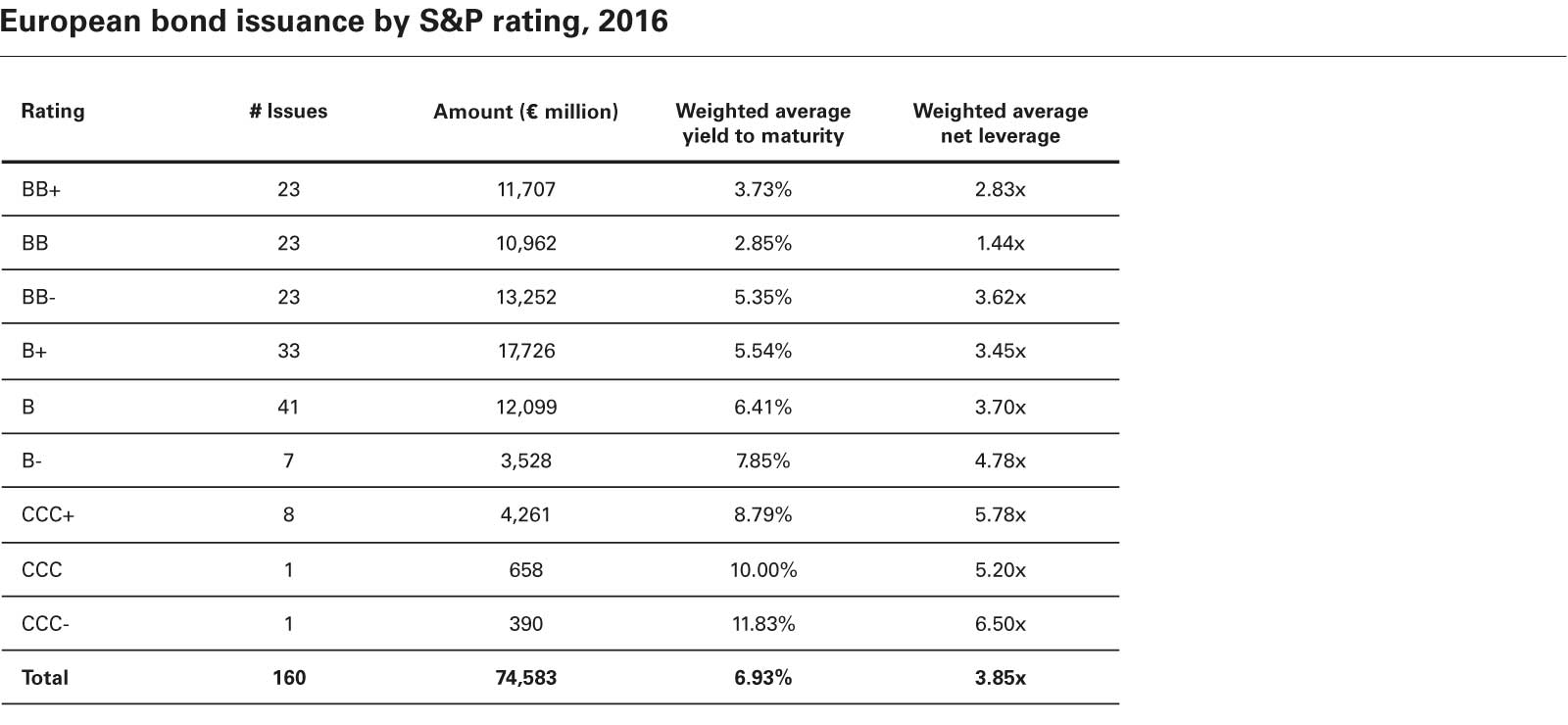 View full image
BB+
3.7%

Weighted average yield to maturity on a BB+ bond in 2016
CCC+
10

European bonds in 2016 issued with a CCC+ rating or below
Supply and demand
Elsewhere, there are signs that in spite of the demand for new paper, the supply of it may come up short. Figures from Moody's show that total debt for potential fallen angels—companies on the cusp of a downgrade to junk—fell by nearly US$20 billion in the third quarter of 2016, while only one company during that period transitioned from investment to high yield. These dynamics are being exacerbated by investor unwillingness to sink below the B level.
Indeed, while demand is robust, investors are still not willing to accept terms that are too loose. French glass bottle maker Verallia is a case in point, with its attempted PIK issuance abandoned in October after investor pushback on the aggressive deal structure and use of proceeds. Moreover, sterling volatility has forced some issuers to curb proposed issuances over pricing concerns. However, activity is still palpable, as highlighted by Ladbrokes Coral's £400 million deal to refinance debt taken onboard to facilitate the Ladbrokes/Coral merger.
Future regulatory developments
Investors and issuers also need to be cognizant of impending regulatory changes. Towards the end of 2016, the ECB released its consultation on leveraged lending guidelines which mirror those introduced in the US three years ago advanced by the Federal Reserve, Federal Deposit Insurance Corporation (FDIC) and Office of the Comptroller of the Currency (OCC). The ECB classifies leveraged deals as "all types of loan or credit exposure where the borrower's post-financing level of leverage exceeds a total debt to EBITDA ratio of 4.0 times", and suggests transactions with a leverage level exceeding 6x total debt to EBITDA "should remain exceptional...and trigger referral to the highest credit committee".
While the ECB did not establish a hard cap on leverage, it has insisted on using unadjusted EBITDA in calculating the leverage ratio of a loan. Even rating agencies use adjusted calculation so this would mark a significant change. The implications could be greatest for the technology sector, which is the largest issuer. This is because the role of pro forma and potential synergies are largely ignored while there are no adjustments in the draft made for non-recurring expenses, exceptional items and other one-offs. Despite this, the expected effects of these rules will be neutral, as many financial services firms are already compliant with the similar regulations in the US.
The increased CLO activity is also set to provide a boost to leveraged loan issuance, as CLOs look to invest further down the ratings spectrum as returns evaporate on top-tier credits. European CLO primary issuance has gone from under €0.5 billion in January 2016 to amounts well over €1 billion in the following months, including almost €3 billion in October alone. Yet whether this is a new sign of life for CLOs or, again, opportunistic pricing plays remains to be seen.
European leveraged debt fights back
Read other articles in this report
This publication is provided for your convenience and does not constitute legal advice. This publication is protected by copyright.
© 2017 White & Case LLP