Visit our interactive tool:

The White & Case M&A Explorer is an interactive tool which uses 10 years of Mergermarket data, allowing users to analyze M&A activity by date range, geography and sector to create cross-border and domestic market snapshots.
Changing consumer habits and disruptive innovations are inspiring mergers designed to combine the best features from virtual and concrete retailers.
Consumer sector M&A is looking good. In H1 2017, the sector recorded the highest value from cross-border M&A deals of any sector, with US$142.5 billion spread over 300 deals. Add domestic deals, and the consumer sector takes second placewith US$241.8 billion. Cross-border value in the first half of 2017 has already outstripped the whole of 2016, which saw US$118.4 billion in deal value across 691 consumer deals.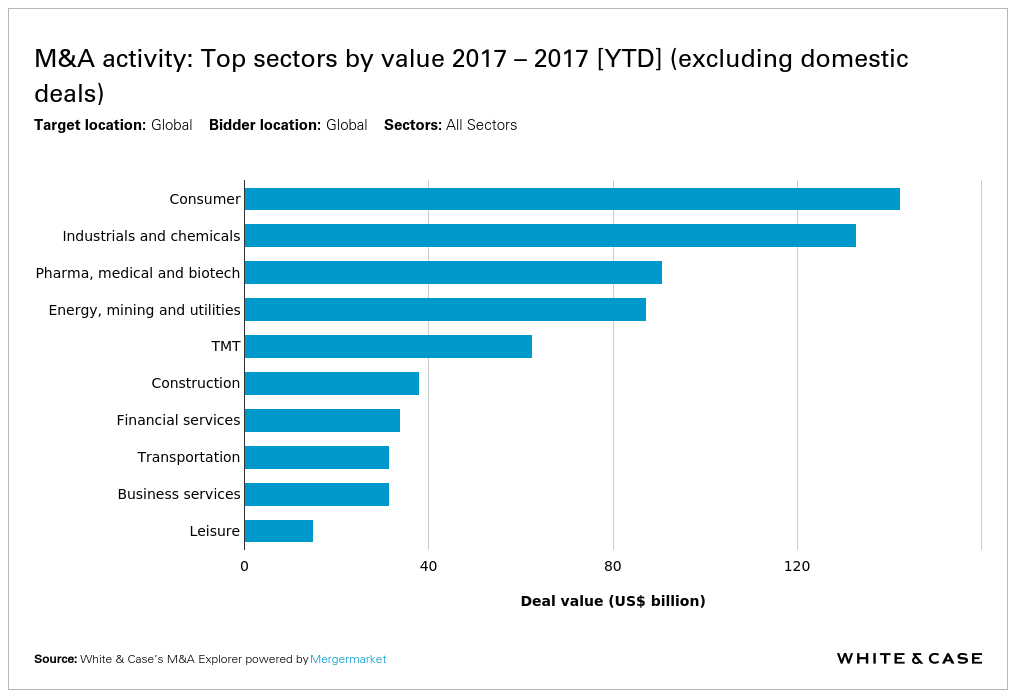 Explore the data
The region secured a host of megadeals despite political volatility, with EU powerhouses leading the way.
Western European firms continue to command high price tags—even against a backdrop of political uncertainty. There were 1,285 deals worth US$254.7 billion announced in Q2, a steep rise in value compared to the previous quarter. The region fared well from a global perspective, with its share in global deal value shooting up from 25.6% in Q1 to 35.6% in Q2.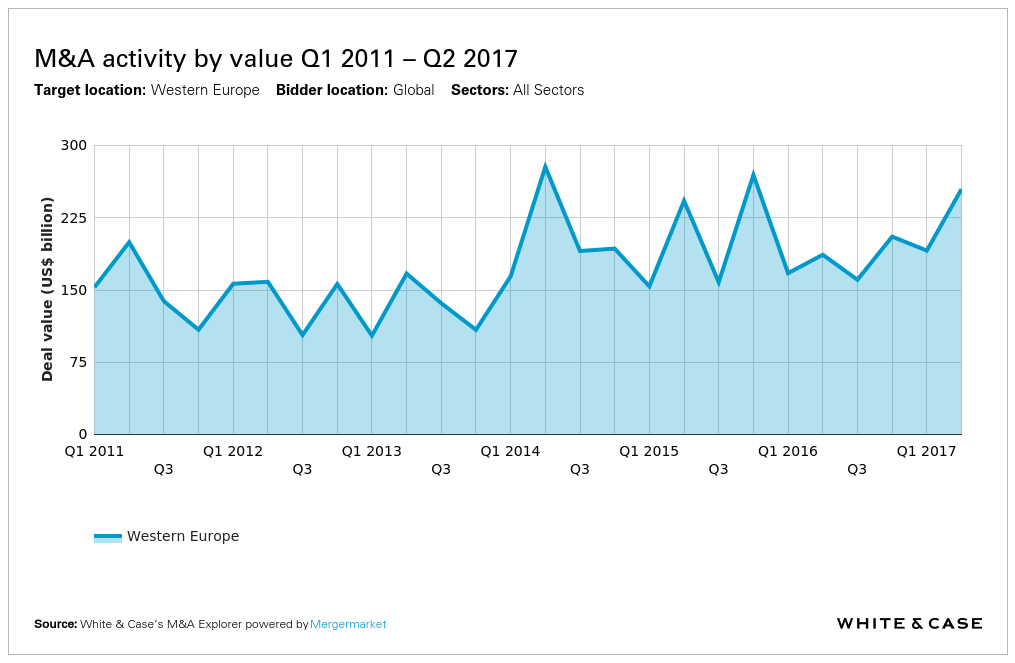 Explore the data
Activity was up compared to Q1 2017, but deal value was down by more than half from the peak of Q4 2015.
There were 381 deals by Chinese bidders valued at US$94.6 billion in the second quarter of 2017. While that represents a scant five more deals than in Q1, it also shows a value jump of 34%.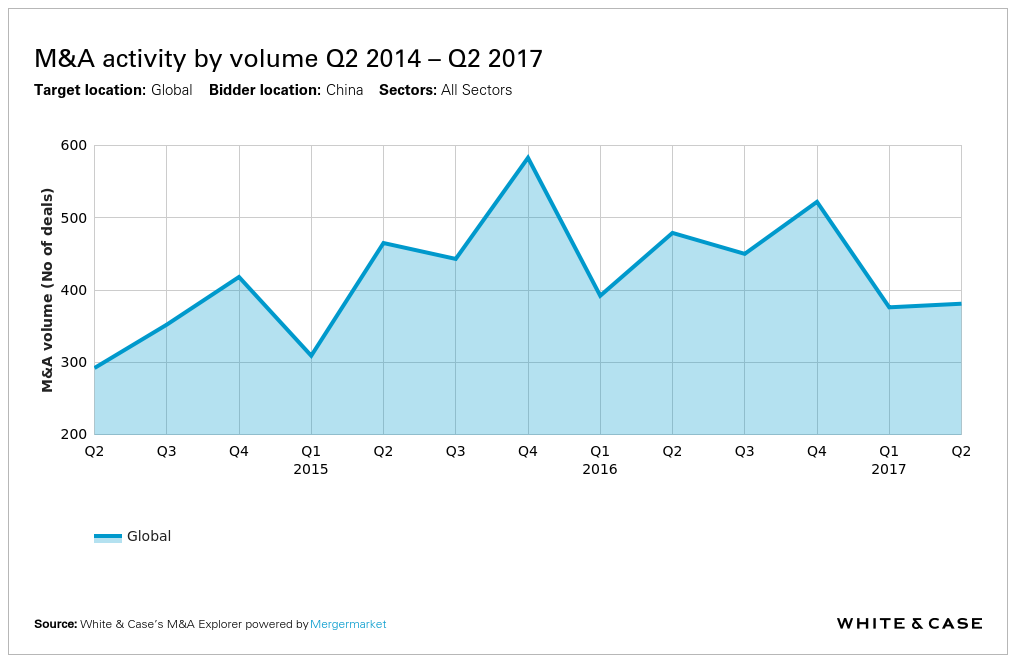 Explore the data
Global buyout activity defies market uncertainty to reach a post-crisis high, as funds deploy record levels of dry powder.
Buyout activity delivered a stellar performance in Q2. There were 707 deals worth US$144 billion, up 75 percent by value from the previous quarter to reach the highest quarterly value since Q2 2007. PE's attraction as an asset class to investors worldwide is resulting in record levels of dry powder generating substantial PE M&A activity. Research firm Preqin estimates the current amount available for investment at US$842 billion.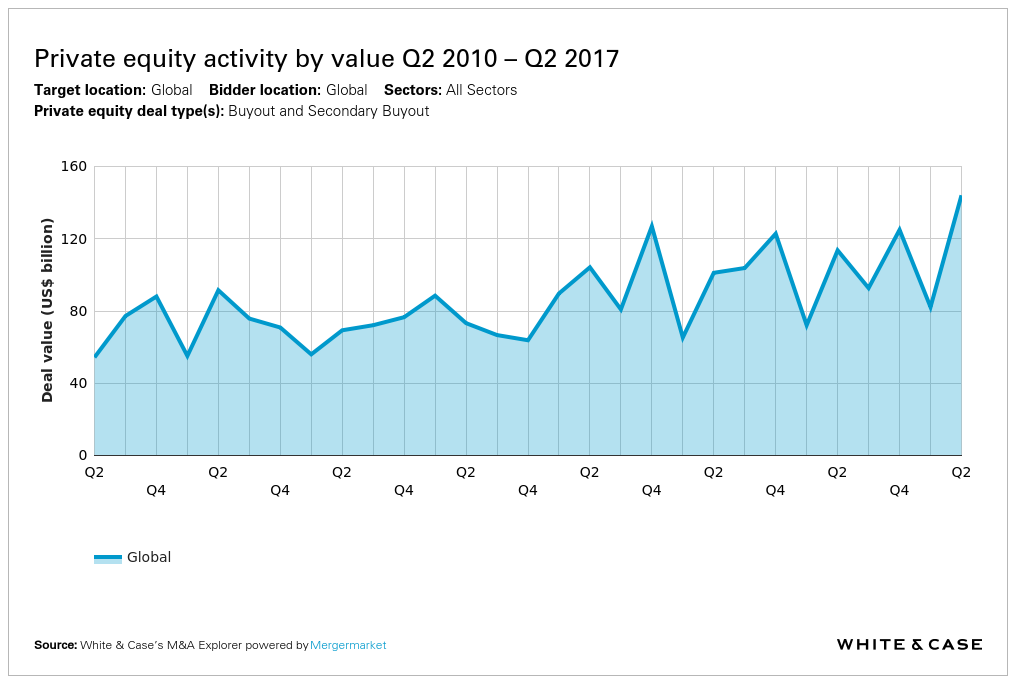 Explore the data
Despite a slight dip in value for the quarter, deal value is up year-to-date, compared to H1 2016
After a steady first quarter, global M&A dipped in Q2 against a backdrop of ongoing political and macroeconomic uncertainty. Volume fell from 4,304 deals in Q1 2017 to 3,683 deals in Q2—the lowest quarterly volume since Q2 2013. Meanwhile, a Q2 value of US$715 billion saw a 4.4 percent decrease compared to the same period last year.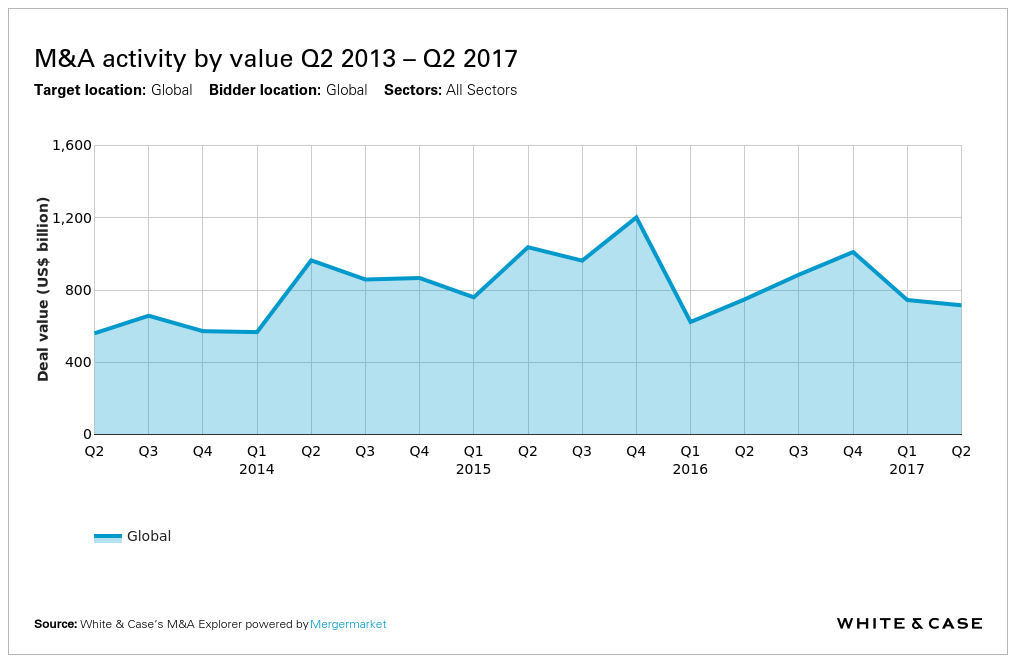 Explore the data
Innovation is at the heart of the boom in Israeli M&A and the trend is set to continue, according to an exclusive new survey of senior Israeli dealmakers
Disruption and innovation are driving deals to new heights in the Israeli M&A market. In 2016, there were 99 deals with an Israeli target worth a total of US$20 billion, a record in value terms and a joint record (shared with 2015) by volume.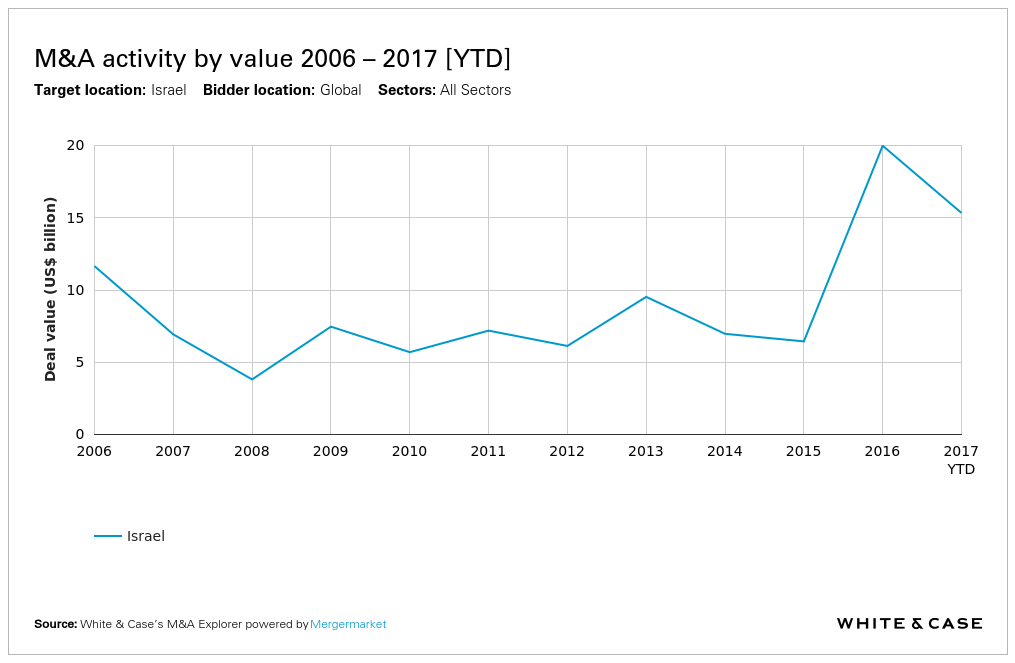 Explore the data
As oil prices stabilize around the US$50 mark, dealmakers are coming back to the table
Buoyed by the arrival of a pro-oil administration in the White House and relative price stability, M&A activity in the beleaguered oil and gas sector is beginning to regain some momentum.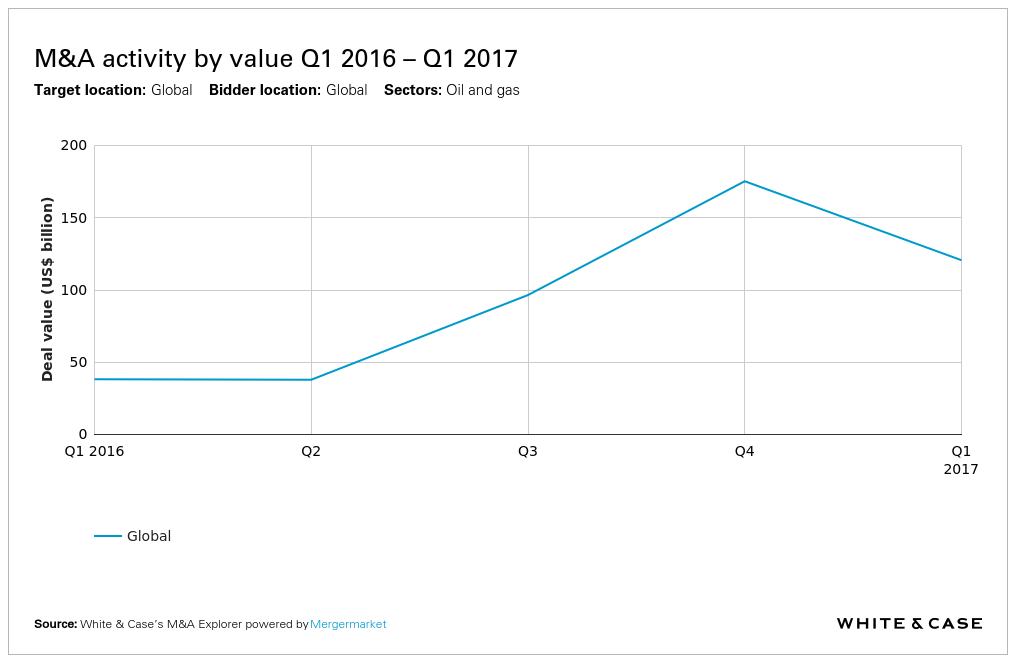 Explore the data
French dealmakers announced significant outbound megadeals in the first quarter; Macron's victory could provide a much-needed boost for inbound deals
In a deal landscape dominated by cross-border consumer megadeals, French businesses announced US$47.63 billion worth of deals in the first quarter of 2017—the highest value quarter since Q3 2008. This is perhaps surprising, given the uncertainty that persisted throughout most of the quarter regarding the outcome of the contentious French presidential election.
Auto sector M&A just hit a seven-year high. But the future could be even brighter, as technology firms seek opportunities within the auto industry
The automotive sector has staged a remarkable comeback. Worldwide car sales grew by 4.8% in 2016 to US$88.1 million, the highest figure for at least a decade, according to data from investment bank Macquarie.
PE funds establish themselves within the emerging South Korean market to take advantage of local growth opportunities
Private equity buyouts in South Korea reached their highest first quarter valuation in more than a decade, with US$3.47 billion spent across 12 transactions. This figure represents a 31% value increase compared to the same period in 2016 (US$2.65 billion, 13 transactions), and a strong recovery from a discouraging US$0.87 billion value in 2016's third quarter
A rash of high-priced buyouts and a bid for a popular asset manager ramp up value at the start of the year
The financial services industry saw a 29 percent jump in year-on-year deal value in the first quarter of 2017. It was also the second-highest Q1 since 2011, which augurs well for the year ahead. Deals totalled US$55.8 billion in Q1 2017, compared with US$43.3 billion in the same period last year.
Inbound megadeals in the energy sector and a buoyant technology market help the deal market flourish
With deals valued at US$18.2 billion, Q1 2017 was the fourth-highest quarter in Indian M&A history. This comes on the back of a blockbusting 2016, which saw deal value hit US$66.4 billion—the highest year on record.
Spurred by semiconductor company consolidations, TMT activity dominated both inbound and outbound dealmaking
The 2017 kickoff in Taiwan M&A showed the second highest Q1 deal volume since Q1 2010, with 13 deals. This matched the Q1 2016 total  - which itself was a busy year for M&A in Taiwan.
Despite economic volatility, uncertain elections and the Brexit effect, average valuations rose, year on year
Although the number of M&A deals fell in Q1, dealmakers looking at Western Europe are still willing to pay for the right target—2017 saw the second highest Q1 value for the region since 2008 (with Q1 2016 taking the top spot). 
Megadeals from the UK and Japan help the US kick off the year in style
US dealmakers, both as sellers and bidders, have had an encouraging start to the M&A year. Deal value targeting the US (including domestic deals) was up by 21% year on year – from US$251.3 billion in Q1 2016 to US$303.1 billion in the first quarter of this year. The boost from megadeals meant that value rose even as the number of deals fell by 8% year on year.
Consumer sector and cross-border deals boost the M&A market
A number of factors spread uncertainty across the geopolitical spectrum in the year's first quarter, including the official kick off of the Brexit process in the UK and the challenges faced by the new Trump administration in the US. Yet dealmakers seemed to shrug off the uncertainties. Cross-border deal value hit US$341.9 billion, the second highest first-quarter amount in the last decade after Q1 2008. Overall deal value for Q1 2017 stood at US$693 billion – the second highest Q1 since 2007 (behind Q1 2015, a record-breaking year). 
PE buyouts hit new heights in Asia-Pacific in 2016. And this trend looks likely to continue
The Asia Pacific region recorded its highest-ever private equity (PE) buyout value in 2016. The region played host to 399 buyouts worth a combined US$102.2 billion – a new value record, despite a slight dip in deal volume.
The post-Brexit M&A meltdown hasn't happened – quite the opposite. But longer-term prospects look more uncertain
A cursory glance at UK inbound deal value figures for 2016 would give the impression that the Brexit decision has hit the UK M&A market hard, even in the eight months since the shock referendum vote. Inbound M&A value into the UK fell by 55% from US$348.5 billion in 2015 to US$156.4 billion in 2016. However, first impressions can be deceptive.
Western European dealmaking peaked in 2016, with the highest volume ever and extremely strong interest from China
There may have been political and economic storm clouds hanging over the region, but those did not stop Western Europe becoming a beacon for M&A in 2016.
Stabilising oil and commodity prices and opportunistic deals, saw M&A in the EMU sector rise again in 2016. And 2017 could be even stronger
After a relative drought, dealmaking in the energy, mining and utilities (EMU) sector regained momentum in 2016. The picture is mixed across the sub-sectors, but upside potential is clear; with the exception of 2014, the sector's volume and value are at their highest points since 2007. Global EMU activity reached US$615.9 billion in 2016, compared to US$569.2 billion one year earlier, according to White & Case's M&A Explorer. In value terms, the sector was second only to technology, media and telecommunications (TMT).
This publication is provided for your convenience and does not constitute legal advice. This publication is protected by copyright.
© 2017 White & Case LLP