Many commentators consider that the growing trend of financial sponsor investment in financial services is limited to a handful of countries in Europe. Deal data, however, show that investors with an appetite for banks and other financial services assets have a wider geographical appetite.
Rising financial sponsor interest in financial services investments is a genuinely Europe-wide trend. Although the United Kingdom has been at the top of the league tables for private equity buyouts in financial services by deal volume and value in each of the last five years, Denmark, Italy, Spain, Belgium and Greece have each at some point recorded more than €1 billion worth of financial services buyouts in a single year, according to Mergermarket.
Factors that have opened up financial services to sponsors have been broadly the same across Europe
White & Case's FIG M&A Survey respondents, when asked to rank the most attractive European territories for FIG M&A on a scale of 0 to 5, ranked most regions between two and four, suggesting that there are opportunities across all European regions.
"The UK has been a busy financial services M&A market, and that can create the perception that there is not that much activity in other parts of Europe, which is not the case," says a partner at a leading European private equity firm.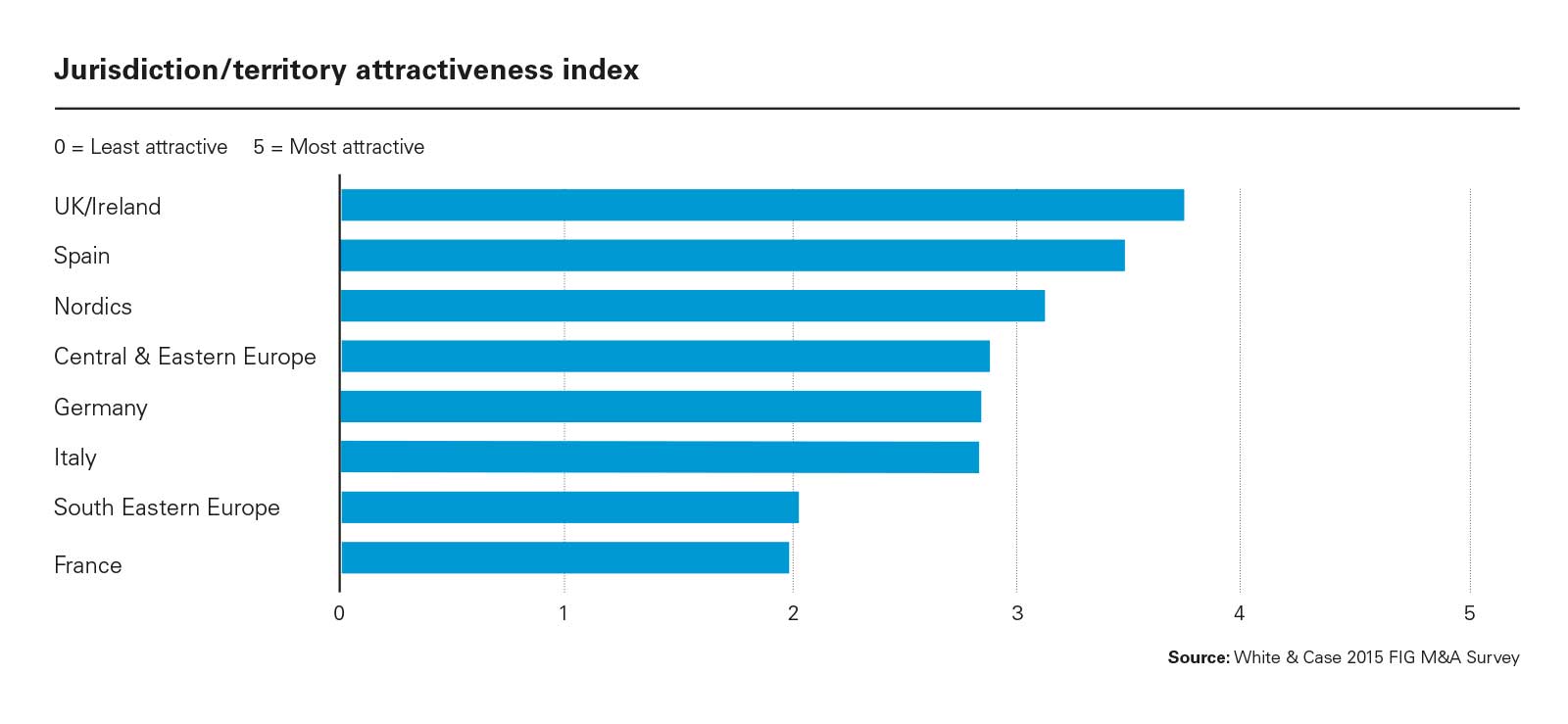 View full image
Across Europe, the factors that have opened up financial services deal making to sponsors have been broadly the same. Banks and insurers have had to rebuild balance sheets and focus on their core business, which has sparked a waive of asset sales at attractive valuations. This has also meant that buyout firms have been able to source and conclude deals without much competition from strategics.
Building across Europe
As alternative investors have gained a foothold in financial services, they have moved to take advantage of a reshaped financial services industry in Europe to apply strategies that have worked in one European market to others.
Cinven, for example, banked a 4x money return from its sale of closed-life policy manager Guardian Financial Services to Admin Re for £1.6 billion in September. The firm is currently executing the same strategy with German closed-life platform Heidelberger Leben, which it acquired for €300 million in partnership with Hannover Re. The business has subsequently purchased a €220 million closed book from Skandia Group as Cinven appears to be following the same steps it did with Guardian, where it supported four Bolton acquisitions, prior to exit. Financial sponsors have also seized opportunities to take advantage of the business areas vacated by domestic institutions and build up local businesses into pan-European players.
Permira merged Germany's GFKL, a receivables management business acquired from Advent, with the UK's Lowell Group, which was backed by the Ontario Teachers' Pension Plan, to create a pan-European credit management business with a leading market position in the two largest European financial services markets, Germany and the UK.
"Private equity firms have taken a long-term outlook. They have made acquisitions of local companies and then focused on building these companies into pan-European platforms through buy-and-build strategies," says Christoph Pfeifer, until recently the CFO of GFKL.
Investment in fintech has been similarly spread across Europe. In 2014 the UK and Ireland led the way, with fintech investment in these countries totalling US$623 million, according to Accenture. However, the Nordics with US$345 million of investment, the Netherlands (US$306 million) and Germany (US$82 million) have also proven fruitful for fintech investors. Deutsche Börse's recent (2015) €725 million acquisition of the German online currency platform 360T is just one example of the vibrancy of the fintech sector across Europe.
"Fintech has been a very exciting area and there have been pockets of innovation emerging right across Europe. Shoreditch in London has been the most active but there are groups coming up with some exciting ideas in Munich, Berlin and Amsterdam," says Professor Scott Moeller, Director of the M&A research centre at Cass Business School.
Different strokes
There are also examples of how the wider macro trends that have changed all European financial services have had different impacts on different markets.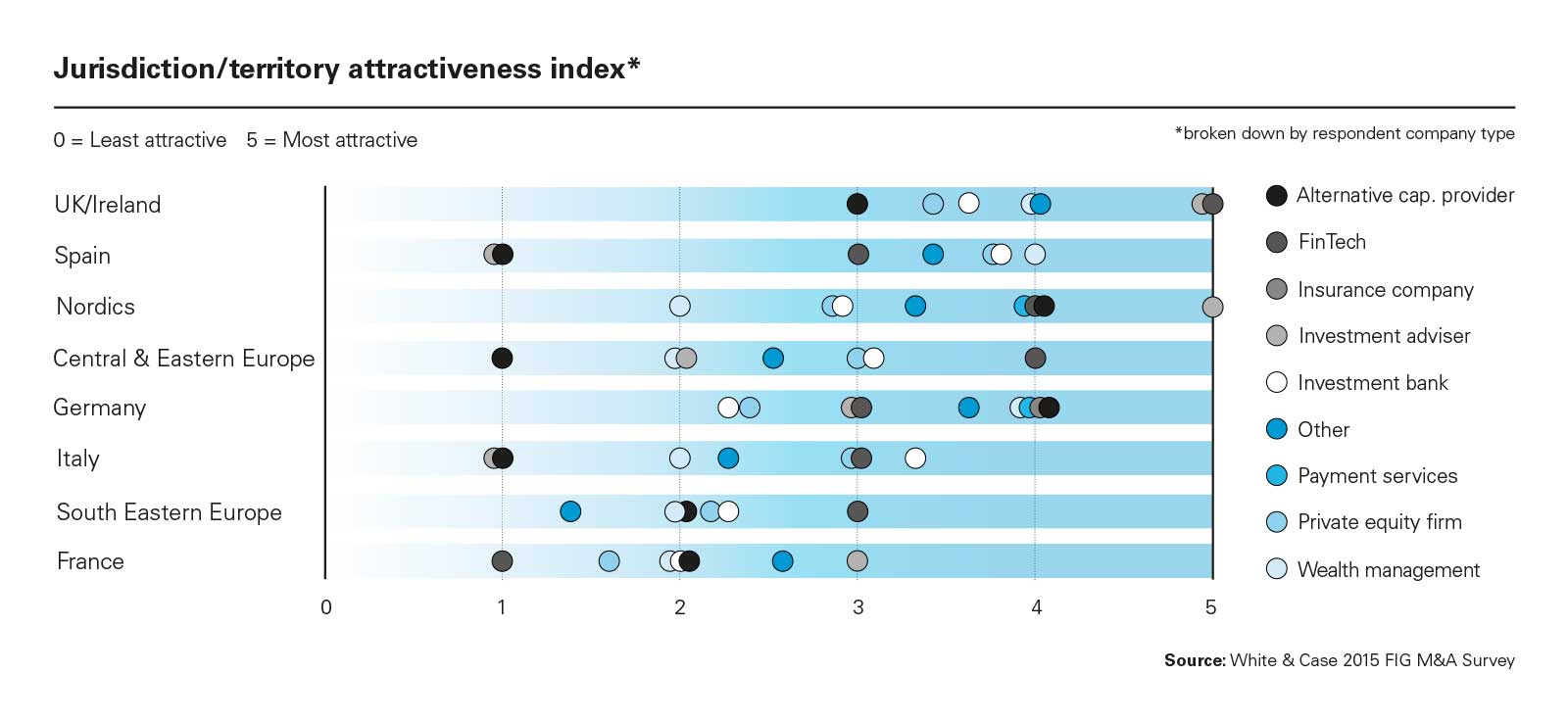 View full image
In the UK, for example, the government has focused on increasing the number of banks in the sector in order to encourage competition and mitigate against the systemic risk of one of the dominant high street banks failing. Regulators were also keen to introduce more competition. This has opened up opportunities for financial sponsors to invest in a new group of challenger banks that have come to market, including Shawbrook and Aldermore, which were backed by Pollen Street Capital and AnaCap, respectively.
In Spain, by contrast, the financial crisis has prompted the opposite response from regulators, as the country was served by a disproportionate number of local savings banks that were left vulnerable after the financial crisis as markets shrank. Spain has since encouraged a consolidation of its banking market in order to make banks more robust and cost-efficient. Apollo's acquisition of EVO Banco serves as an example of financial sponsors also playing a role in helping Spain's banks to restructure by buying up portfolios of real estate loans and non-core units.
In central and eastern Europe, governments have been more interested in finding investors simply to shore up struggling banks. Regulators, although initially reticent to allow financial sponsors to control bank assets, have since recognised the necessity of bringing in new investment at a time when strategic investors are still cautious on M&A and reluctant to attempt rescues of ailing rivals. Examples include Apollo Global Management and the EBRD taking control of Slovenia's second largest bank Nova; the EBRD and Advent International acquiring the Balkan subsidiaries of Austria's Hypo Alpe-Adria Bank; and JC Flowers' purchase of Romanian bank Banca Carpatica (this deal had been announced but was still to complete as this report went to press). AnaCap has backed Equa Bank in the Czech Republic and FM Bank in Poland.
The German banking market, by contrast, has been tougher for financial sponsors to break into. Lone Star and JC Flowers have both invested in German banks, but on the whole alternative investors have had less success than in other European countries.
Germany's Federal Financial Supervisory Authority (BaFin) has always been concerned that financial sponsors would not be able or willing to support banking holdings in a financial crisis. As a result, the regulatory bar has been set very high for financial sponsors that want to invest in German banks, and BaFin will only allow such deals to go ahead if the capitalisation of a target bank is beyond doubt. BaFin has set very strict terms for authorising the business plans financial sponsors have for banks. For fintech banking businesses, BaFin has also been reluctant to allow regulatory carve outs for particular groups. Online banks, for example, still need to meet rules that require banks to meet all customers in person.
Structurally, the German banking market has also been challenging, as the German model is built around the three pillars of local state-owned retail banks, co-operative banks and private banks. It has been difficult for investors to expand portfolio companies across these business lines.
In Germany and the Netherlands, in addition to recapitalising banks, a main area of focus has been the life insurance industry. Low interest rates, put in place after the crisis in order to keep economies moving, have left life funds vulnerable as they offer generous return guarantees that many believe are unsustainable in the current low interest rate environment. Many of these policies have lives of more than 30 years, even though life insurers typically do not hold assets of similar duration.
Notwithstanding BaFin's generally conservative approach, it has allowed financial sponsors to invest in life insurance companies, provided that buyout investors will only be tolerated if they take a long-term view and do not force through shorter-term investment horizons. This is a sign that, although the regulator is watching developments in the life insurance sector closely, it does recognise that financial sponsors can offer a solution to the pressures on life insurance funds. With the ECB now in charge of clearance for bank acquisitions in Europe, it will be interesting to see whether this will lead to a more favourable approach towards financial sponsors.
Every country within Europe has had to deal with the impact the liquidity freeze has had on its financial institutions. The challenges may differ from country to country, but the results from the White & Case FIG Survey and financial services M&A figures suggest there is a broad recognition that financial sponsors have a role to play in reshaping and refinancing the continent's financial services sector.
To read the full report, please click here.
To read other articles in this report, please click here.
This publication is provided for your convenience and does not constitute legal advice. This publication is protected by copyright.
© 2015 White & Case LLP