South Korea is one of Asia's powerhouses, and its strong exports sector and willingness to adapt its economy make it highly attractive to investors.
South Korea's economic development has been remarkable. It became the first nation to transition from being a recipient of the Organisation for Economic Co-operation and Development aid to becoming a donor itself. With a GDP of US$1.410 trillion in 2014, South Korea is the fourth-largest economy in Asia and the twelfth in the world, as well as being one of Asia's largest outbound investors. It is a success story in a fast-changing world—a country that is ready to carry on creating opportunities for domestic and international investors alike.
Although situated close to China and Japan, South Korea has been able to forge its own economic identity. Its biggest companies are global leaders in the construction, shipbuilding, steelmaking, infrastructure, energy, electronics, automobile and semiconductor industries. Many of its conglomerates have established international reputations and well recognized brand names, with Samsung, Hyundai Motors and LG among the most prominent.
South Korean companies are some of the most industrious and proactive in the world when it comes to expanding into new markets.
Along with South Korea's state owned enterprises, its conglomerates are active international investors seeking opportunities to enter new markets, as well as to deepen their presence in existing ones. Its export credit agencies correspondingly play a key role as lenders for some of the largest oil and gas, power and infrastructure projects globally.
Proactive expansion
South Korea is an export-driven economy, with exports making up about half of its GDP. "South Korean companies are some of the most industrious and proactive in the world when it comes to expanding into new markets" says James K. Lee, head of White & Case's Korea practice.
As a result, the nation has been focused on achieving economic integration with other countries. Its first free-trade agreement (FTA) went into effect in 2004 with Chile, followed by Singapore, the United States, India, the European Union, ASEAN, the European Free Trade Association, Peru and Turkey. The country has also entered into FTAs with countries including Colombia, Australia, Canada and China, while agreements with others, such as Indonesia, are under negotiation.
The many FTAs that South Korea has entered into will significantly increase the volume of trade, not just between South Korea and the United States and European Union, but also with many developing countries. South Korea is going truly global. South Korea dominates the shipbuilding sector today, with most of the country's ship sales concentrated on higher-value ships that incorporate cutting-edge technology. While Japan and China are competitors, companies such as Hyundai Heavy Industries, Samsung Heavy Industries and Daewoo Shipbuilding & Marine Engineering lead the international shipbuilding industry.
Construction is also one of the main sources of foreign currency, and many South Korean firms have been responsible for successfully executing international construction projects around the world. In 2014 alone, South Korea secured overseas construction contracts worth US$66 billion, according to the Korea Trade Investment Promotion Agency (KOTRA).
The government has promised to implement a 'paradigm shift'… fostering creativity and innovation.
Low on natural resources, South Korea has invested heavily in global energy and natural resource-related projects and businesses. Many state run energy companies such as the Korea Gas Corporation and the Korea National Oil Corporation are involved in such investments, as are private firms.
Growth measures
South Korea's economic trajectory does face some potential bumps, however. China's economic slowdown is a concern, as it is South Korea's largest bilateral trade partner, while the yuan's devaluation could hamper the ability of South Korean companies to compete against Chinese rivals in areas such as shipbuilding and car making.
But measures are being taken to ensure continued growth. The government has promised to implement a "paradigm shift" in the country, fostering creativity and innovation, in a quest to build a knowledge-based economy. Korea's skilled and highly educated workforce is a valuable advantage in making this shift.
And a new program of reforms is being pushed forward by the government. Korea, rather than resting on the laurels of its past success, is actively looking for ways to keep its economy vibrant and attractive to both domestic and international businesses.
This report explains how South Korea has turned itself into an attractive investment destination for foreign investors, and examines the evolution that South Korean firms have undergone to become significant global players in key sectors such as infrastructure finance. It also highlights the legal challenges that a growing international presence poses for
South Korean companies in areas such as antitrust and US class action litigations, and how South Korea is making greater use of international arbitration as a means of resolving the increasing number of cross-border business disputes it faces.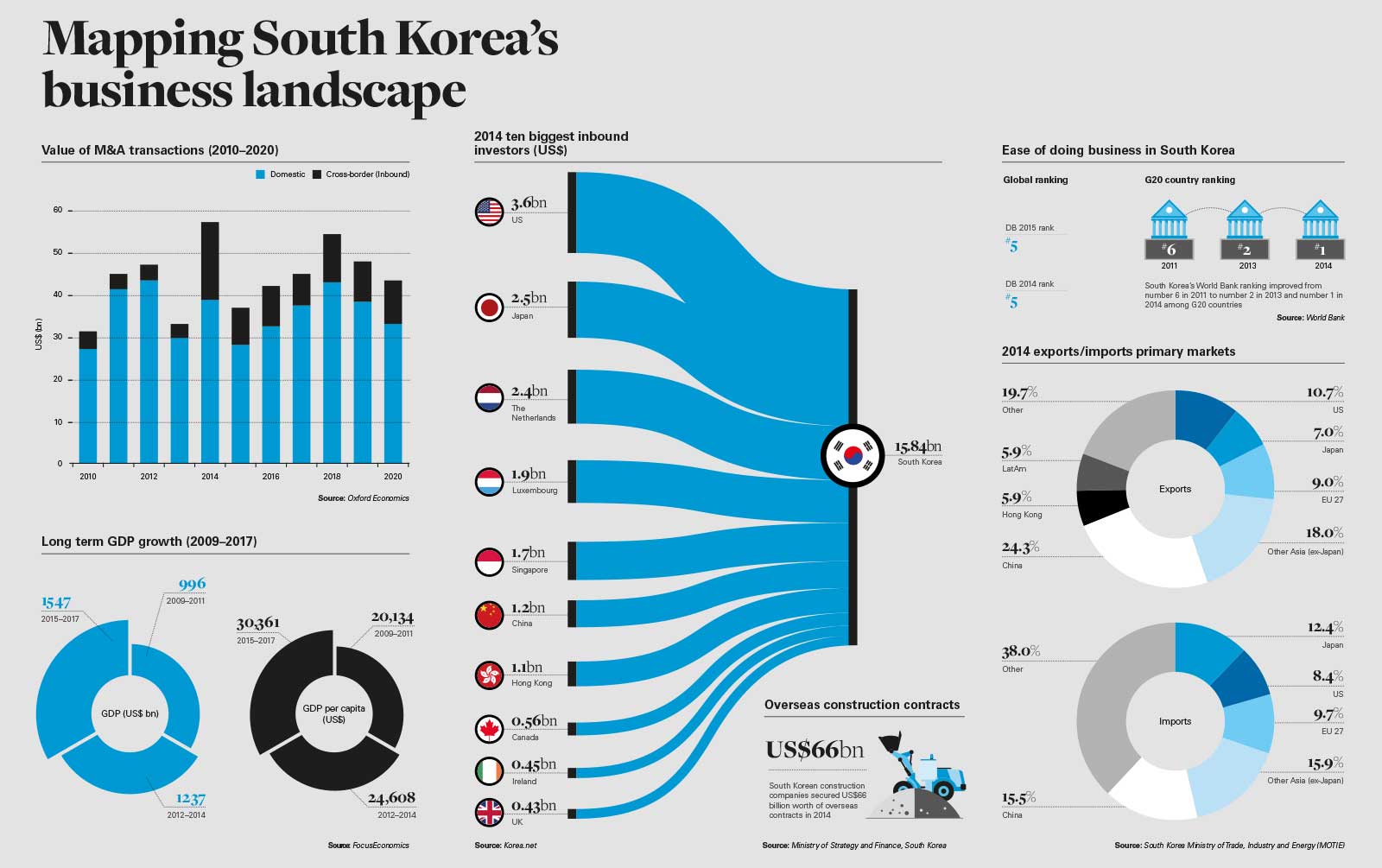 View full image
To read the full South Korea report, please click here.
To read other articles in this report, please click here.
This publication is provided for your convenience and does not constitute legal advice. This publication is protected by copyright.
© 2016 White & Case LLP