Global 2010: Issue 2
Highlights from this White & Case Alumni Newsletter include a profile of Isabelle Combes, the formation of the Global Pro Bono Practice and Firm updates.
Alumni Spotlight | Pro Bono Update | Alumni News
Alumni Spotlight
Isabelle Combes, Legal Director for Fondation de France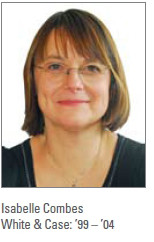 Isabelle Combes, an alumna of our Paris office, is the legal director for Fondation de France, which was established in 1969 to encourage the growth of private philanthropy in all forms. The Fondation serves as an intermediary partner helping individuals and companies to focus their charitable efforts in ways that best respond to the needs of society. It also contributes to the development of philanthropy by enabling individuals or companies to create their own foundations under its aegis and to benefit from its advice on the management of those foundations.
After graduating from Assas University in Paris with a degree in specialized studies (DESS) in International Administration, Isabelle worked as an associate in the international tax department of Francis Lefebvre. Afterwards, she joined the Tax Practice of White & Case's Paris office for five years before joining the Fondation de France.

The Fondation de France focuses on three core areas: aid to those who are vulnerable (people confronting disability, advanced age, unemployment, economic difficulties or illness), growth of knowledge and progress in research and issues relating to the environment. While all three are equally important to the Fondation, providing aid to those who are vulnerable is a particular passion for Isabelle. "This area calls for solidarity and commitment, which are key values for me. Building social links between communities that are unaware of each other is a challenge for humanity," said Isabelle. "I believe my legal background has given me the credibility needed to play the role of counsel and facilitator within the Fondation."
In addition to the respect her law background commands, Isabelle noted that the working and thinking methods she acquired during her time at White & Case are her major strengths today. Her experience working in a multidisciplinary team gave her the advantage she needed when obtaining her position with the Fondation.
"The Fondation de France was accustomed to oral over written work when it came to law, but the written culture is an important 'weapon' used in law firms," said Isabelle. "This knowledge has helped me to effect real change for the Fondation." When asked about her time at White & Case, Isabelle said that the sense of belonging to a family was one of the first things she noticed after joining the Firm. "As proof, I still keep in touch with many partners, associates and also alumni. For me, it's important to maintain this bond between us."
When asked about her time at White & Case, Isabelle said that the sense of belonging to a family was one of the first things she noticed after joining the Firm. "As proof, I still keep in touch with many partners, associates and also alumni. For me, it's important to maintain this bond between us."
Isabelle would say fate led her to the Fondation. "I had never considered joining a not-for-profit organization, but when the opportunity presented itself, I knew it was perfect for me." Isabelle accepted the position with the Fondation de France in 2005 and became its legal director overseeing an 11-person team. "This new role was consistent with my personal challenges, my values and my quest for doing something meaningful," she added.
Isabelle's advice to someone looking to segue out of business law and into philanthropic work is, "Keep your ability to discern apprehending risks; it's a sought-after skill. And most importantly, don't think you won't be working hard at a not-for-profit organization; it's far from being a cushy number!"
Pro Bono Update
Global Pro Bono Practice Group Formed
In June, Chairman Hugh Verrier announced the formation of the new Global Pro Bono Practice to manage and grow the Firm's pro bono work worldwide. Leading the new practice is Ian Forrester, a Brussels-based partner in the Firm's Global Antitrust Practice.
"Establishing a Global Pro Bono Practice allows us to better manage our global pro bono activity and improve the support we give to our lawyers engaged in pro bono activity," said Verrier. "It also builds on the Firm's long tradition of active pro bono service."
The Global Pro Bono Practice will focus on developing opportunities in three broad areas:
1. Providing access to justice and protection of human rights—Handling a wide range of matters for individuals or groups unable to afford competent legal representation, particularly in cases where human rights are at stake.
2. Promoting good governance and the rule of law—Advising governmental bodies in emerging democracies on international standards and best practices and counseling on the development of emerging judicial systems.
3. Supporting organizations with a social or environmental vocation—Helping those who help others by supporting the work of charities and non-governmental organizations around the world on such topics as cross-border socially responsible investments, intellectual property and a range of other nonlitigious matters.
"Pro bono service is a core value of White & Case, a brand-defining asset," said Forrester. "I look forward to working with my colleagues to help ensure our cross-border pro bono services and on-the-ground resources make a difference in the lives of individuals and in the broader global community."
Forrester specializes in the law of the European Union, including competition law, trade law, customs law, EU internal market rules, intellectual property and constitutional rights. He has also personally handled a wide range of pro bono matters throughout his career, most notably involving human rights, including defending Belgian investigative journalist Hans-Martin Tillack against attempts to reveal his sources and challenging how the European Commission handles competition cases under European law and the European Convention on Human Rights and Fundamental Freedoms.
White & Case's commitment to pro bono service is rooted in the Firm's earliest years and exemplified by its founders and former Firm leaders. J. DuPratt White provided pro bono legal advice and leadership for almost 40 years to the Palisades Interstate Park Commission, which was created in 1900 by the governors of New York and New Jersey to prevent the defacement of the famous Palisades along the Hudson River by a handful of large stone quarries then in operation. During World War I, George Case served on the Red Cross War Council and later helped transform a group of national Red Cross societies into a multilateral institution. Beginning in the 1930s, Orison Marsden, who later served as chairman of the Firm's Management Committee, devoted four decades to working with The Legal Aid Society of New York, including five years as board chairman, and also helped found the International Bar Association's International Legal Aid Organization. More recently, former White & Case Chairman James Hurlock helped shape the International Law Development Organization as board chairman from 2001 to 2004 and has served New York-Presbyterian Hospital and the Woods Hole Oceanographic Institute in leadership roles for many years.
In 2009, White & Case invested more than 80,000 hours in pro bono matters worldwide, the equivalent of US$40 million in work value. The Firm also recently announced the recipients of its 10th Annual Pro Bono Awards honoring 12 individual White & Case lawyers and 12 client teams from nine offices in seven countries. For more information about White & Case's pro bono work and clients, please visit the Firm at /social-responsibility/our-pro-bono-practice.
Alumni News
Tokyo Office Hosts 19th Annual Back-to-Business Event for Clients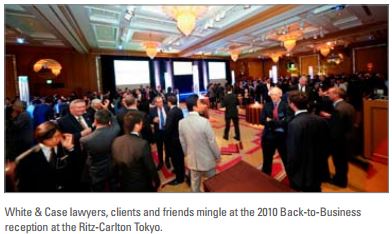 On 15 September 2010, White & Case's Tokyo office held the annual "Back-to-Business" reception, which provides an opportunity to welcome back clients and friends from their summer vacations each year to celebrate with them the start of the fall business season and to express our appreciation for their continued support for White & Case.

Over the past 19 years, the Back-to-Business reception has grown to become a widely recognized and anticipated event in the international business community in Japan. This year, nearly 700 clients and friends representing 333 companies attended the event, which was held at the Ritz-Carlton Tokyo. White & Case lawyers from around the world, representing the Firm's various practice groups, came together to attend the event.

Tokyo office Executive Partner Brian Strawn said, "Back-to-Business is so well-received by our clients, and every year we look forward to hosting this event for them. It provides an enormous opportunity for the Japanese business community and for our lawyers from different practices around the world to come together to focus on this market."

The Tokyo office also scheduled seminars for clients around the Back-to-Business reception that cover topics of current interest to the Japanese business community including:
International Arbitration Seminar, "The Practical Side of International Arbitration"
Antitrust Joint Seminar with Japan Machinery Center for Trade and Investment, "The Road Ahead: A Prospective, Multijurisdictional Survey of Key Trends and Hot Topics in Antitrust Law"
Czech Investment Seminar, "Czech Today: Business and Legal Perspectives and Maximizing the Value"
Intellectual Property Seminar, "Maximizing the Value of Intellectual Property Assets"
Global Tax Seminar, "International Tax Risks and Opportunities in Japan, China and the United States—2010 and Beyond"
The Dodd-Frank Act Seminar, "How the Dodd-Frank Act Affects Non-US Financial Institutions"
Global Antitrust Seminar, "The Road Ahead: A Prospective, Multijurisdictional Survey of Key Trends and Hot Topics in Antitrust Law"
CEE/Russia Seminar, "Investment in CEE/Russia Seminar"
These seminars were presented by White & Case lawyers from Tokyo and other offices and supported by Japanesebusiness organizations.
London Office Hosts World Cup Client Event
World Cup fever gripped the entire world this past summer, and White & Case's London Banking & Capital Markets (BCM) practice seized the opportunity by creating World Cup excitement for its clients. The office hosted a World Cup-themed football tournament on Saturday, 12 June for more than 170 client players and 150 supporters and their children. About 40 White & Case lawyers and staff also attended, making it the largest event ever run by the BCM practice.
24 Client Teams Formed
Invitations to participate were sent to senior contacts within the relevant departments of each client. Each contact was asked to nominate a captain to act as the "go to" organizer of their team. Eventually, 24 teams made up of clients of the BCM practice were formed.
Clients were in for a big surprise when they arrived at the event, which was held at the David Beckham Academy in London. The organizers had kept the location and theme a secret so clients were excited when they learned that their teams would represent a country and that they would be playing in a mini World Cup. Each team was given an official 2010 World Cup football kit that contained the jerseys the teams wore and ultimately got to keep.
Partner Tom Lauria Throws Out First Pitch at Texas Rangers Game
It is not every day that a lawyer is asked to throw out the ceremonial first pitch at a professional baseball game. But that is what happened to Tom Lauria, head of White & Case's global Financial Restructuring and Insolvency Practice, who threw out the opening pitch at a Texas Rangers-New York Yankees game on 10 August in Arlington, TX.
Tom was invited to give the ceremonial toss following his representation of an investment group that emerged as the winning bidder to purchase Major League Baseball's Texas Rangers for US$593 million in one of the most highly publicized sales of a US professional sports team. In throwing out the first pitch, Tom joined a long list of luminaries who have been given that honor by the Rangers, including former US president George W. Bush, football Hall of Fame quarterback Roger Staubach and His Royal Majesty King Oyo of the Republic of Uganda.
The investment group—Rangers Baseball Express—was led by Rangers president and baseball Hall of Fame pitcher Nolan Ryan and sports attorney Chuck Greenberg and also included Ray Davis, retired co-CEO and co-chairman of Dallas-based Energy Transfer Partners, and Bob Simpson, former chairman of Fort Worth-based XTO Energy. The group prevailed against a rival bid for the team by billionaire Mark Cuban, owner of the National Basketball Association's Dallas Mavericks, in a bankruptcy court auction that began 4 August and lasted more than 10 hours.
Following the sale, US Bankruptcy Judge Stacey Jernigan gave approval to the Texas Rangers on 5 August to exit federal bankruptcy protection. The approval cleared the way for Major League Baseball to formally approve Greenberg and Ryan as the team's new owners.
In addition to Tom, Glenn Kurtz, head of the Firm's global Commercial Litigation Practice, and bankruptcy partner Craig Averch acted for Rangers Baseball Express.
Click here to download Highlights from the Fall 2010 Alumni Newsletter.
This publication is provided for your convenience and does not constitute legal advice. This publication is protected by copyright.
© 2010 White & Case LLP