Global 2012: Issue 2
Highlights from this White & Case Alumni Newsletter include alumni events in New York and Brussels, profiles of Tim Goodell and Lauriane Lépine-Sarandi and in memoriams for Casimir Patrick, II and Macdonald Finn.
Alumni Spotlight | Alumni Events | In Memoriam
Alumni Spotlight
Tim Goodell, Senior Vice President and General Counsel, Hess Corporation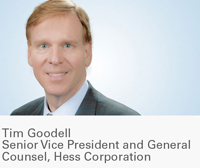 Tim Goodell, Senior Vice President and General Counsel of the Hess Corporation, worked at White & Case's New York office for 24 years before joining Hess in 2009. He began his career at White & Case as an associate in 1984, became a partner in 1992 and later took on the role as Co-Head of the Mergers & Acquisitions Practice. In addition to his many legal achievements at the Firm, he left his footprint as Chair of the Women's Initiative and Administrative Partner, and also served on the Firm's Management Board/Partnership Committee for seven years.

Tim reflects on his time at White & Case and shares his experience of working at Hess.

How/when did you know you wanted to be a lawyer?
I applied to law school when I was in college, but I could not answer the question why I wanted to be a lawyer other than to say my father was a lawyer and my brother was in law school. So I decided to work for a couple of years after graduation for a business consulting firm. At the end of two years, I decided to go to law school because it gave me more options after graduation to either practice law or go into business. While in law school, I also took classes in the business school.
I decided to work in a law firm after graduation because if I started in business, I would probably not have an opportunity to go back and work in a big firm. It probably wasn't until after a couple of years at White & Case that I decided I wanted to be a lawyer.
Describe your career at White & Case.
I had a wonderful 24 years at White & Case where I had the opportunity to work with great lawyers and fun and not-so-fun clients and on interesting and challenging transactions. In addition, I was given the opportunity to serve the Firm in various management positions—first as Administrative Partner under Jim Hurlock; second, I had the privilege to serve on the Firm's Management Board/ Partnership Committee for seven years; and lastly, I was Chair of the Women's Initiative.
What was most memorable and/or challenging about being Co-Head of the M&A Practice?
Working with John Reiss was most challenging (just kidding)! I think the most memorable and challenging was building a strong group of lawyers across practice groups that can represent clients on transactions as well as or better than any firm in the world.
Did you have any mentors at White & Case?
I had many mentors during my career at White & Case. I don't think anyone can have a successful career without strong mentors along the way. I was fortunate early in my career at the Firm that Bill Wynne gave me the opportunity to work with him after Jim Hurlock asked him to build an M&A practice at the Firm as a young partner.
What did you learn at White & Case that has been most useful to you in your career?
What I learned at White & Case that was extremely useful to me is how to work in different countries and diverse cultures. When I started at the Firm, there were only a handful of offices outside of the United States. When I left the Firm, there were more than 30. I found it fascinating that my partners were from so many countries all over the world. At Hess, we have operations in more than 30 countries around the world, and we try to hire mostly local nationals in those countries.
How was the transition from being an M&A lawyer at White & Case to working as General Counsel at Hess?
The transition was pretty easy because I only had to move two blocks north on Sixth Avenue! It was also easier because I had worked with people at Hess for more than ten years. The hardest part of the transition was learning the business and understanding how I could make a contribution besides just providing legal advice.
What do you like most about your job?
I like the diversity and complexity of issues that I have to deal with on a daily basis—from sanctions on Libya to environmental regulations in New Jersey. In addition to my General Counsel role, I sit on the company's executive committee and I am responsible for Environmental Health and Safety, Social Responsibility, Compliance, Government Relations and Corporate Security.
What are the highlights of your career so far?
Having the opportunity to work at two great places. I loved working at White & Case and I never thought I would leave, but I couldn't be happier at Hess.
What's your best career advice for young lawyers?
My best career advice is to take time to think. Think about what you are doing, why you are doing it and what it means. With all the technology today and different forms of communication available on a 24/7 basis, it is important to take time out and think about what you are doing.
Outside of work, what else are you passionate about?
I guess the closest thing that rises to passion is my belief that everyone has to try to make a difference in someone else's life. We volunteer with an organization called Association to Benefit Children that is run by an incredible woman, Gretchen Buchenholtz. They have a facility in East Harlem and on Saturdays we can go up there and play with the children. At Chrismas, Hess donates toy trucks that we give to each of the children. It is great to see the smiles on their faces when they open them!
Tell us something about you that most people don't know.
I have been taking piano lessons for more than three years, but don't worry, I won't be playing in Carnegie Hall any time soon!
What is your fondest memory of working at White & Case?
All the great people. Not just lawyers, but all of the support staff—secretaries, legal assistants, word processing, IT, HR, Office Services, etc. I could never have been able to accomplish what I did without all of their support. Thank you all!
Lauriane Lépine-Sarandi, Case Handler for the French Competition Authority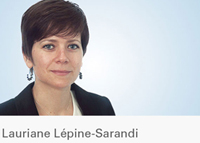 Lauriane Lépine-Sarandi spent six years working for the Competition/Antitrust department in White & Case's Paris office before joining the French Competition Authority (FCA) as a case handler. Lauriane shares her experiences of working at White & Case and in her current role at the FCA.

Could you tell us about your background?
After obtaining university degrees focused on public law and competition law, I did several internships in the antitrust/competition departments of different Anglo-Saxon law firms.
In 2004, I joined White & Case's Paris office as an associate, where I practiced competition law both as counsel and litigator. I had the opportunity to work on a variety of cases—most of them related to anti-competitive practices or merger control, but also distribution law and general competition law. I was also seconded to one of the Firm's clients for several months. This helped me understand the nature of the challenges and constraints faced by in-house legal departments on a daily basis.
Since 2011, I have been working as a case handler within the antitrust services of the French Competition Authority.
What are the job tasks of a case handler?
Case handlers have different responsibilities. Some of us are dedicated to merger control and others are in charge of antitrust cases, such as cartels or abuse of dominant position. As a case handler in antitrust services, I am involved with carrying out inspections and conducting investigations on cases brought before the FCA or cases opened on the Authority's own initiative. We conduct hearings and participate in dawn raids. Once the investigations are over, we submit the Investigation Services' position on whether an infringement has been made before the Board, which is the decision-making body of the Authority.
We also participate in the Authority's consultative role. The Authority provides opinions on any questions related to competition law. In these opinions it makes recommendations in order to improve competition in the markets.
There is also an international dimension to our jobs: We do some European Competition Network–related work and contribute to partnerships with other national competition authorities.
To what extent is it different to work for an independent administrative authority versus a law firm?
Even though the subject matter is the same, there are some differences in perspectives. The case handler's job consists of working for the common interest, whereas a lawyer in a law firm stands for his clients' own interests.
From a practical point of view, a case handler's work is mostly done individually. What I enjoyed about working at a law firm was the team work.
What are your daily challenges?
In my job, I handle several investigation calendars. I am also expected to anticipate any further developments in a case and be independent, rigorous and firm. It's sometimes difficult to leave work behind you when the work day is over.
What have you learned through your career as a lawyer that made you capable of facing those challenges?
Those six years with White & Case allowed me to gain solid work methods. I learned to work under pressure. I also acquired rigor and autonomy, skills that prove valuable today in my new role.
Give us three adjectives to describe your experience in the Paris office.
It was diverse, intense and structuring for me.
What is your best memory from your time at White & Case?
I have a lot of fond memories from that period in my life. What is most memorable are the collective successes and nourishing encounters, especially with colleagues from other offices in Europe, United States or Asia. I also remember laughing a lot during those six years.
Alumni Events
Alumni Cocktail Reception in New York
Thank you to all of our alumni and retired partners who attended White & Case's biannual Alumni Cocktail Reception in New York. Chairman Hugh Verrier welcomed more than 200 alumni, retired partners and partners who attended the special gathering on May 9, 2012 at the Harvard Club of New York City.





Annual Alumni Event in Brussels
The Brussels office hosted its annual Alumni event on June 28, 2012. Alumni had the opportunity to visit the renovated office premises and watched Germany v. Italy in the UEFA Euro 2012 semi-final.



In Memoriam
Casimir (Cas) C. Patrick, II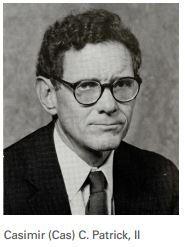 Retired White & Case partner Casimir (Cas) C. Patrick, II passed away on June 13 at the age of 72.

The son of a former White & Case alumnus, Cas joined White & Case in 1966, became a partner in 1975 and retired from the Firm in 1997.

A graduate of Holy Cross College and NYU Law School and a former officer in the US Navy, Cas focused his legal practice on corporate and financial transactions, with an emphasis on equipment leasing, aircraft finance and bank finance. Cas also served in the New York State Bar Association House of Delegates and was president of the New York County Lawyers Association. During his presidency, NYCLA organized a Task Force on Representation of the Indigent, which was instrumental in advocating for changes in the legal system.

Cas had a passion for work and life that continued into his retirement, when he volunteered as an emergency medical technician. His many interests included scuba diving, motorcycling, sailing and golfing, all of which he pursued with the same avid attention to detail that he brought to his practice.

Cas was a mentor to many White & Case lawyers. His colleagues and clients recall his respect for others and his ability to distill the key aspects of transactions.
Cas is survived by his wife, Mary Breen (also a former White & Case lawyer), his children, Casimir, Michael and Margaret, and his grandchildren.
Macdonald (Don) Flinn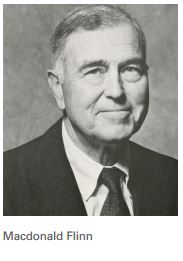 Retired White & Case partner Macdonald (Don) Flinn passed away on May 24 at the age of 88 in Lakeside, Michigan.

Don joined White & Case in 1956 and retired as a senior partner in 1990.

He graduated from Princeton University, where he played football for the Tigers, and from Harvard Law School.

Don was a litigator and a leading antitrust lawyer, with a specialty in the alcoholic beverage industry. For many years, he represented Seagram's, a long-time Firm client, on antitrust matters relating to state laws restricting the sale of alcoholic beverages. Don argued and won cases at all levels and before many different courts, including many times before the United States Supreme Court.

Don was a true gentleman. He only spoke in positives and always had a smile on his face. He treated all those around him with respect.
Don is survived by his wife of more than 50 years, Rosemary, and their three children, Andrew, Susan and Russell.
Click here to download Highlights from the Fall 2012 Alumni Newsletter.
This publication is provided for your convenience and does not constitute legal advice. This publication is protected by copyright.
© 2012 White & Case LLP