Global 2013: Issue 1
Highlights from this White & Case Alumni Newsletter include alumni events in Hamburg, London and Paris, looking back with Leonard Hull Smith, a new office in Madrid and Oliver Brettle discussing the "One Firm" Culture, among others.
Looking Back | Firm News | Alumni Events | Profile
Looking Back
Leonard Hull Smith, Sr.: A Pillar of White & Case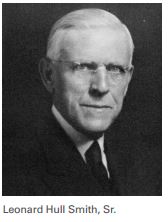 Associated with White & Case even before its inception on May 1, 1901, Leonard Hull Smith, Sr. was one of the early bulwarks of the Firm. His personal odyssey is an interesting one. Despite his storied Smith family legacy of three Mayflower ancestors, he spent his early years in Bay Ridge in Brooklyn, New York and attended public schools also in Brooklyn. An excellent student, while studying law at New York Law School, Smith passed a Civil Service Examination for a position in the Water Department of the City of New York, working nights to earn sufficient money to finance his legal education. He received his LLB in June 1897 and passed the New York Bar in November of the same year.

In 1898, the young lawyer joined the National Guard of New York and served ten years in the 23rd Regiment, which traces its roots to its participation in the Battle of Gettysburg in 1863 on behalf of the Union in the Civil War. Smith earned his spurs by drilling in the then brand new Armory situated on nearby Bedford Street in Brooklyn, then marching in the Inaugural Parade for President Theodore Roosevelt. He was also a member of the Episcopal Church of the Holy Trinity for many years and served as Senior Warden of the Vestry.
Smith Becomes Firm's Sixth Partner
When Justin DuPratt White and George B. Case established their firm on May 1, 1901, they sublet space in their modest offices at 31 Nassau Street to Smith, whose legal abilities had already come to White's attention, and who for several years would conduct various matters for the Firm on a contract basis. This relationship was formalized in 1906 when Smith officially associated himself with White & Case and, on July 1, 1915, became its sixth partner, by which time the Firm had relocated to 14 Wall Street.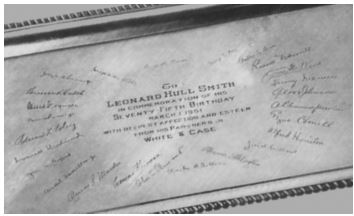 From these humble beginnings would emerge a consummate probate and real estate lawyer who would ably represent such clients as J. Pierpont Morgan, Bankers Trust Company and First National Bank of New York on behalf of his beloved Firm.

Smith also was employed by the Palisades Interstate Park Commissions of New York and New Jersey and supervised the acquisition and purchase of all the land along the Hudson River from Fort Lee to Bear Mountain. Under the tutelage of White, who served as President, Smith later became Assistant Secretary and Assistant Treasurer of both Commissions. This system, originally sponsored by Governors Theodore Roosevelt and Foster Voorhees, now contains eight parks and 24 historic sites covering more than 100,000 acres.
Interestingly, Smith's elevation to partner was sandwiched between those of two other colleagues who would also make their mark at the Firm. Colonel Joseph M. Hartfield, who was named partner three years earlier, would become managing partner of White & Case for much of the 1950s and 1960s, and Irving S. Olds, who became a partner two years later, eventually would become Chairman of US Steel. Yet, the unassuming Leonard Hull Smith was not overshadowed by these dynamic personalities, as demonstrated by the presentation of a beautiful silver tray to him by his fellow partners on the occasion of his 75th birthday on March 1, 1951. Engraved with the signatures of such White & Case luminaries as Glover Johnson, Lowell Wadmond, Claude Hamilton, Orison Marden, Ezra Cornell and Paul Pennoyer, this memento was presented to Smith with their "deepest affection and esteem."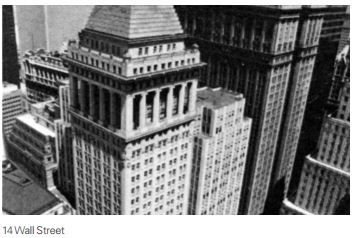 Personal Life

Smith's success as a Firm partner enabled him to enjoy a comfortable living beyond his dreams as a young lad in Brooklyn. He moved his large and growing family to an apartment at One Pierrepont Street in Brooklyn Heights. Likewise, he purchased a rustic cabin in Maine where he and his family would enjoy getaways from the Manhattan heat in the summer (this being a time without air conditioning).

Throughout it all, he was a modest and humble man who related equally well with his family, clients, partners, associates and staff.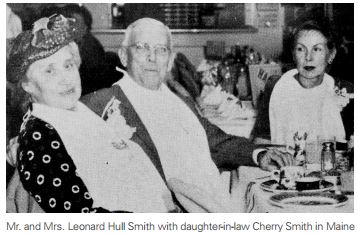 Upon his retirement from White & Case, Smith eventually moved from Brooklyn Heights to Garden City, Long Island. From there, he moved to Atlanta to be near his son Darwin and daughter, Glorine. His other son Leonard Hull Smith, Jr., a pioneer pilot and contemporary of Charles Lindbergh, sadly, had by this time passed away in California. Leonard Junior had graduated from Williams College and been named All-American in football. Ironically, none of his children became lawyers, although all were successful in their own right.

Upon his death, then Chairman of the Firm, Lowell Wadmond, wrote these fitting lines of sympathy to Leonard Hull Smith, Sr.'s son: "He was kind, yet strong, sympathetic, unselfish, generous, filled with the milk of human kindness, and always put himself in a position to understand the other person's point of view, whatever the matter might be. His memory will ever be enshrined in the hearts of all who knew him."

Philip K. Curtis is the great-grandson of Leonard Hull Smith, Sr. He is a graduate of Harvard Law School, and served as a summer associate with White & Case in 1970 in the 14 Wall Street and 280 Park Avenue offices. He later was a full-time associate in 1971 – 72 before returning to Boston where he earned his MBA at Harvard Business School (one class ahead of George W. Bush).

Curtis then moved to Atlanta where he has lived ever since with his wife, Jan, a Wellesley graduate, pursuing careers in law (including a stint in what is now the local office of Jones Day), real estate and executive search. He is admitted to the New York and Georgia Bars, is a member of the Old War Horse Lawyers Club and Dartmouth Lawyers Association and is a biographee I Who's Who in American Law.
Firm News
White & Case Named International Firm of the Year 2013 by The Lawyer
White & Case was named "International Firm of the Year 2013" by The Lawyer magazine, a well-known UK legal publication, at The Lawyer Awards 2013 event held at London's Grosvenor House Hotel on June 26, 2013 and attended by more than 1,400 lawyers. The award acknowledges the global elite nature of the Firm and, in particular, the standout year the London office had across practices.
The Firm was also third-place runner-up—and the only law firm recognized—in the "Ethical Initiative of the Year" category, for its work supporting Lawyers Without Borders and the United Nations Office on Drugs and Crime in the creation of an online human trafficking database.
The Lawyer states of the awards "[they] are about the celebration of excellence in the profession across private practice, the public sector, commerce and industry, and the Bar. Each year, the editorial team of The Lawyer conducts a huge research process, interviewing hundreds of lawyers and their clients. "
According to The Lawyer, White & Case had "a standout year in 2012," in particular, its capital markets, M&A and disputes groups, with the litigation and arbitration groups "kept busy," including "advising Turkish conglomerate Çukurova on its disputed stake with Russia's Alfa Group in Turkey's largest mobile phone operator, Turkcell."
In addition, The Lawyer pointed to the Firm's "key role on the restructuring of €206 billion of Greek debt as well as the restructuring of Kazahkstan's BTA Bank." The Lawyer quoted one of the judges as saying, "The restructuring of Greek sovereign debt was a truly amazing mandate, highly pressured and had far reaching consequences for the global economy."
The judge concluded, "White & Case has global scale and, it would appear, a true global profile."
White & Case Opens Office in Madrid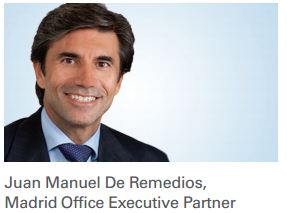 In March 2013, White & Case opened an office in Madrid, which is led by new partner Juan Manuel De Remedios, who joined the Firm as the Madrid Office Executive Partner.

"This move fulfills our long-held ambition to have an office in Spain," said White & Case Chairman Hugh Verrier. "The Madrid office launch, led by Juan Manuel, will support the needs of our clients investing in Spain and Spanish clients expanding globally."

White & Case's commitment to Spain—the eurozone's fourth-largest economy and the world's 13th-largest economy—extends more than 30 years. The Firm acts for clients including global companies and financial institutions in their cross-border activity.
De Remedios's practice focuses on M&A and capital markets, two of the Firm's global strategic priorities. He has been involved in several of the most complex and high-profile transactions in Spain in recent years. He is dual-qualified in Spain and New York and joins the Firm from Latham & Watkins LLP where he was Chair of its Corporate Department in Spain.
De Remedios is joined by local partner Yoko Takagi, whose practice focuses on M&A and capital markets, and a team of associates. The Madrid office advises clients on Spanish, US and cross-border legal issues of M&A, debt and equity capital markets, finance and restructuring, and will be supported by more than 60 Spanish-speaking lawyers who work on Spain-related matters from other White & Case offices.
Alumni Events
Alumni Event in Hamburg
The Hamburg Alumni Event was held on November 8, 2012, and was attended by approximately 80 alumni and 50 current White & Case lawyers.
White & Case's Hamburg office will be moving into a new building in September 2013. At the start of the evening, alumni had the opportunity to preview the building site, and Hamburg partners and staff welcomed the guests and offered them a tour of the premises. Afterwards, everyone gathered for a celebration at the Hotel Scandic Emporio, located next to the new office building. Office Executive Partner Christian Rohnke gave a welcome speech, which was followed by dinner, drinks and music.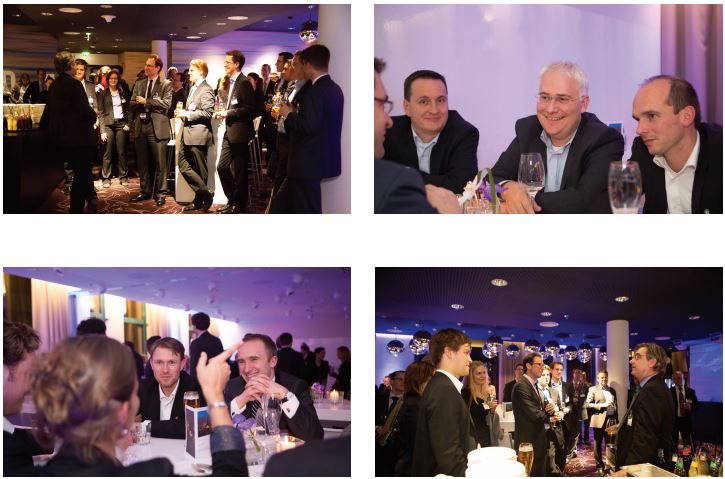 London Office Holds Alumni Event Atop Iconic Gherkin Building
The London office held an alumni event on June 19, attended by nearly 80 colleagues, both past and present.
Holding the event on the top floor of London's iconic Gherkin building, with spectacular views of the city, created a buzz, and the event provided a great opportunity for partners and senior associates to catch up with past colleagues, many of whom now form part of the Firm's client base.
Francis Fitzherbert-Brockholes and Charlie Lightfoot—who sits on the Alumni Committee—addressed the guests, thanking them for their support of the launch event. It's hoped that this will be the first of many London alumni events.

Alumni Cocktail Party in Paris
On December 4, 2012, the Paris office hosted its annual alumni event in its offices at 19 Place Vendôme. The event attracted more than 50 participants, including more than 30 alumni.

Profile
Oliver Brettle Helps Firm Build a "One Firm" Culture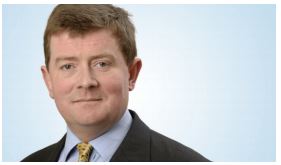 Oliver Brettle is a partner specializing in employment law and Executive Partner of the Firm's London office. He has been a member of the Executive Committee since 2009. Oliver was re-appointed to his post in September 2011 and is focused on helping the Firm build a "One Firm" culture, including initiatives that support people development. He is also responsible for growing the London office and further integrating the Firm's regional practices in Europe, the Middle East and Africa.

Here are some of Oliver's thoughts on the challenges law firms face, what a "One Firm" culture means and some important life lessons.

We're living in tough times that present tough challenges to a law firm.
Since I joined the Executive Committee in 2009, there has been a constant focus on whether we are in the "new normal." Were the boom years of 1992 to 2007 the norm or an aberration? Is the new normal for the Firm a period like the 1970s, which experienced continuous economic ups and downs?
We need to operate as a single integrated Firm.
To do so, we need to do what we can to make our approach to our people and their careers as consistent as is appropriate and sensible across the Firm.
I am not talking about putting people in a straitjacket or that we shouldn't be sensitive to local norms and expectations. Some matters are relatively simple—for instance, making sure that all our lawyers record their client hours on time, on a similar basis, globally.
A One Firm culture means a sense of all of us pulling together.
It means being interested in the success of the whole and not just the success of the part we play in the whole. It's a collective understanding that we need to be providing a consistent and very high level of service to all our clients so that they are clear that when they are dealing with any one of our lawyers anywhere in the world that they are dealing with a lawyer with access to an entire global firm and not just a small group of lawyers within a given location.
We as a firm want to appeal to those clients who can best benefit from our services.
Those types of clients are (not exclusively) leading global corporations and financial institutions. The reason why most of our lawyers want to be lawyers in a firm like White & Case is because they want the opportunity to serve such global clients and have a career at the highest level of our profession worldwide. That does not mean ignoring important local or regional clients. They too remain vital to the Firm's business.
We need to offer those clients something special.
Those global clients will have sizeable in-house capabilities. Therefore, we need to be offering them something special and separate from that which they can provide themselves or can be provided by low cost-operators on a local or global basis—something that adds value. It is only by appealing to those corporations to work on their most complex cross border and global work that we will be able to succeed.
Training and development is a key part of this effort. We must work very, very hard on our training and development of our people and on how we are able to serve our clients at the high level at which they need to be served.
Never be afraid to own up to any mistakes you've made.
It's a cliché, but true. It's the best lesson I learned as a junior lawyer. That and don't be afraid to ask [sensible] questions.
Don't oversell your ability and then let people down.
The best piece of advice I received from a mentor is do not overtrade—that is, do not oversell your ability and then let people down. You're much better off being sensible and realistic about what you can do and, if needed, get others in to help.
I have no idea what path I would have taken if I hadn't become a lawyer.
I stumbled into law and I enjoyed it. Perhaps I would have become a teacher, like other members of my family who aren't lawyers.
Passions?
With three children ages 15, 12 and 9 (all boys), it's quite hard to remember…but I do enjoy hill walking, travel and antiques. And of course my wife and family!
New Americas Monthly Client CLE Seminar Series Launched
The Firm launched an Americas client CLE seminar series in January 2013, as part of our continuing efforts to bring our clients value-added services. Many alumni have been among those attending these seminars.
Seminars have included:
"The New Tax World: Tax Reform, the Fiscal Cliff and Private Funds" given by partners William Dantzler, Linda Carlisle, Jeremy Naylor and John Olivieri.
"Attorney Client Privilege for In-House Counsel" given by our General Counsel and Partner of Counsel Philip Schaeffer and partner Jennifer Paradise and attended by more than 60 clients, including many White & Case alumni.
"The Evolving Nature of Legal Risk—Navigating Corporate Challenges in a Changing World" given by partners Eric Grannon, Gregory Little and Owen Pell.
The New Derivatives Rules Under the Dodd-Frank Act and How They Impact the Conduct of Trading Activity," given by partner Ian Cuillerier.
"Keys to Successful Power Asset Due Diligence," given by partner Michael Shenberg.
"Key Considerations in Joint Ventures and Shareholder Agreements," given by partner Carolyn Vardi.
"Private Investment Funds—Marketing under US and EU Regulations," given by partners Monica Arora, Sean O'Malley, Sharon Hartline and Stuart Willey.
All seminars are taped and DVDs are available to our clients at any White & Case office for reviewing and CLE accreditation.
We are happy to come to a client's company and give any seminars of interest to their in-house departments.
Click here to download Highlights from the Summer 2013 Alumni Newsletter.
This publication is provided for your convenience and does not constitute legal advice. This publication is protected by copyright.
© 2013 White & Case LLP