Global 2013: Issue 2
Highlights from this White & Case Alumni Newsletter include a profile of Irina Nesvetova, alumni news, the new office in Astana and a pro bono update, among others.
Alumni Spotlight | Firm News | Pro Bono Update
Alumni Spotlight
Irina Nesvetova Enjoys Diversity of Experience as Head of Legal for Deutsche Bank in Russia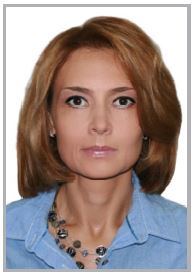 Former White & Case Moscow partner Irina Nesvetova is now Head of Legal for Deutsche Bank in Russia. She spent 14 years—most of her legal career so far—with White & Case and grew from a young associate to a partner. We talked to her about how the Firm shaped her career, her work at Deutsche Bank and what her advice to young lawyers just starting out would be.

Q. What is the best part of your job at Deutsche Bank?
The best part is getting very diverse experience in various professional areas. I am a banking and finance specialist, and I get to be involved in many different areas: finance, commercial banking, asset management. I have a very good professional team of lawyers and I enjoy working with them, and the quality of our advice is high. I like quality in a job.

Q. What is the toughest thing about your job?
I think the toughest thing about any position is the responsibility that comes with it, and the difficulty in having to make the big decisions.

Q. What's the secret to winning work from you? What qualities/criteria do you look for/at when selecting a legal adviser?
These days I look for advice that shows experience. I need a clear position and response to questions, a clear description of the law and a conclusion, and then advice on what to do and what not to do.
Q. Who/what has been the biggest influence on your career?
I think there were a number of coincidences. Luck is very important in terms of picking your career, your way. It is definitely luck, along with people and friends around who were giving me advice at the right time.
Q. How did your time with White & Case influence your career?
I spent 14 years of my 17-year career with White & Case, so it was the biggest part of my professional life so far. I grew from a very young associate to a partner at White & Case. White & Case gave me a great opportunity to grow and learn, to like my profession and what I am doing, to try new things. Every part of my professional life—a big thank-you goes to White & Case.
"I think the toughest thing about any position is the responsibility that comes with it, and the difficulty in having to make the big decisions."
Q. What's the most exciting deal/project you've worked on and why?
Sakhalin 2. It was the biggest project finance deal and it required very in-depth analysis of everything, of so many issues. I managed to go on three maternity leaves and come back, and the project was still going on!
Q. What advice would you give to young commercial lawyers just starting out?
My only advice is to do this only if you like it, because it is really hard work.
Q. Who's your hero and why?
I don't have a hero, but there are people whom I admire, and I would say my parents are number one in that category.
Q. If you weren't a lawyer what would you have been? What would you do if you weren't a lawyer?
I have a feeling that I was born to be a lawyer. I can't imagine not being one. It is my profession. I am also a good manager, and I like combining these two roles. Probably I could be a manager in any other area as well.
Q. What do you do on weekends?
My weekends are devoted to my three children.
Q. What books are you currently reading?
I like reading magazines, but when I left White & Case, I started reading books! At the moment, I am reading Why I Left Goldman Sachs by Greg Smith. I am also reading The Winner Stands Alone by Paolo Coelho. If the ending is good, I will read his next book.
Q. If you could live anywhere in the world, where would you live?
I would travel around the world rather than live in one place. Change my scenery all the time.
Q. What is your motto/credo?
Don't lie. I don't lie.
Firm News
White & Case Opens Office in Kazakhstan's Capital
In October 2013, White & Case strengthened its practice in Kazakhstan by opening a new office in Astana, the country's capital. This new office will operate together with the Firm's existing office in Almaty to support the demands of the Firm's clients in Kazakhstan.
"We're pleased to announce the opening of our new office in Astana," said White & Case Chairman Hugh Verrier. "The Firm has been present in Kazakhstan for nearly 20 years since we launched our office in Almaty in 1995. This move demonstrates our continuing commitment to our clients investing in Kazakhstan and the international activities of our Kazakh clients."
Maxim Telemtayev, the Firm's office executive partner in Almaty and Astana, said: "Kazakhstan's business hub has been shifting steadily to Astana ever since it became the country's capital city. Establishing an office in Astana will ensure we're ideally positioned to support our clients effectively while strengthening the platform from which the ongoing development of our Kazakh practice will continue."
Pro Bono Update
White & Case Aids in Battle Against Human Trafficking
"The scope of human trafficking is barely believable," says partner Ian Forrester, White & Case's Global Pro Bono Practice Leader. "Millions of mostly women and children around the world—and no country is immune—are traded like commercial commodities across borders."
To fight this global scourge of human trafficking and modern-day slavery, White & Case undertook several pro bono projects, all under the umbrella of the Firm's Fighting Human Trafficking Initiative. The Initiative is designed not only to provide access to justice for human trafficking victims and support to leading anti-trafficking NGOs, but to bring about systemic change in the prosecution of human trafficking cases and the protections countries offer to victims.
Our work on the Initiative has included:
Partnering with the United Nations Office on Drugs and Crime to create a public global database of human trafficking cases and case law
Expanding our access-to-justice work in the representation of human trafficking victims in a case against their trafficker
Reviewing domestic labor laws in seven countries to determine if they provide sufficient protection for domestic workers
Supporting Polaris Project in its creation of a global anti- trafficking hotline for victims
Serving as counsel to the world's leading anti-human trafficking and anti-slavery NGOs
Drawing on the strength of our global network, more than 230 lawyers and legal staff in 27 offices worldwide contributed to the database project for the UNODC.
"It was the largest pro bono project we've ever undertaken," said partner Someera Khokhar, who oversaw the project. "We ran it as a normal cross-border transaction, holding conference calls, setting up centralized online resources to manage the documents, and appointing team leaders in each jurisdiction who worked with associates to set the research strategy and decide where to turn upon encountering a dead-end."
The Firm's efforts were recognized by The American Lawyer, which awarded its Grand Prize in the Global Citizenship category to our Fighting Human Trafficking Initiative at the inaugural American Lawyer Global Legal Awards ceremony held on September 23, 2013. The award honors global matters dedicated to the spirit of pro bono and social responsibility.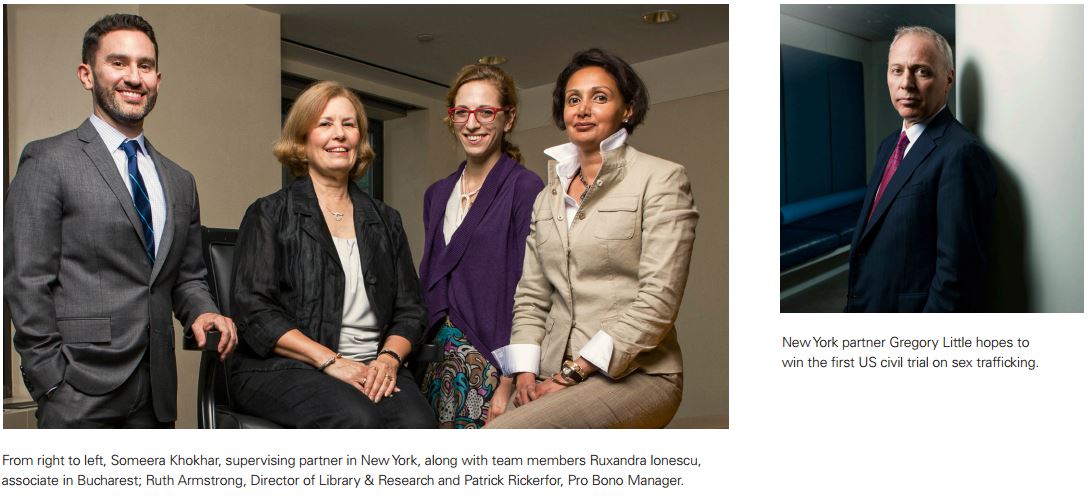 New White & Case Client Magazine Latitudes Launched
Our clients need fresh insight and information to compete in an ever-evolving G20 world. To meet this need, we created Latitudes, a new magazine for our clients focused on top-of-mind, globally relevant issues. It offers leading-edge perspectives and analysis from our lawyers and highly regarded external contributors worldwide. Original opinion pieces are accompanied by standing features on technology, markets and industry sectors, along with country profiles and other analyses.
Launched in November, our inaugural issue covered topics such as navigating the new economy, leveraging big data, the global economy's impact on international shipping and China's investments in Africa. Articles on Brazil and Spain, two economies demonstrating that opportunity may lie in unlikely places, are featured. Latitudes will be published three times per year and made available to current clients.
Click here to download Highlights from the Winter 2013 Alumni Newsletter.
This publication is provided for your convenience and does not constitute legal advice. This publication is protected by copyright.
© 2013 White & Case LLP