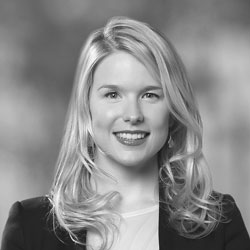 We sat down with alumna Diana Bowman who was an associate in our Paris office and member of our International Arbitration Group from 2011 to 2017.

Could you sumarize your career path to date?
I was born in Australia. While at high school, I had the opportunity to spend six weeks in Paris as part of an exchange program. It was such a great experience for me that I always dreamt of coming back to France someday. With this in mind, in parallel to my Bachelor of Laws (LLB) at the University of Melbourne, I also completed a Bachelor of Arts (BA), with French as my major. After completing my training contract at a law firm in Melbourne, I was admitted as a lawyer in Australia. Shortly thereafter, I was admitted into the LL.M. programme (French and European law) at Paris I Pantheon-Sorbonne. It was during this LL.M programme that I was offered an internship at White & Case in the International Arbitration group. I spent the following six years in the team and also passed the Paris Bar in 2013, with the support of White & Case.

Can you describe your current role at Vinci Energies?
I am Legal Manager (Responsable Juridique) at Vinci Energies International & Systems. I handle arbitration and litigation (or pre-litigation) cases, but I also occasionally work on corporate and commercial transactional files. My role is therefore very diverse, while still mostly linked to my arbitration expertise.
How are you dealing with this change of position?
The move in-house to Vinci was a fantastic opportunity, but it has not been without its challenges. In my new job, I am sometimes called upon to advise on issues outside of my field of expertise, which proved quite destabilizing at first, but I am gradually finding my feet. The warm welcome I received from my new team at Vinci Energies has helped a lot, and I have already learned so much in seven months. Overall, it has been a great chance to broaden my skill set, be exposed to a different world and to work with an excellent in-house team, while at the same time maintaining my links with White & Case.
Are you still involved in the professional arbitration world in Paris?
Absolutely, and it's very important to me. When I was at White & Case, I was involved in several arbitration-related committees, such as the Paris Very Young Arbitration Practitioners. Today, I am still a member of several of these committees, meaning I can keep in touch with my former colleagues from White & Case. I also recently became a member of the Silicon Valley Arbitration & Mediation Center Young Professionals Steering Committee.
Could you sum up in three words your experience at White & Case?
Formative: During the six years I spent in the arbitration team, I had the opportunity to work with and to be trained by brilliant lawyers – among the world's most renowned in their field – who taught me rigor, professionalism and excellence.
Friendship: I developed great friendships, not just with the members of my team, but also with other members of the firm, thanks to the collaborative spirit that characterizes White & Case.
Rock'n' Roll: During my internship, the Paris office (on the initiative of Jean-François Le Corre) founded a rock band (now famously known as "Draft Punk") with the aim of showcasing the hidden talents of the firm. That was when I joined Draft Punk as a bass guitar player. I am still a member of the group, which is composed of around ten current and former White & Case members. We are very grateful to the firm for supporting us in this project and for allowing us to regularly perform at office events in Paris or London, and sometimes even outside the office (for example at the Café Alice, next to the Paris office).