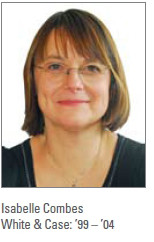 Isabelle Combes, an alumna of our Paris office, is the legal director for Fondation de France, which was established in 1969 to encourage the growth of private philanthropy in all forms. The Fondation serves as an intermediary partner helping individuals and companies to focus their charitable efforts in ways that best respond to the needs of society. It also contributes to the development of philanthropy by enabling individuals or companies to create their own foundations under its aegis and to benefit from its advice on the management of those foundations.
After graduating from Assas University in Paris with a degree in specialized studies (DESS) in International Administration, Isabelle worked as an associate in the international tax department of Francis Lefebvre. Afterwards, she joined the Tax Practice of White & Case's Paris office for five years before joining the Fondation de France.
The Fondation de France focuses on three core areas: aid to those who are vulnerable (people confronting disability, advanced age, unemployment, economic difficulties or illness), growth of knowledge and progress in research and issues relating to the environment. While all three are equally important to the Fondation, providing aid to those who are vulnerable is a particular passion for Isabelle. "This area calls for solidarity and commitment, which are key values for me. Building social links between communities that are unaware of each other is a challenge for humanity," said Isabelle. "I believe my legal background has given me the credibility needed to play the role of counsel and facilitator within the Fondation."
In addition to the respect her law background commands, Isabelle noted that the working and thinking methods she acquired during her time at White & Case are her major strengths today. Her experience working in a multidisciplinary team gave her the advantage she needed when obtaining her position with the Fondation.
"The Fondation de France was accustomed to oral over written work when it came to law, but the written culture is an important 'weapon' used in law firms," said Isabelle. "This knowledge has helped me to effect real change for the Fondation. When asked about her time at White & Case, Isabelle said that the sense of belonging to a family was one of the first things she noticed after joining the Firm. "As proof, I still keep in touch with many partners, associates and also alumni. For me, it's important to maintain this bond between us."
Isabelle would say fate led her to the Fondation. "I had never considered joining a not-for-profit organization, but when the opportunity presented itself, I knew it was perfect for me." Isabelle accepted the position with the Fondation de France in 2005 and became its legal director overseeing an 11-person team. "This new role was consistent with my personal challenges, my values and my quest for doing something meaningful," she added.
Isabelle's advice to someone looking to segue out of business law and into philanthropic work is, "Keep your ability to discern apprehending risks; it's a sought-after skill. And most importantly, don't think you won't be working hard at a not-for-profit organization; it's far from being a cushy number!"