Joe Collins, working for the biggest baseball club in the world
White & Case Alumni Spotlight
Joe Collins, working for the biggest baseball club in the world
If you like sports, and you're a lawyer, few jobs could be better than working in-house for a major sports club. Former White & Case associate turned Counsel for the New York Yankees, Joe Collins, is among the lucky few who could be forgiven for thinking they have hit the jackpot—but he is careful to keep his feet on the ground.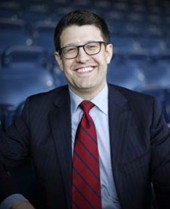 "I do feel very lucky to be working for the Yankees," says Joe, a 37-year-old New Yorker. "I've loved baseball all my life. To be working for the biggest baseball club in the world is a privilege that I don't take for granted."

Prior to joining White & Case, Joe worked in the UK at another firm. "I was working in London and crossing paths with many savvy White & Case lawyers on high yield and leveraged loan deals," he recalls. After returning to the United States, "an opportunity arose to work for the Firm in New York, and I jumped at it." Joe joined our finance practice in 2010 and has fond memories of his time working on Sixth Avenue: "I can't stress enough how great everyone was. I worked for brilliant partners and with exceptional associates and support staff. Everyone was willing to pitch in to get the deals done. We all logged long hours, but it was a superb working environment. I really loved my time at the Firm."

Before entering the legal profession, Joe completed an internship with the Yankees—and this led to fate knocking on his door with an offer he felt unable to refuse. "The legal team at the club knew me and found themselves short-handed in spring 2011. They approached me and asked if I'd like to join them. If it hadn't been for this, I would not have even considered leaving the Firm after such a short time. But being a passionate Yankees fan persuaded me to take the plunge. I was thrilled to get the job but even more delighted by how supportive everyone at the Firm was about the move."
Since joining the Yankees in May 2011, Joe has found that his daily legal fare is broader than the specialized finance work he dealt with at the Firm. "I'm involved in a broad cross-section of matters, working on everything from labor and employment, sponsorship and ticketing issues to helping Major League Baseball protect the Yankees' intellectual property and finalizing contracts for the many different ventures and events with which the club is involved." These include the Yankees' diversification into soccer—English giants Chelsea, Liverpool and Manchester City have visited and played friendlies at Yankee Stadium. Moreover, the Yankees and Manchester City have stakes in New York City FC, the Major League Soccer franchise for which former England international Frank Lampard plays. This development is welcomed by Joe: "While I was working in England, I really got into the Premier League and ended up living near Arsenal's ground in North London. I went to as many matches as I could and still support Arsenal. I also play recreational soccer once a week. It's up there with baseball as my favorite sport."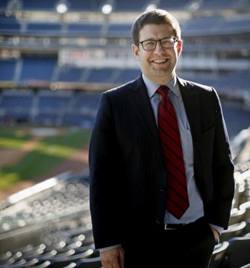 Joe used to play a lot of baseball, too, but says that the twin demands of work and family life—he has two young daughters, Avery, three, and Caroline, six months, with his wife Whitney—mean that this has been commuted to softball. "But watching the girls learn ballet and take swimming lessons is much more fun," he says.

Another difference from his previous life at the Firm is in the size of the legal team. Heading up the Yankees' legal staff are Lonn Trost, COO and General Counsel, with Alan Chang working as Deputy General Counsel. Joe works as Counsel, and the team has recently been bolstered by the arrival of a fourth member, Mark Bienstock, also working as Counsel. "It's a smaller team, yes, but our work is ever-expanding," says Joe. "Even though we didn't advance far into the postseason, it's still a very exciting time to be at the Yankees."

You get the feeling that any time working for the Yankees would be exciting for Joe, not least given his routine on weekend game days: "It's not too bad. I like to get to the stadium before the crowds, catch up with Arsenal on the TV in my office while I finish some work, and then watch our game."
Before we leave Joe to his good fortune, we note two things: One, his grandfather was Joe Collins, originally of Scranton, Pennsylvania, who not only spent his entire career in the Bronx but also won the World Series six times with the Yankees in the 1940s and 1950s, and two, he credits the Firm with instilling "a deep and abiding work ethic and attention to detail." The two things might well be connected.