Judge Richard Holwell Reflects on White & Case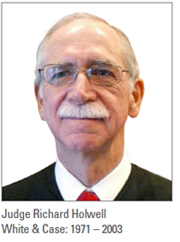 Judge Richard Holwell, a US Federal Judge in the Southern District of New York, was a partner at White & Case for 24 years before joining the Court. He started at the Firm in 1971. He became a partner in 1979 and worked for White & Case as a litigator until 2003 when he was appointed to the bench by President George W. Bush.

Judge Holwell has served with distinction for the Southern District of New York for the last eight years. Recently, he presided over the trial of Raj Rajaratnam, founder of the Galleon Group Hedge Fund, perhaps one of the most high-profile and widely followed insider trading trials in recent history. Judge Holwell recently met with Chairman Hugh Verrier to share his recollections of White & Case.

HV: Let us go back to the beginning when you joined the Firm. Who hired you?
JRH: Tom Ramseur, a senior partner in the corporate department, who could not have been a more engaging representative of the Firm. He always had the reputation of being one of the nicest guys at White & Case, and I thought at the time, and still think, he represented a strong aspect of the Firm's personality.
HV: What aspects of his personality made you feel were an important part of the Firm?
JRH: It was his ease of manner and his obvious ability to articulate the vision of the Firm at that time. I just got an impression that if the Firm were populated with Tom Ramseurs, it would be an exciting and enjoyable place to work.
HV: What other firms or cities were you thinking of working for at the time?
JRH: I was considering White & Case versus the public sector, clerking and then going to work for the government. I graduated from high school in '63 and from college in '67, which were very formative years for me and I think probably for a lot of people. A lot of us were imbued with the spirit of the new frontier—Bobby Kennedy and John Kennedy—and so the public sector always was an area of interest for me, and I was trying to decide whether to become the next Bobby Kennedy and make a life in the public sector or to stay in the private sector.
HV: So, what made you choose White & Case?
JRH: I was attracted to White & Case because I knew people who worked at the Firm. I graduated from law school in 1970, but took a year to study criminology at Cambridge in England and so my classmates started a year earlier. They all thought it was a great place, so I did not spend a lot of time choosing between a White & Case or a Paul Weiss.
I must say that I came into White & Case with the firm intention that I was going to work here for two years, be gone and become a fabled prosecutor for the United States Attorney's office in the Southern District of New York. It was run at that time by a gentleman who is still alive today, Robert Morgenthau, who was the US Attorney who had been appointed by President Kennedy. He went on to become a New York County District Attorney for 30 years. And that was my life plan when I walked in the door.
HV: How did your studies in criminology relate to your career? Did that nurture your ambition to be a prosecutor?
JRH: By the time I graduated from college, I had never been west of Villanova, Pennsylvania, or east of Montauk Point, so it was an opportunity to see the world. But, yes, I was interested in being a prosecutor, and criminology, of course, is a multidisciplinary study of deviant behavior in a broader sense. So it was vaguely related and had two purposes.
HV: Which partners did you work with at the beginning—the ones who became your greatest influences?
JRH: The Firm had a rotation program, where you were required to spend three rotations for four months in three different departments. Although I was as sure as the day was long that I was going to be a litigator, I rotated first through the Trust & Estates department and then through the Corporate department. In the Trusts & Estates department, I worked with one of the legends of the Firm, Sims Farr, and surprised myself how interesting the practice was.
Sims was such a consummate professional. He was smart. You could not find an individual who you could learn more from in terms of client relations. I have always found over the years that the way you become good at almost anything, and certainly the way you become a good lawyer, is a little bit like kindergarten—it is "Show and Tell." You find that one lawyer in the Litigation department is a fantastic trial lawyer; another lawyer may be not so good at trials, but can settle a case that others would be unable to settle; some people write briefs that sing; and other people have fantastic client generation skills; and you kind of filter that through your own personality. I do not think you can be anything other than who you are, and if you try as a lawyer to be just like Sims Farr, you will fail. But there are aspects of Sims Farr that you can adapt to your personality as you develop your own set of judgments.
HV: And what were the things that Sims drew out in you?
JRH: The energy with which he represented his clients. He had a wonderful capability of making sure that everybody who was working on a particular project was enthused with its special importance, whether it had special importance or not. Sims could take a matter that might seem mundane to a number of people but get everybody invested in finding the best solution to it.
HV: He felt very deeply for the Firm. After I was elected head of the Firm, he called to congratulate me. He was long retired, but I appreciated that strong personal touch. The Firm is now so large, at 2,200 lawyers. I often think about how we can develop the close connection between young lawyers and partners, similar to the way it was when I was an associate, when we were 200 or so lawyers. I felt a strong connection with Jim Hurlock and Gene Goodwillie and later George Crozer and others. I wonder how in a large firm you can put that in place, where people can be stirred and connected with people like Sims. Did you notice that changing over the course of your career?
JRH: Yes. I do not think there is a lot to be learned by looking back to what White & Case used to be because the landscape has changed so radically. At 200 lawyers, you know everybody in the Firm, you work with a high percentage of the lawyers and you are more easily unified around a common set of values. Starting in the late '70s or maybe more into the mid-'80s, I thought the practice of law irretrievably changed as a result of almost a single phenomenon, and that was the publication of all law firms' financial performances. I suppose this was part of the globalization of all business, but once industry publications started saying, well, if you are a partner at Cravath, you will make X dollars and if you are a partner at Thacher Proffitt, you will make Y dollars, it started a competition that changed the face of the legal practice.
When I was recruiting and ran the hiring committee at White & Case for several years, I felt that in order to attract the top students from the top law schools, you had to persuade the law students that your business organization was going to be just as, or more, successful than the shop down the street. It became a deciding element, and I do not think you can put that genie back in the bottle.
So it is a lot more difficult today. It is not just the fact that White & Case is now 2,200 lawyers and used to be 200. The type of firm that we are or can be, in many respects, bears little relationship to 1970 because of these radical changes. I think it is a mistake to look back and talk about the good ole' days, because they were fine—they were good ole' days—the issue we need to focus on is about the good days in the future.
HV: What were some of the distinguishing features of the Firm?
JRH: The chair of the Firm when I was hired was Orison Marden, who remains a luminary in the legal landscape in the 20th century. He had recently been president of the ABA and was known to, and friends with, leading practitioners around the country. With his assistance, when I was a first-year associate, we had a meeting with Jack Greenberg, who is the last surviving lawyer to have argued Brown v. Board of Education and at that time was executive director of the NAACP Legal Defense Education Fund at Columbus Circle. With Orison's oversight, the Firm represented a class of Afro-American and female workers working on the Long Island Railroad, on a race and sex discrimination case. This was an important case to Orison.
There were times when there were pressures from fee-paying cases and Orison would always tell me to keep focused on all my cases and not to worry if there was an imbalance in my billable hours from time to time, because the Firm's public work was important to who the Firm was.
And you could do that, because the financial structure of the Firm was largely known internally, and so the partners could make a decision on the fabric of the Firm that they wanted to create. Partners lost some of that capability once the issue of financial success became a matter of public debate. I do not frankly think we can ignore the impact of that fact because the Firm now competes in a very public way for law students and clients.
HV: Orison Marden, as you say, was a larger-than-life figure. How would you describe him as the head of the Firm, his leadership style, or his view of the Firm?
JRH: He passed away at a relatively early age, in his low- to mid-60s. I was a senior associate at the time, and the most I heard about his leadership was that he was too laid back or that he was not forceful enough. He had fixed views of who White & Case was. I think he saw the Firm as committed to doing only the best work for the most important clients in the country—as a firm that did not take a second seat to any other American firm in terms of the quality of the work performed or in the importance of the work we did for clients—for example, representing United States Steel in critically important tax cases, or representing various industries in the great wave of the Sherman Act price-fixing cases that were sweeping the country.
Orison Marden believed that the Firm was a responsible participant in American society and understood that, in addition to representing our clients, we had a role to play in representing the legal system and the best part of the legal system. Orison never saw those as competing goals, although they can be seen as competing goals.
I get disappointed in how the leaders of the financial services market are addressing the fallout of the recession in the country. They need to step forward as a group, address the problems and take action to take care of them. Orison was the type of leader who was prepared to step forward and do just that, and that was his view of the role of the big firm. After all, we were and still are a leading player in the marketplace and with that comes responsibilities.
I think White & Case has done a much better job than many other firms in preserving that aspect of our professional obligation. Certainly it did through my career. I did a lot of pro bono work over a period of time, working variously on death penalty cases and race discrimination cases, sometimes spending huge chunks of time, and I never got the impression from any of my peers or any of my superiors when I was an associate that the Firm begrudged that. I think the Firm's reputation in the community for being progressive is a strong one.
HV: Where did Orison's strong sense of what the Firm should be come from? Was he an iconoclast within the Firm?
JRH: Certainly there were others in the Firm at that time, such as Lowell Wadmond and Sims Farr, who were of the same view. It would maybe be unfair, but not entirely untrue, to say that some of that emanated from the old view of noblesse oblige. These were gentlemen who came from comfortable backgrounds and went to Princeton, Yale and Harvard and understood in a broader social sense that success in life carries with it obligations to the rest of society. Perhaps that is a little unfair because it is an old school view, but they adapted that view and there is something to it.
I welcome new lawyers to the bar every couple of months in the courtroom, and I always end up telling them that they really should be proud of themselves; they are among the most privileged and well-compensated group of individuals in the country and with that success comes the obligation to represent people who can not pay for representation. Not everybody has to be a Clarence Darrow to be a great contributor to the pro bono practice of the bar. There are a lot of ways to do it, and it is a challenge to find those ways. One of White & Case's leading aspects is that it continues to this day to have the reputation that emanates from people like Orison Marden.
HV: Who were some other mentors during the course of your career?
JRH: My particular mentor when I became a young partner and as I moved up through the ranks of the litigation department was Rayner Hamilton, who had a very un-White & Case-type background, to the extent that one thinks of old White & Case as one of the original white shoe firms. Ray joined the Marines out of high school and afterwards went to Penn law school. He was a farm boy from Kansas, and his Kansas accent trailed him for all his life. But he was a very wonderful mentor. He was smart and honest. People could disagree with him, but no one for a second ever doubted his integrity or thought that he was being duplicitous. He had wonderful judgment—the ineffable and most important quality that a lawyer can have and a real reason why clients hire White & Case. Clients are not paying for a lawyer's ability to write a brief that sings or put together a particular transaction. Clients are paying for your judgment.
Rayner had that type of judgment—he was well-respected by clients, opponents and the court, as somebody you could listen to and trust what he was saying. He knew how to try a case as well, and he was a great mentor to me. He allowed me to make mistakes, but he handled it with great magnanimity. He was a wonderful mentor.
HV: He was a mentor to me as well in my early days out in Asia. He was a straight-shooter and really spoke his mind.
JRH: He is probably the only partner, certainly at White & Case, and probably at any major firm in the country or, indeed, the world, to have come to practice with large tattoos on each arm. One was a snake around the world—he was in the Marines afterall—and the other might have been a heart with "Mom" on it. He had the disconcerting practice, which I do not think he did intentionally, of wearing short-sleeved shirts, "cause it's just too hot to wear long-sleeve shirts in summer." I think he did it because he was a boy from Kansas. Whether at a meeting or in deposition, he would take his jacket off and start speaking, and you could see the people around the room prop their heads up with an expression that said "are those really tattoos on his arms?" And, of course, they were.
HV: Rayner is a remarkable person. Orison was remarkable and so is Duane. Was there something about White & Case that attracted remarkable people?
JRH: I am not sure I have ever thought of it that way, but to the extent that the Firm was not necessarily eccentric but more broad-minded, which I think was and still is an aspect of the Firm's persona, then you would attract people like Duane Wall, who has written six unpublished novels, and is probably still working on his seventh.
HV: You have been a real champion of the Firm's culture. You are famous for articulating a number of rules about how partners should conduct themselves. One that is cited often is "always give your partners the benefit of the doubt," one that John Reiss and many others come back to all the time. Could you explain how your ideas developed and what led you to codify them as you did?
JRH: It is central to my personality that whether we go through the business world or through life, you should expect the best from people and from yourself and give people the benefit of the doubt.
I played football when I was in high school and was a 215-pound defensive tackle. I actually went to college with every intention of having a great football career. On the first day of football practice, I tore up my knee and never played a day of college football. Had I done so, I would probably be selling insurance in Wilkes-Barre, Pennsylvania, as a result of the lifestyle that I was attracted to at that time. But having played football in high school, I learned how much more you accomplish when you have a group of people who act as a team. Looking back, I was amazed at how poor an athlete I was, but how successful our team was because there was not an ounce of recrimination among the teammates. We had a great coach, and everyone would turn to everybody else to support them.
I have always been of the view that any organization, whether it is as simple as a soccer team, or as complex as a 2,200-person law firm, works on the same principle. Our business organization should not be led through fear or enticements, it should be led by example. When somebody on your team makes a mistake, sometimes they need to be straightened up, but more often than not, they need to be pulled back into understanding what the business organization is doing. And so you have to establish relationships among your partners and with your associates that go beyond the requirements of the job. People like Orison Marden did that; actually, it is still being done today.
HV: How do you reflect back on all of this, your time with White & Case?
JRH: There is nothing I hold dearer to my heart than my family and my 32 years at White & Case.