Julien Payré, Legal Counsel for Novartis
Julien Payré spent four years on the Competition team of our Paris office. In October 2013, Julien decided to join Novartis' legal department as legal counsel.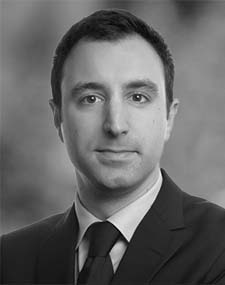 What were the key steps in your career?
After receiving a degree in private law from Paris II Panthéon-Assas University in partnership with Oxford University, I completed a Master's in European Business law from Paris IIPanthéon-Assas University. I then completed a Master's in Law and International Management at HEC Paris. After the Bar, I received a job offer from White & Case where I had done an internship a year before. I spent four incredible years with the Firm in the Paris and Brussels offices, during which I also had the opportunity to be on secondment at a pharmaceutical company.

When did you know that you wanted to transition from lawyer to in-house counsel?
The idea of working in-house was there from the beginning, but my internships gave me an interest in working for a law firm, and my experience as an associate at White & Case reinforced that interest. To me, working at a law firm was, and still is, the best possible training after passing the Bar and is a major step in one's career. I was considering a transition to an in-house position after a few years. Eventually, after four years as an associate, I received an offer from Novartis, and even though I hadn't planned to leave the Firm at that time, I couldn't turn down the opportunity to join Novartis.

What is your current position?
I am legal counsel in the legal department of Novartis France. My position is transversal and is focused on three main objectives. I advise the teams of three internal business units operating in the respiratory, cardio metabolism and neuroscience therapeutic areas on the legal aspects of their operational activities, especially in the development phase of a project. In particular, this involves defining the applicable contractual framework for the project as well as day-to-day ad hoc legal advice addressing the teams' legal questions in relation to their activities. I also provide legal advice for the teams in charge of mature products, i.e., which patent has become public. Finally, I also cover, along with a colleague, competition law issues for France, in coordination with the competition legal department of our headquarters in Switzerland.

What was the most surprising aspect when you joined the company?
When I arrived at Novartis, I discovered a completely different job strongly related to contract law. The challenge was to learn a new job and develop new skills in a totally different environment than that of a law firm. Working with operational teams composed of non-legal staff was rather new to me, even if I had the opportunity to discuss and exchange ideas and approaches with the other members of the legal department. I had to become familiar with the business jargon of the operational teams and, when delivering legal advice, I had to be conscious that my new colleagues did not have a legal background. In particular, I had to adjust my approach and how I communicated my advice so that it was adaptable and practical for the operational needs of the teams. This is very different from working in a law firm, and this different approach in practicing law is something I enjoy very much about working in-house.

Three words to describe your experience at White & Case?
Demand…when you work for a law firm, and especially at White & Case, the stakes of the deals are so big that you learn to become demanding and use this to serve your client's needs in the best possible way.

Learning…it's one of the cornerstones of your experience at a law firm. White & Case is an amazing school where you will develop your skills and grow as a lawyer.

Warmth…I can't talk about the office without mentioning the warm atmosphere. It's a great place to work, and I have great memories of my four years as an associate. I am still in touch with some of my former colleagues who "I hung out with at the library" and who became friends, whether they are still at White & Case or have chosen a different career path like I did.