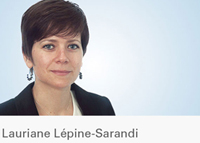 Lauriane Lépine-Sarandi spent six years working for the Competition/Antitrust department in White & Case's Paris office before joining the French Competition Authority (FCA) as a case handler. Lauriane shares her experiences of working at White & Case and in her current role at the FCA.

Could you tell us about your background?
After obtaining university degrees focused on public law and competition law, I did several internships in the antitrust/ competition departments of different Anglo-Saxon law firms.
In 2004, I joined White & Case's Paris office as an associate, where I practiced competition law both as counsel and litigator. I had the opportunity to work on a variety of cases—most of them related to anti-competitive practices or merger control, but also distribution law and general competition law. I was also seconded to one of the Firm's clients for several months. This helped me understand the nature of the challenges and constraints faced by in-house legal departments on a daily basis.
Since 2011, I have been working as a case handler within the antitrust services of the French Competition Authority.
What are the job tasks of a case handler?
Case handlers have different responsibilities. Some of us are dedicated to merger control and others are in charge of antitrust cases, such as cartels or abuse of dominant position. As a case handler in antitrust services, I am involved with carrying out inspections and conducting investigations on cases brought before the FCA or cases opened on the Authority's own initiative. We conduct hearings and participate in dawn raids. Once the investigations are over, we submit the Investigation Services' position on whether an infringement has been made before the Board, which is the decision-making body of the Authority.
We also participate in the Authority's consultative role. The Authority provides opinions on any questions related to competition law. In these opinions it makes recommendations in order to improve competition in the markets.
There is also an international dimension to our jobs: We do some European Competition Network–related work and contribute to partnerships with other national competition authorities.
To what extent is it different to work for an independent administrative authority versus a law firm?
Even though the subject matter is the same, there are some differences in perspectives. The case handler's job consists of working for the common interest, whereas a lawyer in a law firm stands for his clients' own interests.
From a practical point of view, a case handler's work is mostly done individually. What I enjoyed about working at a law firm was the team work.
What are your daily challenges?
In my job, I handle several investigation calendars. I am also expected to anticipate any further developments in a case and be independent, rigorous and firm. It's sometimes difficult to leave work behind you when the work day is over.
What have you learned through your career as a lawyer that made you capable of facing those challenges?
Those six years with White & Case allowed me to gain solid work methods. I learned to work under pressure. I also acquired rigor and autonomy, skills that prove valuable today in my new role.
Give us three adjectives to describe your experience in the Paris office.
It was diverse, intense and structuring for me.
What is your best memory from your time at White & Case?
I have a lot of fond memories from that period in my life. What is most memorable are the collective successes and nourishing encounters, especially with colleagues from other offices in Europe, United States or Asia. I also remember laughing a lot during those six years.