Tim Goodell, Senior Vice President and General Counsel, Hess Corporation
White & Case Alumni Spotlight
Tim Goodell, Senior Vice President and General Counsel, Hess Corporation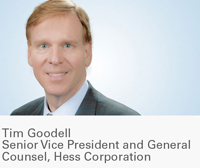 Tim Goodell, Senior Vice President and General Counsel of the Hess Corporation, worked at White & Case's New York office for 24 years before joining Hess in 2009. He began his career at White & Case as an associate in 1984, became a partner in 1992 and later took on the role as Co-Head of the Mergers & Acquisitions Practice. In addition to his many legal achievements at the Firm, he left his footprint as Chair of the Women's Initiative and Administrative Partner, and also served on the Firm's Management Board/Partnership Committee for seven years.

Tim reflects on his time at White & Case and shares his experience of working at Hess.

How/when did you know you wanted to be a lawyer?
I applied to law school when I was in college, but I could not answer the question why I wanted to be a lawyer other than to say my father was a lawyer and my brother was in law school. So I decided to work for a couple of years after graduation for a business consulting firm. At the end of two years, I decided to go to law school because it gave me more options after graduation to either practice law or go into business. While in law school, I also took classes in the business school.
I decided to work in a law firm after graduation because if I started in business, I would probably not have an opportunity to go back and work in a big firm. It probably wasn't until after a couple of years at White & Case that I decided I wanted to be a lawyer.
Describe your career at White & Case.
I had a wonderful 24 years at White & Case where I had the opportunity to work with great lawyers and fun and not-so-fun clients and on interesting and challenging transactions. In addition, I was given the opportunity to serve the Firm in various management positions—first as Administrative Partner under Jim Hurlock; second, I had the privilege to serve on the Firm's Management Board/ Partnership Committee for seven years; and lastly, I was Chair of the Women's Initiative.
What was most memorable and/or challenging about being Co-Head of the M&A Practice?
Working with John Reiss was most challenging (just kidding)! I think the most memorable and challenging was building a strong group of lawyers across practice groups that can represent clients on transactions as well as or better than any firm in the world.
Did you have any mentors at White & Case?
I had many mentors during my career at White & Case. I don't think anyone can have a successful career without strong mentors along the way. I was fortunate early in my career at the Firm that Bill Wynne gave me the opportunity to work with him after Jim Hurlock asked him to build an M&A practice at the Firm as a young partner.
What did you learn at White & Case that has been most useful to you in your career?
What I learned at White & Case that was extremely useful to me is how to work in different countries and diverse cultures. When I started at the Firm, there were only a handful of offices outside of the United States. When I left the Firm, there were more than 30. I found it fascinating that my partners were from so many countries all over the world. At Hess, we have operations in more than 30 countries around the world, and we try to hire mostly local nationals in those countries.
How was the transition from being an M&A lawyer at White & Case to working as General Counsel at Hess?
The transition was pretty easy because I only had to move two blocks north on Sixth Avenue! It was also easier because I had worked with people at Hess for more than ten years. The hardest part of the transition was learning the business and understanding how I could make a contribution besides just providing legal advice.
What do you like most about your job?
I like the diversity and complexity of issues that I have to deal with on a daily basis—from sanctions on Libya to environmental regulations in New Jersey. In addition to my General Counsel role, I sit on the company's executive committee and I am responsible for Environmental Health and Safety, Social Responsibility, Compliance, Government Relations and Corporate Security.
What are the highlights of your career so far?
Having the opportunity to work at two great places. I loved working at White & Case and I never thought I would leave, but I couldn't be happier at Hess.
What's your best career advice for young lawyers?
My best career advice is to take time to think. Think about what you are doing, why you are doing it and what it means. With all the technology today and different forms of communication available on a 24/7 basis, it is important to take time out and think about what you are doing.
Outside of work, what else are you passionate about?
I guess the closest thing that rises to passion is my belief that everyone has to try to make a difference in someone else's life. We volunteer with an organization called Association to Benefit Children that is run by an incredible woman, Gretchen Buchenholtz. They have a facility in East Harlem and on Saturdays we can go up there and play with the children. At Chrismas, Hess donates toy trucks that we give to each of the children. It is great to see the smiles on their faces when they open them!
Tell us something about you that most people don't know.
I have been taking piano lessons for more than three years, but don't worry, I won't be playing in Carnegie Hall any time soon!
What is your fondest memory of working at White & Case?
All the great people. Not just lawyers, but all of the support staff—secretaries, legal assistants, word processing, IT, HR, Office Services, etc. I could never have been able to accomplish what I did without all of their support. Thank you all!