Working in Sweden
Working at the White & Case Stockholm office you will have the opportunity to work across industries and geographies, as part of an international firm with professionals all over the world and make an impact.
Since opening our Stockholm office in 1983, White & Case has become one of the leading law firms in Sweden, handling some of the most high-profile deals and cases in the market. Key to this success is recruiting and developing the very best legal talent; we believe in nurturing a collegial, open and inclusive environment where everyone plays an important part in our journey, and can achieve their full potential.
If you start your career in our Stockholm office, we can promise you three things. First, the opportunity to develop a professional network with colleagues from all over the world. Second, the chance to take real responsibility from the outset, working on complex matters that span industries and regions. And last but not least, we promise the support and encouragement of your colleagues. By joining us, you will be part of a small team that knows and helps one another, while also enjoying the benefits of being part of a truly global company.
Roles
We recruit for a wide variety of positions in Sweden. Download our recruitment brochure to learn more.
Administrative staff
Working at White & Case means working in an international organization, which provides every employee with exposure to the international business community. In addition to the traditional duties and responsibilities, the position of secretary or administrative officer at White & Case gives a truly international and global dimension to day-to-day work. We understand that every piece of our organization contributes to its success, and therefore place great importance on employing highly skilled personnel at every level.
Associates
Our requirements for associates are extensive but not carved in stone; we evaluate each applicant individually, according to our changing needs. Based on our expectations for every lawyer employed by White & Case, we have identified some general characteristics that we consider to be essential:
A distinguished Swedish law degree is preferred, but occasionally we consider a foreign law degree
Excellent legal and analytical skills, particularly in the areas of corporate law, civil law and litigation
Court experience, studies abroad, language skills and other relevant education or work experience
Junior trainees and trainees
We aim to always have three to five trainees working in our Stockholm office. Trainees are hired for a shorter period of time, after which they are expected to pursue further experience—for example, within the court system or through advanced studies abroad. However, we strive to stay in touch, and in some cases the end of the trainee period can lead to discussions about regular employment. Trainees' assignments and responsibilities are essentially equivalent to those of a newly hired first year associate. Junior trainees work part time while continuing with their studies, while other trainees work full time for approximately six months.
Law student evening secretaries
Our Stockholm office also offers law students the opportunity to work part time in an administrative role. As an evening secretary, the students are given the chance to see and experience the daily work of a law firm.
Law student librarian
White & Case Stockholm employs a part-time law student librarian. Responsibilities include being part of our global network of librarians and assisting our team by locating information.
Summer associates
We offer Swedish Law Program students the chance to gain experience and training from an international law firm through summer internships. We normally hire four to six law students each summer, for a period of about six weeks. The assignments and responsibilities of a summer associate are similar to those of a newly hired trainee or first year associate.
To benefit from the training, law students interested in a position as a summer associate should typically have finished their third year of the Swedish Law Program. Applications for positions as summer associates will be reviewed in the light of our general requirements, as outlined above in the associates section.
Thanks to our great team and our strong and supportive collegial culture, I can always trust my amazing colleagues across the network to help out whenever things get tough.
Johan Thiman
Partner, Stockholm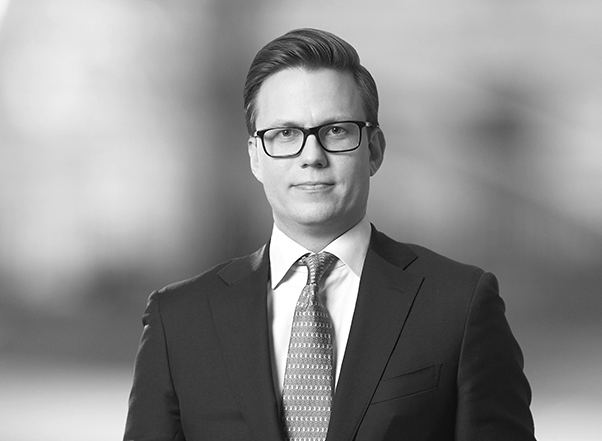 Practice areas
The Stockholm office's team of market-leading practitioners spans four main areas: Mergers & Acquisitions, Capital Markets, Banking and Dispute Resolution. Working closely with our clients, we use our knowledge, experience and personal commitment to successfully guide them through their most complex and challenging matters.
Our multi-qualified M&A, Capital Markets, Banking Finance and Disputes practices are the only teams in the region that can provide Nordic, UK, US and pan-European advice, and we regularly represent both domestic and international clients on Nordic and international legal issues. Our work covers a wide range of industries, but has a particular focus on private equity, technology, financial institutions, construction, energy and manufacturing.
Events
Stockholm Career Fair
10 October 2019, Frescati Sports Center
Lund Career Fair
24 October 2019, AF-borgen
Uppsala Career Fair
12 November 2019. Uppsala Konsert & Kongress
Gothenburg Career Fair
23 January 2020, School of Business, Economics and Law
Student ambassadors
We have dedicated student ambassadors for each of the main universities in Sweden—all with experience from the university. Their task is to help you as a student to navigate your career.
Applying in Sweden
Whenever there is an opening for any of the above roles, we post the position here.
When applying you need to include the following:
CV/resume in English
Personal letter in English
Grades/transcripts of results
Employment certificates
If you have any questions regarding the above, please call:
Elisabet Gustafsson
T +46 8 50632 300
Agency Referrals
Agencies who have established a recruiting agreement or contract with White & Case can refer candidates for consideration through our Agency Portal.
W&C Publications
White & Case Ranked #1 for Nordic M&A in 2018 through Q3 [44976]
White & Case Ranked Number 1 for IPO and Equity Offerings in EMEA [13656]
White & Case Scores 92 Band 1 Rankings from Chambers Global 2017 [13411]
White & Case Sweden
White & Case Advokat AB
Biblioteksgatan 12
Box 5573
SE-114 85 Stockholm
Sweden
T +46 8 506 32 300