We share the concern of many of our clients, partners and employees for the sustainability of the environment and we work continually to improve our environmentally sustainable management practices. Through our Green Initiative, which leverages the knowledge of our Environment & Climate Change practice, we share best practices across our global network that reduce the environmental footprint of our operations, our employees and our suppliers. The initiative is overseen by the Head of Global Citizenship and Green Operations Committee, which comprises representatives from each region in which we operate, and our global procurement and IT functions.
Our Environmental Sustainability Policy
Ensure that we comply with all regulatory requirements and voluntary codes of practice applicable to each office
Prevent pollution from our activities
Implement sustainable waste management practices across the Firm in order to minimize the quantity of waste we produce and maximize the amount of waste we recycle
Identify key resources used by each office and implement measures to ensure that we use those resources in an efficient manner
Effectively manage our carbon emissions through continuing to improve the energy efficiency of our premises and effectively measuring the environmental impacts of our business travels
Work with our suppliers and employees to promote and improve environmental performance
Carbon emissions assessment
We have conducted two carbon emissions in collaboration with the Carbon Neutral Company. Energy use and travel represent 85 percent of our carbon emissions. The actions of our cross-functional Green Initiative focus on these areas.

Our Green Campaign
Our annual Green Campaign has seen more than 1,500 of our people from all of our offices make a Green Pledge, participate in a Green Photo Contest, submit Green Ideas for what White & Case can do better or organize volunteer activities.
Our Green Pledge asks our people to commit to at least one action over the next year. More than 1,500 people—40 percent of our lawyers and 60 percent of our staff—have made a pledge. The top choices were: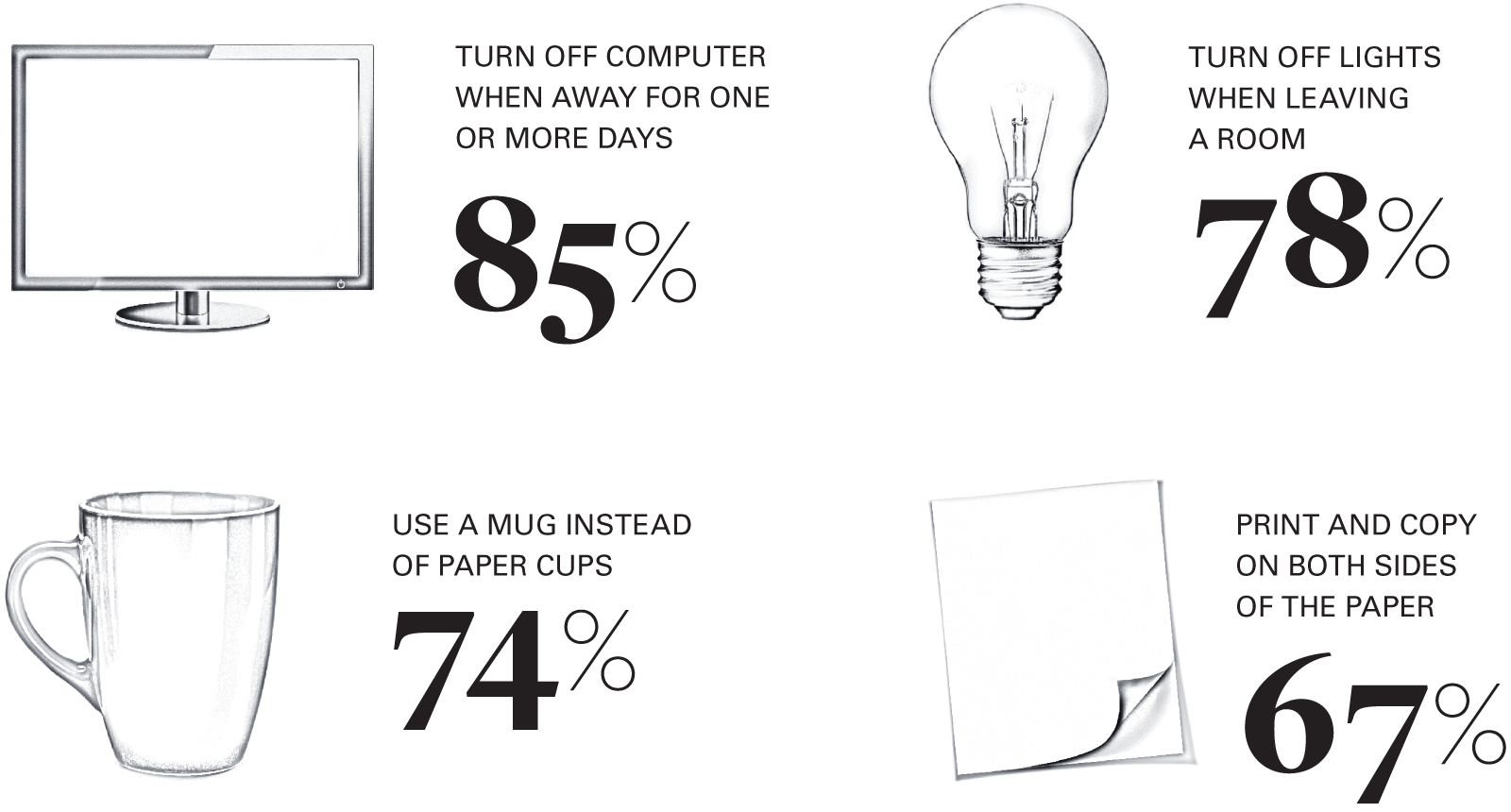 For more detail about our activities, please contact Jo Weiss, Head of Global Citizenship.