This article was previously published by Capital Markets in Africa in their July edition of INTO AFRICA, Back on Track: African Mining.
Africa's Mining Industry
Mining is one of Africa's flagship industries and a growth engine for many of the continent's countries. Not only have some of the "mining champions"2 developed a significant infrastructure, but also a consistent regulatory framework to allow domestic and foreign investors to access their mineral resources. Since mining is a complex business, requiring significant investments, potentially generating high returns and involving manifold political issues, disputes will inevitably arise. It is worth exploring if and to what extent international arbitration can be a suitable and effective dispute resolution mechanism for typical mining disputes.
Typical Mining Disputes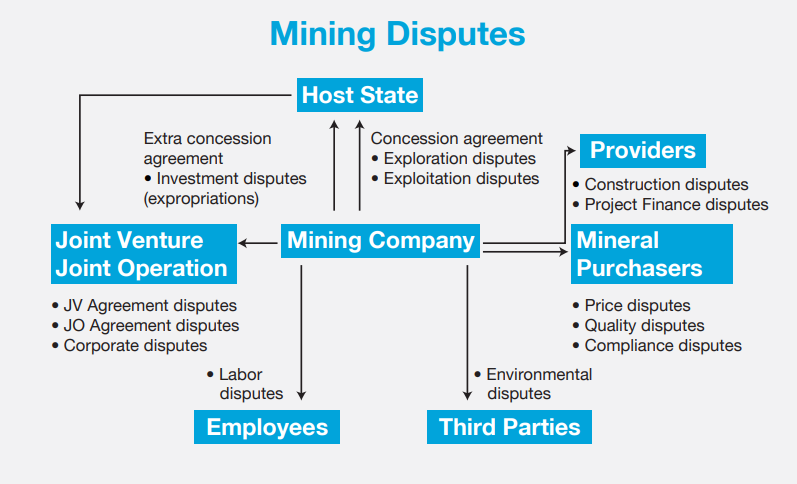 It is common wisdom that each dispute turns on its facts. From a systematic perspective, however, an attempt to classify typical mining disputes could look as follows:
We will look at the suitability of (international) arbitration as dispute resolution mechanism in each of the above shown relationships:
Disputes with the host state: Such disputes can either revolve around the mining concession agreement or concern adverse state measures against investors.
(1) The first type of disputes will generally relate to the mining company's exploration and exploitation rights and obligations under the mining concession agreement. Violation of these rights can include security issues, such as not receiving adequate protection through the host state, the outbreak of war and similar force majeure situations preventing performance, as well as incursions on the mines by illegal miners. It is similarly conceivable that the host state sues the mining company, e.g. for failing to perform the exploration or exploitation, not paying the concession fees, taxes and bonuses, or for environmental damages.
If the law of the host state allows for arbitration (as it is the case for example in the Ivory Coast, Ghana, Mozambique or Namibia)3 , the parties can submit concession agreement disputes to commercial arbitration by using an arbitration agreement (if the concession agreement does not automatically provide for arbitration). In addition to the concession agreement, these disputes will generally provide for the host state's national mining regulation as substantive law. The majority of host states have promulgated either a mining code or a mining act, which provides the general framework for mining concessions for domestic and foreign investors.4 In these scenarios, international arbitration provides an effective dispute resolution mechanism because it provides, inter alia, for a neutral forum, a decision-making body of experts, and a final decision that can be widely enforced.
(2) The second type of disputes revolves around adverse measures from the host state, which may or may not qualify as breach of the concession agreement. Such adverse measures include expropriation, discrimination or unfair treatment by government agencies or national courts, violations of stabilization clauses contained in investment treaties or withdrawals of tax exemptions. To the extent these disputes do not already qualify as breach of the concession agreement, the mining company could try to sue the host state in its domestic courts. A more attractive forum may result from an investment treaty between the host state and the investor's home state. Africa accounts for 842 Bilateral Investment Treaties (BITs) and, in their vast majority, the BITs refer to investment arbitration in case of dispute, very often under the ICSID5 Rules6 . Besides these BITs, there are regional investment agreements like the Investment Agreement for COMESA7 and the SADC8 Protocol on Finance and Investment,9 which also contain provisions for investment arbitration.10 In these investment arbitration cases, the substantive law of the dispute will be the provisions of the investment treaty the host state potentially violated through its actions as well as public international law.
Disputes with providers: The mining company will collaborate with many service providers, in particular with regard to the project's funding and the construction of the mining site and other infrastructure. This can lead to project finance or construction disputes, which are both generally suitable for commercial arbitration. The arbitrability of such disputes will not depend on the national laws of the host state, since most project financers and construction operators are located in third countries. In this respect, it is also noteworthy that commercial arbitration is traditionally used as dispute resolution mechanism for construction disputes, since it allows the use of highly qualified arbitrators, counsels and experts.
Disputes within the supply chain: Disputes may also arise with the purchaser of minerals (usually traders or refinement companies), e.g. because of pricing, quality issues or compliance issues (e.g. no sale of "blood diamonds" or minerals extracted by children, alleged breaches of anti-bribery or anticorruption legislation). These disputes can be heard in international commercial arbitration, either based on an arbitration clause in the purchase agreement or a subsequently concluded arbitration agreement. Again, the advantages of international arbitration are, inter alia, that it provides for a neutral forum, a decision-making body of experts, a final decision that can be widely enforced, and for confidentiality of the issues at stake.
Disputes within a joint venture or joint operation: Mining operations will often be organized as joint ventures or joint operations (sometimes also involving a government agency or state-owned company as mandatory partner). Consequently, disputes might also arise from the joint venture or joint operation agreement or as regards the operation of the company used for the joint venture. Subject to the arbitrability of intra-company disputes, such disputes can be heard in commercial arbitration, which again offers a neutral forum, a decision-making body of experts, a final decision that can be widely enforced, and confidentiality of the issues at stake as the main advantages. Also in these cases, it is common to opt for a third-state substantive law for the joint venture or joint operation agreement or organize the joint venture company under the laws of a third state.
Disputes with employees and third parties: Finally, a mining company, just as any industrial operation, may face issues with its employees or third parties, such as indigenous populations claiming violations of their environmental rights. These disputes will generally be handled by local courts.
Mining Disputes in Africa – A Brief Case Law Overview
Most of the reported mining arbitrations are investment arbitration cases, which are often public. However, since arbitration is generally confidential, there is a high and hardly quantifiable number of publically unavailable commercial mining arbitration cases dealing with concession agreements, construction works, supply chains, joint ventures and operations.
Among the known cases, the following stand out: First Quantum v. DRC11 related to the revocation of copper mining titles and permits. The case was complex since it also involved parallel commercial arbitration proceedings lodged against the state under the ICC Rules. Eventually, all claims were settled in 2012 and the arbitration proceedings were discontinued.12 Another interesting case involving the DRC is the Miminco case.13 In this case, the investor alleged that DRC officials and soldiers seized the mine and confiscated its equipment. Moreover, Miminco was evicted from its office premises in Kinshasa. The parties eventually settled the case. The case of Piero Foresti et al. v. South Africa14 arose out of the introduction of Black Economic Empowerment (BEE) provisions in the South African Mineral and Petroleum Resources Development Act of 2002. BEE provisions discriminated in favor of historically disadvantaged persons by requiring the compulsory divestiture of equity by the mining operators in order for the disadvantaged to access the mining sector. An ICSID Tribunal dismissed the Italian mining investors' claims with prejudice and ordered the investor to reimburse South Africa EUR 400,000 for fees and costs. Interestingly, South Africa kept the BIT with Italy in place unlike with many other European states. Finally, among commercial arbitration cases, there is an interesting case where the host state sued the mining company: In Senegal v. ArcelorMittal (conducted under the ICC Rules in Paris)15, Senegal brought a claim for rescission of a USD 2.2 billion contract against ArcelorMittal. The claim was based on ArcelorMittal's suspension of works for the development of an iron ore mine and related infrastructure projects. Senegal won the case and the company eventually paid USD 150 million to settle the case.16
Conclusion
As mining is a growing industry in many African states, so is its potential for disputes. For many of the potential disputes, international commercial arbitration provides for an effective dispute resolution mechanism with features preferable to domestic court proceedings. In some cases with unlawful host state intervention, investment arbitration will even be the only effective remedy. Mining companies are well advised to devise their dispute resolution strategy before disputes arise.
1. The authors would like to thank Ms. Natalia Filandrianou, LL.M., for her precious research contributions.
2. E.g. Angola, the Ivory Coast, the Democratic Republic of the Congo (DRC), Ghana, Mozambique, Namibia, Nigeria, South Africa, Tanzania and Zambia.
3. Ivory Coast: Article 190 Mining Code 2014; Ghana: Section 27(3) Minerals and Mining Act 2006; Mozambique: Article 8(2)(g) Mining Law 2014; Namibia: Section 49 (2)(b)(xii) Minerals Act 1992.
4. In addition, the host states have also promulgated a series of other laws, e.g. environmental and labor laws, and regulations to complement the mining code or act, which can also play a role in concession agreement disputes (e.g. in determining breaches committed by the mining company).
5. Convention of the International Centre for Settlement of Investment Disputes of 1965.
6. Markus Burianski/Federico Parise Kuhnle in: Into Africa, April 2017, Arbitration in Africa – Managing Risks in a Growing Market, p. 12; investmentpolicyhub.unctad.org/IIA/AdvancedSearchBITResults (last visited: 22 May 2018).
7. Common Market for Eastern and Southern Africa. Members of COMESA are: Burundi, the Comoros, DRC, Djibouti, Egypt, Eritrea, Ethiopia, Kenya, Libya, Madagascar, Malawi, Mauritius, Rwanda, Seychelles, Sudan, Swaziland, Uganda, Zambia and Zimbabwe.
8. Southern African Development Community.
9. Members of SADC are: Angola, Botswana, DRC, Lesotho, Madagascar, Malawi, Mauritius, Mozambique, Namibia, Seychelles, South Africa, Swaziland, Tanzania, Zambia, Zimbabwe.
10. Article 28 COMESA Treaty; Article 28 SADC Protocol on Finance and Investment.
11. International Quantum Resources Limited, Frontier SPRL and Compagnie Minière de Sakania SPRL v. Democratic Republic of the Congo, ICSID Case No. ARB/10/21 cf. https://www.italaw.com/cases/567 (last visited: 22 May 2018).
12. On 12 April 2012 the ICSID Tribunal issued a procedural order taking note of the discontinuance of the proceeding, cf. https://icsid.worldbank.org/en/Pages/cases/casedetail.aspx?CaseNo=ARB/10/21 (last visited: 22 May 2018). According to a press release by the company all claims were settled in March 2012, cf. first-quantum.com/Media-Centre/Press-Releases/Press-Release-Details/2012/ First-Quantum-Closes-Sale-of-Residual-DRC-Assets-to-ENRC-and- Finalizes-Settlement-of-All-Claims-in-Relation-to-DRC-Operations/default.aspx (last visited: 22 May 2018).
13. Miminco LLC and others v. Democratic Republic of the Congo, ICSID Case No. ARB/03/14, cf. https://www.italaw.com/cases/3586 (last visited: 22 May 2018)
14. Piero Foresti, Laura de Carli and others v. Republic of South Africa, ICSID Case No. ARB(AF)/07/1, cf. https://www.italaw.com/cases/446 (last visited: 22 May 2018).
15. Senegal wins court case against Arcelor Mittal – government: https://www.reuters.com/article/senegal-arcelormittal/senegal-wins-court-case-against-arcelor-mittal-government- idUSL5N0H64EZ20130910 (last visited: 22 May 2018).
16. Burnett/Bret, Arbitration of International Mining Disputes, OUP 2017, Appendix 2, p. 307, para. 65.
This publication is provided for your convenience and does not constitute legal advice. This publication is protected by copyright.
Top