Hit the ground running: from high yield bond to IPO
Leveraging transactional synergies to establish a foundation for success.
---
Stay current on your favorite topics
The state of the market
Bringing a private company to market takes time and commitment from the executive team, as well as extensive expertise from advisors to satisfy all the legal, regulatory and marketing requirements involved. But rather than approaching an IPO from a standing start, many companies are already further down the road than they realise.
The work involved in issuing a high yield bond has significant synergies with the steps businesses take to prepare for listing on a public market. High yield bond issuers have already done much of the groundwork needed to get to IPO, from collating financial statements to communicating with potential investors.
In recent years, a number of companies have leveraged high yield bond issuances in connection with their IPOs. One example is Italian gaming company Gamenet Group, which listed on the STAR Segment of the Milan Stock Exchange in December 2017. The IPO raised US$72 million and valued the company at approximately US$270 million. Gamenet is a sophisticated user of the international financial markets, having previously issued two high yield bonds with an aggregate principal amount of €400 million. White & Case has advised the company on both debt and equity issuances.
German renewable energy company Senvion listed on the Frankfurt Stock Exchange in March 2016, having issued a €400 million green high yield bond in 2015. White & Case advised the underwriters on the transactions and went on to work with the syndicate on a €1.35 billion refinancing transaction for the company in 2017.
Despite the overlap between high yield bonds and IPOs, few companies overall have taken advantage of these synergies. Since 2012, 438 European companies have gone public with IPOs that have raised more than €75 million. Of those, only 9 percent had previously issued a high yield bond, according to the latest data from Debtwire.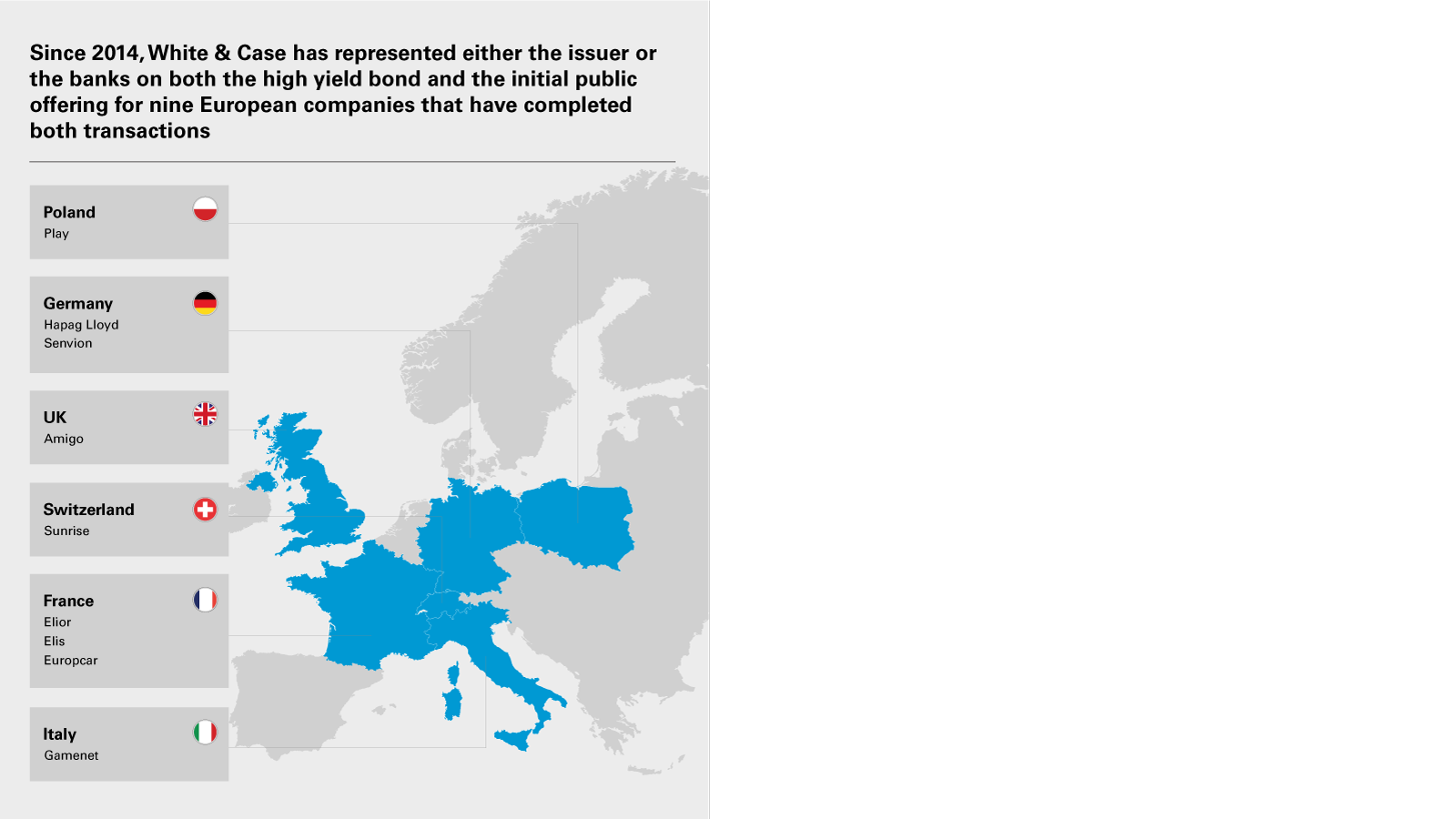 View full image
In France, the ratio is a little higher, with 43 percent of those bringing their company to list on Euronext Paris since 2012 having previously been high yield bond issuers.
In that same period in Germany, 13 percent of IPO issuers had previously issued high yield bonds, with most of these listing on the Boerse Frankfurt Stock Exchange— the exception being Orion Engineered Carbons SA, which listed on the New York Stock Exchange.
The United Kingdom has the most companies that have gone from high yield to IPO, with ten companies having made the leap since 2012—though that only represents 9 percent of the 112 companies that have listed.
According to data from Debtwire, the peak in this move from high yield bond to IPO came in 2015 when, of the 77 companies that listed on public markets, 13—or 17 percent—had previously issued high yield bonds.
However, by the mid-point of 2018, just two high yield bond issuers had brought their company to one of the region's public markets, making up 5 percent of the year-to-date IPOs.
But with 2017 marking a strong year for high yield bonds with 136 issued in Europe, there are more companies in a position to consider using the work they have already done to advance to an IPO. And that pipeline could be greater in 2018: By the end of July, 62 high yield bonds had been issued, valued at €25 billion (getting close to the €36 billion value of the 70 high yield bonds issued in Europe for the whole of 2016).
Equally, the IPO market has come back to life. In Europe, some €21.8 billion were raised through 168 IPOs in the first half of 2018, including 36 IPOs that were worth more than €100 million.
The Central and Eastern Europe story
This isn't just a Western European story: Poland and Russia have been the busiest IPO markets in the CEE/CIS region, with 11 and 16 IPOs, respectively, valued at more than €65 million (out of a total of 43 CEE/CIS listings since 2012). Of those, nine had previously issued high yield bonds. For example, Play Communications, a Polish telecommunications company, listed on the Warsaw Stock Exchange in July 2017, raising €1 billion, which valued the company at approximately €4 billion. Play previously issued several high yield bonds amounting to approximately €2 billion. White & Case advised the company on both debt and equity issuances.
Case Study: Amigo Loans
UK consumer loans business Amigo Loans represents the ideal example of how an issuer is able to capitalise on its high yield bond issuance in connection with an IPO. In January 2017, Amigo issued its debut high yield bond, followed by bond tap issuances in May and September 2017. Through the marketing of its bonds and its ongoing quarterly reporting, Amigo was able to become proficient in building rapport and visibility with an investor base. Amigo went on to complete an IPO and premium listing on the London Stock Exchange in July 2018.
During its IPO preparations, it was able to significantly leverage its existing bond disclosure for its prospectus, and utilise its existing virtual data room for the diligence exercise. In addition, Amigo engaged the same lead advisors, including White & Case as issuer's counsel, which provided for a fluid process as a result of the existing relationships with management and deep knowledge of the business.
Regarding the process synergies, Amigo Loans CEO Glen Crawford said, "Our high yield bond issuances established the foundation for our successful IPO, and facilitated a smooth and straightforward preparatory process."
Key figures: At a glance
According to data from Debtwire (including IPOs worth more than €75 million in Western Europe, the Nordics and Greece), 41 European companies that have issued high yield bonds since 2012 have subsequently launched an IPO.
Volume of European IPOs worth more than €75 million issued since 2012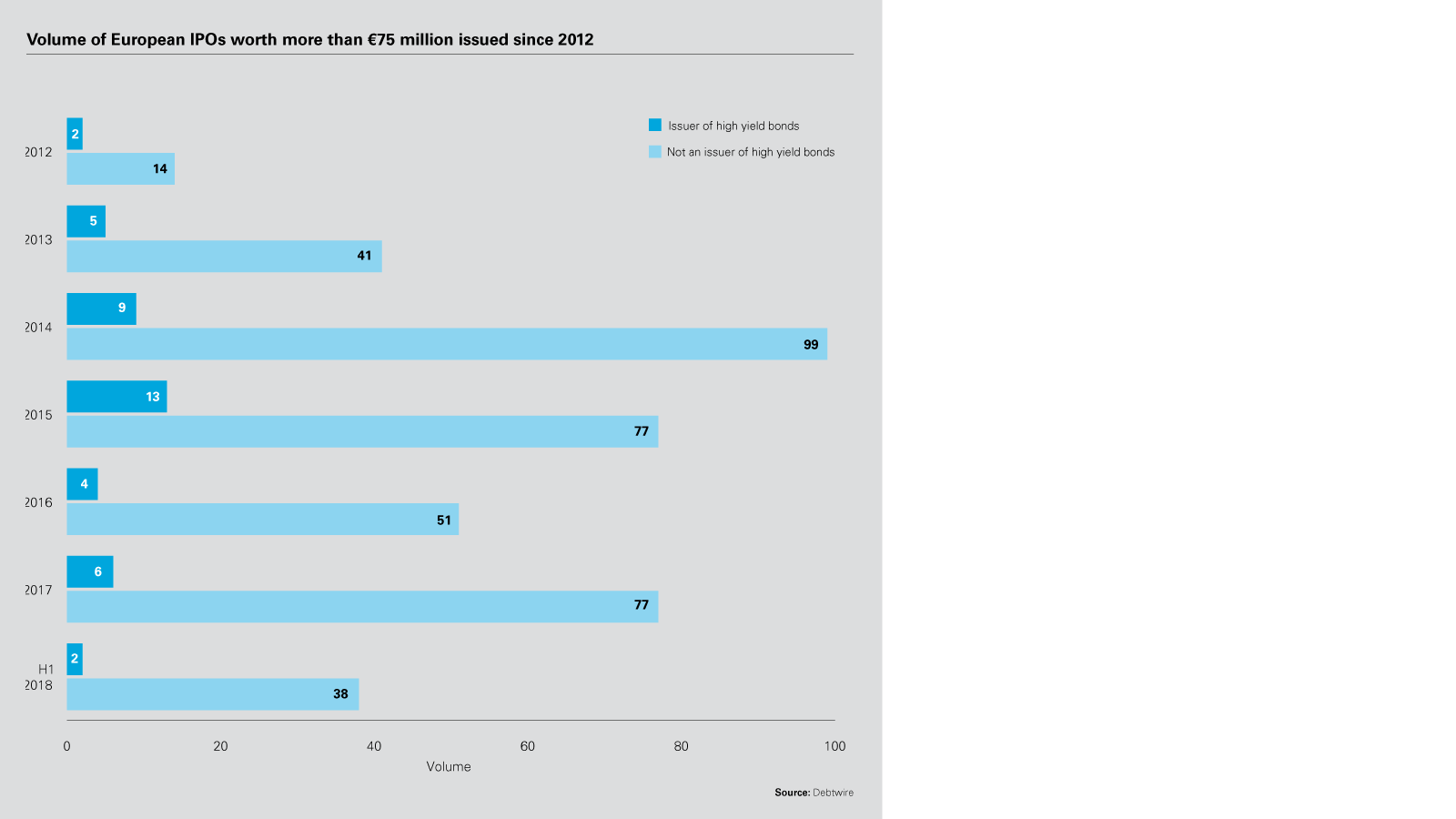 View full image
Companies that have issued a high yield bond and gone on to list on public markets since 2012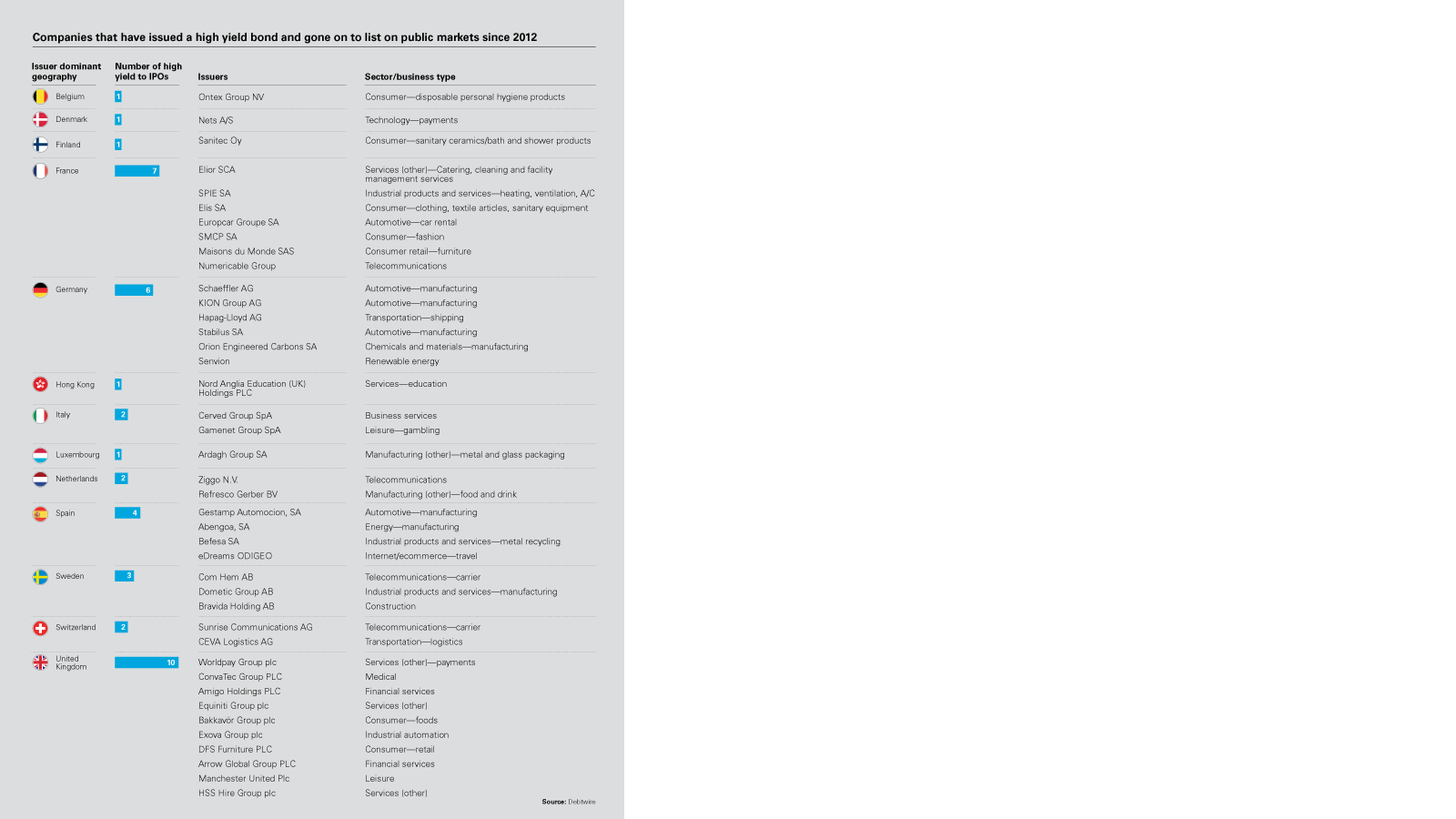 View full image
Synergies: How high yield bond preparation feeds into IPO groundwork
How similar are preparations for a high yield bond and those involved in an IPO? More than you may expect. With consideration, diligence and the right counsel, many businesses may discover they are only a few steps away from going public.
Disclosure
Many of the principal sections of a high yield bond offering memorandum (risk factors, business, management's discussion and analysis and industry) are a good base of disclosure which can be used for an equity offering document.
As almost all high yield bonds are done to a "Rule 144A" disclosure standard, the original offering memorandum provides a significant amount of information in a readily usable form for the listing process. In addition, given ongoing reporting obligations in the high yield bond covenant package, even if some time has passed since the issuer's high yield bond offering, a substantial amount of the business and financial disclosure can be easily updated with pre-existing materials.
While some time will need to be spent focusing on the key equity messages for the transaction (equity investors prefer a growth story, compared to bond investors who seek evidence of strong cash flows to service debt), many of the more legal sections can be quickly tailored and updated for the equity deal by legal counsel. The chart below shows the overlap between the disclosure in a typical high yield offering memorandum and a typical initial public offering prospectus.
Financial statements
Given the typical Rule 144A standard of disclosure for high yield bonds, issuers will have already pulled together consolidated financials (including, if relevant, pro forma financials for recent acquisitions or other major transactions) for required recent periods. Even if the listing jurisdiction requires financial statements in a different form (for example, an audit for the most recent interim period, preparation under a different accounting standard or additional periods), much of the base accounting work can still be leveraged.
Due diligence
The due diligence process for an equity offering should not differ materially from a bond offering. This means that the due diligence framework for the original high yield bond prepared to a Rule 144A standard will in most cases still apply, and it should be an update exercise rather than a complete renewal of the process. This offers significant process and cost efficiencies. Even if this just means reinstating a data room from the original deal, this is meaningfully less procedural work than for the original transaction.
Public company actions
By issuing a high yield bond, a company has begun to act like a public company. The company has disclosed its financial statements, corporate, shareholder and management structure, and provides updates to the market in relation to material events, including quarterly results. Both through the reporting covenant and the fact that the majority of high yield bonds are listed, disclosure obligations continue through the life of the bond.
Although those obligations generally fall short of the requirements of a company with publicly listed equity, these initial steps nevertheless provide a platform to develop good practices, which an equity listing can take to the next level.
In addition, particularly after the introduction of the Market Abuse Regulations and their application to certain common listing venues for high yield bonds, high yield bond issuers have become more familiar with the concept of inside information, and the requirement to ensure the correct information flow both internally and externally.
These information flow systems and controls will need to be enhanced prior to an IPO, particularly given the likelihood of directors and officers owning equity (versus the far less likely scenario of them holding bonds), but the initial development of the relevant systems and controls following a high yield bond creates corporate discipline that can be built upon.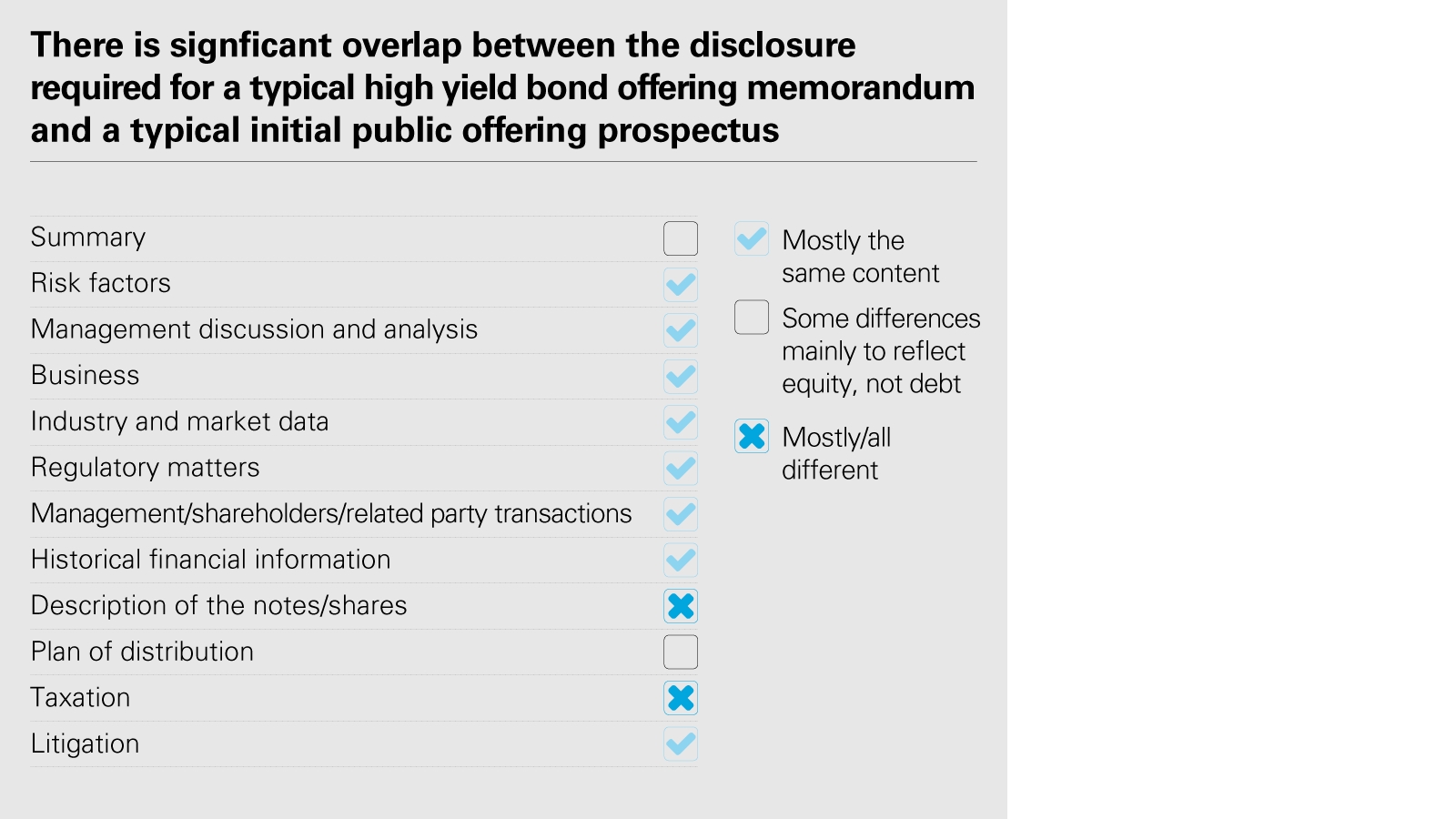 View full image
Bond covenants
While often an IPO works as a deleveraging event (especially for high yield bond issuers), the typical high yield issuance is structured to survive an IPO—and, in fact, the high yield bonds can play an important ongoing role in the capital structure of the newly public company. Many high yield bond transactions are designed to provide for a future IPO, with certain deals including provisions for debt push-down, security release and other mechanisms to facilitate a qualifying IPO. This is balanced against the protections expected by high yield bond investors, in particular, their preference for a single point of enforcement (i.e., a share pledge over the group entity, effectively regrouping all of the assets of the group) in the unlikely event that the bondholders or other creditors would need to take future actions against the company pursuing the IPO.
In connection with, and following an IPO, certain bond covenants and other provisions are implicated and may be used by the newly public company going forward. While these do vary from deal to deal, the following are often included in the bond terms:
Equity-claw—ability to call up to a specified percentage of the bonds (35/40 percent) at par plus coupon during the non-call period of the bonds. This opportunity to deleverage during the non-call period may be used to de-lever a company to its target post-IPO leverage if not achieved pre-IPO
Restricted payments—the restricted payments covenant restricts the payment of dividends and stock repurchases, both of which may be relevant to a company post-IPO. There is often a post-IPO restricted payment carve-out, permitting the payment of dividends in an annual amount equal to a specified percentage of the IPO proceeds and/or (subject to meeting a specified leverage ratio) a percentage of the market capitalization. In addition, depending on the use of the IPO proceeds, it may be possible to increase restricted payment capacity within the bond restricted group via capital contributions
Change of control—in a typical high yield transaction, an IPO would not trigger a change of control, which would have required the company to make an offer to noteholders to repurchase their bonds at 101 percent. Given that most high yield bond change of control covenants work on a negative hold basis (no one person will own more than 50 percent of the equity), an IPO typically does not trigger this
Reporting—high yield bond issuers that are considering an IPO should include flexibility in their reporting covenant, allowing them to report at the IPO entity level, and complying with listed company reporting requirements rather than the bond reporting requirements
Change in GAAP—most high yield covenants include the ability to make a one-time election to change accounting standards used in the preparation of the issuer's financial statements— i.e., from UK GAAP to IFRS or from IFRS to US GAAP—which provides flexibility to comply with listing regime requirements
A high yield bond issuer considering a listing should ensure its high yield bond documentation allows for the flexibility for the proposed IPO.
A two-way street: IPO to high yield bond
Although this article describes synergies in connection with undertaking an IPO following a high yield offering, the same synergies work as effectively when the two transactions are undertaken in the reverse order or even simultaneously. Many high yield issuers continue to issue bonds following an IPO. The high level of ongoing disclosure required by most listing jurisdictions in connection with listed equity means that issuers have a continuously updated base of information to leverage in connection with securities offerings. In addition, publicly listed equity typically provides an increase in an issuer's ratings.
A recent example of an issuer that has taken full advantage of the cross-transactional synergies is Europcar. After completing a number of complex high yield bond transactions over the course of approximately eight years, in 2015 Europcar completed its IPO on Euronext Paris raising €898 million, while simultaneously completing a €475 million high yield bond offering. Since its IPO, Europcar has gone on to complete several more high yield bond offerings, initially leveraging its IPO prospectus, and then its ongoing required reporting disclosure. The further offerings include a tap offering in 2016, a simultaneous dual high yield notes offering in 2017 and a further tap offering in 2018. White & Case represented the bank syndicates on the 2015 IPO and bond offering, and each of the additional high yield bond offerings since 2015.
Taking those final few steps to an IPO
While the above preparatory work is helpful, there are some additional steps required for the equity listing process.
Pre-deal structuring
One of the main differences between a high yield bond and an IPO is that the company's equity structure is not a key consideration in connection with a high yield bond (other than for purposes of disclosure and ratings), however, equity structuring is critical to the IPO process.
Whether for a traditional corporate issuer or a sponsor portfolio company, identifying (and in some cases creating) the right IPO vehicle, organising the existing equity (and in some cases shareholder debt) and understanding future requirements for management incentive plans and similar arrangements are important workstreams that will need to be independently evaluated with the assistance of accounting, business and legal advisors.
In the unlikely event that a bondholder consent may be required to complete the IPO, that needs to be identified early in the process and integrated into the timeline.
Jurisdiction-specific considerations
The corporate and securities laws of the listing jurisdiction, along with the listing rules for the particular exchange, will each need to be taken into consideration by an issuer when selecting a listing venue. Each jurisdiction has different requirements that govern both the initial listing process itself and ongoing obligations as a public company.
For instance, although significant accommodations are in place for foreign private issuers listing in the US, there are still a number of specific corporate governance and ongoing reporting requirements that will need to be met, including under the Sarbanes-Oxley Act. Similarly, the UK has regulations including the City Code on Takeovers and Mergers and the UK Corporate Governance Code to which a UK public company must adhere. Jurisdiction-specific regulations may require the establishment of additional corporate governance and public reporting infrastructure. Legal counsel can guide an issuer through the establishment and maintenance of these internal processes in line with the relevant statutory principles.
Financial statements
Depending on the listing venue, financial statement requirements may vary from what was required in connection with the high yield bond process. For example, a premium listing on the London Stock Exchange requires that an IPO candidate have both year end and semiannual audited financial statements. Confirming financial statement requirements as early as possible in the process is key to ensuring a company can complete its IPO within its planned time frame, and these requirements can be anticipated during the high yield transaction.
Reporting
Following an IPO, a company will be subject to the ongoing reporting requirements of the relevant jurisdiction and stock exchange where it is listed. In terms of content, these requirements may be more onerous that those which the company is currently subject to in connection with its high yield bonds. However, many exchanges require only semi-annual reporting, whereas high yield bond covenants generally require quarterly reporting.
In most cases, the bond reporting requirements will continue to apply as a separate obligation, but the ongoing reporting requirements for the company's publicly listed equity can be adapted to ensure that they also meet reporting requirements under the bonds.
Certain high yield bond transactions have included specified provisions to address this point, including permitting a change in the reporting entity, or allowing the reports of the equity listed company in lieu of the of the relevant high yield bond issuer or applicable parent guarantor.
Often bondholders will insist on maintaining quarterly reporting under the bond even if the equity reporting regime is semi-annual. This needs to be taken into account when formulating the issuer's investor relations strategy and planning its financial calendar.
Conclusion
High yield bond issuers are some of the best-placed companies to consider an IPO. Much of the preparation and reporting required by regulators to list on a public exchange has already been completed or can be achieved with minor adjustment. Equally, being publicly listed is not a barrier to issuing a high yield bond. Whatever the order of the transactions, the synergies are the same.
Click here to download PDF.
This publication is provided for your convenience and does not constitute legal advice. This publication is protected by copyright.
© 2018 White & Case LLP
Top