Navigating naturalization
New York office hosts pro bono naturalization clinic with Legal Services NYC
---
At a clinic held recently in our New York office, 30 lawyers and alumni of the Firm received training in naturalization processes from Legal Services NYC (LSNYC). Our lawyers met with clients, discussed eligibility requirements and took detailed notes using LSNYC's intake form. After reviewing the material, LSNYC followed up with eligible clients and assigned these clients a pro bono attorney to help them file naturalization applications.
LSNYC helps nearly 90,000 New Yorkers annually. In addition to a range of practice areas, including housing and education, it maintains a focus on immigration. Following the recent US election, LSNYC was inundated with calls from concerned immigrants—a mix of existing and prospective clients. Many of them had legal status but were worried about the possibility of deportation.
With the goal of meeting the new need, LSNYC began holding naturalization clinics at the rate of one or two a month. Nearly 9 million people in the US are eligible to naturalize. Doing so provides the right to vote and to receive key government benefits, as well as additional safeguards against deportation.
Adam J. Heintz, Director of Pro Bono Services for LSNYC, says that due to limited resources, the organization had been turning away 50 clients a month—and that number has multiplied since last fall. "Through these clinics," Adam says, "we aim to meet the needs of all of our clients. The response from the larger pro bono community has been extraordinary. Thanks to our many volunteer firms and attorneys, we are on pace to meet with about a thousand clients this year, all of whom would be turned away without pro bono services."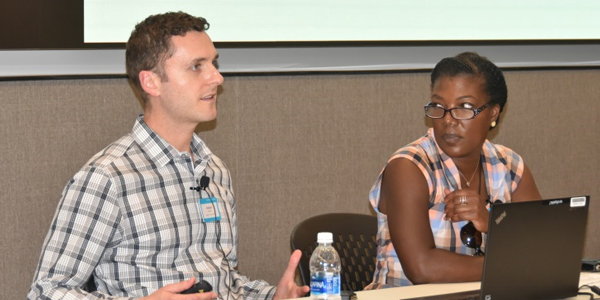 Adam J. Heintz, Director of Pro Bono Services; and Audrey Carr,
Director of Immigration and Programs at LSNYC, conducted the training session
White & Case associates make a difference
White & Case associate Rebeca Garcia-Lopez says she was motivated to contribute as a fellow immigrant. She was one of a number of Spanish speakers in attendance, some of them legal assistants, who were able to make additional contributions as interpreters. "I believe that the vast majority of these immigrants are hardworking people pursuing an opportunity for a better life," Rebeca says. "Everyone deserves that chance. If I can help in any way, I will."
Rebeca says she was struck by LSNYC's commitment, following the election, to turn no client away. "I was surprised and impressed by their willingness to provide services to all potential clients," Rebeca says. "They know the applications have to be prepared much more carefully now, and they seem to have the expertise to face this new reality as well as the willingness to build strong cases for their clients. Having direct contact with the clients, and seeing how grateful they are for the assistance we are able to give, is also very powerful."
Associate Cristina Silva Hoyos was another enthusiastic participant. "As a foreign person in the US, I have had to deal a lot with immigration laws and I understand how complicated they can be," Cristina says. "Fortunately, I have had attorneys who have helped me navigate and understand these laws, but many people in the US right now don't know who to reach out to or cannot afford to reach out to someone for help. Many are also very scared to reach out to someone and risk being deported so I felt it was important for me to provide any assistance I could in this sometimes scary and daunting process."
"One of the huge values to us of working with White & Case," Adam says, "is being able to rely on the great legal skills of its attorneys but also on the administrative support that's provided by the Firm. Another great thing about this work is that it goes all the way from the beginning point of a screening clinic to the possibility of taking a case."
The Firm will host a second clinic with LSNYC in late September to help low-income clients apply to become US citizens. Our volunteers will help clients complete citizenship applications and will commit to represent them through the client interview, which occurs around six months after the application is submitted.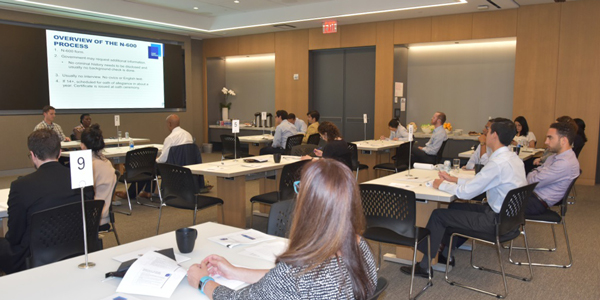 Thirty lawyers, legal assistants and alumni participated in the clinic
Top