A Week in the Detention Center
New York associate Patricia Alejandro spent a week working pro bono at Port Isabel Detention Center (PIDC). Here is her account.
---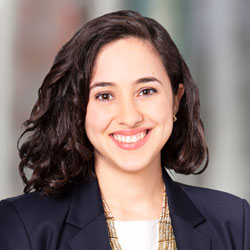 During the week of July 30, 2018, I worked pro bono at Port Isabel Detention Center (PIDC) in rural Texas, meeting with fathers who were still not reunited with their children after more than two or three months of separation. I was part of a group of attorney volunteers, hosted by the South Texas Pro Bono Asylum Representation Project (ProBAR) and with the assistance of Kids in Need of Defense (KIND). We conducted intakes, provided guidance on asylum and the immigration process, connected parents to their children's attorneys, compiled notes for the next set of volunteers, and provided general support and encouragement to the parents. PIDC is an adults-only detention center. US Immigration and Customs Enforcement (ICE) has transferred the parents multiple times over the last few months from detention centers all around the country, which has made it even more challenging for them to reach their children or receive legal counsel.

These constant transfers, and being detained with no timeline for release, has taken a toll on the parents. The fathers we spoke with were going through a particularly tough time, as they had been essentially "left over" from the government's previous reunification efforts. Many had been transferred to PIDC in civilian clothing, promised they would be reunited with their children and forced to wait for up to ten days in these clothes, without showers or access to telephones, before being changed back to uniforms. The government did not reunite them with their children, and some were feeling pressure from officers to consent to deportation. We also encountered parents who still had court hearings scheduled in other states, even more than two weeks after their transfer to PIDC, as ICE had not yet transferred their cases along with them. We tried to document and report such violations to pro bono partner organization, the American Civil Liberties Union.
One of the more egregious violations we witnessed was that of recruiting detainees for work at the detention center and paying them only one dollar per day. We heard different estimates—two to six hours of work per day—for the same amount. PIDC does not appear to contract out cleaning, meal preparation, general facilities maintenance or grooming for the detainees, so officers would ask for volunteers to work. The little money the detainees receive for this work is placed in their phone accounts.
Some of the parents we met with identified a language other than Spanish as their primary tongue, but we did not see that they were secured interpreters before being asked to sign documents. While interpreters are required during a credible fear interview, which occurs early on after entering the country and determines if an immigrant is deportable or has the opportunity to apply for asylum, this requirement is not always adhered to correctly. One of the parents we met had received an interpreter in Spanish but not in his native language, and we fear that this affected his interview and negative credibility finding. Some parents had not yet received copies of the transcripts of these interviews, giving us little to review and counsel on.
The toughest day was Friday—when we found out that one father, Mario, had been released (or perhaps reunited, though we had no certainty), and when we helped two parents to sign consent forms to release their children to family members. These parents were happy to have their children freed ("Freedom is the most valuable thing," one father told us), and at the same time distraught at not knowing when they would be reunited with them. They struggled with whether they should give up and sign a deportation order now that they knew their child had a chance at freedom and a safe life in the US. The pressure of being detained for so long was taking its toll.
When we walked out of PIDC for the last time, we met a little girl who was crying as she walked out with her family. I asked the mother if she had hit herself against something. "No," she said, "she just saw her daddy." My teammate and I held our tears until we exited the building, and as I saw parents holding their children's hands at the airport later that night, I could only think of how precious it is to have the basic right of being with your child.
Thankfully, we found out that Mario had been reunited with his two-year-old daughter. Mario is one of the lucky ones: He had been able to find an attorney and had been released to family. He can now apply for asylum. Confusion at the border, and not being provided a translator, had led to his separation from his daughter, who lived at a shelter for more than a month and who does not speak Spanish. Having an attorney, someone advocating on his behalf, had made a difference.
With strong asylum claims and fear of returning to their home countries, many of these detainees pass their days waiting for developments. The little counsel they receive can make the difference between release and deportation. There are many opportunities to help, from volunteering at a center as I did, to working remotely to represent detainees for their credible and reasonable fear interviews, or assisting with asylum applications.
My own father immigrated to the US before I did, and we were separated for almost three years. My experience does not come close to that of the separated families still struggling in detention centers and shelters across the country. An immigration attorney helped my family, and I am immensely grateful to White & Case for providing me the opportunity to pay it forward.
This publication is provided for your convenience and does not constitute legal advice. This publication is protected by copyright.
© 2018 White & Case LLP
Top