Africa Focus: Spring 2018
Stay current on your favorite topics
The sheer size of the opportunities in these Lusophone countries justifies the appetite of both public and private global investors in the oil & gas and mining sectors.
Planning for the up-cycle and managing risks in Lusophone Africa
Between them, Angola and Mozambique represent 94 percent of the population and 91 percent of the 2017 collective GDP of Lusophone Africa (Figure 1). In the early part of this decade, investors were very optimistic about oil-rich Angola's prospects and those of Mozambique, with its vast gas and mineral reserves. A market consensus existed, though, that the heavy reliance on natural resources and the general lack of diversification left these two countries' economies dangerously exposed to global commodity price fluctuations— especially in oil and coal.
Contracting oil and coal prices since 2014 have severely impacted the economies of Angola and Mozambique. Reduced revenues and increased debt have undermined their ability to finance the infrastructure needed to unlock the wealth from their vast natural resources, to develop their human capital and to grow and diversify their economies. Since 2013 Mozambique has attracted investment into a number of industries besides coal, oil and natural gas (Figure 2). In Angola, though, the investment into its coal, oil & gas sector has continued to dwarf all other industry sectors (Figure 3).
In this article, we examine some of the challenges that Angola and Mozambique will face in coming years if they are to consolidate their positions in the African oil & gas and mining sectors. We also explore how investors can use the existing legal frameworks in those countries to mitigate legal risk.
Figure 1: GDP and population of African Lusophone countries (2017)
Figure 2: Mozambique—capital expenditure by industry sectors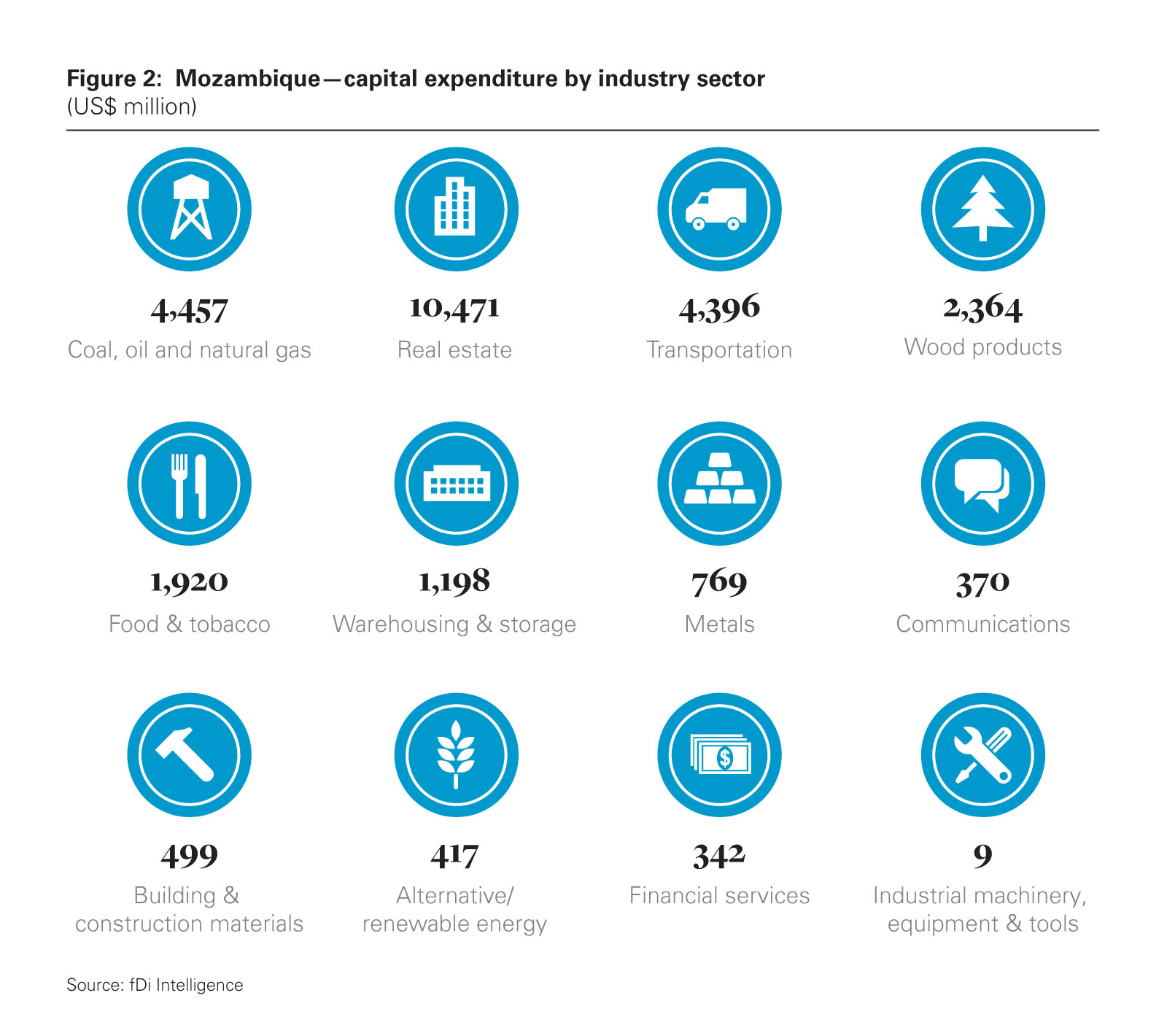 View full image
Figure 3: Angola—capital expenditure by industry sector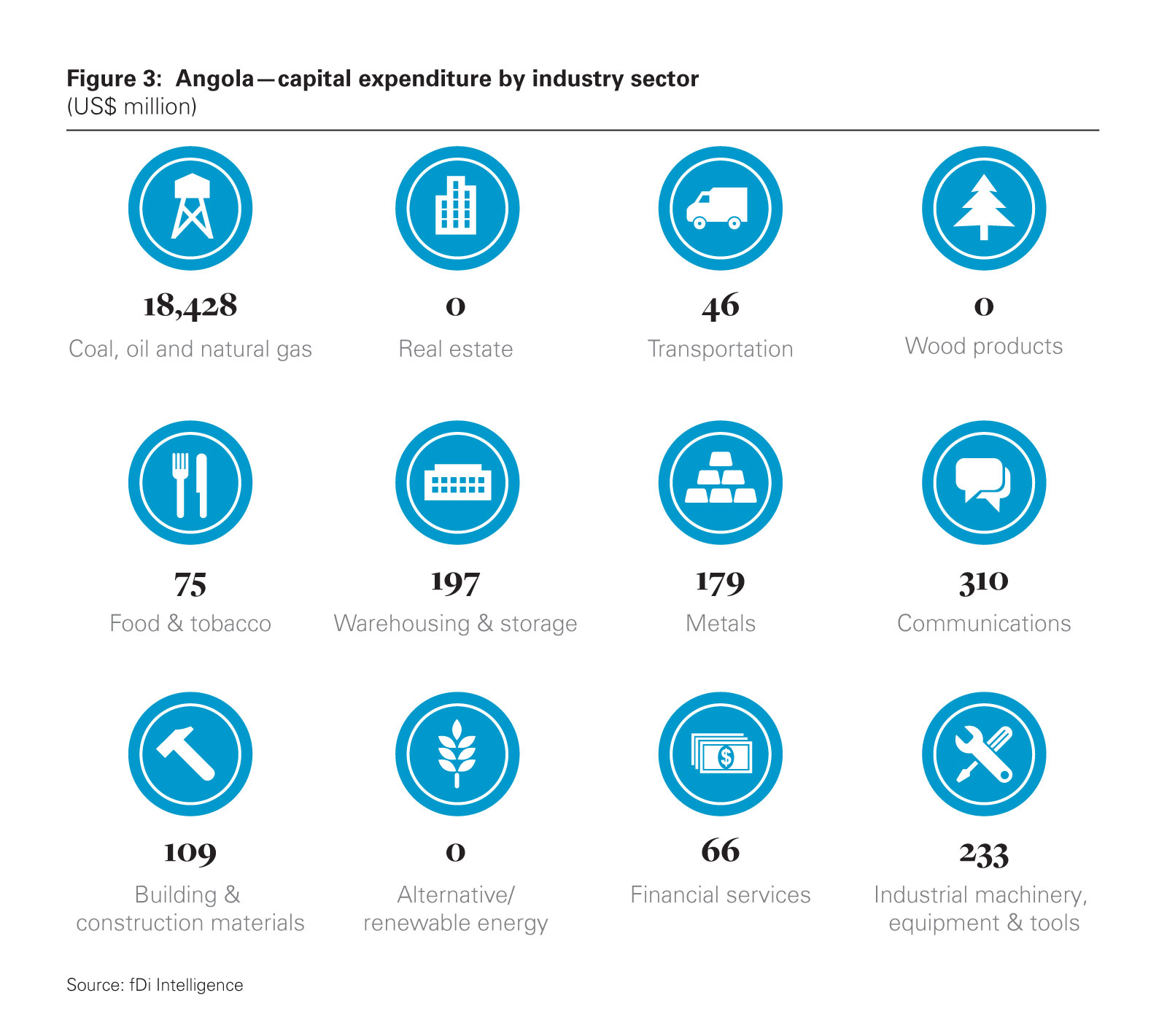 View full image
Angola—Decreasing Oil Output Amid Ongoing Financial Crisis
The oil boom turned Luanda into one of the most expensive cities in the world in which to live. But Angola's reliance on oil—which, according to OPEC, represents more than 95 percent of its exports1—has taken its toll as commodity prices declined. Government payments on foreign debt reached 44 percent of Angola's revenues in 2016, the heaviest debt burden on the African continent.2 It remains unclear whether the 2017 election of João Lourenço as President, after 38 years of Eduardo dos Santos as President, will result in the changes needed to address the impact of low oil prices, and soaring debt. Mr. Lourenço's swift replacement of key government individuals and executives, including the chair of Angola's state-owned oil company Sonangol, has been viewed with cautious optimism by the market. It is yet to be seen if these are signs of meaningful structural reforms.
As this article went to print, the governor of the Angolan central bank appointed by Mr. Lourenço announced that it will end the kwanza's peg to the dollar before the end of the first quarter of 2018, allowing the Angolan currency to fluctuate within an undisclosed band, and that it intends to renegotiate Angola's debt. This announcement sharply depressed the value of Angola's US dollar-denominated debt, putting further pressure on the kwanza—which has already devalued by 41 percent since 2014. Furthermore, parallel market trading at approximately twice the official rate suggests that a far more significant devaluation might be possible. Bondholders, other sovereign creditors and foreign investors with credit in kwanzas should follow these developments closely, especially given Angola's tightening of its foreign exchange policies since 2014.
Angola may not be able to rely on oil revenues in sovereign debt renegotiations or to alleviate the impact of the kwanza's devaluation. Despite the forecast of a boost in oil production in 2018 due to Total's Kaombo Field, production is set to decline from 2019 onwards due to the lack of investment in the sector during the downturn. The improvement in oil prices in December 2017 alone is unlikely to offset the decline in oil production. Sonangol will have a difficult time ahead, partly related to disputes arising out of (at least in part) the depreciation of oil prices and the consequent slowdown in investment in exploration projects by investors. The mid-December 2017 announcement of the settlement of a protracted dispute with Cobalt is a sign that Sonangol (now under new leadership) may take a more pragmatic approach in handling those disputes so that it can focus on its business.
Angolan mining and agricultural sectors are not sufficiently developed to fill the oil revenue gap, and the government is unlikely to be able to invest quickly and efficiently enough to deliver the infrastructure required to diversify Angola's economy. Other sectors, such as consumer products and telecoms, have been adversely affected by the economic downturn. This has given rise to several billionaire corporate disputes in the telecoms space, as businesses aggressively compete for alternative sources of cash.
Chinese and other foreign support have helped Angola thus far through the crisis, but long-term solutions will be deeply dependent on diversification of Angola's economy. Here lies the greatest challenge for the Angolan government and simultaneously the greatest opportunity for its investors in sectors other than oil & gas.
Mozambique—Major Gas and Mining Opportunities Remain Despite Ongoing Financial Challenges
Until very recently, Mozambique was largely seen as a success story. This perception, despite its ongoing dependency on donations and considerable delays in major mining and gas projects, was needed to boost the country's economy. However, large planned projects had not yet come online before the commodities crisis hit in 2014, and the deterioration of Mozambique's financial position, among other factors, prompted intervention by the IMF.
The government of Mozambique and investors alike have been working to improve the country's financial and economic landscape. For example, Brazilian mining giant Vale and Japanese Mitsui & Co. signed the US$2.73 billion financing of the Nacala Corridor Railway and Port Project with project finance lenders in early December 2017. Widely reported as Africa's largest-ever infrastructure deal, the cross-jurisdictional project—the construction and refurbishment of a 912-km railway line to transport coal from the Moatize mine across Malawi to a new coal deep seaport in Nacala-à-Velha on the eastern coast of Mozambique—will be a major step toward unlocking the country's coal reserves for export and helping Mozambique to become a major player in the global mining market. In addition, when Anadarko's Area 1 LNG project and Eni/Exxon Mobil's Area 4 FLNG Project both come on stream, these projects will be instrumental in placing the country among the largest LNG exporters in the world. In addition, the government of Mozambique continues to address the fallout from the non-disclosure to the IMF of certain state-guaranteed loans incurred in 2013 and 2014. The consequent suspension of IMF lending and donor budgetary support to Mozambique has created significant fiscal pressures, and a restructuring of the government's external debt to improve medium-term debt sustainability remains pending.
As with Angola, Mozambique's main challenge is to build the infrastructure to diversify its economy and deliver wealth through different sectors. The government remains under considerable fiscal pressure. Although spending may be sustained until local and general rounds of elections take place in 2018 and 2019, respectively, foreign investment will continue to play a key role in Mozambique's ability to position itself as a major player, be it in the natural gas or mining sectors. In addition, the country will also need to manage the political conflict between its FRELIMO party and the RENAMO opposition.
Planning for the Up-Cycle and Managing Risk
It will take a number of years for Angola and Mozambique to fully realize their potential to become part of the premier league for oil & gas and mining within Africa and globally. However, the sheer size of the opportunities in these Lusophone countries justifies the appetite of both public and private global investors in the oil & gas and mining sectors.
Despite their similar official language and colonial past, Angola and Mozambique have a number of country-specific political, economic and institutional challenges to address as they pursue investors' attention and seek to unlock wealth from the exploration and development of their natural resources.
Investors targeting the up-cycle in the oil & gas and mining spaces, in addition to the usual operational risks, will need to manage and seek to mitigate the associated legal risks. Sponsors may seek to mitigate these risks through the structuring of investments, typically alongside tax planning, to attract protection under Angola's and Mozambique's bilateral investment treaties. These treaties allow investors of signatory states to bring arbitration proceedings directly against these states, for instance, in cases of discriminatory expropriation.
At the project level, some investors in Angola and Mozambique are seeking to mitigate legal risks by including arbitration clauses in key contracts. Angola and Mozambique provide reasonably good and modern dispute resolution frameworks for investors, and courts are slowly becoming familiar with and supportive to arbitration. Both countries have enacted modern arbitration laws, and ratified the New York Convention of 1968 on the enforcement of arbitral awards. The latter binds the slowly improving local courts to respect arbitration clauses as a matter of international law, and entitles the winning party to reasonably and readily enforce arbitral awards against the losing party's assets in more than 100 signatory countries.
Despite Angola's and Mozambique's reasonably good legal frameworks for dispute resolution, mitigation of risks at the early development stages of projects and in support of exit strategies typically require not only Portuguese language capabilities and understanding of the local culture, but also experience in working with local co-counsel in what are heavily fragmented and tight legal markets.
FULL MAGAZINE
Africa Focus: Spring 2018
1 www.opec.org
2 jubileedebt.org.uk
This publication is provided for your convenience and does not constitute legal advice. This publication is protected by copyright.
© 2018 White & Case LLP