Africa Focus: Spring 2018
Stay current on your favorite topics
Hampered by sluggish global economic conditions, China's outward direct investment in Africa stood at US$29.8 billion in 2015, down 7 percent from 2014. Still, this places China fourth in the "Top 10" global sources for direct investment in Africa.
Chinese engagement, investment and trade with Africa
China has a very long association with Africa. Historical records in China, confirmed by archaeological traces in East Africa, show that Admiral Zheng visited Africa twice during his voyages of discovery during the Ming Dynasty (1368 to 1644). According to some sources, trading ties between Africa and China may even extend further back, to the Song Dynasty (960 to 1279). China refers to Africa as the world's largest region still to be developed. It is determined to play a major role in that development and to maintain close relationships with African nations as they grow.
As a country with a population of more than 1.3 billion people, China interacts with every one of the 54 African countries, which cumulatively have a population of roughly 1 billion. At US$11.2 trillion in 2016, China's economy dwarfs that of every African country and even Africa as a whole. According to the International Monetary Fund (IMF), the continent's cumulative GDP in 2014, adjusted for purchasing power parity, was only about US$6.3 billion.
US$200 billion

The peak value of Chinese-African bilateral trade in 2014.
UNCTAD
China follows a coordinated, continent-wide strategy in forging its African relationships, anchored by the Forum on China-Africa Cooperation framework, which was established in 2000. Long before that, at the Asian-African Bandung Conference in April 1955,1 the 29 participating countries embraced China's Five Principles of Peaceful Coexistence, which remain the cornerstone of Chinese foreign policy to this day. These are:
Mutual respect for each other's territorial integrity and sovereignty
Mutual non-aggression
Mutual non-interference in each other's internal affairs
Equality and cooperation for mutual benefit
Peaceful coexistence
A number of similar conferences were held over the next few years and, in 1960, China established the China-African People's Friendship Association. China was always quick to forge diplomatic relationships with African countries as they achieved independence from their former colonial powers.
From December 1963 to February 1964, the Chinese premier Zhou Enlai visited ten African countries and, during this tour, he put forward Eight Principles Governing China's Economic and Technological Assistance to Foreign Countries. These, too, are part of a small number of formative policy documents that drive China's foreign policy, not only in Africa but generally. Among other things, the Eight Principles set out the requirement that in the delivery of foreign assistance to a country, the sovereignty of the government receiving such assistance must be respected. This means that the conditions often applied to assistance from western governments cannot be attached to assistance from China. Newly independent African states provided 11 of the 23 co-sponsors of the United Nations resolution recognizing the PRC as the "only lawful representative of China to the United Nations," and 26 African votes contributed to that motion being passed in 1971, opening the way for the PRC to take over China's permanent seat on the UN Security Council.
China's close engagement with Africa continued through the succeeding decade and accelerated toward the end of the 1990s and into the 2000s. By 2008, China's Export-Import Bank was funding more than 300 projects in 36 countries across Africa. The value of bilateral trade increased from US$6.5 billion in 1999 to US$73.3 billion in 2007 (Figure 1). According to the China-Africa Research Institute at Johns Hopkins University, by 2008 it exceeded US$100 billion, and it peaked at more than US$200 million in 2014, before slipping back in 2015 and 2016 in response to poorer global economic conditions. In 2009, China overtook the United States as Africa's major trading partner. The largest African exporter to China from Africa in 2015 was South Africa, followed by Angola and Sudan. In the same year, South Africa was the largest African market for Chinese goods, followed by Nigeria and then Egypt.
Figure 1: China-Africa trade (2002 – 2015)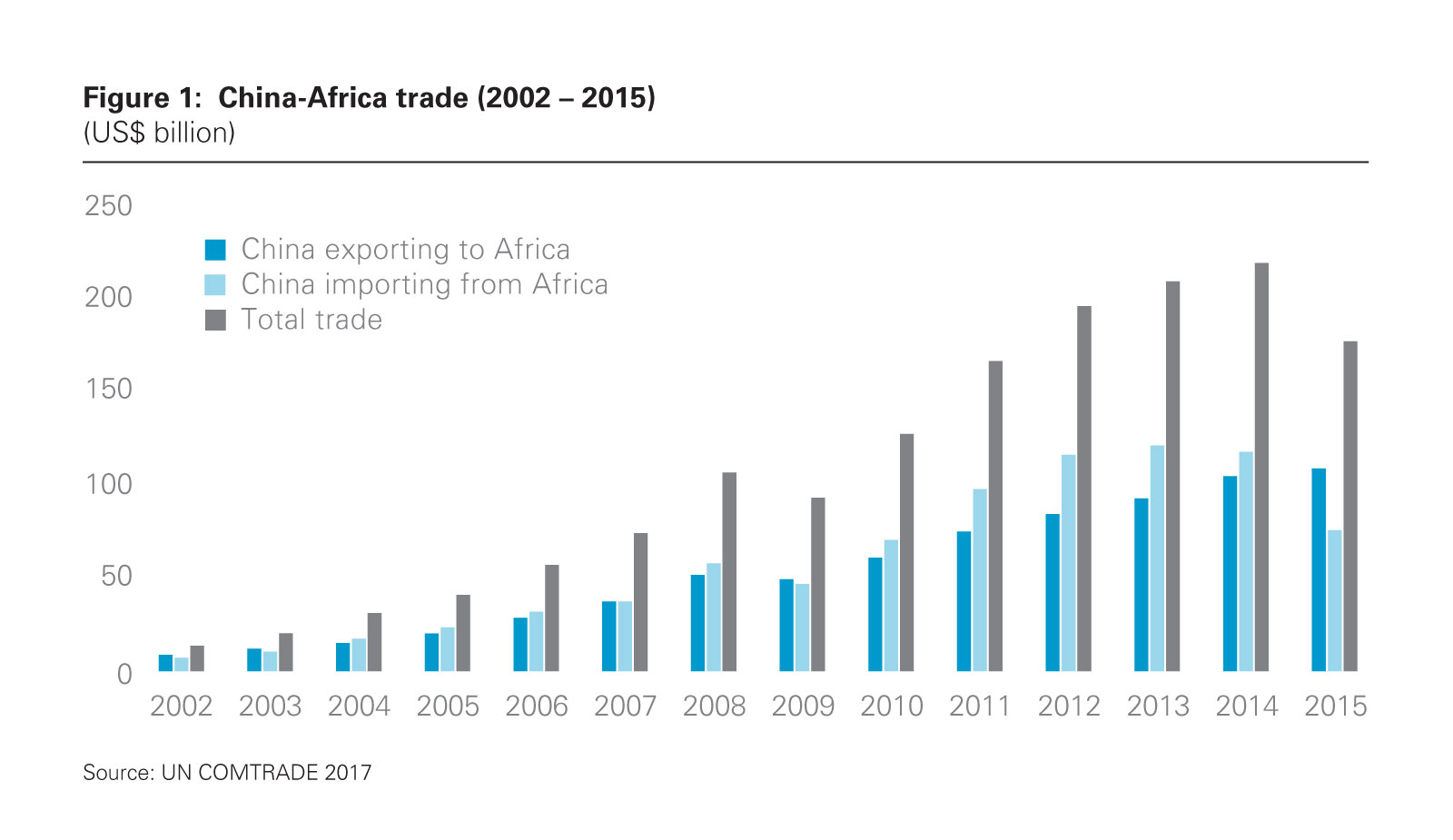 View full image
The Impact of the Belt and Road Initiative (BRI) on Africa
The BRI, launched by Chinese President Xi Jinping in 2013, has significant implications for Africa. The BRI involves China underwriting hundreds of billions (and perhaps trillions, eventually) of dollars of infrastructure investment across the world, "to promote the connectivity of Asian, European and African continents and their adjacent seas, establish and strengthen partnerships among the countries along the 'Belt and Road,' set up all-dimensional, multi-tiered and composite connectivity networks, and realize diversified, independent, balanced and sustainable development in these countries."2 BRI consists of two major components:
Silk Route Economic Belt: The "belt'" comprises the ancient land route to Europe via Western China and Central Asia
Maritime Silk Route: Comprises the seaborn trade route ("road") linking China to Europe via South Asia and the Horn of Africa
Additionally, Belt and Road will absorb a range of other "corridor" initiatives already in existence, e.g., the China-Pakistan Economic Corridor (Figure 2).
The early stages of the BRI appear to be focused on projects that enhance linkages across Asia and with Europe. The initial "hot spots" identified include ten ASEAN countries, Russia and five Central Asian countries. Global macro-economic conditions will likely also limit the rate at which the BRI can be implemented, in line with a flattening in projects, M&A activities and foreign assistance in BRI countries generally (and beyond). The agencies that will be primarily responsible for disbursing BRI funding include the state-owned Silk Road Fund, the China Development Bank and the Export-Import Bank of China.
Two multilateral institutions led by China, the Asian Infrastructure Investment Bank (AIIB) and the Shanghai-based New Development Bank, are also major financiers of the BRI. In 2016, for instance, the AIIB approved US$1.7 billion in loans for nine BRI development projects. However, by the end of October 2017, it had made only one set of investments in Africa, namely in Egypt.3
China does not intend to undertake the BRI alone, though, and it has expressed active support for the African Union's Agenda 2063 initiative.4
Figure 2: The Belt and Road Initiative—Enhancing linkages between Asia, Europe and Africa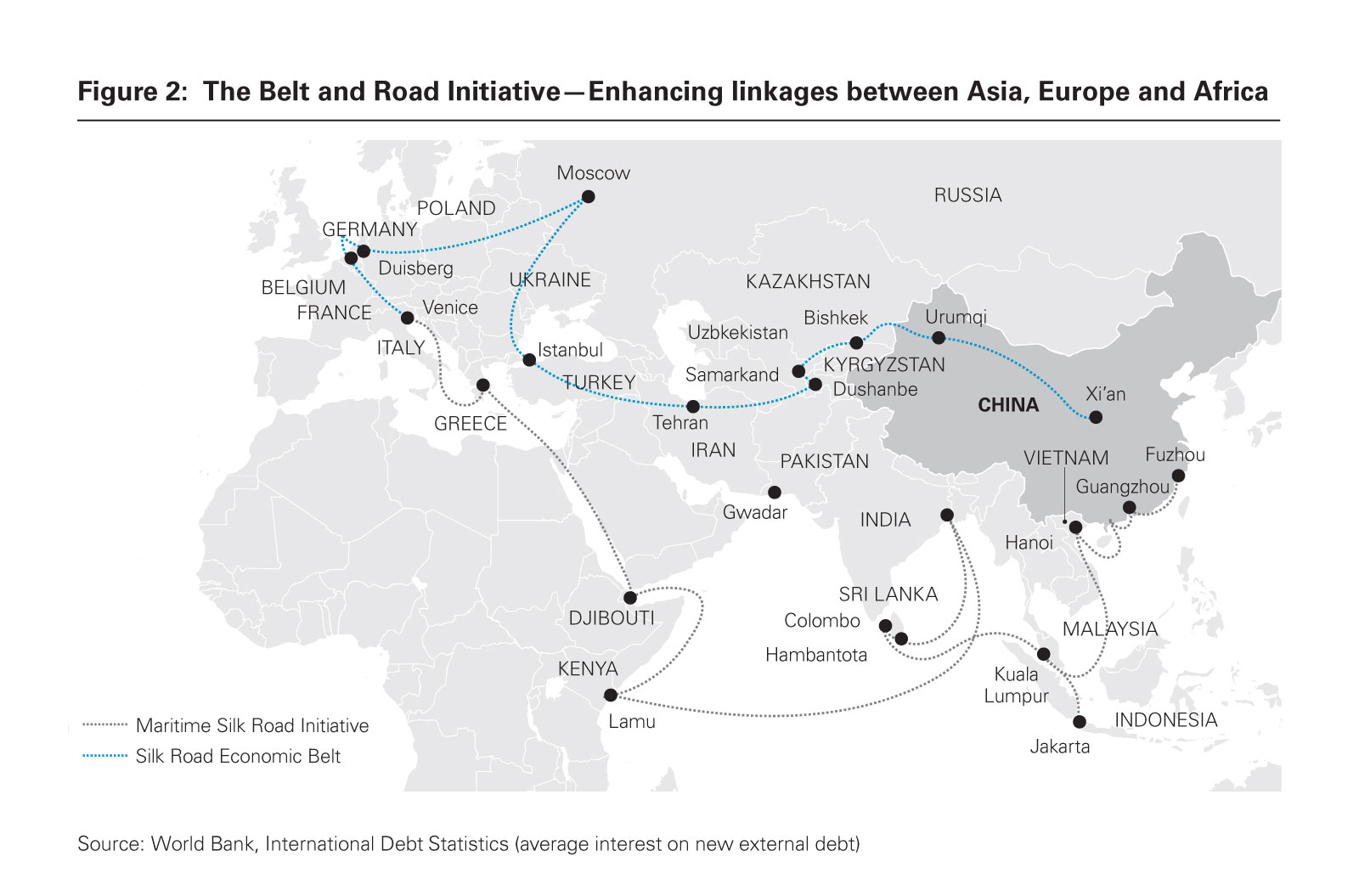 View full image
Recent Investment Trends Between China and Africa
Hampered by sluggish global economic conditions, China's outward direct investment in Africa stood at US$29.8 billion in 2015, down 7 percent from 2014. China's investment stock in Africa stood at US$34.7 billion in 2015, accounting for 3.2 percent of China's foreign investment.5 Still this places China fourth in the "Top 10" global sources for direct investment in Africa (Figure 3). However, China's stock of FDI in Africa grew at 21.7 percent between 2010 and 2015, while the leading country (the US) grew its stock at only 3.15 percent over the same period. Nearly 3,000 Chinese overseas enterprises accounted for most of this, with operations based mainly in Zambia, Nigeria, South Africa, Ethiopia, Tanzania, Ghana, Kenya, Angola, Uganda and Egypt (Figure 4). The mining and construction industry sectors accounted for 55 percent of China's direct investment into Africa (Figure 5).
Figure 3: Top 10 countries investing in Africa, by investment stock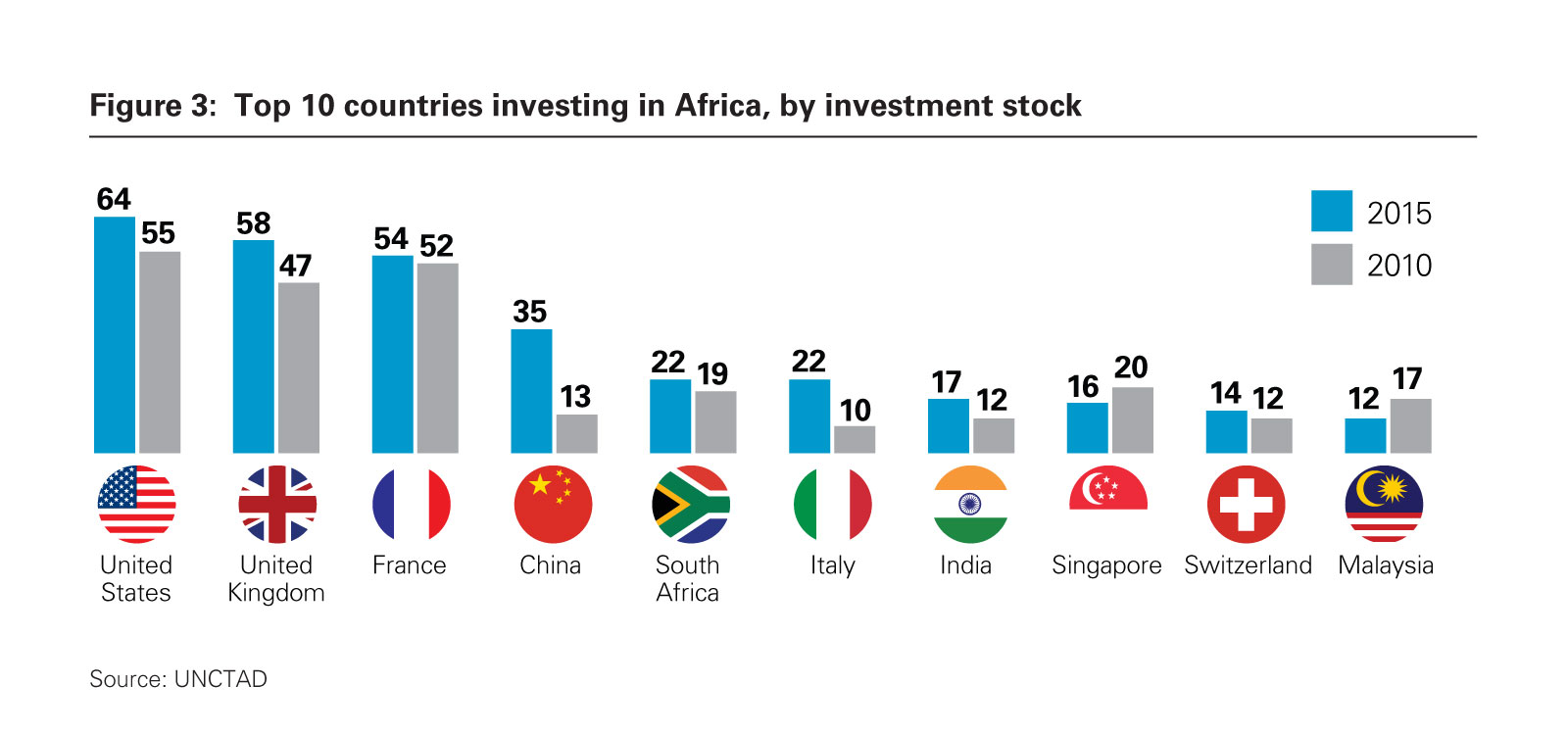 View full image
Figure 4: Top 10 countries and regions in China's direct investment in Africa (2015) (US$ million)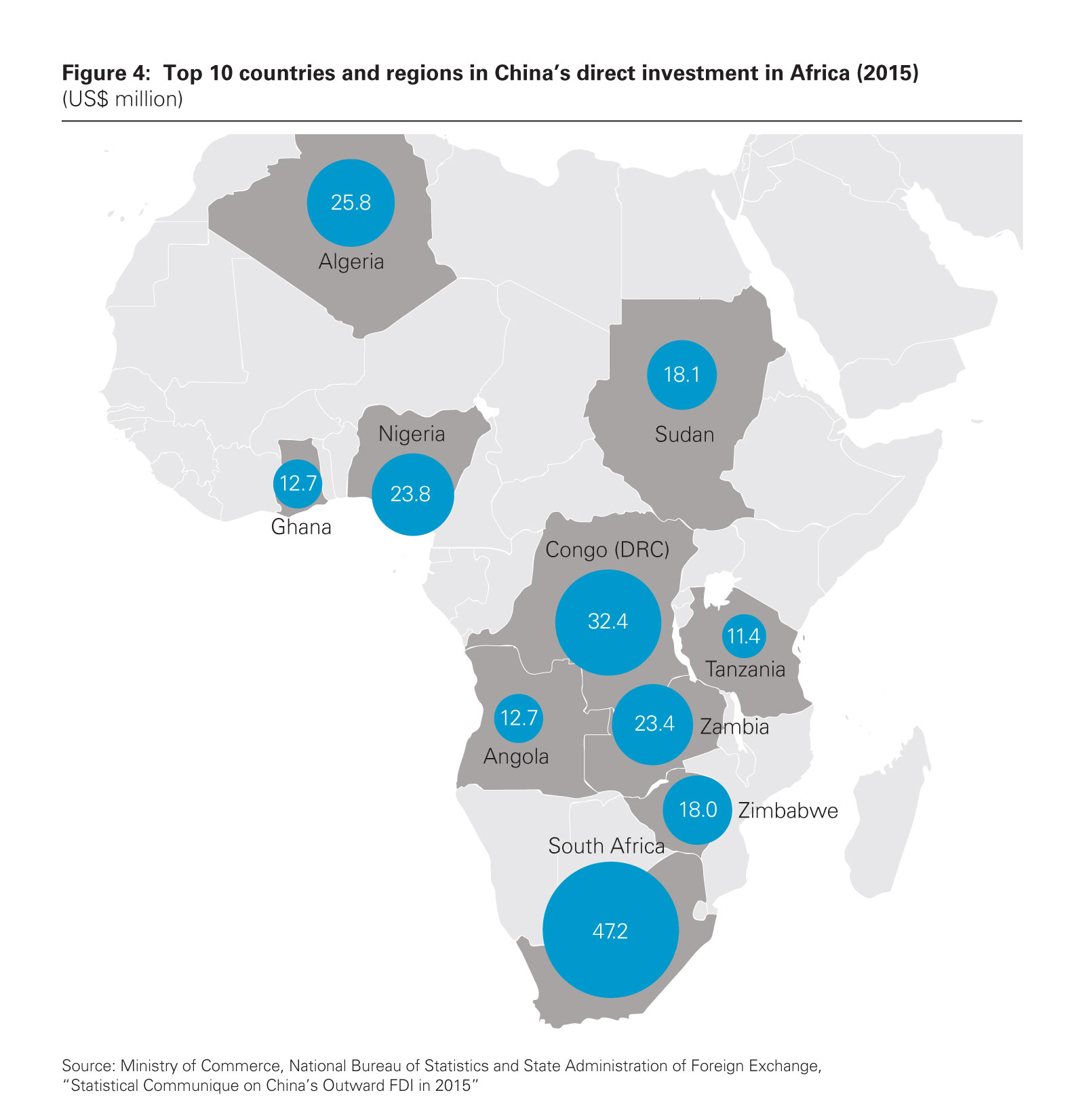 View full image
Figure 5: China's share of direct investment in Africa's stock portfolio (2015)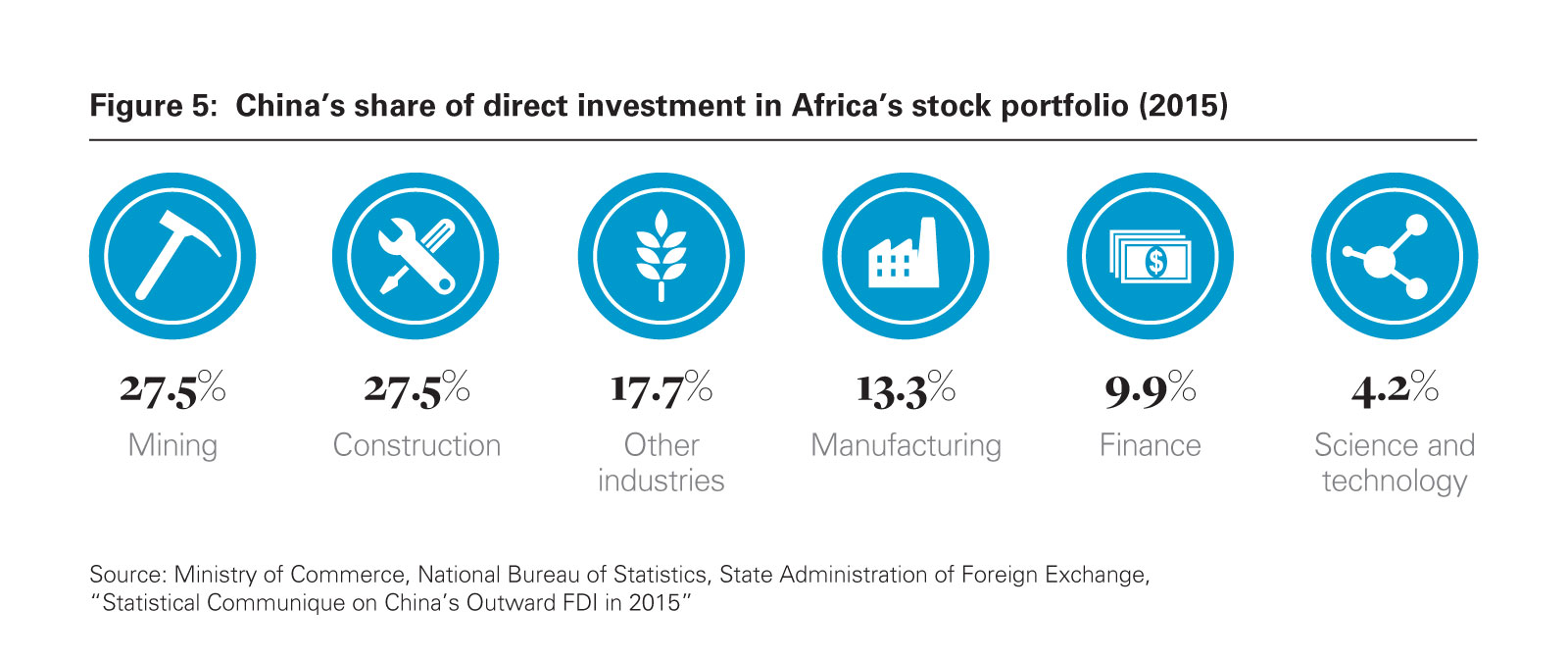 View full image
Special Economic Zones and expansion of Chinese companies into Africa
One has only to look at the rankings in the World Bank's Ease of Doing Business annual reports to know that many African countries have regulatory frameworks that may not fully encourage foreign direct investment. For this reason, China frequently works with the governments of those countries to establish Special Economic Zones, usually termed Foreign Economic and Trade Cooperation Zones or Overseas Cooperation Zones (OCZs), to promote trade and investment. Such zones are not unusual. According to the International Labor Organization's database, more than 3,500 such zones exist across the world, in more than 130 countries.
The first OCZ established in Africa was the Lusaka South Multi-Facility Economic Zone (MFEZ), announced by the Zambian government in 2005. The total planned area of this zone is 17.28 square kilometers, with an intended development cost of US$500 million. As of 2015, there were 35 companies involved, and the agreement amounted to an investment of US$1.45 billion, with an annual output value of US$1.85 billion. Similar zones have since been established in several other African countries. The primary drivers for these developments include that OCZs are important:
Platforms for Chinese enterprises to globalize
Channels for brand-building by Chinese enterprises
Fulcrums for innovation and technical development of Chinese enterprises
Ways for Chinese enterprises to reduce risk in opening overseas markets while complying with national legislation in those markets
In 2014, four of China's top ten OCZs by total asset values were located in Africa (see bold entries in Figure 6).
21.7% growth

Rate of Chinese FDI stocks in Africa from 2010 to 2015, while the US' grew at only 3.15 percent over the same period.
UNCTAD
Chinese engineering companies tend to follow the growth and development pattern of many major international engineering companies:
a. It starts as an equipment manufacturer exporting equipment it manufactures.
b. It then gets into the business of an EPC contractor using the equipment it manufactures in order to drive up the revenue of its equipment manufacturing business.
c. Once it grows confident about and better at managing construction risk, it then takes on the role of an investor/ sponsor of a greenfield project first driven by the motive to secure its EPC contract and equipment export and then by the long-term investment return. The support of many Chinese commercial and policy banks is instrumental in this process.
In the coming years, Chinese engineering companies will likely move far more quickly into the role of investors/sponsors. A younger generation of Chinese project managers aged 30 to 50 is emerging, who think differently and who are keen to grow and sharpen their skill sets. It is probable that some Chinese industrial leaders will inject the return of their equity investment back to R&D and improve the competitiveness of their equipment, thus completing the full and, in our view, healthy and organic circle of the growth model.
Figure 6: China's Top 10 foreign economic and trade cooperation zones (2014) By asset value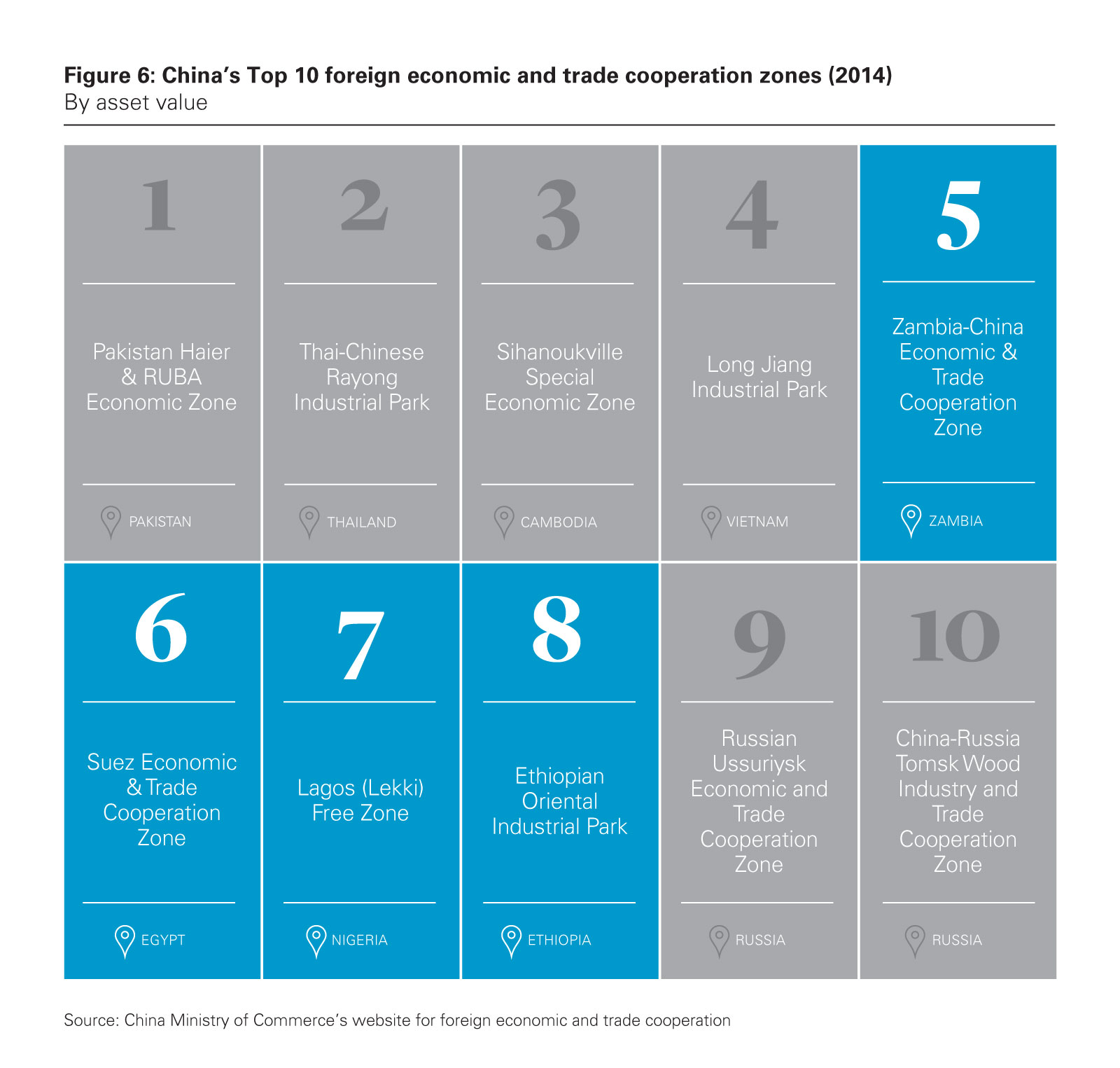 View full image
Prospects for Future Afro-Chinese Engagement and Investment
In 2015, China investments into African infrastructure projects were three times the sum of those of France, Japan, Germany and India combined (Figure 7). The bulk of Chinese funding has been in the form of government-to-government loans, used then by the borrowing African governments either to develop the project itself, or to leverage it with private capital through a public-private partnership (PPP). As of the date of writing (late 2017), at least 76 PPP projects appear to be in the pipeline in African countries associated with BRI. Not all have values ascribed, but the 14 that do imply a cumulative investment of nearly US$6 billion for them alone. Sixty percent of these projects are in the transport sector.
There is no reason to believe that this trend will change in the foreseeable future. BRI should only be seen as one facet of infrastructure development in Africa. Despite the rapid growth in Chinese investments into Africa over the past decade, China still only accounts for between 4 and 5 percent of global FDI in Africa. However, we have previously noted that according to UNCTAD data, Chinese FDI stocks in Africa grew 21.7 percent from 2010 to 2015, while the US' grew at only 3.15 percent over the same period. Extrapolating those growth rates using the current levels of FDI stock in Africa, China's could surpass that of the US by 2019 (Figure 8).
Figure 7: Infrastructure financing in Africa (2015) (US$ billion)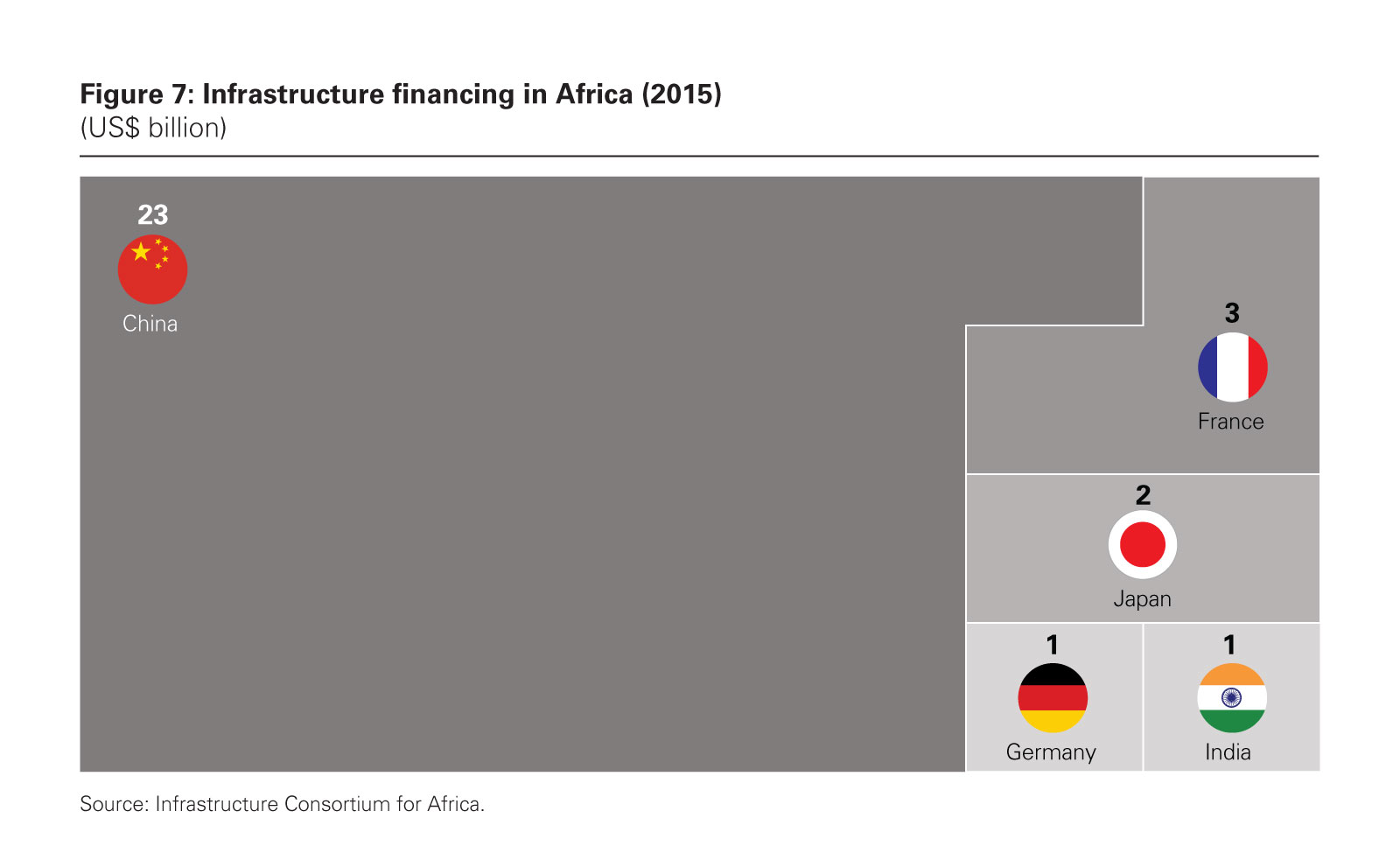 View full image
Figure 8: Extrapolating the growth rates in FDI stocks from 2010 to 2015 forward suggests that China may overtake the United States in this area by 2019 (Stock US$)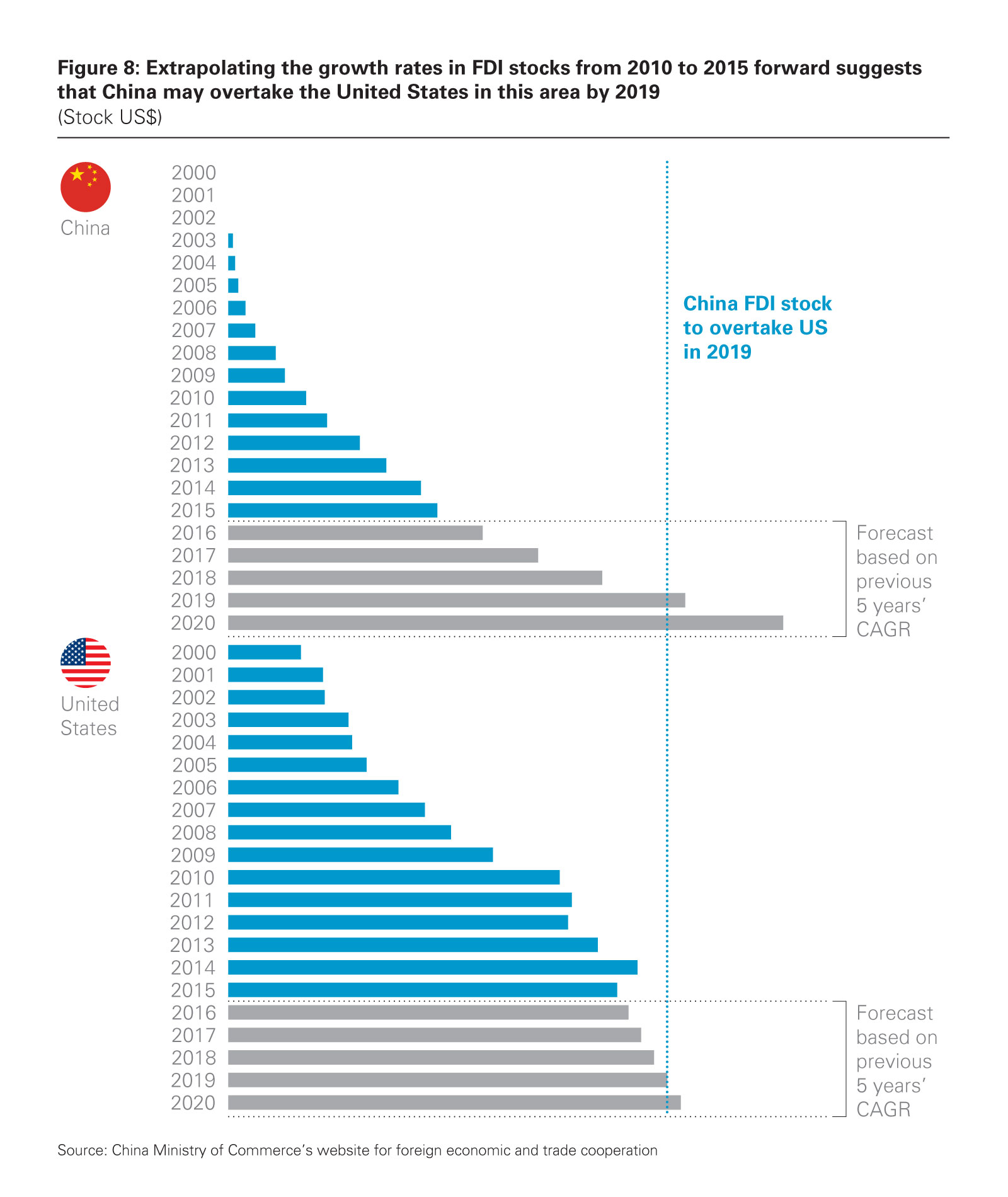 View full image
Conclusion
China has a long history in Africa, and its friendships with African countries run deep. Many African leaders have longingly admired the 10 percent plus per annum growth rates that China achieved over the decades at the end of the 20th century and the beginning of the 21st, wondering whether those same rates could be achieved in their African markets by using the "Chinese model." Idealists both in Africa and the West frequently idealize China's modernization, using romantic terminology such as "China model" and "Beijing consensus," without appreciating how radically different Africa is from China.6 While one might debate the degree to which Chinese economic and socio-political lessons translate well into an African context, what is indisputable is that Chinese investment, trade and engagement will be key to unlocking the promise of the African continent, as articulated in the African Union's Vision 2063.
NEXT CHAPTER
Exiting African PE investments
FULL MAGAZINE
Africa Focus: Spring 2018
1 The Bandung Conference was the first large-scale Afro-Asian conference and was a meeting between mostly newly independent states in the two regions, to promote Afro-Asian economic and cultural cooperation and to oppose colonialism or neo-colonialism in any form. It was an important step in the formation of the Non-Aligned Movement.
2 Vision and Actions on Jointly Building Silk Road Economic Belt and 21st-Century Maritime Silk Road, 28 March 2015, issued by the National Development and Reform Commission, Ministry of Foreign Affairs, and Ministry of Commerce of the People's Republic of China, with State Council authorization.
3 The Egypt Round II Solar PV Feed-in Tariffs Program (the Project) consists of 11 photovoltaic solar power plants (the Sub-projects), 9 x 50MWac and 2 x 20MWac, all to be located in the Benban Solar Park near Aswan, with an aggregate power generation capacity of 490MWac. (Source: Mr Joachim von Amsberg, Vice President Policy and Strategy, Asian Infrastructure Investment Bank)
4 Agenda 2063 is a framework for African socio-economic transformation over the next 50 years. It builds on and seeks to accelerate initiatives such as the Lagos Plan of Action, The Abuja Treaty, The Minimum Integration Programme, the Programme for Infrastructural Development in Africa (PIDA), the Comprehensive Africa Agricultural Development Programme (CAADP), The New Partnership for Africa's Development (NEPAD), Regional Plans and Programmes and National Plans, as well as national, regional and continental best practices.
5 Source: Ministry of Commerce, National Bureau of Statistics and State Administration of Foreign Exchange, "Statistical Communique on China's Outward FDI in 2015"
6 Shinn and Eisenmann, 2012
This publication is provided for your convenience and does not constitute legal advice. This publication is protected by copyright.
© 2018 White & Case LLP