Africa Focus: Autumn 2018
Subscribe to receive Africa Focus
"The governance landscape in Africa is changing rapidly, and a quick scan of the advancement in our governance structures and processes over the years shows a clear advancement in the quality of good governance, democracy and human rights in Africa."9
– H.E. Dr. Aisha Laraba Abdullahi, Commissioner for Political Affairs Department of the AUC
Historically, human rights have been a matter between states and citizens but in recent years, the collective and legislative consciousness has shifted.
Demonstrating respect for human rights is now seen as a corporate responsibility, critical to a company's social license to operate. The introduction of the UN Guiding Principles on Business and Human Rights (Guiding Principles) has entrenched this.1
Under the Protect, Respect and Remedy framework of the Guiding Principles, states have a duty to protect human rights, but businesses are also expected to respect the "entire spectrum of internationally recognized human rights"2 wherever they operate, to avoid infringing on the human rights of others and to address adverse human rights impacts.3
As a result, human rights look set to become an integral aspect of corporate compliance and risk management. Although companies do not have binding legal obligations in rights-related international agreements, this aspect of corporate responsibility is becoming a standard of conduct expected by investors, regulators and other stakeholders.
Operators and investors in African countries should be conscious of the human rights issues and opportunities that could arise through, or affect, their activities and business relationships, including matters relating to labor standards, socio-economics, security and environmental impacts.
STANDARDS AND GUIDELINES
Companies operating in African countries encounter human rights issues in different ways. These are addressed at various levels, from international guidelines to regional initiatives, local legislation, "soft law", industry initiatives or arising from court decisions.
The Guiding Principles set the first global standard for preventing and addressing the risk of adverse impacts on human rights linked to business activity and establishing responsibility for it. They apply standards to all businesses, regardless of size, sector, region or operational context.
The OECD Guidelines for Multinational Enterprises also reference the duty of enterprises to operate "within the framework of internationally recognized human rights." This starts with the aim of states "encouraging the positive contributions that multinational enterprises can make to economic, environmental and social progress and to minimize the difficulties to which their various operations may give rise."4 State implementation includes having a policy commitment to respect human rights and carrying out human rights due diligence appropriate to the size, nature and context of operations, as well as the severity of the risks of adverse human rights impacts.
Many international development finance institutions have environmental and social guidelines for financing projects that include human rights issues and, in some cases, reference international conventions and agreements. Most of the IFC Performance Standards include elements related to human rights.5
Export Credit Agencies also apply this benchmark of human rights due diligence for financings they support. For some commercial lenders, heightened scrutiny of human rights-related impacts of their financings are seen as essential to their corporate social responsibility commitments.6
At a regional level, the European Union has passed legislation requiring importers of certain raw minerals and metal from conflict-affected and high-risk areas to carry out supply chain human rights due diligence in accordance with the OECD Due Diligence Guidance.7
3 PILLARS OF THE UN GUIDING PRINCIPLES ON BUSINESS AND HUMAN RIGHTS
1. State duty to protect human rights. States must protect against human rights abuse within their territory and/or jurisdiction by third parties, including business enterprises. This requires taking appropriate steps to prevent, investigate, punish and redress such abuse through effective policies, legislation, regulations and adjudication
2. Corporate responsibility to respect human rights. Companies are expected to respect human rights and to address adverse human rights impacts with which they are involved
3. Access to remedy. As part of their duty to protect against business-related human rights abuse, states must take appropriate steps to ensure, through judicial, administrative, legislative or other appropriate means, that when such abuses occur within their territory and/or jurisdiction, those affected have access to effective remedies. Business enterprises should also make grievance mechanisms available to facilitate the identification of adverse human rights impacts and to address any identified impacts
Source: www.ohchr.org
ACCOUNTABILITY FOR THE EFFECTS OF BUSINESS OPERATIONS
Transnational businesses often operate in Africa through subsidiaries.
Some African states are working toward implementing the Guiding Principles through national action plans that promote a country-level multi-stakeholder approach and other sustainable development frameworks.
Many African states have focused on the implementation of human rights initiatives more broadly, establishing national human rights institutions for handling complaints and raising awareness.8
REGIONAL HUMAN RIGHTS LAW AND INSTITUTIONS IN AFRICA
African Charter on Human and Peoples' Rights 1981:
1. Ratified by all 55 Member States of the African Union
2. Includes socio-economic, civil and political rights
African Court of Justice and Human Rights:
1. Established in 1998 as a pan-African judicial body
2. Jurisdiction over disputes concerning the interpretation and application of the Charter and other relevant human rights instrument (e.g., African Charter on the Rights and Welfare of the Child)
African Commission on Human and Peoples' Rights:
1. Established in 1987 to promote protection of human rights in Africa.
2. Any person may bring a complaint to the Commission alleging that a state party to the Charter has violated Charter rights
NAVIGATING HUMAN RIGHTS ISSUES
Navigating the complexity—and potentially the inconsistencies—of international and national standards can be a challenge.
By identifying and minimizing risks, companies can fulfill human rights-related governance and compliance obligations.
Many sectors with a high risk of human rights impacts are important in African economies, including commercial agriculture, manufacturing, the extractives industry, infrastructure projects, utilities and power generation. Companies operating in African countries should fully understand the local context where projects or business operations are planned or undertaken, as well as in their supply chains.
The legal, financial and reputational consequences of inaction can be wide-ranging.
For example, courts around the world have begun to consider complex jurisdictional and legal arguments in proceedings against parent companies for human rights issues involving their foreign subsidiaries—many of which have been in Africa.
RISKS AND OPPORTUNITIES
In African countries where the balance between sustainable development and human rights is gaining prominence, respecting human rights makes business sense.
Potential benefits for companies include:
Reputational benefits, employee retention and market leadership
Compliance with corporate social responsibility commitments
Compliance with local laws, including laws related to worker health and safety, environmental protection, company law and non-financial disclosure
Reduced risks of non-compliance and remedial action, claims and penalties
Careful assessment of opportunities can foster procedures to ensure that human rights are respected in the operations of a business and can have a positive impact on its social license to operate.
ENGLISH COURT DECISIONS ON PARENT COMPANY ACCOUNTABILITY
General
Chandler v Cape PLC [2012] EWCA Civ 525: General principles from this decision have been used in claims against UK parent companies for human rights issues arising from the actions of their subsidiaries in Africa. The Court held that in appropriate circumstances, the law might impose responsibility on a parent company for the health and safety of its subsidiary's employees. This will depend on factors such as the relationship between the business operations of the parent and subsidiary and the level of knowledge and control of the parent.
Zambia
Lungowe and Ors v Vedanta Resources Plc and Konkola Copper Mines [2017] EWCA Civ 1528: In this decision, Zambian citizens sought jurisdiction in the English courts, alleging personal injury, damage to property and loss of income, amenity and enjoyment of land, due to alleged pollution and environmental damage caused by discharges from the Nchanga copper mine. The Court of Appeal held that a parent company will not automatically owe a duty of care to someone affected by the actions of its subsidiary, but a duty could arise where a parent company has taken direct responsibility for devising the relevant health and safety policy, or controls the operations giving rise to the claim.
Nigeria and Kenya
Okpabi and others v Royal Dutch Shell Plc and another [2018] EWCA Civ 191 and AAA & Ors v Unilever Plc and Unilever Tea Kenya Limited [2018] EWCA Civ 1532: In both of these cases, third parties brought claims for damages against UK parent companies in relation to actions by their subsidiaries in Africa (in Nigeria for damage from oil pollution and in Kenya for protection from violence on a tea plantation). The Court declined to find jurisdiction to hear the claims against UK parents in both cases, indicating that the threshold to establish liability for a parent company remains high. In Okpabi, the Court clarified that mandatory group policies will not automatically mean that a parent has taken control of the operations of every subsidiary to a degree that will give rise to liability. However, a policy for a specific subsidiary or the assumption of functional responsibility by a parent could establish a duty of care. In Unilever, the Court of Appeal reiterated and affirmed the principles established in Chandler, Vedanta and Okpabi, and found that the UK parent in that case did not owe a duty of care to the employees of its Kenyan subsidiary because the UK parent was neither involved in the management of the subsidiary nor did it advise the subsidiary on how to manage political risk.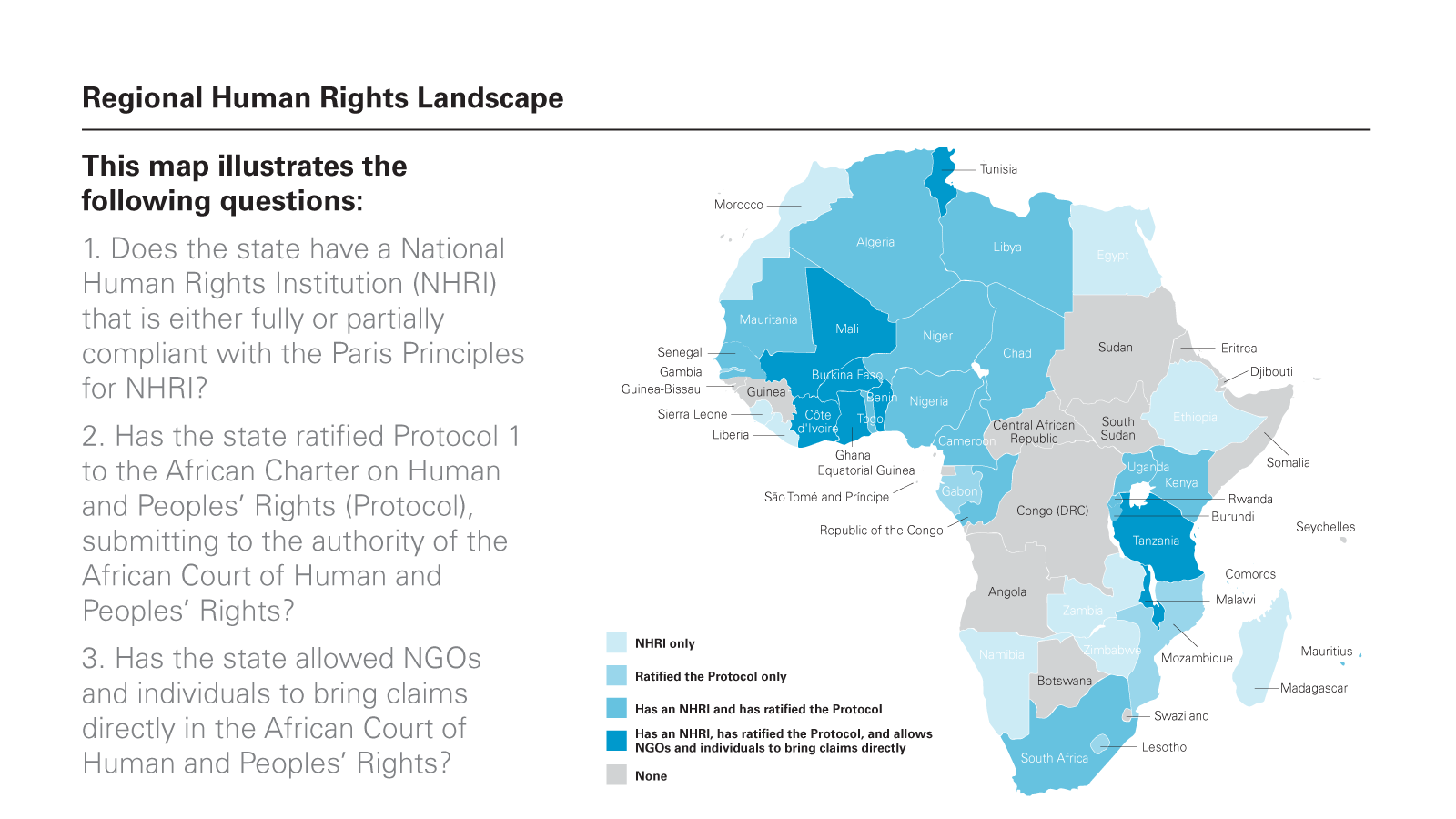 View full image
SPOTLIGHT ON GOVERNMENTAL FOCUS ON HUMAN RIGHTS: SELECTED EXAMPLES
Ghana
The Constitution of Ghana mandates that the fundamental human rights and freedoms it enshrines must be respected and upheld by all natural and legal persons, government and the judiciary, and are enforceable by the Courts.
Ghana was the first African country to participate in the Voluntary Principles on Security and Human Rights Initiative for extractive sector companies, recognizing that although governments have the primary responsibility to maintain law and order, security and respect for human rights, companies in industries such as mining have an interest in ensuring the protection and promotion of human rights.10
Kenya
The Kenyan Constitution protects various human rights, including labor rights and the right to a healthy environment.
Kenya was the first African country to announce its commitment to developing a national action plan for business and human rights in 2016, which is currently in progress, led by the Department of Justice.11
Various initiatives have also been developed to guide businesses investing in Kenya, such as the Nairobi Process, an initiative that works with government, businesses and civil society to address key areas of human rights concerns in the extractive sector and more generally in East Africa.12
Morocco
The Moroccan Constitution guarantees various human rights and, in 2016, Morocco enacted legislation providing protections for free expression, workers' rights, victims of human trafficking and persons with disabilities.
Morocco has integrated a chapter on business and human rights into its 2018–2022 National Action Plan for Democracy and Human Rights.13 The first planned measure is the elaboration and adoption of a human rights national action plan through engagement with all stakeholders. Other non-legislative measures proposed include encouraging business enterprises to adopt internal human rights policies, integrating human rights in business into law and practice, awareness-raising and capacity-building.
Mozambique
The Mozambican Constitution guarantees many human rights including equality of citizens before the law; and the Labor Code and related regulations also prohibit discrimination, establish rights for migrant workers and establish minimum labor standards.
Many companies operating in Mozambique are undertaking due diligence and other initiatives to raise awareness and protect human rights. Mozambique has recently launched a business and human rights initiative, including plans to develop a national action plan.14
Nigeria
The Nigerian Constitution guarantees fundamental rights such as the rights to life, freedom of expression and freedom from discrimination, forced labor and inhumane or degrading treatment.
The Nigerian National Human Rights Institution, Human Rights Commission and Nigerian civil society are leading efforts to develop a national action plan for Nigeria, and a draft plan was produced in 2017.15 It proposes several recommended state policies relating to human rights, including: that the state require clauses in its contracts with other entities specifying human rights obligations of the contracting parties and sanctions for violations; that banks operating in Nigeria should include a duty in respect of human rights in loan agreements; and that companies should be required to show evidence of human rights compliance for imports and exports.
Tanzania
The Tanzanian Constitution contains provisions safeguarding human rights, and these rights are enforceable under the Basic Rights and Duties Enforcement Act 1984 and other local laws. Domestic laws also protect labor rights, health and safety and land rights. Tanzania has legislation relating to environmental protection and management and corporate transparency.
In November 2017, Tanzania released a national baseline assessment on the status of implementation of the Guiding Principles in advance of developing a national action plan for business and human rights.16
South Africa
The South African Constitution contains a Bill of Rights upholding basic civil and political rights as well as rights to privacy, labor rights and the right to a healthy environment. There is also a specialist Constitutional Court tasked with interpreting and hearing constitutional rights cases.
Members of civil society have conducted a "shadow" national baseline assessment of current implementation of business and human rights frameworks.17
Some commercial operations in South Africa have undertaken high levels of community engagement and produced mutually beneficial outcomes. For example, a community living in 29 villages surrounding the world's largest platinum reserve—the Merensky Reef—owns 13 percent of the mining company.18 A trust was created in 2004 to manage the community resources derived from these assets and to invest them in infrastructure, health, education and security.
Members of civil society have conducted a "shadow" national baseline assessment of current implementation of business and human rights frameworks.17
Some commercial operations in South Africa have undertaken high levels of community engagement and produced mutually beneficial outcomes. For example, a community living in 29 villages surrounding the world's largest platinum reserve—the Merensky Reef—owns 13 percent of the mining company.18 A trust was created in 2004 to manage the community resources derived from these assets and to invest them in infrastructure, health, education and security.
Malawi
The Constitution of Malawi protects and recognizes human rights, and several laws apply to human rights issues.
Malawian employment law also imposes legal requirements relating to labor standards and discrimination, with a specialist Industrial Relations Court mandated to investigate labor disputes and employment issues.19 Malawian law includes statutes relating to environmental management, land ownership and title, and gender equality.
Several public and private initiatives are underway towards development of a national action plan in Malawi. There is also a Malawian Human Rights Commission, with a mandate to receive individual, group and institutional complaints regarding alleged human rights violations.20 Malawi Tea 2020 is a coalition of stakeholders from across the entire tea value chain, established to improve human rights throughout the industry.21 The coalition aims to promote gender equality and women's rights, as well as labor rights. The initiative, which involves the entire Malawian tea industry, is led by the Tea Association of Malawi, the Ethical Tea Partnership, German Development Agency, the Sustainable Trade Initiative and Oxfam.
FULL MAGAZINE
Africa Focus: Autumn 2018
1 https://www.ohchr.org/Documents/Publications/GuidingPrinciplesBusinessHR_EN.pdf.
2 For example, the Universal Declaration of Human Rights, the International Covenant on Civil and Political Rights, the International Covenant on Economic, Social and Cultural Rights, and the ILO conventions in the Declaration on Fundamental Principles and Rights at Work. UN Guiding Principles, Part II A. (section 12).
3 UN Guiding Principles, Part II A. (section 11).
4 https://www.oecd.org/investment/mne/
5 https://www.ifc.org/wps/wcm/connect/.
6 For example, the Equator Principles (June 2013), which are 'A financial industry benchmark for determining, assessing and managing environmental and social risk in projects' (www.equator-principles.com).
7 Regulation (EU) 2017/821 of the European Parliament and of the Council of 17 May 2017 laying down supply chain due diligence obligations for Union importers of tin, tantalum and tungsten, their ores, and gold originating from conflict-affected and high-risk areas.
8 https://nhri.ohchr.org/EN/Documents/Status%20Accreditation%20Chart%20(21%20February%202018.pdf.
9 www.au.int.
10 https://www.voluntaryprinciples.org/.
11 https://nap.knchr.org/.
12 https://www.ihrb.org/focus-areas/kenya/the-nairobi-process.
13 didh.gov.ma/fr/planification-et-suivi/politiques_publiques/le-plan-daction-nationa.
14 business-humanrights.org/en/mozambique-1.
15 https://globalnaps.org//wp-content/uploads/2017/11/nhr-national-action-plan.pdf.
16 humanrights.dk/sites/humanrights.dk/files/media/dokumenter/.
17 static1.squarespace.com/static/583f3fca725e25fcd45aa446/t/5866.
18 bafokeng.com/media/press/bafokeng-nation-south-africa-example-dire.
19 https://www.sdnp.org.mw/judiciary/IRC/index.htm.
20 chreaa.org/mhrc/.
21 https://www.malawitea2020.com/.
This publication is provided for your convenience and does not constitute legal advice. This publication is protected by copyright.
© 2018 White & Case LLP