Cutting through the noise: Infrastructure in Asia-Pacific 2019
Investments in infrastructure in APAC will yield stable returns and at the same time support the economic growth of the country and region significantly
Global infrastructure investment has grown considerably in the past ten years. The sector is universally recognised as an attractive one for investors due to the stable, long-term returns that are on offer. And the nature of funding is being transformed as more private backers enter the fray.
Opportunity abounds
The multiplicity of assets in the APAC region has not gone unnoticed by investors. Indeed, there are such a large number of projects currently ongoing in the region that when asked, unprompted, to name an infrastructure project in APAC likely to come to market this year, respondents replied with more than 30 different ventures, from the Mumbai–Ahmedabad high-speed rail corridor in India to the deep tunnel sewerage system in Singapore. The breadth and diversity of assets on offer in the region has attracted a great deal of attention from global investors, and our survey shows that 88 per cent of respondents plan to increase their APAC team size. Meanwhile, on average, respondents have 50 per cent of their total infrastructure spend invested in the APAC market.
The rationales behind investment are as numerous as the countries in APAC. However, well over half of respondents (59 per cent) stated that the strength of long-term investment return was one of the top-three benefits of investing in emerging Asia-Pacific economies. 'Investments in infrastructure in APAC will yield stable returns and at the same time support the economic growth of the country and region significantly,' says the director of investment of a pension fund in China.
Given the vast number of projects in the pipeline, it is unsurprising that the wealth of opportunity is a prominent draw for investors. It's a big stage, with developing economies attracting less competition than more mature markets, which eases pressure on pricing, particularly where firms are helping developing countries in their efforts to forge new markets in renewable energy.
50%
On average, have half of their total infrastructure spend invested in the APAC market
88%
Growing size of Asia-Pacific team
Stability beats risk
While investors are eyeing up prospects across the region, our research reveals that the majority are looking at countries with healthy economies, stable political systems, reliable and trusted legal frameworks, and decent investment track records. Australia tops the ranking as the likely destination for investment from 54 per cent of survey respondents. India (48 per cent), China (39 per cent) and Malaysia (36 per cent) come next.
As if to prove the point, Australia saw last year's largest APAC infrastructure M&A deal, according to figures from Inframation Group, when Sydney Transport Partners acquired a 51 per cent stake in the new WestConnex toll road for US$6.5 billion. Australia (41 per cent) is also the country which most investors are excited about in terms of future opportunities, followed by Singapore (32 per cent) and India (28 per cent).
These results cut through recent noise about the rise of some developing APAC countries. Most investors are steering clear of the least stable and higher-risk areas. Sri Lanka (38 per cent) and Pakistan (36 per cent), in particular, are losing their appeal, according to our respondents.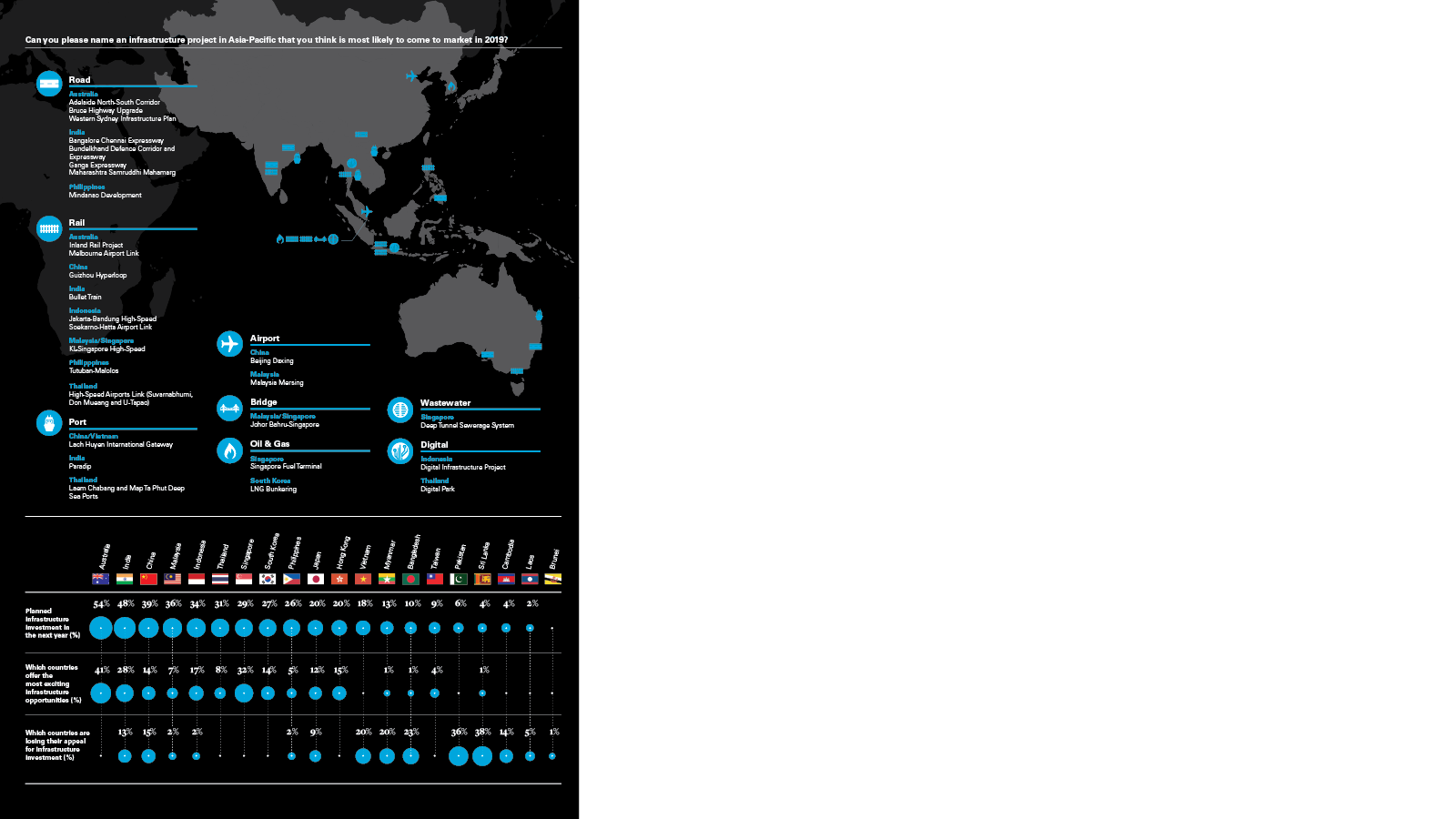 View full image
FULL MAGAZINE
Cutting through the noise: Infrastructure in Asia-Pacific 2019
This publication is provided for your convenience and does not constitute legal advice. This publication is protected by copyright.
© 2019 White & Case LLP