Stay current on your favorite topics
While a move back to non-cov-lite may not be on the cards yet, investors are being very selective and more focused on the same issues they look at in a bond, such as wider industry benchmarks and leverage levels.
The growth of European markets was noticed by US issuers, who have looked across the Atlantic to borrow as pricing widened in the US and appetite increased in Europe. In the second quarter of 2015, US issuers were the second-largest group raising euro-denominated debt, according to Source Ratings.
At certain points in 2015, the difference in margin meant it was cheaper to raise funds in Europe than in the US. Companies that were well known to investors or had a good credit rating were able to take advantage. Even with FX costs, in some cases this still proved to be cheaper than raising dollars in the US itself.
Europe—at least for the moment—offers better macroeconomic conditions for both issuers and lenders than the US. On the east of the Atlantic, the European Central Bank has launched further quantitative easing to flood markets with liquidity; to the west, the financial sector had been anxiously waiting for a rate rise for several months and finally got one in December.
Liquidity favours Europe for now, and this looks set to endure as the European Central Bank said it will extend its quantitative easing program until at least March 2017, while its interest rate remains at record lows.
The right credits are getting deals done at the right pricing in Europe, with limited or no flex. This will likely continue in early 2016 due to these underlying fundamentals, whereas the US may struggle. In current market conditions in the US, as the Veritas deal has shown, even after flex some deals are not getting sold.
Covenant-lite rises in Europe
This flex has become necessary—in some cases—due to the phenomenon that has swept through European debt markets to great triumph since last year. The phrase "covenant-lite", which has long been common parlance in the US market, was increasingly used by European issuers in 2014. In the last 12 months, it has seen even more frequent usage and acceptance. However, the majority of European leveraged loans still retain a quarterly tested leverage ratio for the benefit of both the revolving and term loan lenders.
One of the few leveraged loan instruments that saw an increase in issuance in Europe last year was the "covenant-lite Term Loan B". However, that increase was huge. In 2014, some €6.3 billion was transacted through ten deals. The next year, more than €19.5 billion had been issued through 48 deals.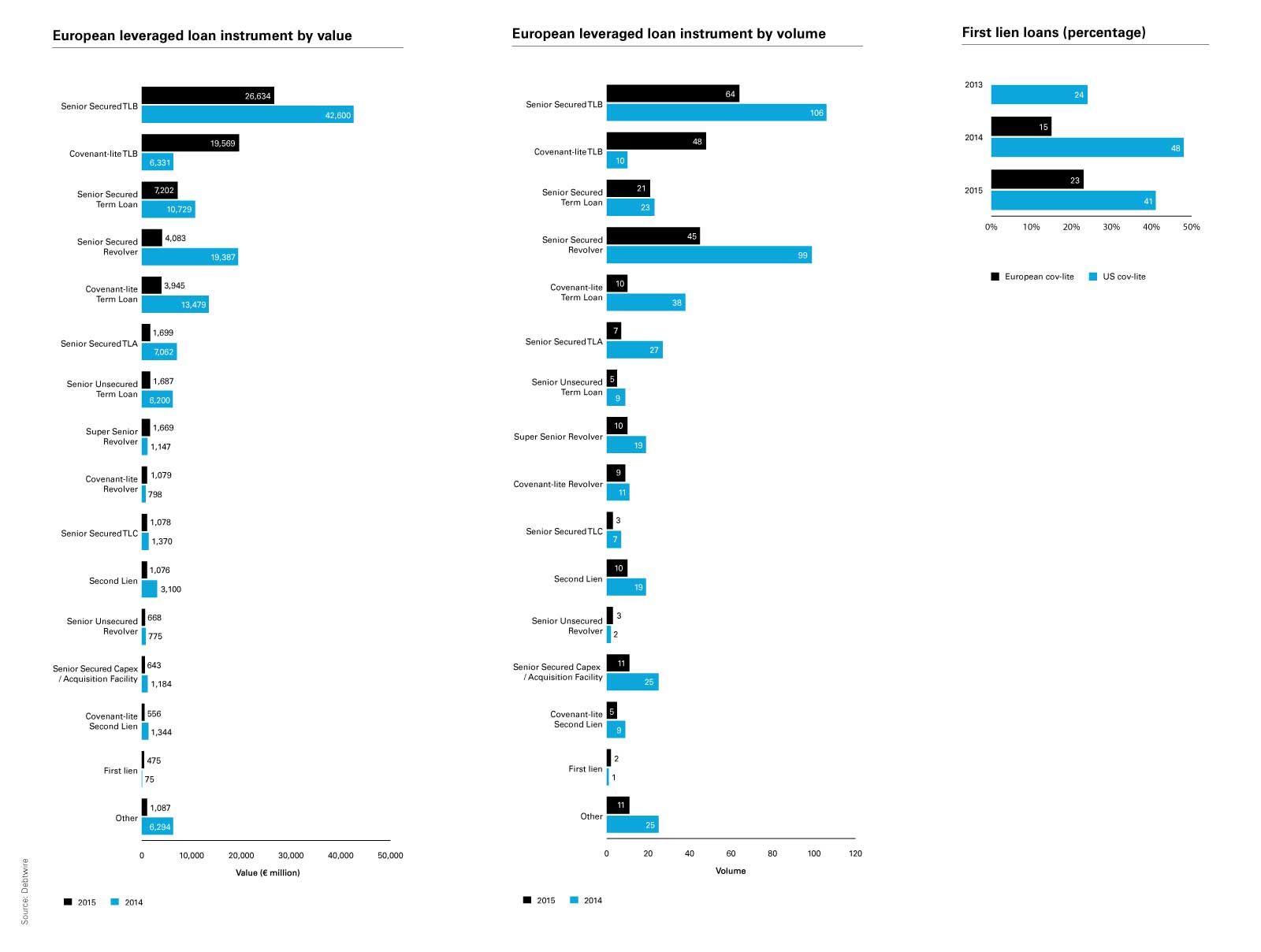 View full image
Greater flexibility has been afforded to issuers in 2015, as participants engage in dialogue to address business needs for borrowers and investment risk for lenders. This has meant companies have been able to transact using terms that are more suited to their circumstances and needs within acceptable parameters for lenders.
Borrowers should now be asking themselves several questions when deciding what covenant package will be negotiated into documentation. These include finding out whether there's a maintenance covenant on the debt, whether they have amortisation, whether they have baskets that grow with EBITDA or assets, and whether they have an excess cash-flow sweep.
This is vital, as all these points have moved towards the borrower over recent years. It is now very common for a loan in Europe to be non-amortising, with no maintenance covenant and with flexible baskets. Both parties need to start on the same page to ensure expectations are met.
Investors cautious over cov-lite
As this part of the market moves to benefit issuers, investors need to be cautious as there are fundamental differences between the US and European jurisdictions—and they should be aware of them before buying into the cov-lite phenomenon.
Cov-lite works in the US because of the liquidity and depth of the market. One of the reasons investors in the US typically do not require a financial covenant is because the investment model suggests that they should be able to trade out should the need arise.
That is generally not the case in Europe—at least not yet. The market is growing, however, it is still reasonably nascent, and investors cannot adopt the same assumption that they will be able to exit if they decide that a credit's performance and forecast numbers are not to their liking anymore.
While a move back to non-cov-lite may not be on the cards, investors are being very selective and more focused on the same issues they look at in a bond, such as wider industry benchmarks and leverage levels. As the secondary market develops, it will mean more flexible terms are agreed to as a result of the ability to move easily between primary and secondary lenders.
But the new kid on the block, which is becoming increasingly established, is the non-bank lender.
Rise of non-bank lending
Where non-banks are providing the funding, typically, the debt is not being distributed and the original provider generally remains as the lender. They will, therefore, agree bespoke packages for the business because they don't need to sell the debt on, thereby adjusting the balance between achieving a solution for credit purposes and documenting a transaction that looks like all the others.
The market is also growing at pace. Non-bank lenders are raising funds very regularly, and they are getting bigger; there is a great deal of appetite for investing money in non-bank finance structures.
To download the full report, please click here.
To read other articles in this report, please click here.
This publication is provided for your convenience and does not constitute legal advice. This publication is protected by copyright.
© 2016 White & Case LLP