Financial institutions M&A: Sector trends - July 2017
Regulator and financial sponsor support is at an unprecedented high. Fintech is now regarded as an enabler rather than a disruptor
Stay current on your favorite topics
Current market
We are seeing
Strategic M&A deals
Interest from financial sponsors and new entrants
Key drivers
First signs of tangible fintech success whets appetite
Paradigm shift in how established financial institutions view fintech services. Fintech is embraced as an enabler of financial services rather than as a disruptor of traditional models
Top-down support for fintech businesses. In the UK, for instance, the Government's push to making the UK a 'global capital of fintech' has provided the UK Prudential Regulation Authority (PRA) and the FCA with increased resources to ease the regulatory bottleneck. But the UK faces stiff competition
Progressive regulatory and supervisory approach. Both the PRA and the FCA are acutely aware of their roles in ensuring the UK is 'open for business' in the run up to and beyond Brexit
Trends to watch
Financial sponsor interest in fintech
Competition for existing customer bases and profit margin pressures have forced global banks and insurers to look for new ways of attracting consumers. Fintech could offer the just-in-time personalised service and intuitive end-user experience that retail banks are searching for
Opening up new markets. Fintech could afford innovative avenues for reaching significant unbanked and under-banked communities in China, Africa, India and SE Asia
Optimising existing customer bases. Fintech could offer the enhanced quality of analytics required to process and maximise usage of the large volumes of data already generated by banks and insurers
New efficient and cost-effective service provision models. Fintech could be the answer to re-architect archaic legacy IT systems that are a drain on internal resources
Our M&A forecast
Fintech is an M&A hotbed for financial sponsors and established financial institutions, as established financial institutions seek to decommission old technology, catch up with innovation from new entrants and meet growing compliance requirements.
Software majors will continue adding new technology to deepen the offering to financial service providers, particularly online wealth management, data-driven consumer lending platforms and cybersecurity.
'Regtech' could potentially de-clutter intertwined data sets and reduce configuration time for reporting. Existing market players will continue consolidating to take advantage of synergies, acquire new talent and access new markets particularly in the payments space.
But questions remain whether banks can really replace legacy IT systems with blockchain and when business valuations will start to factor into the future value of proven innovation.
Publicly reported examples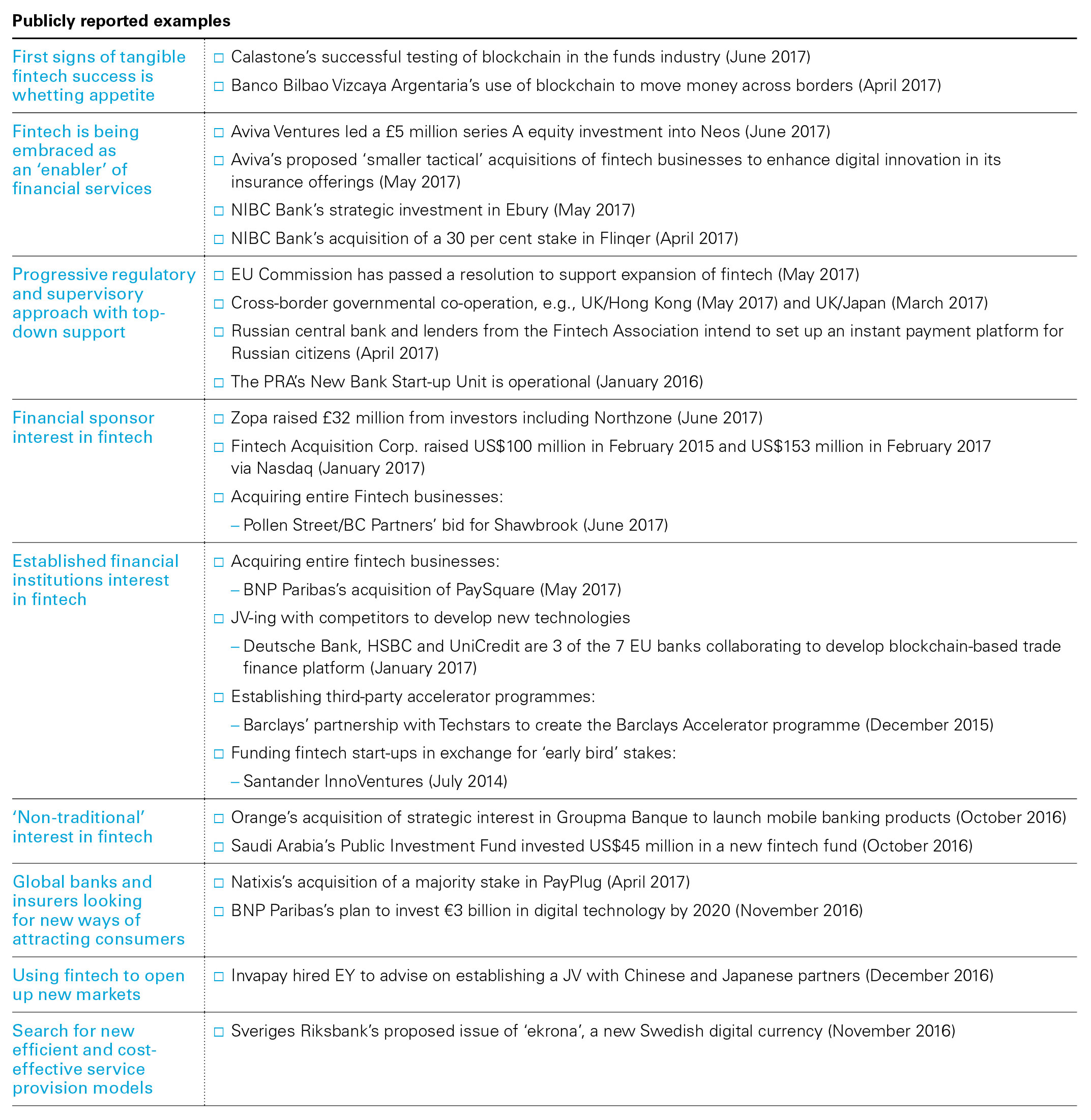 View full image
Click here to download PDF of this chapter.
FULL MAGAZINE
Financial institutions M&A: Sector trends
RELATED PUBLICATION
Fintech M&A: From threat to opportunity
This publication is provided for your convenience and does not constitute legal advice. This publication is protected by copyright.
© 2017 White & Case LLP