Cutting through the noise: Infrastructure in Asia-Pacific 2019
PPPs are a proven method to finance and develop infrastructure projects in developed markets, and it is has already worked in India and some other APAC markets
The financing for major infrastructure projects in the region will come from a variety of sources, according to our research, although the results are largely as expected. Respondents feel that pension funds (70 per cent), investment funds (64 per cent) and equity investors (39 per cent) are likely to be the main sources of investment.
A number of market players, including major private equity houses, are now looking at the APAC market. For example, at the end of last year, it was reported that New York–based private equity firm KKR was planning to launch its first Asia-focused infrastructure fund of between US$1.5 and US$2 billion.
One significant development is an apparent shift in the way funds provide equity and debt as firms rebadge themselves to take advantage of the depth of opportunities on offer. A market traditionally populated almost entirely by dedicated infrastructure funds is now seeing the presence of others, such as pension funds, looking to spread their interest to infrastructure in the APAC region.
Some are now exploring ways to take on more than just equity stakes in projects—raising the required debt as well, and so effectively funding projects in their entirety. The risks are greater, but so too are the returns. The opportunities and security of returns have become sufficient for funds to see the sense in taking a greater stake in the form of debt as well. The emergence of such innovative forms of financing can be seen as indicative of growing confidence in the APAC region.
This environment for funding and finance is being given a further boost by the activities of national quasi-governmental export credit agencies and multilateral agencies such as the ADB. Support from these organisations is helping to drive down the costs of debt funding, particularly in countries where political risk has previously made financing difficult.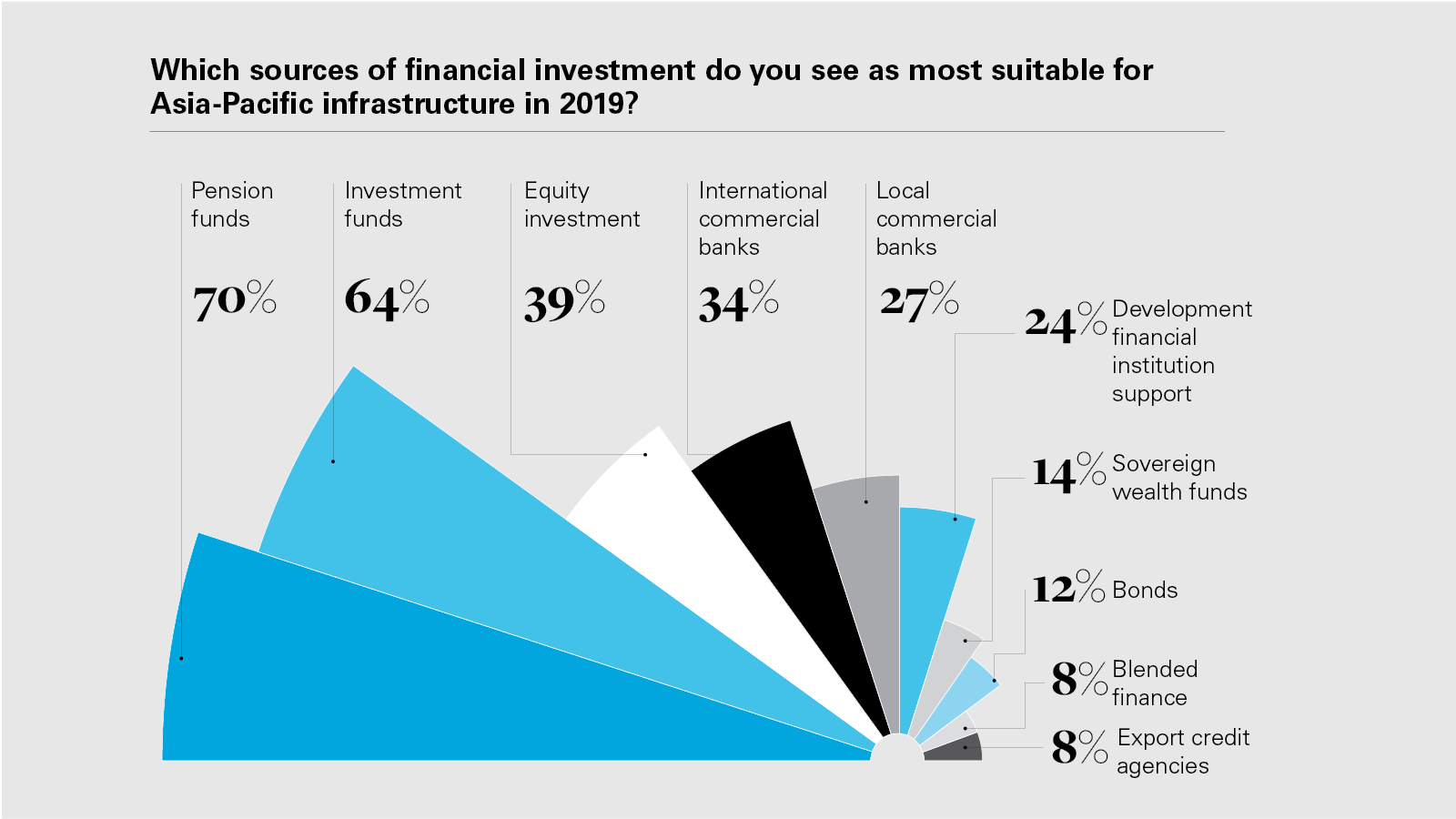 View full image
71%

believe PPPs will be the preferred method to deliver infrastructure projects over the next year
Public meets private
Obtaining affordable finance is still a considerable challenge for projects across the region. Our survey results point to a market belief that PPPs will be the preferred method of delivering infrastructure projects for developing APAC nations—according to 71 per cent of respondents.
Definitions and interpretations of PPPs tend to vary across the region. Not everywhere can it be assumed that an equitable partnership will be set up on favourable terms for investors, and with all of the right documentation in place. Vietnam, for example, is one country where the government has been repeatedly lobbied by stakeholders, who feel the terms of concessions and power purchase agreements need to improve and become more internationalised. However, the tried and tested model that has worked well in developed countries is spreading to others.
'PPPs are a proven method to finance and develop infrastructure projects in developed markets, and it is has already worked in India and some other APAC markets. Now other countries in APAC need to adopt PPPs to finance and develop infrastructure', says the managing director of one US investment fund.
Other commentators are less than convinced—38 per cent see a lack of support for PPPs as a major risk, while just over a third (36 per cent) believe a lack of government strength in PPPs is a key obstacle.
One US investment fund director says: 'PPPs are still fairly new to APAC, and there is very slow adoption. The framework is yet to be developed completely and there is no guarantee that governments will stick to PPPs. Their commitment level is poor'.
Despite these misgivings, the overall picture for PPP development appears to be improving. 'Infrastructure hubs' like Singapore are providing a useful method of spreading good practice and benchmarking. The PPP models may vary from one country to another—with projects remaining as state-owned enterprises before selling to private interests in some cases—but in the Philippines and elsewhere, the problems and difficulties have been overcome to bring PPP projects to financial close.
Overall, market commentators feel that there is a great deal of liquidity looking for good projects to invest in, from pension and investment funds, equity and commercial banks. An increase in multilateral and government-to-government financing is a trend remarked upon with increasing frequency. The big question is, can countries reform or develop their legal frameworks to make greater use of the financing on offer?
There are signs that this is happening. Countries are implementing measures to develop their capital markets and give greater freedom for their pension funds to invest. Such reforms are needed for countries such as Laos, Cambodia and Bangladesh to attract foreign investment.
FULL MAGAZINE
Cutting through the noise: Infrastructure in Asia-Pacific 2019
This publication is provided for your convenience and does not constitute legal advice. This publication is protected by copyright.
© 2019 White & Case LLP