33%

say Asia-Pacific will be the busiest fintech M&A hub for the next two years

Source: White & Case fintech M&A survey 2016
Silicon Valley and North America have been key to fuelling the growth of fintech since its infancy. In each of the past six years, Accenture and CB Insights figures show the region accounting for the lion's share of fintech investment. It represents more than half of the US$22 billion invested globally in fintech last year. And the pace doesn't look like it will let up—37 per cent of respondents expect North America to be the busiest region for fintech dealmaking over the next one to two years.
The US market has shown itself to be one of the most mature, with companies such as PayPal, Square and First Data all securing US$1 billion-plus valuations following IPOs in the U.S. in 2015. Tech giants such as Google, Apple and Facebook continue to operate on the fringes of financial services, too, building new payment-processing technologies on their platforms, while North American banks are looking to invest in fintech in order to defend market share and reduce costs. Little wonder, then, that Silicon Valley/San Francisco is the clear favourite for the next 12 to 24 months as a fintech hub.
China's fintech potential
While North America is expected to continue holding its position as the dominant region for fintech investment, the rest of the world is catching up.
China has recognised that fintech can play a huge role in improving financial inclusivity and reaching under-banked citizens across a large country
Accenture and CB Insights data show that although North American fintech investment grew 44 per cent to US$14.8 billion in 2015, European fintech investment climbed by 120 per cent. Asian investment, meanwhile, more than quadrupled last year to US$4.3 billion. Our survey found that a third of respondents expect Asia-Pacific to be the busiest fintech market, with 28 per cent choosing Europe (Figure 10).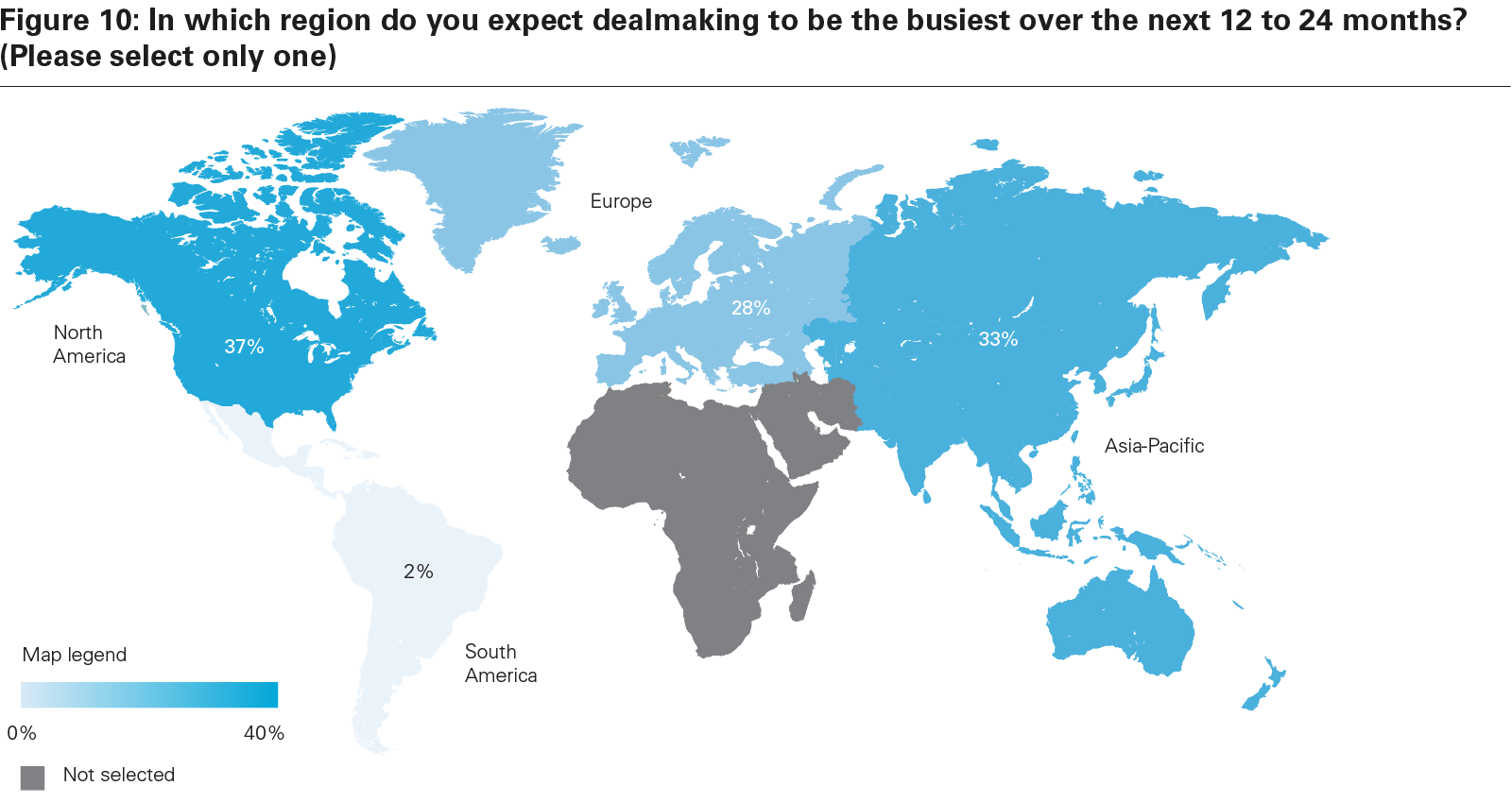 View full image
China accounts for 45 per cent of Asian fintech investment, according to Accenture and CB Insights. McKinsey, meanwhile, estimates that the internet finance sector in China is worth US$1.8 trillion, with more than a third of the population already using internet payment systems.
In addition to the high digital banking take-up rates among its citizens, China has also recognised that fintech can play a huge role in improving financial inclusivity and reaching under-banked citizens across a large country where the costs of building out a physical branch or broker network have historically proven prohibitive. It has thus adopted a favourable regulatory approach to fintech, with the People's Bank of China openly expressing its support for tech companies developing internet finance services.
"There is so much that fintech companies can gain in Asia. It is a massive market that is comfortable with using technology," says Sonia Palmieri, head of business development at Smartkarma.
"A large number of people don't have bank accounts, so fintech is ideally positioned to open up to new customer bases. There are also a number of people who work overseas and remit their earnings back home, so digital payments services that are easy to use are attractive to customers."
India is also moving ahead when it comes to fintech. According to Statista data, transaction value in India's fintech sector is expected to deliver a five-year CAGR of 22 per cent to reach US$73 billion by 2020. The Indian government has been eager to support the growth of fintech and has launched a US$1.5 billion fund to invest in startups. It has also introduced a range of tax incentives for fintech providers, including tax breaks for companies accepting more than half of their transactions digitally and certain reliefs on capital gains tax
for technology startups.
These initiatives could help fintech tap into a fast-growing market. According to figures from the Reserve Bank of India, for example, credit card issuance in India grew 16 per cent in the year to March 2016, while credit card spending shot up by more than a quarter.
European dream
As regards Europe, 56 per cent of respondents say most fintech dealmaking activity will take place in Germany, ahead of the UK, which was selected by a quarter of those surveyed (Figure 12).

View full image
Even though the UK has adopted a favourable regulatory environment for fintech and introduced a "regulatory sandbox" for fintech companies to test out new products, Germany has enjoyed the fastest growth in fintech. According to Accenture, German fintech investment grew 843 per cent in 2015. This has been attributed to the maturing of the country's fintech hubs in Berlin, the Rhein-Main-Neckar region and Munich, and momentum from successful funding rounds for interest rate comparator Zinspilot and consumer loan platform Kreditech. German banks, meanwhile, have also proactively moved to enhance their fintech offering by teaming up to form Paydirekt, an industry-led alternative to PayPal involving more than 40 banks that will facilitate interbank digital payments.
Indeed, the growth of fintech in Asia and Europe could well threaten North America's dominance down the line. While respondents did say that they expect North America to top fintech dealmaking in the next few years, for their own deals, firms are looking to these new-growth areas. Thirty-six per cent say their next fintech investment will come in Asia-Pacific, while 35 per cent point to Europe, and just 29 per cent choose North America (Figure 13). Looking at the list of potential fintech hubs to come also adds weight to this theory—between Silicon Valley (1st) and Austin (11th), all nine other cities are based in either Europe or Asia (Figure 14).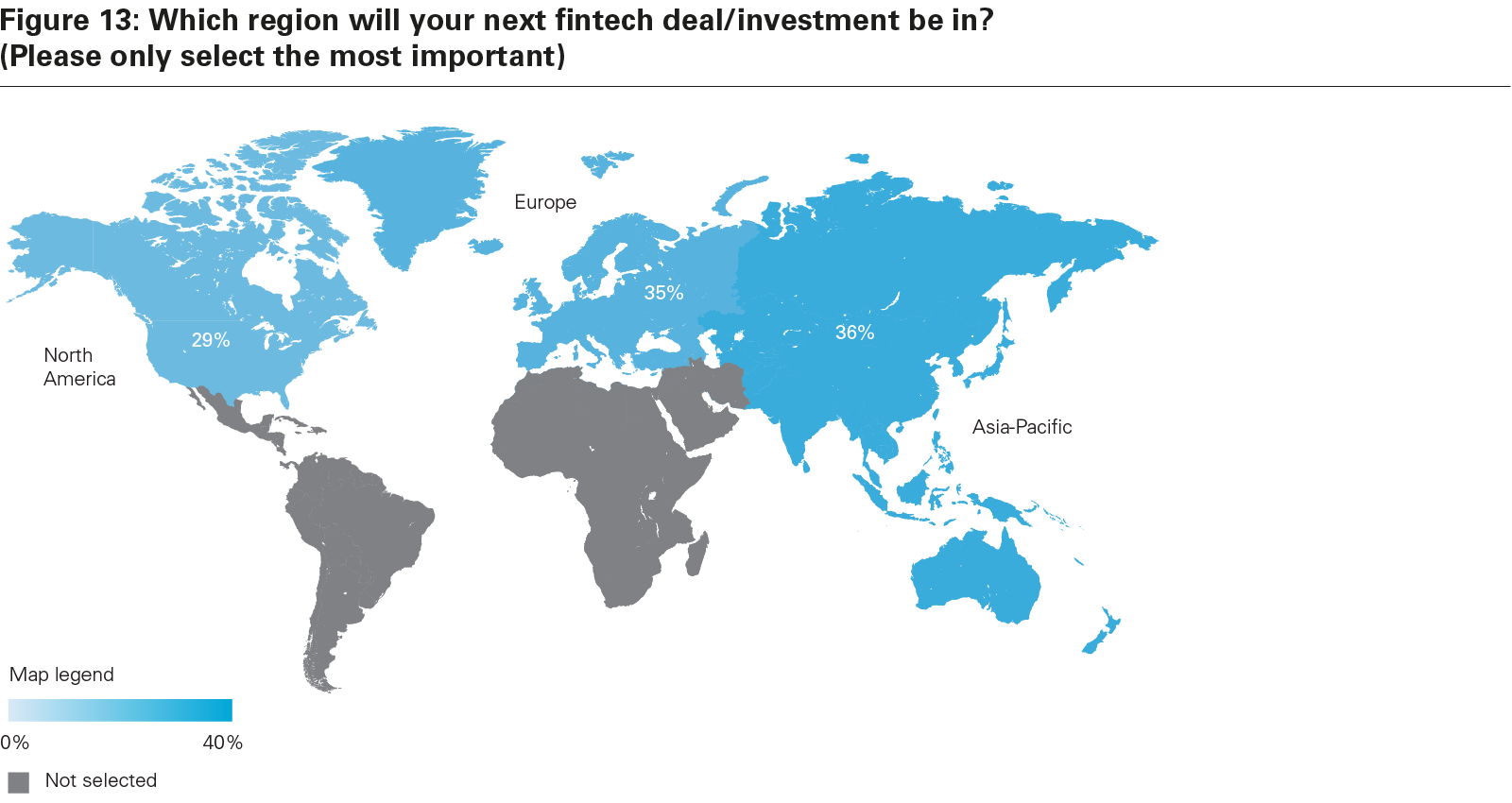 View full image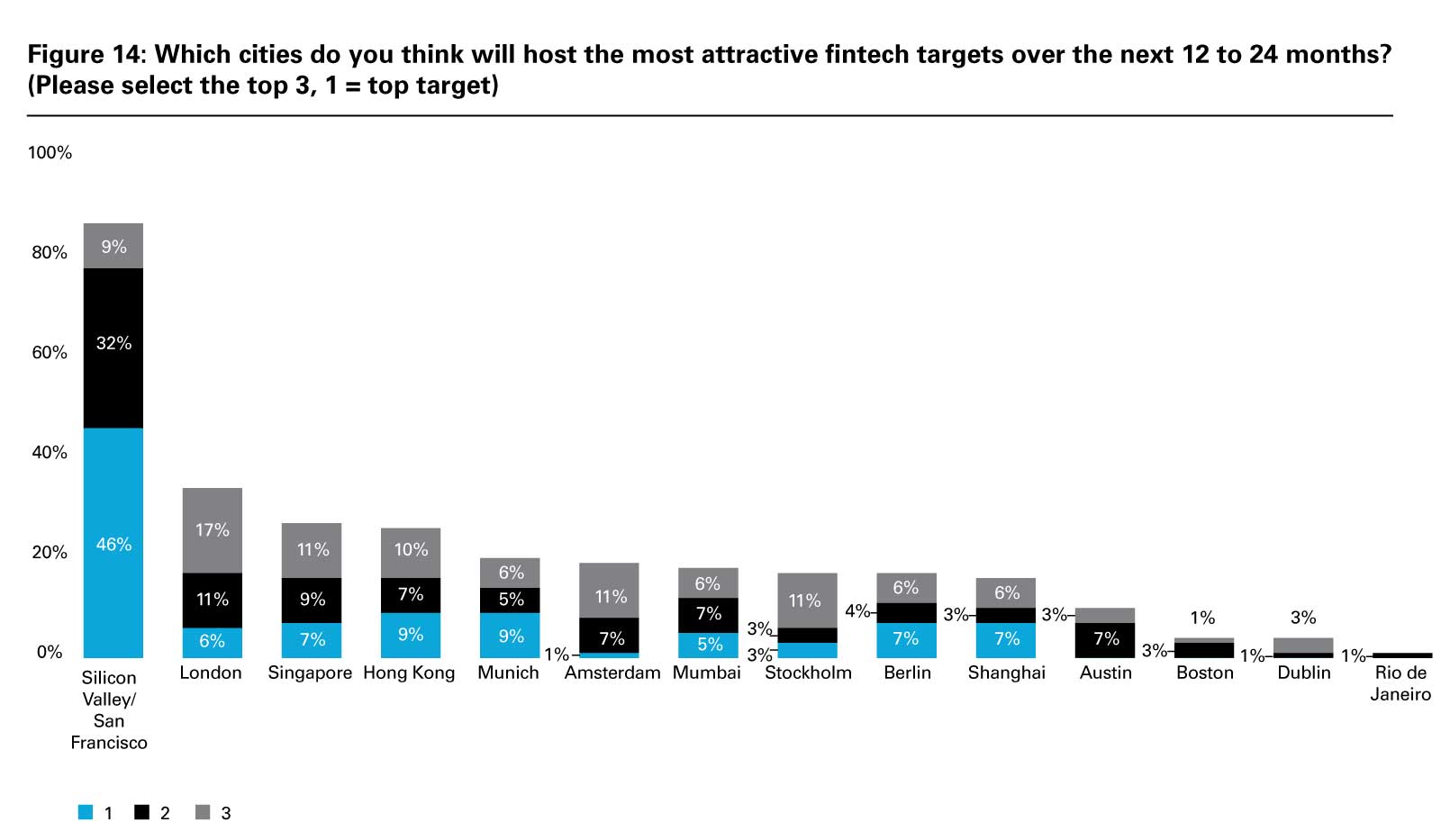 View full image
843%

growth in German fintech investment in 2015

Source: Accenture
No Brexit breakdown
The UK's decision to leave the European Union has caused great consternation within the business community. However, fintech investors and innovators appear to be taking it in their stride. Nearly three-quarters (74 per cent) believe Brexit won't impact the appetite for UK fintech deals (Figure 15).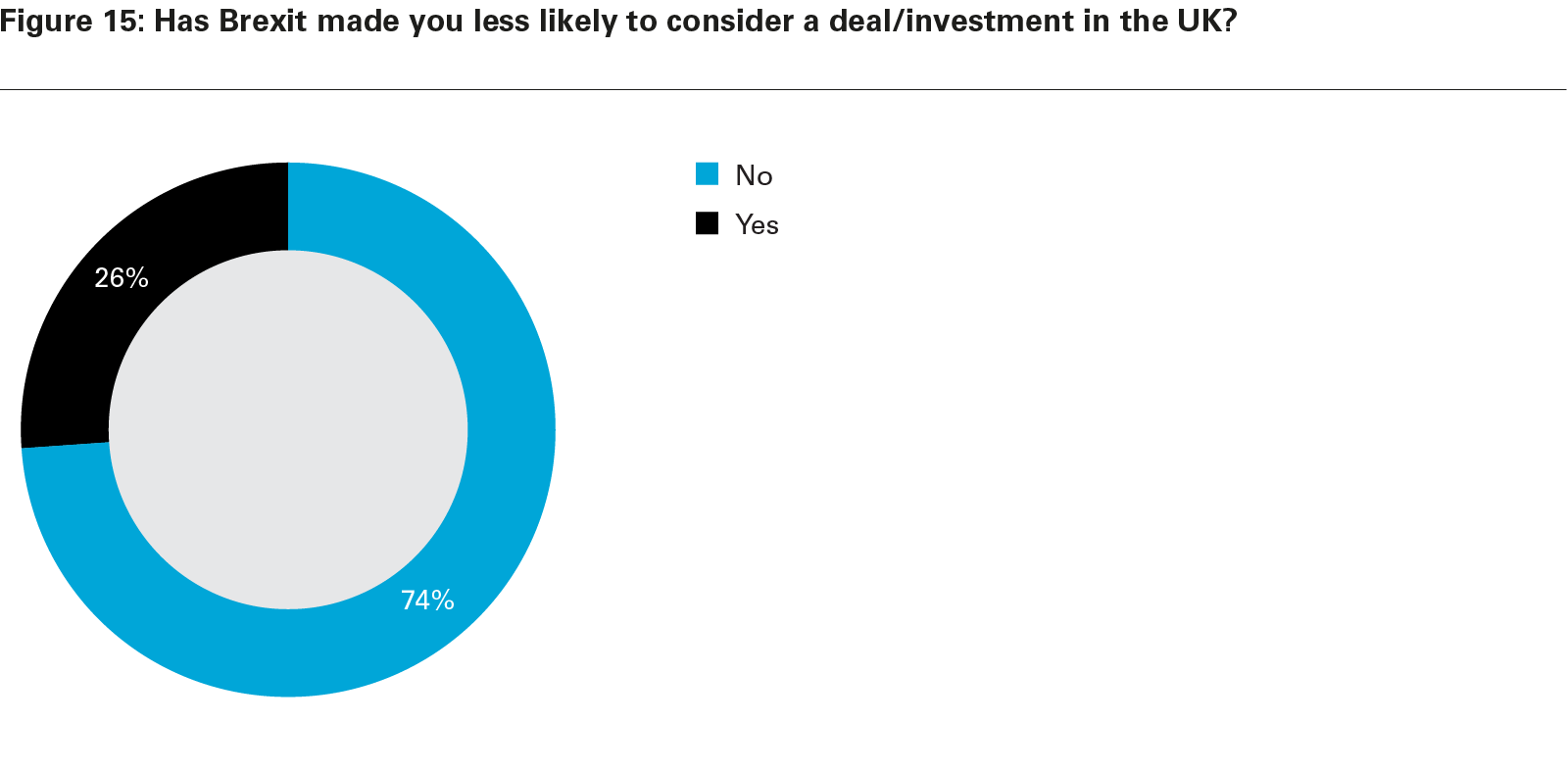 View full image
The uncertain nature of how and when Brexit will occur means that companies aren't making rash decisions on investment yet, particularly in such a key area as fintech. "We haven't observed much change after the Brexit vote," says one global banking executive. "People will only start to make decisions when there is a clearer picture of what is going to happen. Fintech is such a key strategic driver for any financial services business—you will continue to invest when you find interesting technology regardless."
The UK's established position as a hotspot for fintech development will also assuage some of Brexit's potential negative impacts. "It is too early to say what Brexit means for fintech in London," says Kaushalya Somasundaram, global head of fintech partnerships and strategy at HSBC. "However, the development of London as a fintech hub is down to a number of factors, including a nurturing regulatory environment, access to talented people and the fact that a number of banks are headquartered in London or have large operations there. Those foundations remain in place."
Nevertheless, the UK referendum result has been viewed by some as an opportunity for other European fintech hubs to benefit. Payments startup GoCardless, for example, said in a report that Berlin is ideally placed to challenge London's dominance of the European fintech scene. Among those less likely to consider the UK for a deal/investment, the top alternative is Germany with 38 per cent, followed by the U.S. with 36 per cent. The Netherlands is the third-most popular choice with 14 per cent (Figure 16).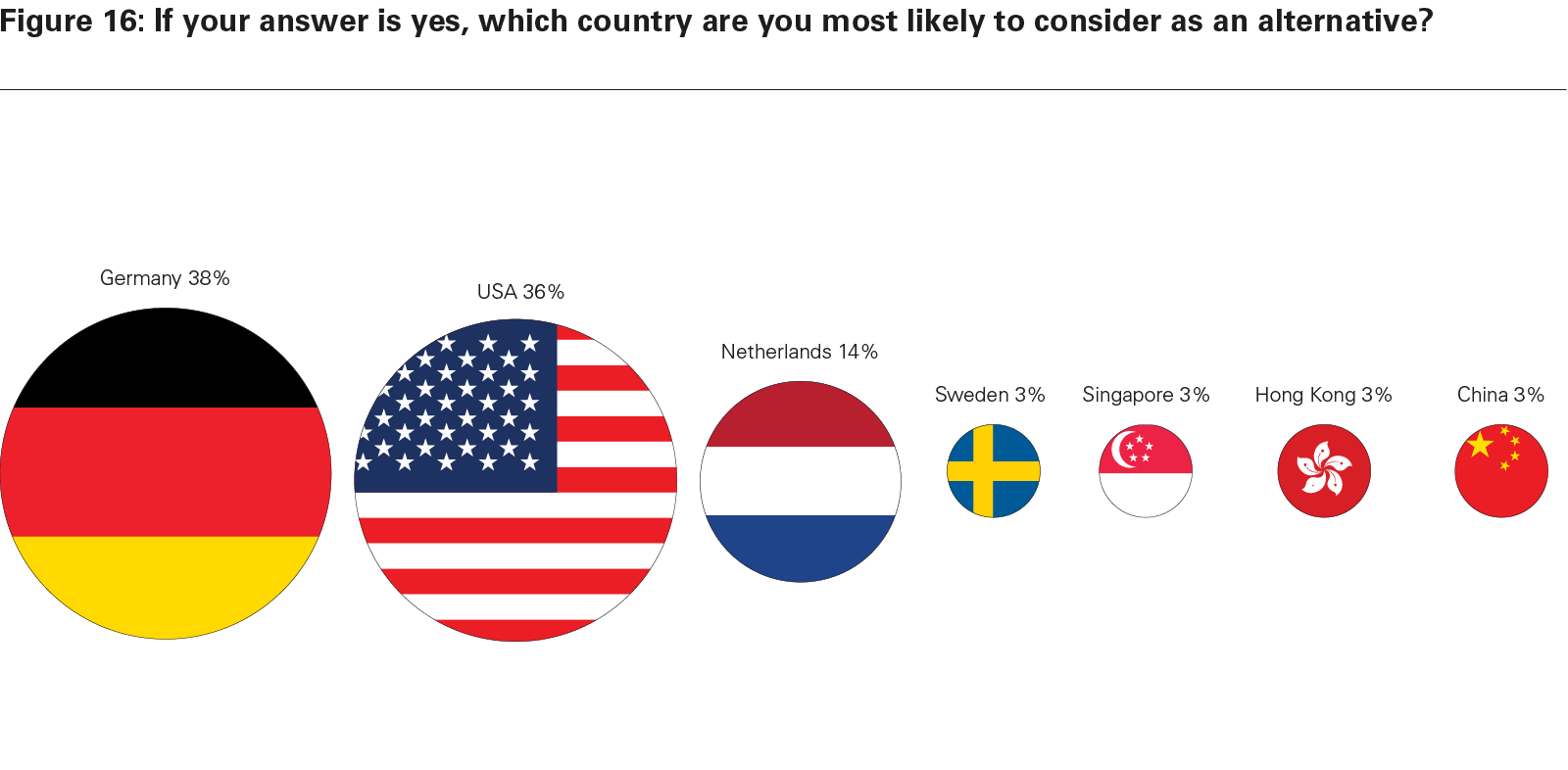 View full image
Some firms have already started leaving the UK. Payments startup WB21, for example, announced in September 2016 that it is relocating its EU head office from London to Berlin.
At the time, CEO Michael Gastauer said Brexit was "one of the main reasons" the decision was taken. And WB21 is not alone in this. According to Berlin Partner, an agency that promotes investment into Germany's capital city, it was contacted by five London-based fintech startups on the day after the Brexit vote.
Even beyond these main markets, other European countries are keen to incentivise companies to relocate. Switzerland, for example, is proposing new rules in a bid to lure fintech startups with easier access to the market. This includes developing a "fintech licence" which would lower the capital requirements and regulatory burdens for fintech firms, and launching a "sandbox" area for new startups to road-test new ideas.
To read the full report, please click here.
To read other articles in this report, please click here.
This publication is provided for your convenience and does not constitute legal advice. This publication is protected by copyright.
© 2016 White & Case LLP