In the wake of the financial crisis, there has been a sustained rise in the number and variety of investigations and enforcement actions taken by regulatory authorities globally. Multinational corporations and financial institutions are now more likely than ever before to find themselves subject to cross-border investigations conducted in parallel by multiple authorities.
Regulatory authorities around the world are continuing to investigate and prosecute business conduct aggressively and to impose record-setting penalties in the process. There is no sign that this trend will abate. Quite the contrary. And, while US authorities remain in the vanguard of such initiatives, now more than ever non-US authorities can be expected not only to cooperate with and facilitate US enforcement initiatives, but also to pursue their own criminal or regulatory investigations and to exact their own significant penalties.
This trend of global scrutiny toward and enforcement against certain business conduct is facilitated by the broad jurisdiction of anticorruption laws such as the US Foreign Corrupt Practices Act and the UK Bribery Act as well as various antitrust, sanctions and anti-money laundering regimes. Enforcement authorities, particularly in the United States, have used such laws and accompanying legal doctrines to prosecute corporate and individual misconduct in far-flung markets that may have little apparent nexus, for example, to the United States.
For this report, we invited a number of experts to provide different perspectives on this changing regulatory landscape and what it means for business. The articles consider what the current challenges are, how things might develop in the future, and what the implications are for financial institutions, corporates and their officers, directors and employees around the globe. We also look at the US and EU sanctions levied as a result of the crisis in Ukraine.
We hope that you enjoy this report, and we welcome the opportunity to discuss these subjects with you in greater depth.
Please follow the links below to read articles in our report, or download the full report here.
Contents
In no uncertain terms
Regulatory uncertainty rather than complexity is the biggest challenge facing general counsel of multinationals.
Scoring a common goal: cooperation between agencies
Antitrust agencies are waking up to the idea that fighting bribery is essential to the maintenance of competitive markets.
The inexorable rise of EU fines
Tough EU financial penalties alone may not be acting as an effective deterrent to anticompetitive behavior, and are instead having other unwelcome impacts.
The long arm of the law: exporting US justice
As individual jail terms and corporate fines continue to increase, many companies and executives outside the United States are left wondering: How are US laws able to reach so far outside US borders? The United States has some fundamental legal principles that can allow its enforcement authorities to apply its laws well beyond US borders. White & Case's White Collar team explains.
How US laws can apply
• Means or Instrumentality of Interstate Commerce
• Conspiracy
• Agent Liability
• "Piercing the Veil"
• Following the Money: Money laundering and sanctions
Challenging sanctions designations: politics and the judiciary collide
Given the potential impact of political sanctions, it makes sense to ask if there is anything designees can do to challenge the decision to impose sanctions on them. White & Case's EU and US sanctions teams provide some details about the potential for challenging an asset freeze designation in Europe and the United States.
Sanctions and export controls can hit hard and fast
International crises, most recently in Ukraine, Syria and Iran, have resulted in largely US-led sanctions imposed against "offending" states—requiring businesses to comply with trade embargoes or face penalties.
High-frequency trading: under the watchful eye of global authorities
High-frequency trading has come under intense scrutiny in recent months. White & Case explores this latest global investigations trend.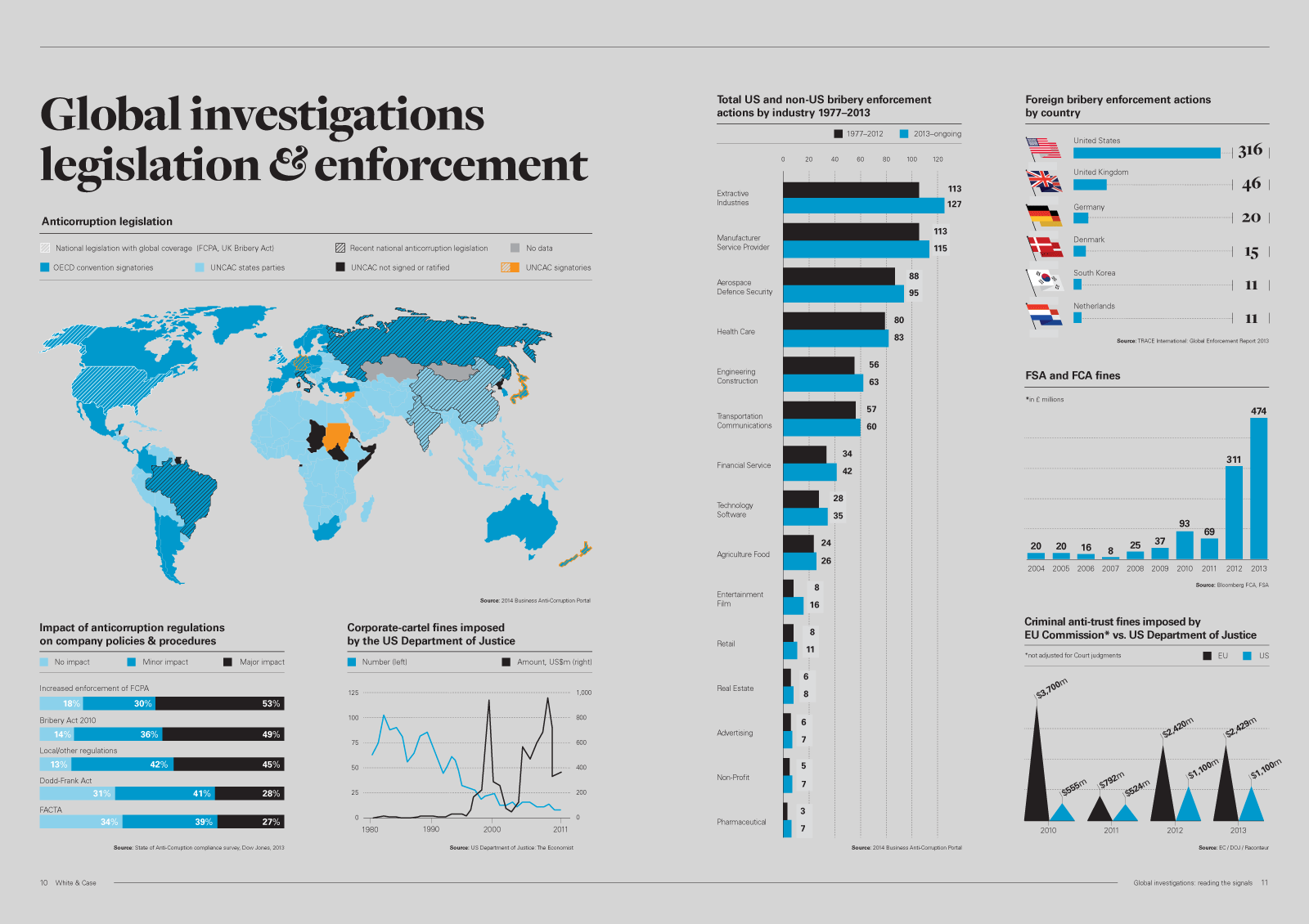 Download this infographic
This publication is provided for your convenience and does not constitute legal advice. This publication is protected by copyright.
© 2014 White & Case LLP