The yields on offer in the infrastructure sector have become increasingly attractive to institutional investors and limited partners alike
HEADLINES
Overall appetite for infrastructure investment remains strong. M&A deal value rose 75 per cent from 2010 and 2016. Deal volume grew 196 per cent over this period
The number and value of investments in core infrastructure rose in 2016, compared with 2015, with 88 deals (up 15 per cent) valued at €19.4 billion (up 19 per cent)
Investment in non-core European infrastructure more than tripled over the last seven years, from €4.23 billion in 2010 to €14.46 billion in 2016. Deal volume rose by 315 per cent from 13 deals in 2010 to 54 in 2016
Since the turn of the decade, infrastructure M&A deal value has grown by 75 per cent. With the continued low interest rate environment at the global macroeconomic level, the yields on offer in the infrastructure asset sector have become increasingly attractive to institutional investors and limited partners alike. Indeed, fundraising for asset managers targeting infrastructure assets hit record levels in 2016.
Institutionals dominate the core
Since 2010, and particularly in the early years of the decade, core infrastructure capital allocation has dominated the marketplace, both in terms of volume and value. Over the period, assets have largely been split between power (51 per cent) and transport (34 per cent), with environmental, social and telecommunications infrastructure receiving a more modest share of investment levels.
A hallmark of the European infrastructure market has been the increased domination of institutional investors in competitive auction processes for core assets such as major international airports and national gas distribution networks. This competitive drive has correspondingly driven down returns. When combined with the increased appetite on the part of Asian investors and Middle Eastern sovereign wealth funds, the European infrastructure marketplace has never been more competitive. The Ontario Teachers' Pension Plan–led acquisition of London City Airport from Global Infrastructure Partners in March 2016 is just one example in a long line of institutional investor-dominated M&A processes.
There are certain exceptions within the core infrastructure space where infrastructure funds are still ready to invest. These include neglected assets owned by corporates that do not have the incentive to spend time boosting the performance of a particular division.
In these situations, the relevant assets can be carved out and optimised by infrastructure funds. They have the necessary operational expertise and technical knowledge to drive up cash flow and revenues while also driving down costs, increasing efficiencies and improving capital structures. One such example is Affinity Water, which Morgan Stanley Infrastructure Partners and Infracapital acquired from Veolia in 2012. As Morgan Stanley managing director Alberto Donzelli says: "There continues to be a lot of opportunities in this space across the European market—be it in utilities, transport, telecoms or leasing companies."
The rise of non-core
However, as competition has forced down anticipated returns for core assets into single digits, infrastructure funds have increasingly turned their attention to the non-core sector over the past six years.
This is evidenced by the fact that core infrastructure has ceded ground to non-core infrastructure with a decrease in total market share from 78 per cent in 2010 to 57 per cent by 2016.
Non-core investment by volume has been continuously on the rise since 2013, climbing from 15 transactions to 54 in 2016. And, in the past six years, capital invested in non-core infrastructure has increased from €4.23 billion to €14.46 billion—a 250 per cent rise.
In the beginning, this increase could largely be attributed to the focus shift of infrastructure funds, but more recent transaction data demonstrates a growing contribution from institutional investors to the non-core sector as well. And, as we will see in the next chapter, the battle for the best non-core assets in Europe is heating up.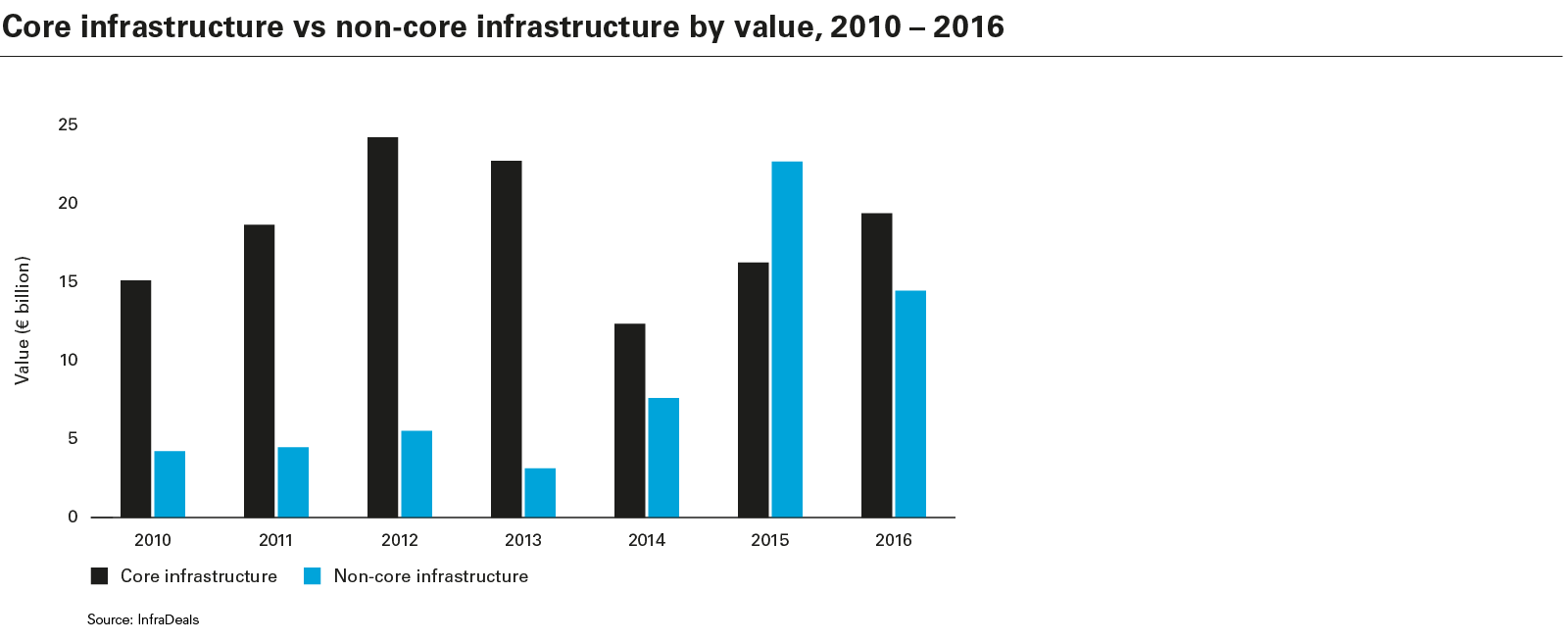 View full image


View full image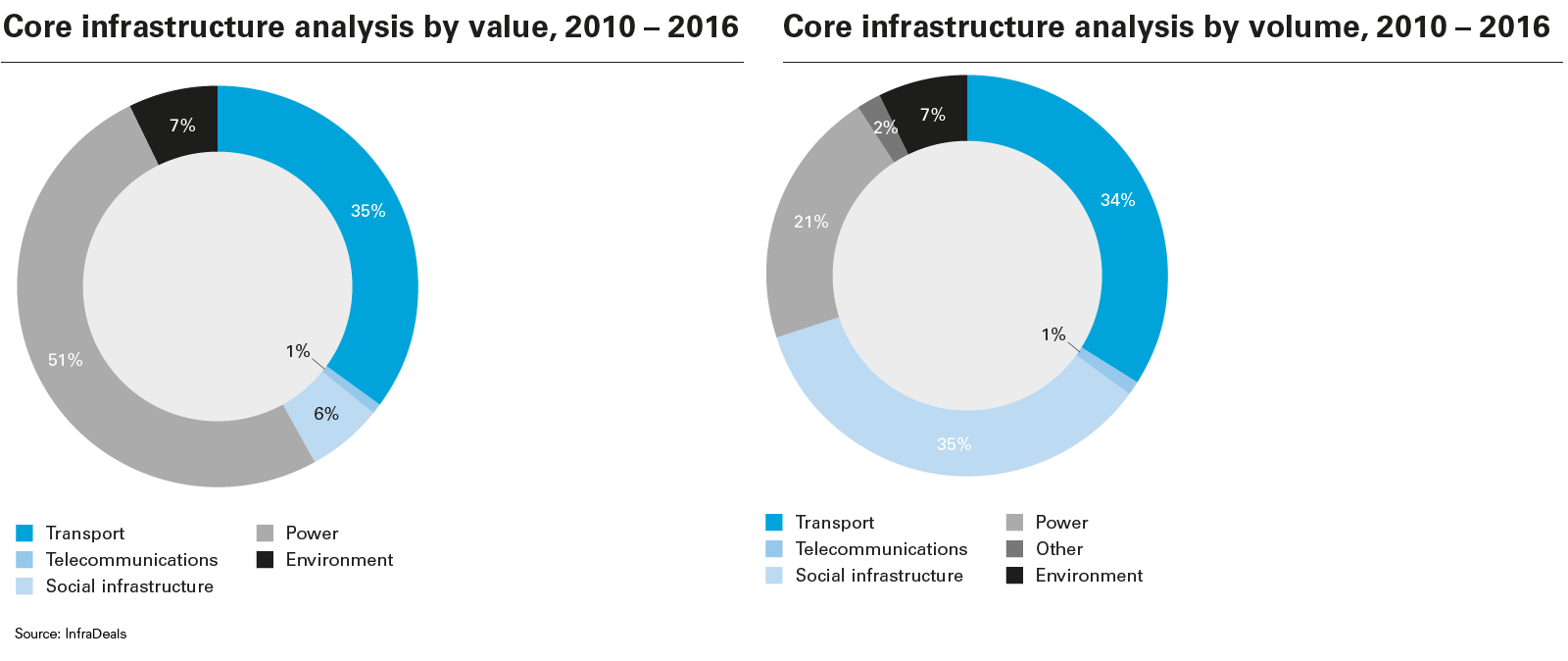 View full image
Infrastructure M&A: Journey to the non-core
Read other articles in this report
This publication is provided for your convenience and does not constitute legal advice. This publication is protected by copyright.
© 2017 White & Case LLP