Africa Focus: Spring 2018
Stay current on your favorite topics
200,000

Analysts at UBS have forecast that cobalt demand will double by 2020 to approximately 200,000 tons a year.
Demand for commodities is strengthening, but challenges persist
Resource-rich Africa has long been targeted by international investors and perhaps no more so than today. New technologies linked to the development of electric vehicles and rechargeable batteries have increasingly turned the spotlight on metals such as cobalt and copper, mined in a number of African countries.
Given that Africa is also a major producer of gold, diamonds, bauxite and platinum, the continent holds a preeminent position in the global resources industry. And as 2017 saw a strong rebound in the price of most metals, many African governments received more in taxes and royalties to help spur economic growth.
The resources sector around the world benefited from robust global GDP, as well as strong demand for minerals related to new technologies. It has been a year that has seen significant price recovery, almost across the board.
A big story has been cobalt, with the price up an astonishing 100 percent on the year. Cobalt is used in lithium-ion batteries that power EVs—and about 60 percent of global output is from the Democratic Republic of the Congo (DRC). Analysts at UBS have forecast that cobalt demand will double by 2020 to approximately 200,000 tons a year; new projects are required over the longer term to avoid a deficit.
Copper, too, is linked to electric vehicles and renewable energy—not to mention global growth. Enough copper goes into electric vehicles and their charging units that it could lift demand by a quarter in the years ahead, according to analysts at Bernstein Research. Again, this is good news for African producers of copper, which includes DRC, Zambia, Botswana and South Africa.
Goldman Sachs, previously a copper bear, has said the metal's bull run in 2017 (prices are up about 25 percent) to more than US$7,000 a ton in October was grounded in fundamentals and not speculation. The bank has forecast a 130,000-ton copper market deficit in 2018.1
Miners are keenly searching for new sources of copper and cobalt in minerals-rich DRC.
Additionally, Africa accounts for more than 20 percent of global gold output, and London-listed Randgold is a key player with operations in Senegal, Mali, DRC and Côte d'Ivoire. Its shares were up 16 percent in 2017, against a gold price rise of 10 percent.
And while we are not in the grips of another commodities super-cycle, fueled by a Chinese boom of the kind we saw up until 2012, the prospects for 2018 are promising.
Mining in Africa is not without its challenges, though. The DRC is a case in point. A humanitarian crisis brought about by civil unrest and political instability means there is significant country risk. A new mining code is on the horizon that aims to bring in more taxes, and this has alarmed mining groups.
South Africa has faced uncertainty brought about by a new mining charter that hit dividends and saw the market capitalization of SA-listed entities drop to June 2015 levels. But improved prices brought the SA industry back into profitability, showing the first substantial increase in revenue—ZAR 43 billion—in more than five years.
In White & Case's annual mining survey, about 45.1 percent of respondents said that heightened risk of resource nationalism across Africa made it difficult to justify investment, but nearly 42 percent said the risk was manageable and no worse than in the recent past. And almost 13 percent believed the potential returns outweighed the risks.
A related question about the biggest challenge in Africa highlighted country/political risk, i.e., the possibility of government interference. About 64.5 percent of respondents named it as the chief obstacle. By contrast, the problem of inadequate infrastructure was only mentioned by almost 10 percent of respondents.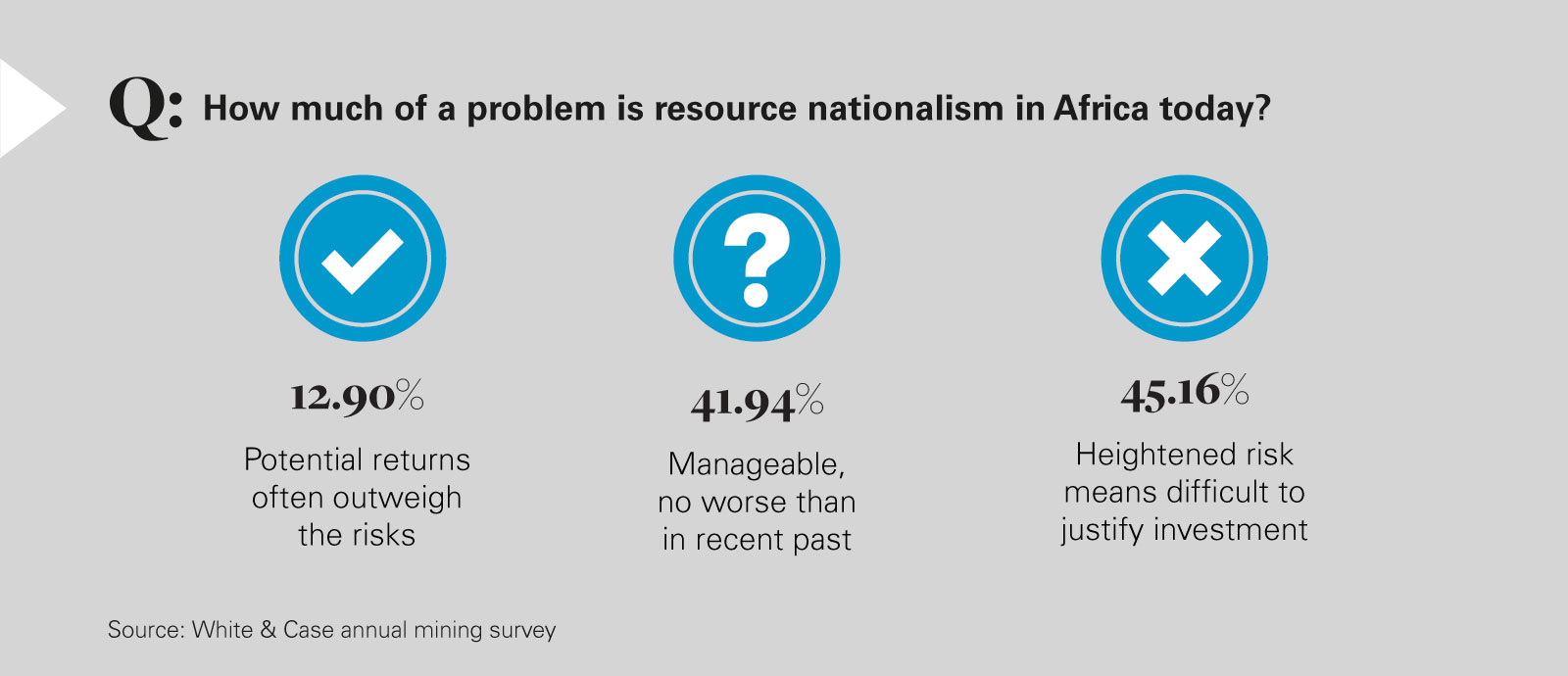 View full image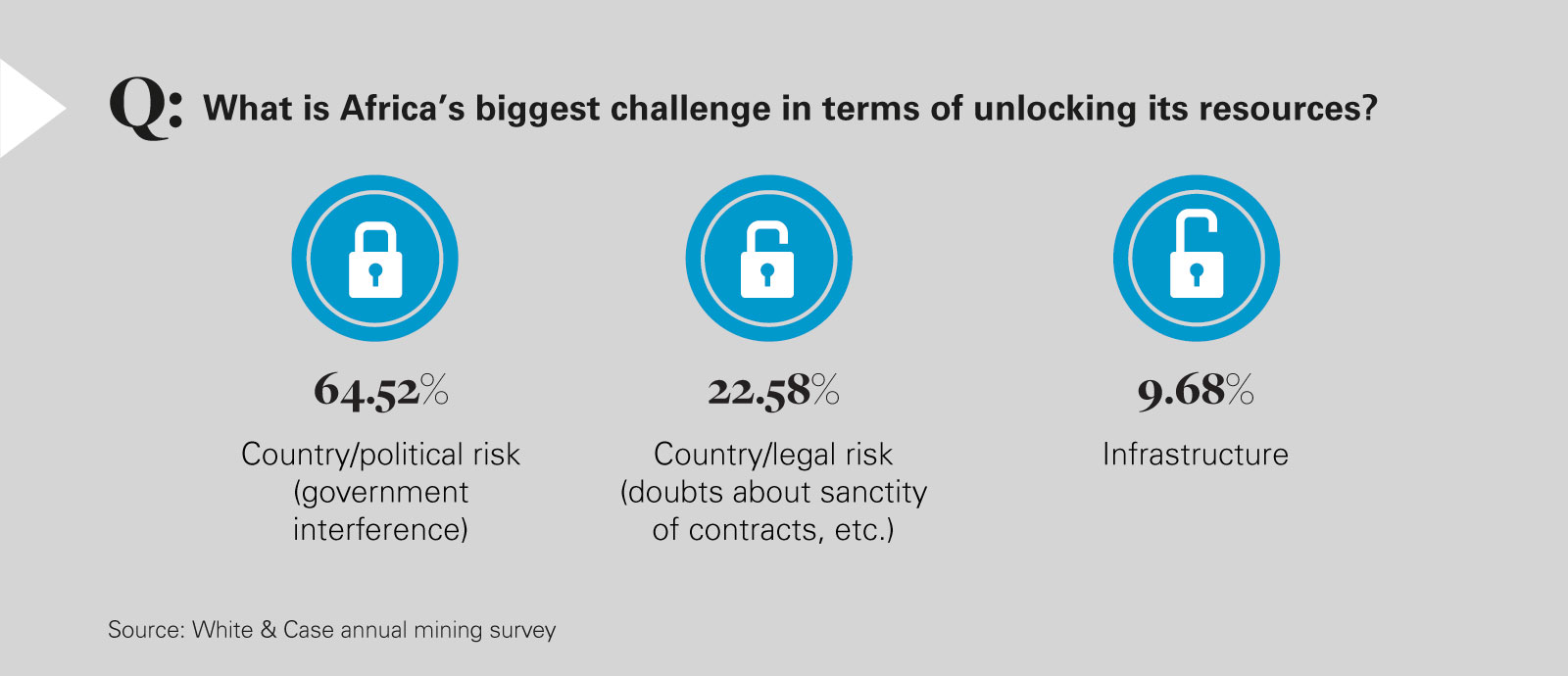 View full image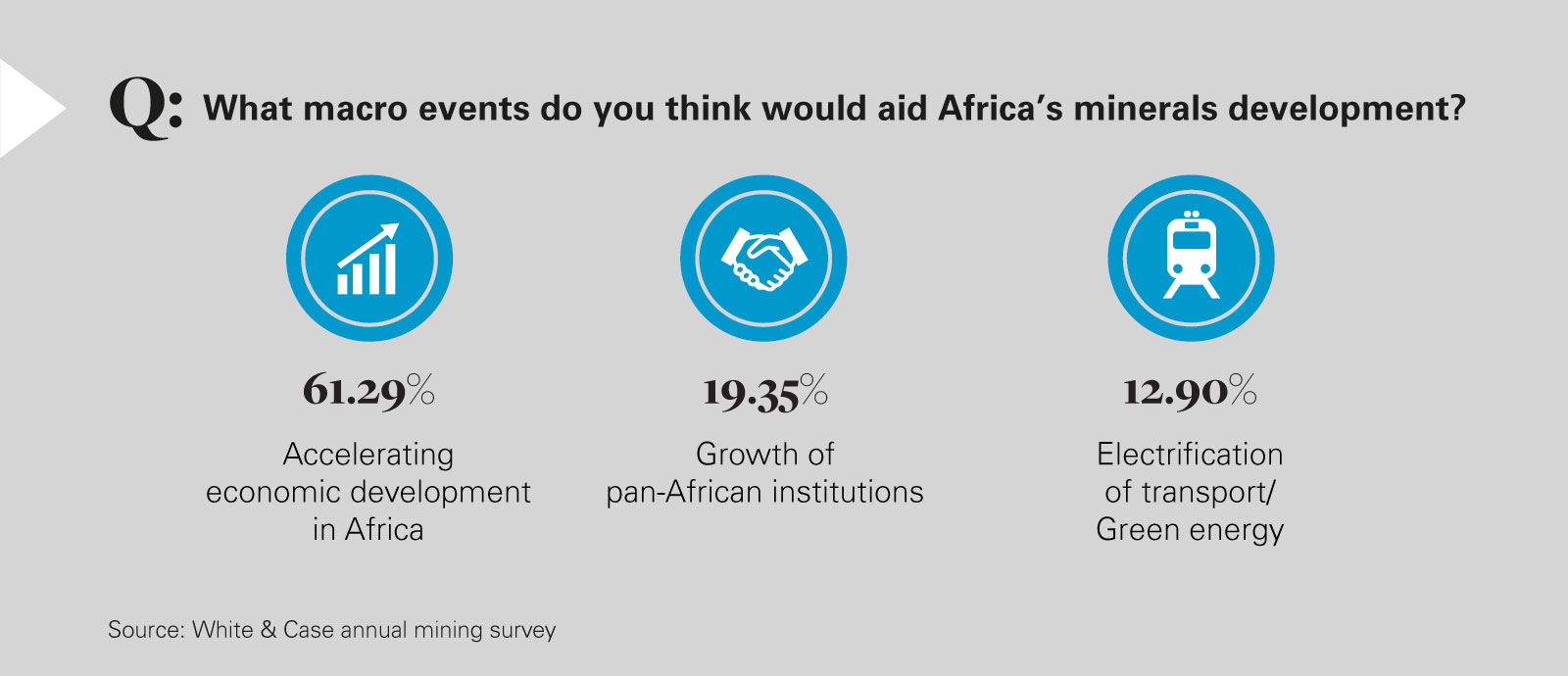 View full image
In a year that saw Acacia Mining in conflict with the government of Tanzania over disputed tax payments, such a reaction is not surprising. Barrick—Acacia's largest shareholder—agreed to cede 16 percent of Acacia's three gold mines in Tanzania to the government and pay US$300 million toward resolving a row that ultimately saw the resignation of Acacia's CEO Brad Gordon and finance director Andrew Wray.
4.3%

Amount of annual growth forecasted for Africa between 2016 and 2020.
IMF
A not dissimilar dispute blew up in Zambia in 2015 when the government announced a steep increase in royalties for both deep and open pit mining, but eventually backpedaled after warnings of mine closures and thousands of job losses.
According to White & Case's survey, accelerating economic development in Africa is key to unlocking Africa's potential for minerals development in the future. The IMF, incidentally, still forecasts that Africa will be the second-fastest growing region in the world between 2016 and 2020, with annual growth of 4.3 percent.
The respondents were also asked about African jurisdictions they considered most favorable for Western business. Botswana, Egypt, South Africa, Namibia and Ghana all scored highly. Countries scoring poorly included Eritrea, Sierra Leone, Ethiopia and Guinea.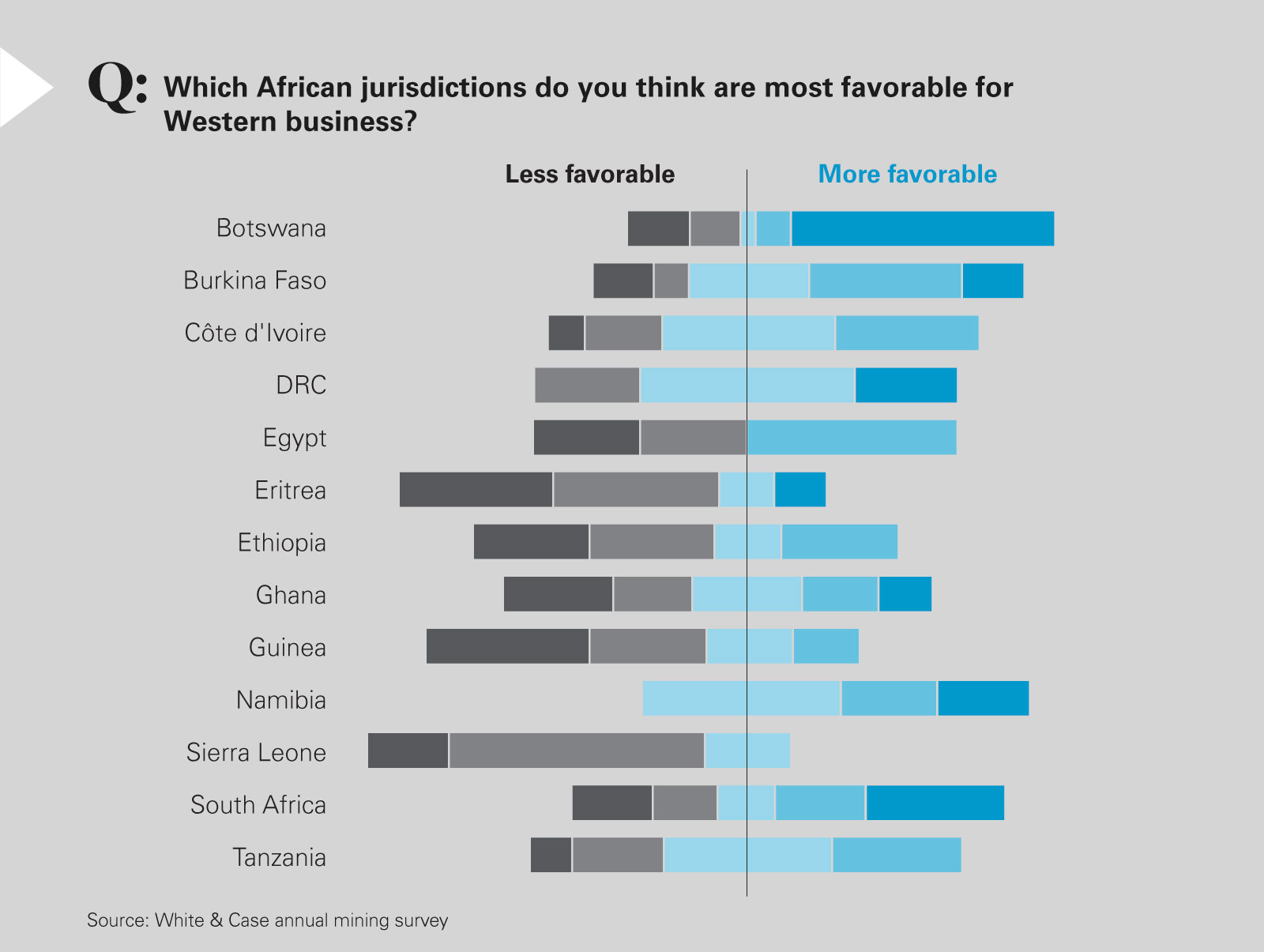 View full image
Impediments to business still need to be removed, according to the World Bank's Ease of Doing Business report in 2016. This showed only seven African states were placed in the top half of the ranking: Botswana, Mauritius, Morocco, Rwanda, Seychelles, South Africa and Tunisia.
Looking to 2018, miners will be privately hoping that cobalt prices do not go too much higher for fear of killing off electric vehicle demand. Carmakers have said they are shifting to higher nickel batteries that use less cobalt over the next decade. The tightness in the cobalt market today is accelerating the search efforts to find a substitute.
Mining companies saw their share of challenges in their Africa operations in 2017. Rio Tinto suspended one senior executive and accepted the resignation of a second in 2017 after discovering US$10.5 million in unexplained payments to a consultant in Guinea. The company also faces fraud allegations over coal assets it once owned in Mozambique.
As the switch to growth gains momentum, M&A activity improved in 2017, with some signs of a shift from largely divestment-led drivers to strategic-led deals focused on growth. China Molybdenum, for instance, secured a 56 percent stake in Tenke Fungurume Mining, one of the world's largest known copper and cobalt resources in Katanga Province, DRC for US$2.65 billion.
The appetite to raise more capital in the sector is expected to grow. While issuing more equity will remain an attractive option, increasingly, industry participants will also consider the efficiency of their overall capital structure.
The bias toward equity funding, which is more expensive than debt, is increasing the sector's weighted average cost of capital. The focus on lowering financial risk will ease going forward, with activity in debt markets picking up once again.
Citigroup said in December that stronger global GDP and the rising oil price had helped drive the amount of money invested in commodities to the highest in more than four years.
Goldman Sachs is also bullish on the overall sector heading into 2018 despite "significant divergences" in its views on metals: "The difference lies in the supply dynamics...while copper supply is likely to become increasingly constrained over the coming years, aluminum supply should become more abundant."
"A positive carry in key commodity markets and already strong global demand growth across the commodity complex reinforces the case for owning commodities, and hence we maintain our 12-month overweight recommendation, now with a forecasted return of almost 10 percent," the bank said in a client note.2 That would help producers everywhere, not least of all in Africa.
NEXT CHAPTER
The IMF in sub-Saharan Africa
FULL MAGAZINE
Africa Focus: Spring 2018
See also: Battery Supply Chain
The data quoted in this article is from a December 2017 – January 2018 White & Case survey of 40 senior decision-makers in the mining market.
1 "Rally in copper prices justified by global growth, lower supplies—Goldman," Financial Times, October 24, 2017
2 "Goldman bullish on commodities into 2018," Financial Times, December 12, 2017
This publication is provided for your convenience and does not constitute legal advice. This publication is protected by copyright.
© 2018 White & Case LLP