Historically, financial sponsors approached financial services investments with caution. Since the financial crisis, however, things have changed, creating valuable opportunities for financial sponsors to invest in a sector that traditionally has been dominated by strategic players.
As market data and the results of the White & Case 2015 FIG M&A Survey show, the volume and value of financial sponsor investments in European financial institutions have increased dramatically since the 2008 banking crisis. The plethora of new regulations and reorganisation of bank balance sheets have created a rich source of deal flow for alternative investors during an extended period when strategic players have withdrawn from the M&A market.
However, as strategic players are beginning to return, it seems unlikely that financial sponsors will continue to have the same unfettered access to well-priced financial services deals.
So the question facing financial sponsors now is whether the period since the credit crunch has been a unique and temporary phase, or whether financial services will continue to supply attractive investment opportunities in the long term.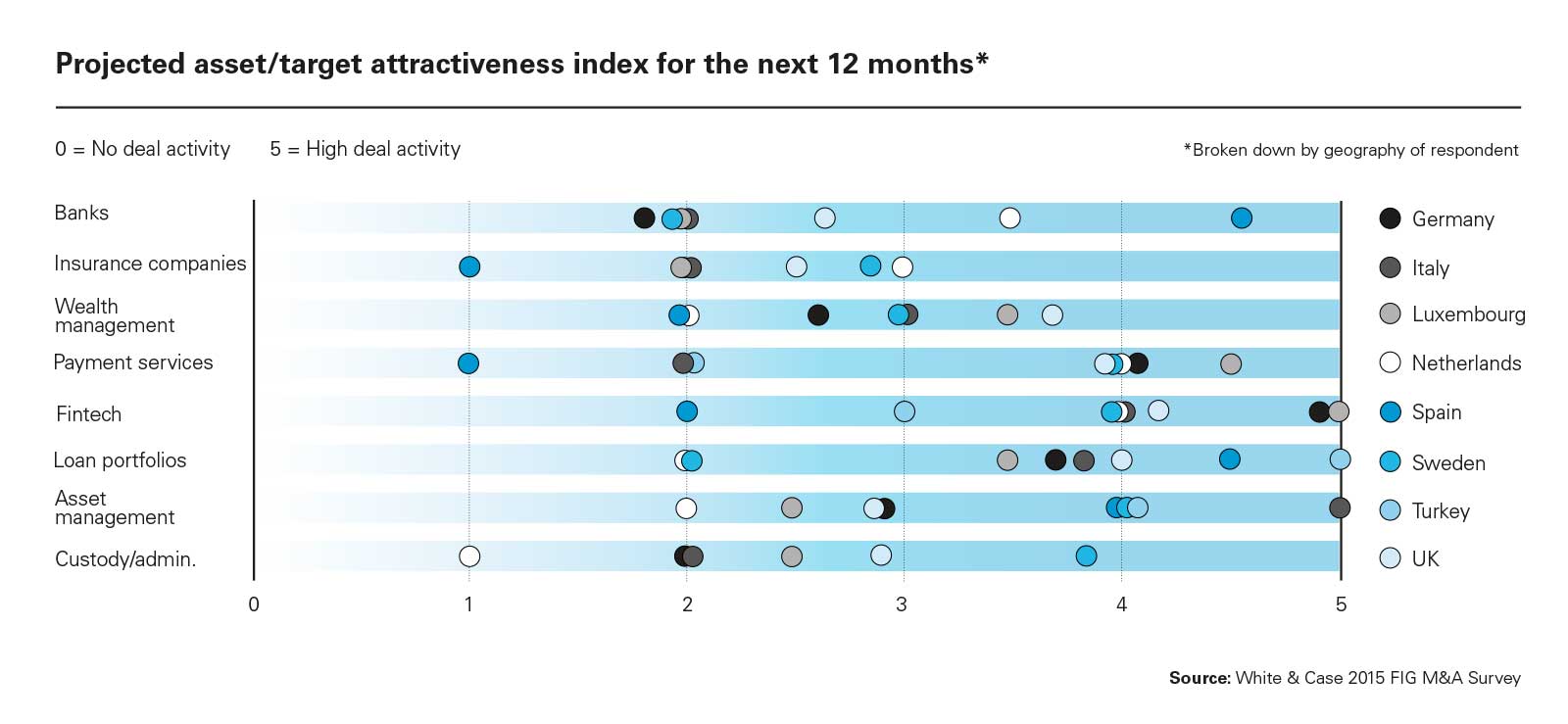 View full image
Our view is that this is not a temporary phase. Without a doubt, opportunities for financial sponsors in the European financial institutions M&A market will continue to evolve over the next few years:
Despite the expected recovery of strategic players, financial sponsors who have already established a strong presence in the financial institutions market will hold theirground, and will gain more. Having exploited the strategics' post downturn malaise to build their portfolios and learn how to run banks, financial sponsors are in it for the long haul.
Bank restructuring still has a long way to go before the market settles. Savvy investors will continue to find opportunities in the disruption. Consolidation of smaller banks, sell-offs of non-core assets and the retreat of banks from some sectors—such as private wealth, custody and administration services—all lay fertile ground not only for recovering strategics, but also for financial sponsors.
In fintech, the sky is the limit. The fintech boom is only beginning, and financial sponsors will continue to expand their fintech commitments for the foreseeable future.
Stress-test pressure on European banks will spark a wave of NPL sell-offs across Europe, especially in central, eastern and southern Europe, as banks shore up their balance sheets. NPLs (and the services associated with them) offer alternative investors an attractive point of entry that may be overlooked by strategic players.
To read the full report, please click here.
To read other articles in this report, please click here.
This publication is provided for your convenience and does not constitute legal advice. This publication is protected by copyright.
© 2015 White & Case LLP