Turkey has become a model for the world in interest-free banking
Osman Akyüz, Secretary General of the Participation Banks Association of Turkey
Despite its predominantly Muslim population and its long presence in the international capital markets arena as an issuer of conventional bonds, Turkey did not have a significant presence in the market for Shari'ah- compliant instruments prior to 2010, principally due to the lack of legislative infrastructure in place to accommodate Islamic finance.
Sukuk were first introduced to the Turkish market in the form of asset- backed debt instruments, known as "lease certificates," in April 2010. Lease certificates set forth the legal framework for the issuance of ijara sukuk as the most common type of sukuk, based on leased assets. Shortly thereafter, amendments to tax legislation were introduced to provide certain exemptions that made sukuk more attractive to foreign investors.
Kuveyt Turk Participation Bank completed Turkey's debut sukuk issuance in August 2010.
In an effort to increase investor confidence, Public Finance Law no. 4749 was amended to permit the issuance of sovereign sukuk in June 2012. In an attempt to establish a benchmark for foreign investors, the Republic of Turkey's treasury issued US$1.5 billion sukuk in September 2012.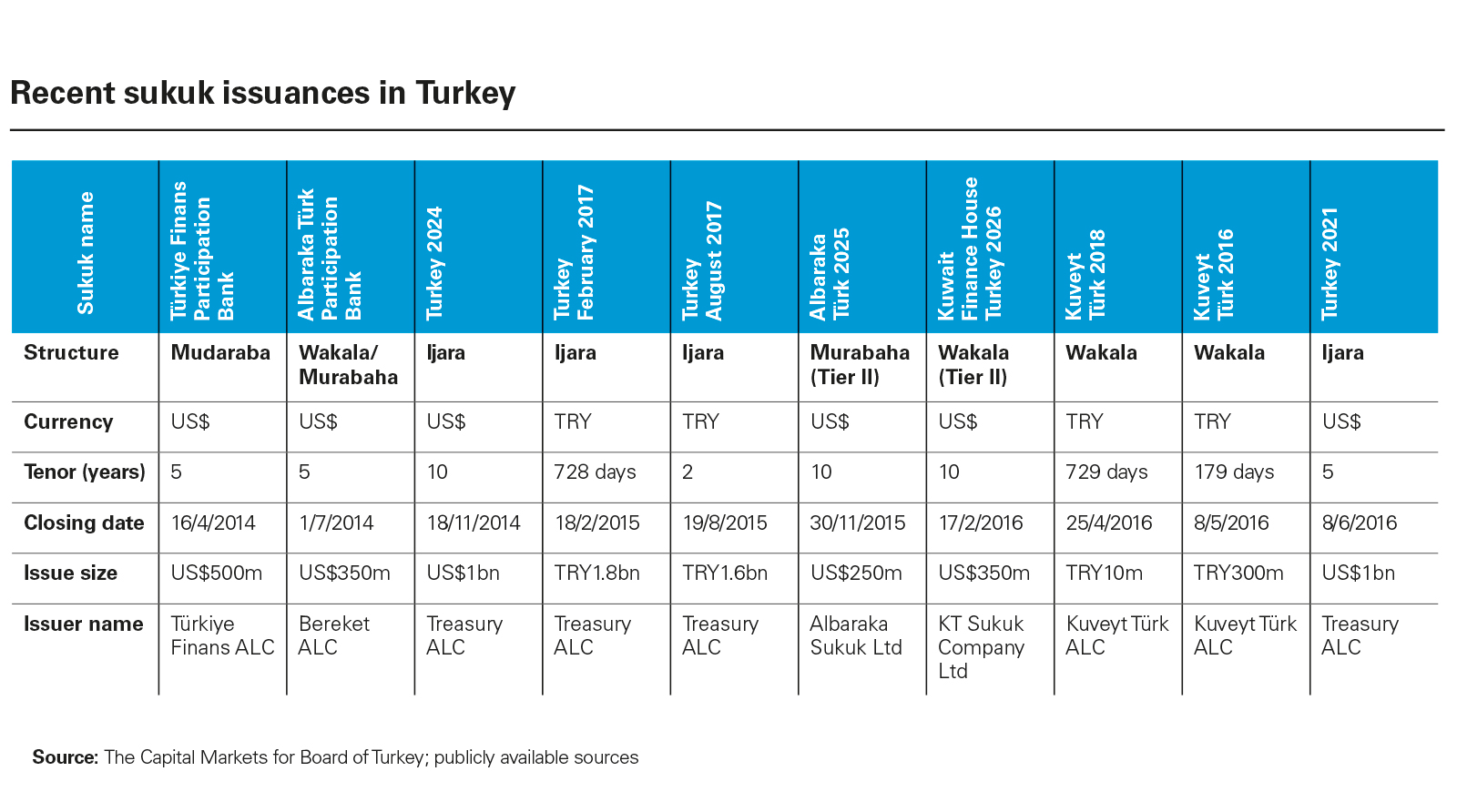 View full image
Through eight sovereign issuances with an approximate total value of US$7.714 billion, and numerous private issuances with an approximate total value of US$4.071 billion, all undertaken between 2011 and September 2015, the Turkish sukuk market has proven steady and enduring. Reflecting Turkish issuers' ability to access domestic and international sukuk markets, that record has led the Capital Markets Board (CMB) of Turkey to pave a path for corporate issuers.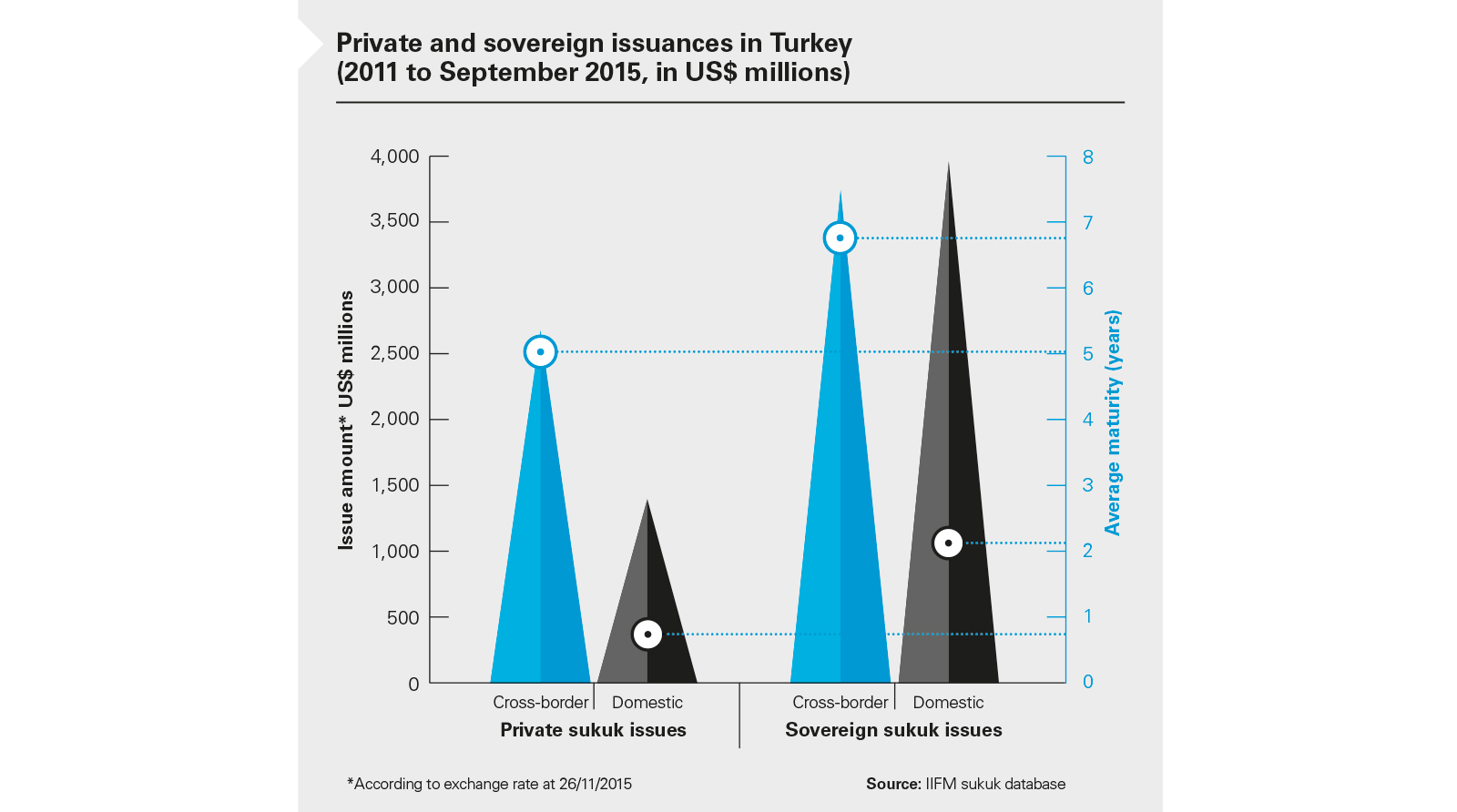 View full image
Under ijara sukuk, the most common sukuk structure in Turkish practice, the entity seeking to raise funds through an issuance of ijara sukuk establishes a special-purpose vehicle (SPV) for the sole purpose of issuing lease certificates, and then transfers the underlying assets to the SPV. The SPV then leases these assets back to the entity and issues lease certificates based on the proceeds of the lease. Lease certificates representing the ownership share in the underlying asset entitle their holders to a pro rata share of the proceeds generated by the asset.
The SPV is established as a joint stock company upon approval by the CMB. The lease certificates may be sold through either public offering or private placement. The CMB does not require a prospectus for a private placement sale.
Following the regulatory changes implemented pursuant to the Communique on Lease Certificates (III-61.1) in 2013, the CMB introduced new permitted sukuk structures (in addition to the ijara structure covered under the previous regulation), including mudaraba, murabaha, musharaka and istisna.
US$7.7
billion
worth of sukuk issued by the Republic of Turkey
Source: Government sources
Expanding opportunities for issuers
With the introduction of a broader range of legislatively endorsed sukuk structures, Turkish corporations are likely to find sukuk to be a more accessible source of alternative financing than before. Along with public projects and public-private partnerships (PPPs), infrastructure projects such as airports, ports, bridges, highways, energy facilities and other transportation-related infrastructures can be financed through Islamic financing structures. Mudaraba or musharaka structures may be favoured by corporations seeking alternative financing methods.
Sukuk following the istisna structure, also known as "Islamic project bonds" and usually combined with a forward lease agreement, can be a useful tool in funding the construction phase of projects. Investors can advance funds to an originator to purchase initial raw materials or the project land, and the forward lease agreement can make available a convenient repayment method to those investors by requiring the originator to buy out the project in tranches or as a whole upon completion.
Prominent role of participation banks
Participation banking, a Shari'ah- compliant alternative to conventional banking, was established in Turkey in 1985 through the incorporation of participation banks Kuveyt Turk and Albaraka Turk. In the 1990s, Turkiye Finans and Bank Asya followed in their footsteps, eventually raising the market share of participation banks in the Turkish banking market to 5 percent in the 2010s. The Turkish Government is currently trying to increase this rate to 15 percent by 2025. New participation banks such as Vakif Participation and Ziraat Participation will eventually join the international sukuk market as well.
Recently, Kuveyt Turk Katilim Bankasi issued a Basel III-compliant Tier 2 sukuk with a term of 10 years and principal amount of US$350 million—the first investment-grade sukuk issuance in Turkey, the largest Tier 2 sukuk issued by a Turkish participation bank and the highest-ever principal amount issued abroad by a Turkish bank. The sukuk was issued through KT Sukuk Company, an SPV established specifically to complete the transaction. The issuance was rated BBB- by Fitch Rating, and is listed on the Irish Stock Exchange.
5.5%
current market share of participation banks in Turkey
Source: EY, World Islamic Banking Competitiveness Report 2016
15%
Government target for participation banks by 2025
Source: Participation Banks Association of Turkey, 2015 – 2025 Strategy Paper
Corporate sukuk gaining ground
Despite the viability and prominence of the Turkish sukuk market, there has, as yet, been only a handful of domestic corporate sukuk issuances other than participation bank issuances. As of June 2016, no international corporate sukuk have originated from Turkish issuers other than banks. However, certain participation banks appear to be laying the groundwork for such issuances by incorporating a separate asset leasing company (ALC) for third-party issuers. Rumours have circulated suggesting that Agaoglu Group plans to issue sukuk with an issue size of approximately US$300 million, and Dogu§ Asset Leasing plans to issue the first corporate sukuk to international investors for approximately US$370 million.
Along with numerous sovereign issuances by existing players (such as Turkey, Indonesia, Malaysia, the United Arab Emirates and other Middle Eastern nations) and new players (such as the United Kingdom, South Africa, Hong Kong and Luxembourg), there have been numerous international corporate sukuk issuances, originating mainly from issuers in the Gulf Cooperation Council (GCC) nations and Southeast Asian countries.
Globally, corporate sukuk issuances constituted 36 percent of the total volume of international sukuk issuances in 2014, and 39 percent of the volume in 2015. Participation by new players (especially the governments of the United Kingdom and Luxembourg, both rated AAA by Standard & Poor's) has been warmly welcomed by other market participants because sovereign participation in those countries paves the way for corporate participation therein.
However, corporate sukuk are not limited to GCC or Southeast Asian issuers. Between 2012 and 2014, two corporate sukuk issuances originated in France, one appeared in Germany, and one potential issuance received approval in Turkey. Among sukuk issued by corporations in the GCC and Malaysia, 49 are listed on the London Stock Exchange, 29 are listed on the Irish Stock Exchange, 16 are listed on the Luxembourg Stock Exchange and 13 are listed on the Frankfurt Stock Exchange.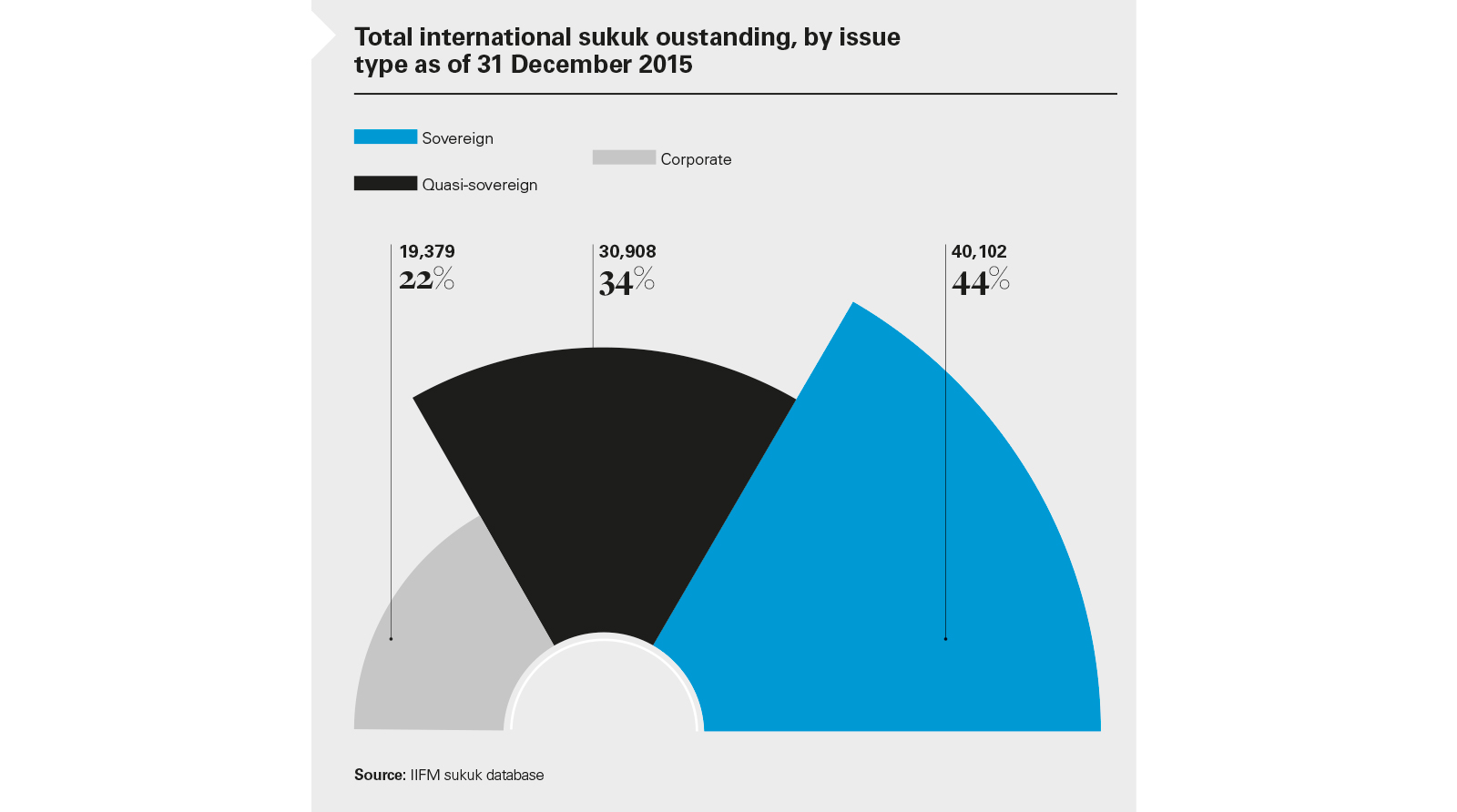 View full image
While providing an alternative financing source for Turkish corporations, the newly introduced sukuk structures may also be useful for bridging the current project financing gap in Turkey, particularly for infrastructure projects and PPPs.
As of December 2015, Turkish corporations required additional financing of US$350 billion in order to complete a backlog of projects planned through to 2023—some or all of which could be provided by Islamic financing.
Despite that potential, there remain multiple commercial and legal roadblocks, somewhat curbing the progress of the Turkish corporate sukuk market.
US$350
billion
is required to complete the projects to be finalized through 2023
Source: Dünya newspaper
36%
of the global sukuk are issued by corporates
Source: IIFM sukuk database
Commercial disincentives
The Communique on Lease Certificates requires all rights and assets in the asset portfolio of an ALC to be free of any and all encumbrances (such as pledges, mortgages or liens), and that those rights and assets be immune to any interim injunctions or bankruptcy except for the satisfaction of sukukholders. This prohibition prevents corporations leveraged by banks with encumbrances on their assets from issuing sukuk due to the lack of eligible assets.
Although the Communique on Lease Certificates does not require sukuk assets to be Shari'ah compliant, investors seeking to invest in sukuk and other Islamic products typically demand Shari'ah board-approved products, forcing originators to maintain adequate permissible income-generating assets. In addition, since the use of funds raised through sukuk issuances must also be Shari'ah compliant, financing for certain types of investments such as bars and casinos is not possible.
Sukuk investors located in the GCC, Europe and Asia tend to seek sukuk issuances where either the sukuk itself, or the originator/issuer, is investment-grade-rated by at least one internationally recognized credit rating agency such as Standard & Poor's, Moody's or Fitch. The Communique does not impose a mandatory credit rating requirement on Turkish issuers or originators for domestic issuances (with some exceptions) or international issuances, but investor preference may hinder the ambitions of Turkish issuers that cannot secure a desirable rating.
The Communique does impose a mandatory rating requirement for corporations (other than banks, certain financial institutions and certain listed companies) seeking to establish an ALC to perform a sukuk issuance.
In order to establish an ALC, these corporations must obtain a long-term investment-grade rating from a CMB- approved credit rating agency.
Therefore, although it is not a requirement for issuance under applicable law, in practice Turkish originators seeking to provide alternative financing through international sukuk issuances will need to maintain an adequate credit rating and bear the burden of rating expenses in order to penetrate the international sukuk market.
Regulatory reforms
To support the CMB's efforts to promote sukuk issuances in Turkey, relevant tax legislation has been amended to provide certain exemptions for issuers and originators of ijara sukuk:
Capital gains derived from the sale of an asset portfolio by an originator to an ALC, and vice versa, are exempt from corporate tax
Delivery of sukuk to sukukholders is exempt from value-added tax (VAT)
The sale of an asset portfolio is exempt from the relevant charges, such as the title deed registry fee and other fees
Income derived by sukukholders holding sukuk with a maturity of five years or more is exempt from withholding tax
Documents covering the transfer of assets and leases executed by and between originators and ALCs are exempt from the stamp tax
Despite these efforts, the exemptions applied mainly to ijara sukuk, and remained silent on and did not sufficiently cover other sukuk structures, leading to an uncertainty among potential issuers and originators. To overcome this uncertainty and incentivize further sukuk issuances, the Turkish Tax Bill Regarding Improvement of Investment Environment (the "Omnibus Bill") was promulgated in 9 August 2016, introducing well-rounded tax exemptions for all types of sukuk. In this respect, the Omnibus Bill amended the Stamp Tax Law, the Value Added Tax Law and the Law on Charges, granting stamp tax exemption to all sukuk transaction documents, VAT exemption to all types of sukuk transactions, and exemption from duties to be levied on all sukuk transactions related to establishing security, mortgage, pledge and similar transactions, unlike the former regulations that envisaged stamp tax, VAT and duty exemptions only for ijara sukuk transaction documents, transactions and security transactions.
In addition, the Omnibus Bill amended the Corporate Tax Law, introducing corporate income tax exemption to the income derived from sale and purchase back of all assets and rights by and between ALCs and originators. This exemption ensured originators and ALCs (issuers) that no corporate income tax would be levied on the income derived from sale and purchase back of sukuk assets.
Remaining legal roadblocks
Under the Communique, originators must conduct sukuk issuances via ALCs, which may only be established by certain entities such as banks, intermediary institutions, mortgage financing institutions, real estate investment trusts listed on a stock exchange, first- and second-group public companies listed on Borsa Istanbul, companies maintaining a long-term investment-grade rating and companies owned 51 percent or more by the Turkish Treasury.
Entities listed under the last three categories above may establish ALCs only for issuances in which they also act as originator. In other words, only ALCs established by banks and intermediary institutions may issue sukuk for an originator other than its founder corporation. Originators seeking to issue sukuk must liaise with a bank or intermediary institution in order to conduct sukuk offerings, unless they obtain a long-term investment-grade rating or are ranked among the first- or second-group public companies listed on Borsa Istanbul. This obligation and its associated expenses may prove too burdensome for some corporations.
To download the full report, please click here.
To read other articles in this report, please click here.
This publication is provided for your convenience and does not constitute legal advice. This publication is protected by copyright.
© 2016 White & Case LLP