Taiwan: Navigating regulatory and deal risks in a rapidly shifting landscape
The United States has long maintained economic sanctions and export controls that restrict transactions involving US-origin items or by US persons with certain parties or countries for foreign policy or national security reasons. In recent years, though, the US has increasingly relied upon existing and new laws to enforce US sanctions and export controls against non-US parties, effectively coercing non-US parties into upholding US foreign policy and national security interests abroad.
Since Taiwanese companies and individuals have been affected by such US enforcement actions in recent years, you should remain mindful of US export controls and economic sanctions as you devise investment strategies and conduct global operations.
Impact of US sanctions on Taiwanese businesses
US sanctions often prohibit transactions by non-US persons involving sanctioned countries or blocked parties if the transactions have a direct or indirect connection to the US or a US person. For example, a non-US person can be deemed to have violated US sanctions even by engaging in a transaction outside the US that involves only non-US persons—if the transaction is denominated in US dollars and clears through the US financial system.
In some cases, the jurisdictional nexus with the US can be less obvious. In February 2017, US authorities concluded that a Taiwanese company had violated US sanctions by conducting a ship-to-ship transfer with a vessel owned by the National Iranian Tanker Company. The US authorities used the Taiwanese company's participation in a US bankruptcy proceeding as the jurisdictional hook where the vessel used in the Iran-related shipment was under the jurisdiction of the US bankruptcy court.
Recently, the US also has stepped up enforcement of so-called "secondary" sanctions, which can be enforced against non-US persons without any connection to the US or a US person. Secondary sanctions target "sanctionable activities" by non-US persons outside the US, such as trade with North Korea or dealings with designated Iranian parties. US authorities do not have jurisdiction to impose civil or criminal monetary penalties for violations of secondary sanctions, because the violation, by definition, lacks a connection to the US or US persons. But the enforcement measures can be just as serious, if not more so, than the imposition of monetary penalties. US authorities can blacklist the foreign violator, thereby closing or restricting the violator's access to US commercial and financial markets. Secondary sanctions thus operate as a powerful deterrent against dealings by non-US persons with US-sanctioned countries or blocked parties, even in the absence of any US nexus.
Since 2010, US secondary sanctions have increased both in scope and frequency of enforcement. In fact, the lifting of US secondary sanctions against Iran was a key issue in negotiating the Iranian nuclear deal, implemented in 2016. With the US's May 8 announcement that it is withdrawing from the Iran deal, secondary sanctions are expected to be re-imposed in full after November 4, 2018.
Taiwanese companies are no strangers to the dragnet of US secondary sanctions. Earlier this year, the US authorities added a Taiwanese individual and two Taiwanese companies to the US sanctions list pursuant to the Countering America's Adversaries Through Sanctions Act of 2017 (CAATSA), effectively locking them out of the US financial system. US authorities alleged that these Taiwanese parties were engaged in North Korean coal export and oil import deals with entities in Russia.
US export controls add a complicating twist
US export controls restrict the export or re-export of items and technology, including:
US-origin items
Items produced abroad containing greater than de minimis controlled US-origin content
Items produced abroad using controlled US-origin technology
Items located in the US—including technology stored on US servers
In light of today's integrated global supply chain, US export controls pose a greater risk to non-US parties than ever before. The impact of the recent enforcement action against the Chinese technology company, ZTE, on Taiwanese companies exemplifies the extent of this risk. The US Commerce Department's Bureau of Industry and Security (BIS) imposed its largest-ever penalty on ZTE in connection with the shipment of items to Iran. This penalty, which was part of a criminal plea agreement, included the imposition of a "denial order" that would prohibit ZTE from being involved in any transactions involving items or technology exported from the US. After negotiations, ZTE reached a settlement with BIS and suspension of a new denial order on June 7, 2018. The new denial order will not be lifted until ZTE pays the US$1 billion fine and places an additional US$400 million in an escrow account.
Other recent US enforcement actions bear out the US focus on enforcement of sanctions and export controls against non-US persons—including non-US persons located in Asia:
In July 2017, CSE TransTel Pte. Ltd. (Transtel) and CSE Global Limited, both of Singapore, settled with OFAC for US$12,027,066 for "causing" US banks to export or re-export financial services for the benefit of parties in Iran. Transtel entered into contracts to provide telecom equipment to Iranian energy projects, sometimes using Iranian vendors. Payments occurred in US dollars and were routed through the US financial system, causing the US banks to unwittingly deal with Iran. In particular, OFAC noted that "[n]one of the transactions contained references to Iran, the Iranian projects, or any Iranian parties."
In August 2017, a US court in New York sentenced a Chinese citizen to 36 months in prison in connection with an attempt to export carbon fiber to China without an export license, using unmarked boxes and falsified shipping documents
The road ahead is fraught with new risks
Notably, US lawmakers are attempting to block the new settlement with ZTE through legislative means as well as trying to push through more stringent export controls legislation. For example, two pieces of pending legislation—titled the Foreign Investment Risk Review Modernization Act of 2018 and the Export Control Reform Act of 2018—seek to expand US export controls involving "foundational technologies," joint ventures involving non-US parties, and emerging and critical US technologies, including AI and machine learning, semiconductors, unmanned aerial vehicles and solar cells.
With so much at risk, Taiwanese companies should make sure their investment strategies always include an updated assessment of the latest US sanctions and export control policies. This is particularly important any time your business expands into new jurisdictions or engages with new individuals and entities. By addressing any gaps in advance of new investments or new contracts, Taiwanese companies can prevent issues that may otherwise derail a transaction.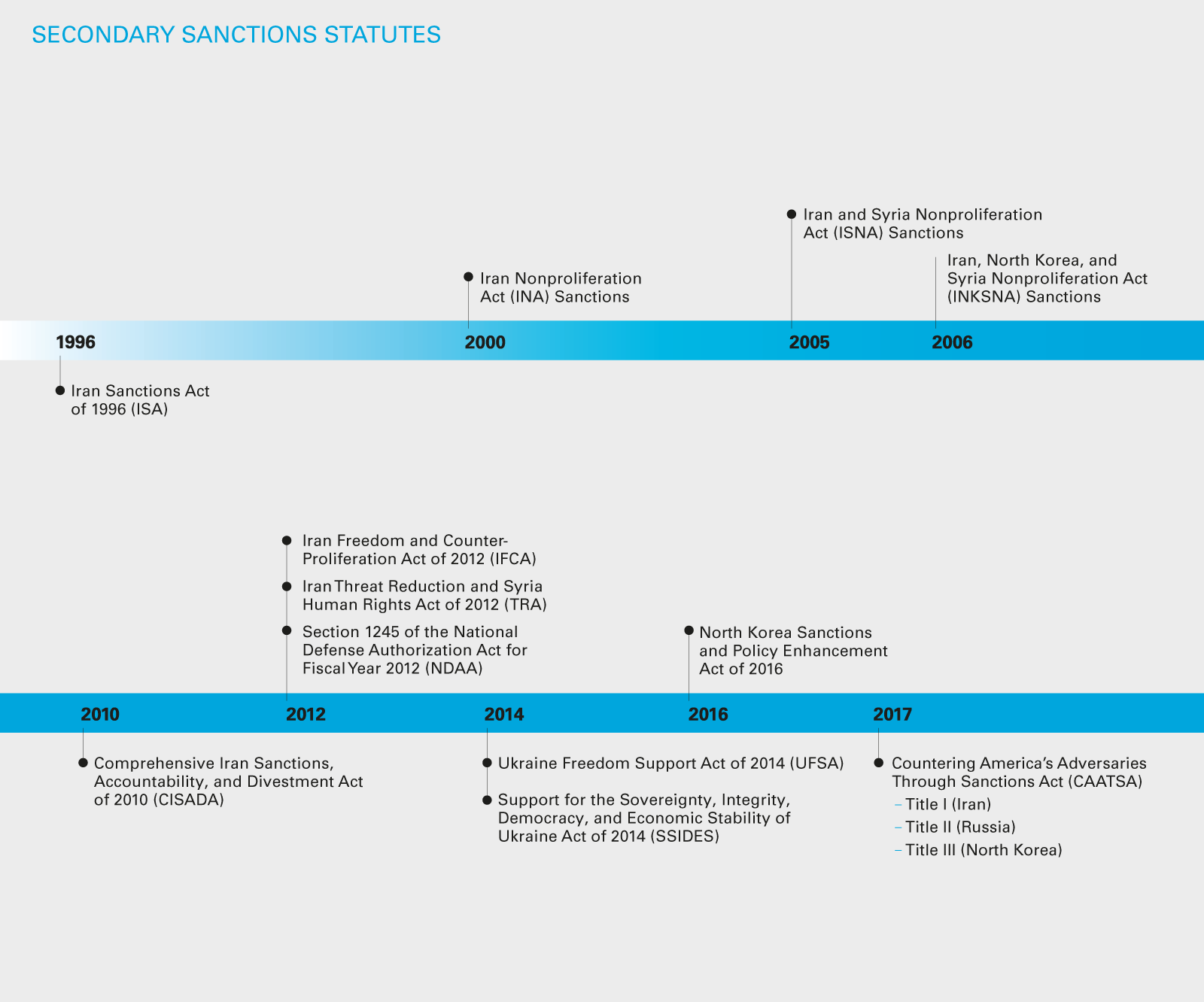 View full image
FULL MAGAZINE
Taiwan: Navigating regulatory and deal risks in a rapidly shifting landscape
This publication is provided for your convenience and does not constitute legal advice. This publication is protected by copyright.
© 2018 White & Case LLP