Global White Collar Crime Survey: Anti-bribery and corruption
Stay current on your favorite topics
48%
of respondents thought that those who pay bribes on behalf of a company could benefit personally
Almost half of respondents (48 percent) thought that people who pay bribes on behalf of a company could also benefit personally, reflecting a perception that there is a clear upside to paying bribes on behalf of a company—at the individual level as well as corporate.
Sixty-four percent of those respondents felt that the individuals concerned would be given special status following their success in bringing in contracts, and 60 percent thought that they would be promoted for meeting company targets. Other financial benefits, such as "earning more commission" or "bigger bonuses" and even receiving "kickbacks" themselves, also featured in the responses.
How should companies respond to these findings? What preventive, concrete, measures can be put in place to ensure that bribery will not be rewarded on an individual level? One option might be for more extensive analysis of how employees in higher-risk positions or jurisdictions meet their business targets and are measured or incentivized in terms of their performance. In parallel, when it comes to larger contracts (particularly with more red flags from an ABC perspective), companies might also consider adopting additional due diligence procedures before and/or after closing to ensure compliance with company anti-corruption policies and procedures.
Another option might be to adopt clawback provisions in company policies and/or in individual employment contracts to allow the company to recoup performance payments to employees if it is later determined that employees attained the requisite performance thresholds through improper means.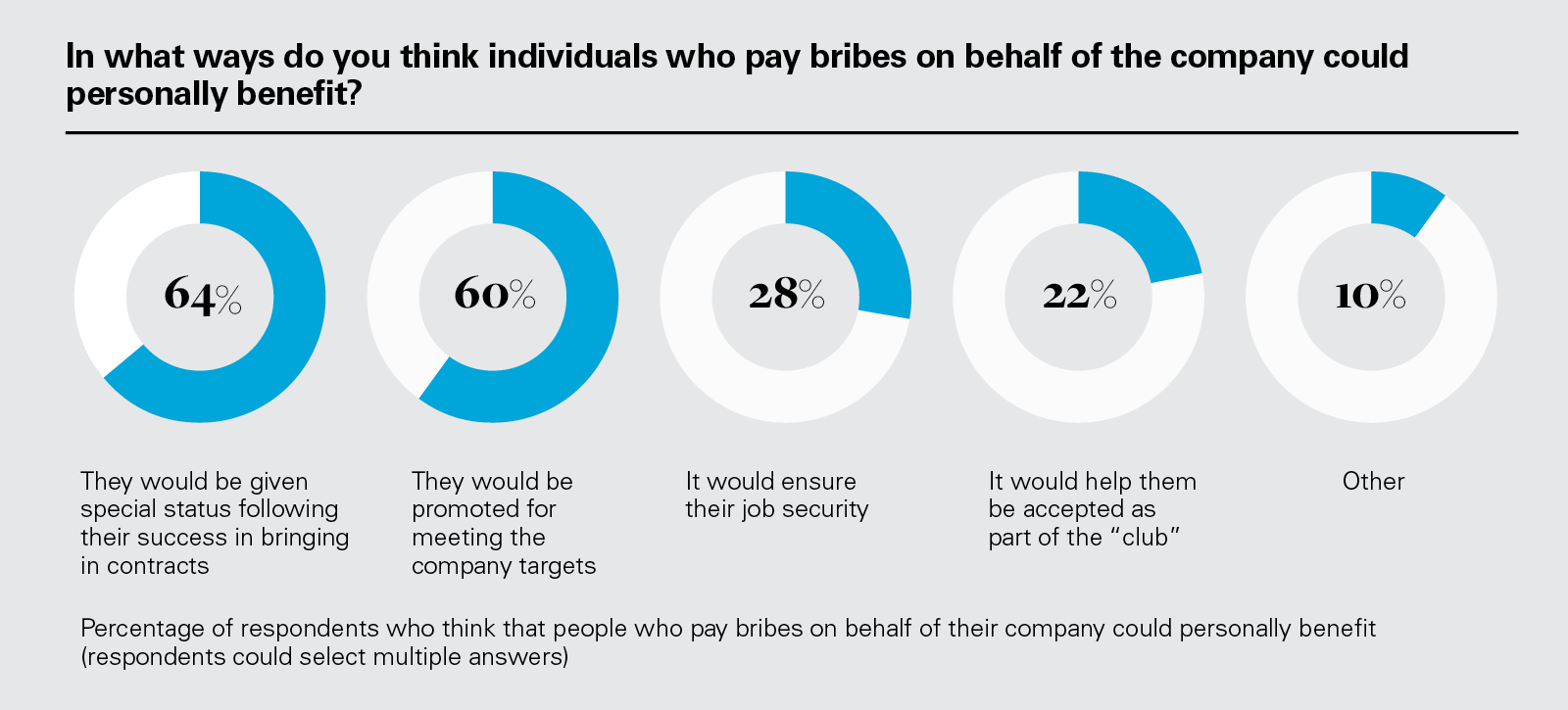 View full image
Taking a closer look at how employees in high-risk positions and jurisdictions are incentivized for their performance, conducting thorough due diligence before deal closing, and adopting clawback provisions can all go a long way towards discouraging a potential wrongdoing.
FULL REPORT
Global White Collar Crime Survey: Anti-bribery and corruption
This publication is provided for your convenience and does not constitute legal advice. This publication is protected by copyright.
© 2018 White & Case LLP