Global White Collar Crime Survey: Anti-bribery and corruption
88%
of respondents said they would be most inclined to raise the issue of a suspected bribe internally
The survey aimed to explore the types of reporting processes that are used when an employee suspects that bribery has occurred. Respondents in roles outside the legal or compliance function were asked whom they would notify in the first instance if they suspected a bribe had been paid by one of their co-workers, or had been paid or authorized by their direct manager.
Respondents indicated that if they, suspected a bribe had been paid by one of their co-workers, in the first instance they would be most inclined to raise the issue internally (88 percent) with their direct manager (33 percent) or both their manager and the compliance/legal function (24 percent), rather than externally. If the respondent's direct manager were implicated in the bribery, reporting would still remain internal (78 percent), but respondents were more likely to notify the compliance or legal department (39 percent) or senior management/the board (37 percent).
While the "tone from the top" is clearly important in terms of framing the ABC policies and culture within the organization, it can be convincingly argued that, in operationalizing these policies, it is the "tone from the middle" that is central to the ABC response. The relationships that employees have with their immediate managers are key to ABC. As direct managers are the first point of contact within the organization, these relationships are fundamental to engendering ethical working environments.
These responses also demonstrate that reporting of ABC issues is much more likely to be internal than external. This metric is a good indicator of functioning internal compliance systems—indeed, a preference for immediately notifying an enforcement authority would indicate a lack of trust or confidence in the internal reporting mechanisms. Six percent of respondents also indicated, however, that they would not notify anyone, so businesses should ensure that their employees are well trained on mechanisms to report suspected bribery as well as on any policies that require or at least encourage such reporting.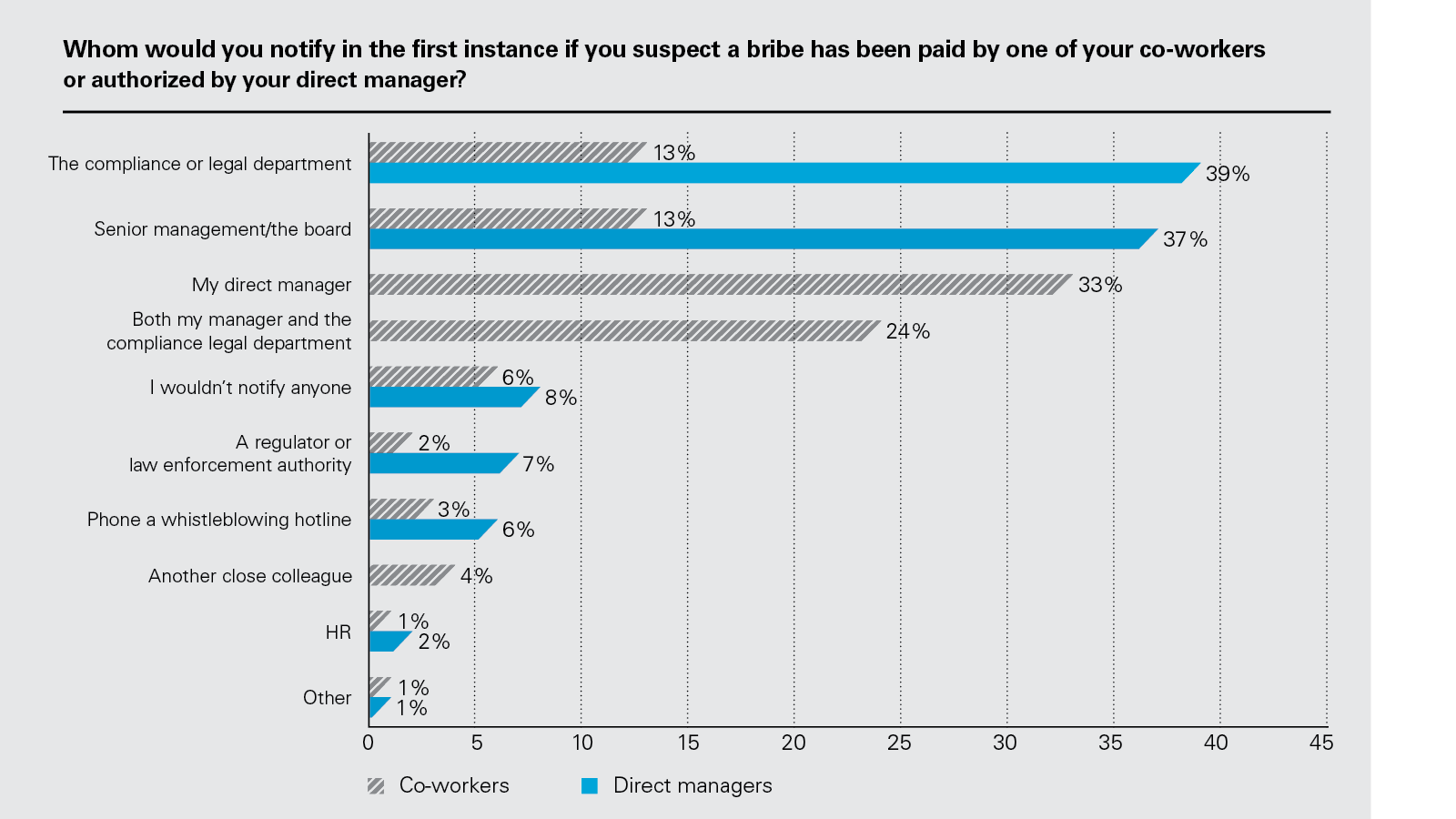 View full image
Internal reporting of ABC issues signals a well-functioning internal compliance system. But it is critical to ensure that management at all levels is trained to handle ABC issues and act appropriately with the information when such concerns are reported to them.
FULL REPORT
Global White Collar Crime Survey: Anti-bribery and corruption
This publication is provided for your convenience and does not constitute legal advice. This publication is protected by copyright.
© 2018 White & Case LLP