Global White Collar Crime Survey: Anti-bribery and corruption
39%
of respondents in non-legal/compliance roles thought it would be possible for someone in their role to offer a bribe to a public official for preferential treatment
As compliance gatekeepers, the legal/compliance professionals of any organization are generally perceived to be the ones who are most aware of whether opportunities for bribery exist, and how to eliminate them.
The survey results show, however, that in reality those who work outside of the legal/compliance department are the ones more likely to spot such opportunities. Thirty-nine percent of respondents in non-legal/compliance roles (i.e., sales, marketing, etc.) thought it would definitely or probably be possible for someone in their role to offer a bribe to a public official for preferential treatment. In contrast, only 25 percent of those in legal/ compliance roles believed that these employees would have such opportunities to offer a bribe.
Non-legal/compliance professionals therefore appear to be more aware of opportunities within their organization to bribe. This result is perhaps not entirely surprising. Legal and compliance professionals may be very familiar with the compliance structure within their company, but who is better to spot the gaps in that structure than those on the ground, who may face practical challenges on a regular basis?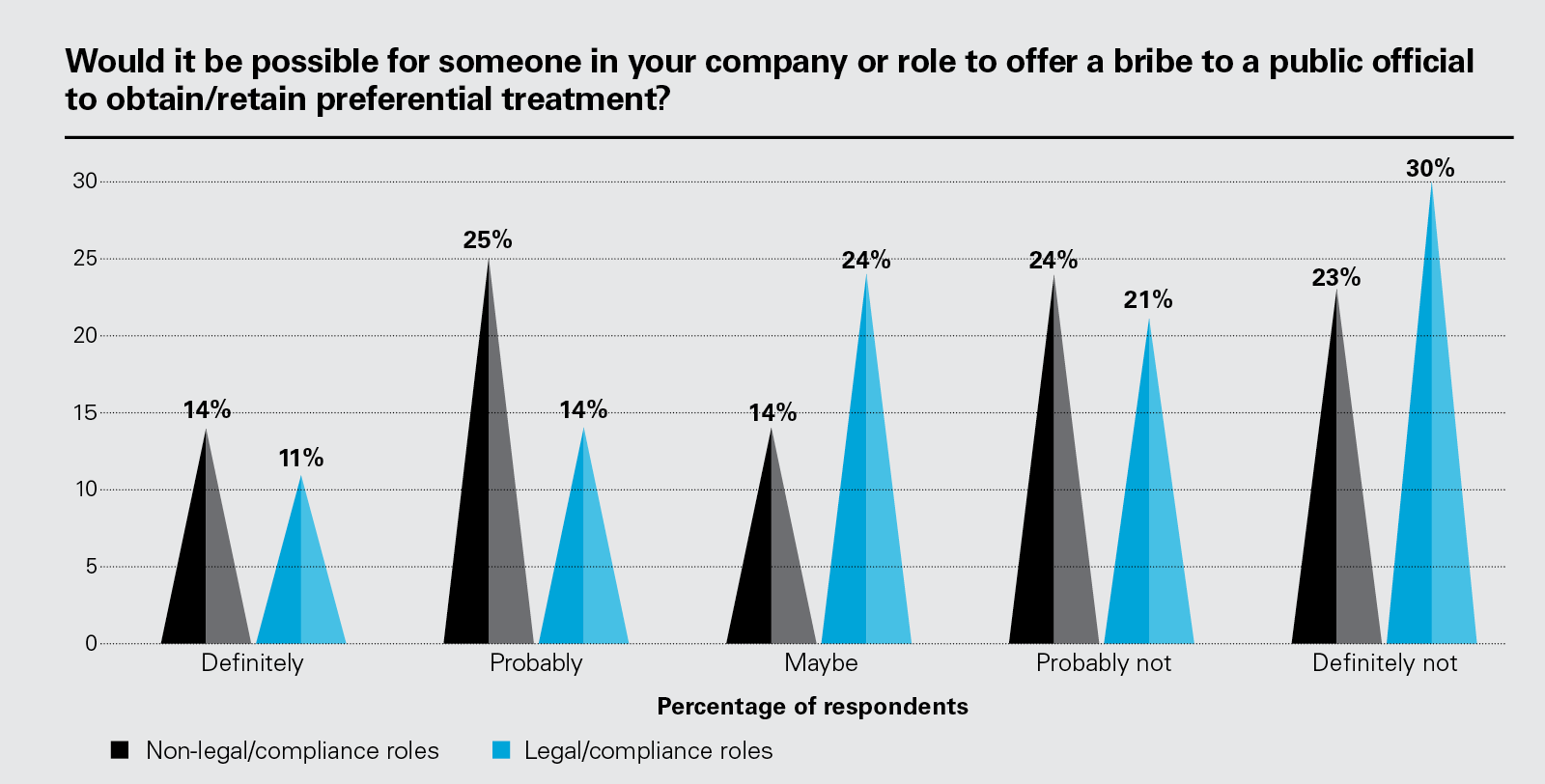 View full image
Customer-facing employees have direct access to knowledge that is outside the daily purview of the legal/compliance function, and as such could be an important source of information for companies when they consider how to enhance their ABC compliance programs. Organizations would do well to intentionally involve these employees as stakeholders in the compliance process and use their collective experience when creating, implementing, and stress-testing anti-bribery policies and procedures.
FULL REPORT
Global White Collar Crime Survey: Anti-bribery and corruption
This publication is provided for your convenience and does not constitute legal advice. This publication is protected by copyright.
© 2018 White & Case LLP