Working in the Philippines
In Manila we handle a substantial line-up of processes in office administration, compliance and new business, finance, technology, human resources, knowledge resources and marketing.
Since 2007, our team has steadily grown from an initial employee headcount of five people to its current staff of more than 400 people, making it one of White & Case's largest offices. In its first decade, our Global Operation Centre here has established a reputation for providing world-class business support.
We are committed to the continuous professional development of our team members, championing excellence in a dynamic, challenging and rewarding work environment. Our goal is to provide a learning and development path that is tailored toward each individual and leverages on their strengths. Learning track programs also give members of our team the chance to acquire new skills and knowledge.
The distinct culture of community and integrity at our Manila office is a key component in our ability to consistently deliver excellent service and innovative solutions. We value work-life balance and create avenues for empowerment through engagement activities and social responsibility initiatives.
Business areas
Our Human Resources Shared Services team is composed of high-performing, motivated and experienced HR advisors, providing consistent human resource solutions aligned with White & Case's global strategy. A large and diverse group, the Marketing Shared Services department works closely with our global network of lawyers and legal and business professionals to meet a rich variety of marketing needs, while our Administrative Shared Services team provides Office Operations services, collaborating closely with local office teams to create customized solutions.
Supporting our offices around the world, the Knowledge Shared Services department empowers legal and business services teams by capturing and sharing White & Case's collective knowledge and experience to deliver high quality client services. Our Global Technology Shared Services team plays an important role in keeping the extensive global network of White & Case running smoothly, delivering excellent service in various fields of expertise.
The Compliance and New Business team is tasked with safeguarding White & Case, investigating, analyzing and addressing ethical or business conflict issues and preventing any potential lawsuits. Integral in maintaining the stringent implementation of internal process controls, our Finance and Procurement Shared Services department handles aspects of White & Case's financial needs, including payroll and tax compliance services.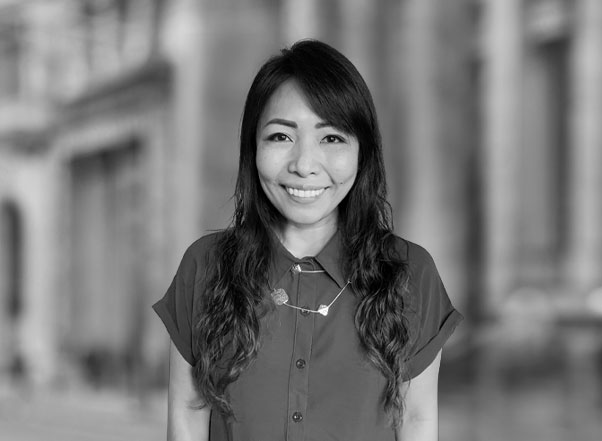 Working at White & Case has given me opportunities to team up with great minds around the world. The roles I've had were challenging but equally fulfilling because the people at the Firm are exceptional.
Mimcy Mejia
Senior Manager, Product & Support Services
Roles
Our Manila office provides integral business services support to White & Case's lawyers and legal support teams around the world. Due to the critical nature of our work, we are looking for intelligent candidates who possess a high level of proficiency in their respective expertise, as well as a collaborative and team-oriented mindset. Cognitive skills such as analytical thinking and attention to detail are essential to ensure that tasks are delivered accurately, efficiently and on time.
We embrace a culture of collaboration, developing strong working relationships across different teams and offices worldwide, and creating a dynamic and supportive work environment that allows our employees to reach their full potential.
Applying in the Philippines
Applying for any of the open positions in the Manila office can be done online where applicants can complete the forms and submit a copy of their most updated CV. The recruiting process is streamlined to ensure that each candidate's skills and experience are reviewed in a timely manner.
Successful applications can expect to be processed between two days and two weeks, depending on the position being applied for.
Our Manila office also accepts applications from the following channels: Jobstreet, Facebook, LinkedIn, recruitment agencies, speculative applications and White & Case employee referrals.
14.557710904124, 121.0254614
Top