Why join us
We are a truly global firm, with an international network that most firms can only dream of. It's the reason many of our global clients choose to work with us, and why they trust us with their most complex, cross-border work. As an associate, this means you will work on teams that span the entirety of a matter—not just the work of one jurisdiction—and experience the international nature of the work.
We are proud of our achievements—revenue of more than US$1.5 billion, three practices rated Band 1 in Chambers Global, top ranked for diversity and pro bono programmes—but we will not rest on our laurels. Last year, we launched an ambitious five-year growth strategy that will strengthen our position as a top-of-mind firm for global clients—and an employer of choice for top talent. The London office is a key pillar of that strategy, contributing to the global success, the London office revenues are more than £290 million.
This combination of strength and ambition means exciting career opportunities: more international—and more cutting-edge—work throughout your career, and experience that will benefit you wherever your career journey takes you.
Who we're looking for
There is no such thing as a typical White & Case lawyer. We don't have a template. We're proud that our people are from a wide variety of backgrounds. We attract people with a global mindset, who prioritise learning about different cultures, experiences, languages and viewpoints.
It goes without saying that we expect intelligence and academic excellence. But the way you think is crucial. You need to be able to analyse how the law works and be creative, yet pragmatic, in your interpretation of it. Our clients depend on our lawyers' ability to resolve a complex issue or structure an international transaction on their behalf.
We value collaboration and a team-oriented mindset. Clients and colleagues will depend on you to perform tasks accurately, efficiently and on time, and to work in teams to get the legal work done.
Our culture
We have a diverse, enriching and enjoyable work culture. Globally, our lawyers represent 90 nationalities and speak 80 languages, and in London we have 55 nationalities and speak 36 languages. This is vital to our ability to effectively represent our diverse clients throughout the world. We offer an open-door, collaborative culture that fosters strong internal working relationships across our offices worldwide. In London, we work with 22 offices across the Europe, Middle East and Africa (EMEA) region, which means White & Case has one of the most extensive international footprints compared to other UK firms.
By increasing the diversity of students and professionals at the Firm, we create a dynamic, supportive work environment and develop teams that provide the best solutions for our clients. Our clients appreciate our multijurisdictional agility and our proven ability to get things done strategically across borders.
We go a long way to attract talent and to make sure that our lawyers have a fulfilling personal and professional experience at the Firm. Our affinity groups and women's networks offer their members the opportunity to support and mentor each other and also focus on talent management. We benefit from a number of global and local diversity programmes that help the Firm consistently achieve top international rankings on diversity.
Diversity and Inclusion
Diversity is not a buzzword. It's about quality and excellence, now and in the future. We go a long way to attract diverse talent––both students and experienced lawyers. Our lawyers are active in a number of Firm-led and collaborative initiatives aimed at making a significant impact on diversity starting at school to university and law firms to NGOs.
And we are winning awards. Euromoney Legal Media Group has just honored White & Case nine times for the accomplishments of its women lawyers and the Firm's commitment to their success: seven times at the Euromoney Legal Media Group Europe Women in Business Law Awards in London, and twice at the Euromoney Legal Media Group Americas Women in Business Law Awards in New York.
In addition for the London office in 2017, White & Case Partner Joshua Siaw has been named, for the second consecutive year, as one of Britain's most influential people of African or African Caribbean heritage by the prestigious Powerlist 2017 publication, and Laura Hoyland was the awarded the Rising Star in the tax practice.
Global Citizenship
Through our Global Citizenship Initiative, you can feel proud of being part of a Firm that takes its responsibilities as a global citizen seriously, and by leveraging our unique global footprint and ability to collaborate across borders, does work that makes a tangible difference on a wide range of social and environmental issues.
You will have unparalleled opportunities to do cutting-edge pro bono work on the issues that matter most to you—both locally and cross-border, with many of the world's leading NGOs. The Firm expects every lawyer to work a minimum of 20 pro bono hours each year.
Many of our team building activities have a charitable or volunteer focus. In London, we support our Charity Partner KIDS, which is a leading children's disability charity, through focused fundraising, volunteering and pro bono assistance.
You will receive training in the emerging field of business and human rights when you first join us. We invite all interested lawyers to engage with this new initiative, which the IBA considers to touch every area of legal practice.
We invite you to read more in our Social Responsibility Review.
I am involved on complex and high profile deals with colleagues and clients from around the world. The support from my team has been excellent, and it's great to work with friendly and talented people.
Alexander Underwood
Associate, Capital Markets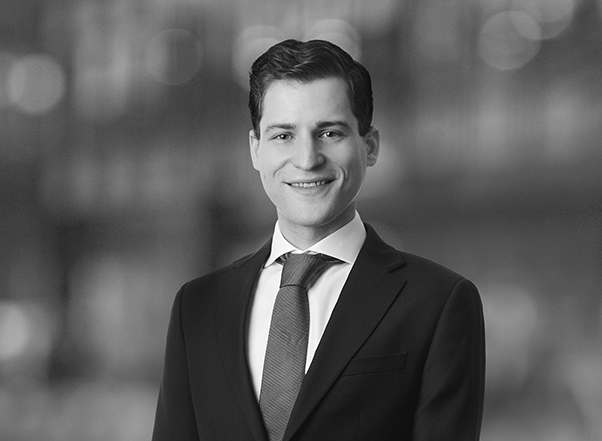 Roles
Some of our areas of practice include:
Arbitration
For our International Arbitration Practice Group, international arbitration isn't the occasional instruction: It's all we do. Our deep and varied practice sets us apart and affords our clients invaluable insight into winning strategies and arguments. Our team's collective experience brings with it unrivalled knowledge of arbitrators, institutions, expert witnesses and opposing counsel, which can make the difference in the outcome of a dispute.
Awards & Recognitions
For the third year in a row, White & Case has been ranked the top international arbitration practice in the world by Global Arbitration Review, as announced at an awards ceremony in Milan on March 29, 2017.
Asset Finance
We are a recognised leader and innovator in asset-based and structured financing transactions. Our team has been involved in every significant development in asset-based finance, including in the cross-border market, pioneering many of the tax, legal and financial structures used in countries around the world.
Bank Finance
A role in our banking finance team requires an ability to navigate the complexities of this constantly shifting and increasingly international market, while providing a local presence and deep insight for clients. Our lawyers understand intricate transactions on a global scale and apply their knowledge and experience to structuring innovative deals. We serve the needs of many of the largest banks in the United States, Latin America, Europe, the Middle East, Africa and Asia, and also have a significant practice advising sponsors and corporate borrowers.
Capital Markets
Members of our capital markets team are expected to navigate every complexity of evolving markets and products, providing efficient advice on any type of transaction. All our associates contribute to White & Case's reputation for giving groundbreaking capital markets advice in mature and growth markets and solid experience reaching across all the G20 countries.
Commercial Litigation
Employees in this role represent clients in all stages of domestic and international litigation. Members of our team regularly collaborate with lawyers and industry professionals, focusing on antitrust, international arbitration, intellectual property and environmental law, as well as our industry professionals.
Known for our strength in class action work, and an expertise in regulatory requirements, our litigators have represented clients before all types of trial, appellate, regulatory and alternative dispute resolution tribunals around the world.
Construction
We advise clients across the globe on all their construction-related legal needs, from the drafting of tender and project documentation to the resolution of disputes arising out of projects. Our diverse client base spans governments and states, energy and utility companies, lenders, developers and contractors, giving our lawyers the chance to apply their knowledge and experience in shifting commercial and legal landscapes.
Lawyers in this role prepare and negotiate commercially appropriate, special conditions for all major forms of construction contracts, as well as bespoke contracts and ancillary documents, including financial support arrangements, concession contracts, joint venture agreements, technology supply and license agreements, and operation and maintenance contracts.
Employment, Pensions and Benefits
We advise across the full spectrum of employment, compensation and benefits issues, including advisory and transactional, contentious and non-contentious. Responsibilities include advising on issues from executive compensation, employment, incentives, labour, employee relations, disputes, HR policies and privacy, to restructuring, pensions and immigration.
Financial Restructuring and Insolvency
Our practice represents clients in all aspects of restructurings, workouts and insolvency matters, including both transactional and litigation cases. Our lawyers regularly represent multinational corporations in simultaneous proceedings in virtually every corner of the world.
Intellectual Property
Leading pharmaceutical innovators, fast-growing Internet and other technology companies turn to us for their most important intellectual property (IP) and technology needs. London also boasts a Rising Star award winner from Law 360 in the Privacy and Data Protection practice.
M&A Corporate and Private Equity
M&A Corporate
Acquisitions, disposals and joint ventures have always been an important strategic option for corporations, financial institutions and private equity investors. Associates are expected to deliver an innovative, exemplary service, and build lasting relationships. Our team has been involved in a number of market "firsts", our knowledge and experience enabling us to devise creative deal structures, win auctions, design acquisition and disposal programmes and implement productive strategies for acquirers, sellers or acquisition targets.
M&A Private Equity
Experience, speed and the ability to innovate are essential skills for this role. From groundbreaking, monumental acquisitions to smaller strategic add-on deals, our private equity teams have implemented transactions with precision and care for established institutions, entrepreneurs and emerging visionaries alike, developing creative strategies to win auctions, mitigate risks and close deals quickly.
Awards & Recognitions
The M&A Advisor named the following White & Case lawyers as "Emerging Leaders—EMEA" for 2017:
Emma Parr (London) – Partner, Private Equity
Ian Wallace (London) – Partner, Financial Restructuring and Insolvency
The winners were chosen for their accomplishments as M&A, financing and turnaround professionals under the age of 40 working in Europe, the Middle East and Africa.
Project Finance
White & Case is the truly global law firm for project development and project finance transactions. Our lawyers possess the wherewithal, foresight, flexibility and experience to deliver results under the most challenging conditions, providing New York, English, Islamic and local law advice and insight into local markets.
Real Estate
Working in our real estate team means being part of an evolving global industry. You will need to adapt and respond to the diverse and ever-changing requirements of property investors and users to ensure White & Case remains at the forefront of this fast-developing practice area.
Tax
Members of our tax team possess strong national and cross-border experience, effectively and efficiently partnering with our clients to ensure tax efficiency, risk reduction, avoidance of tax controversy and the successful resolution of unavoidable dispute.
White Collar
Our team regularly handles a wide range of complex, high-stakes and multijurisdictional legal matters. We draw upon our deep bench of highly knowledgeable experts to provide comprehensive and cost-effective representation and advice to clients facing exposure to civil and criminal liability.
Support for your career
We know the importance of staying on top of legal developments and provide many opportunities to develop your skills through face-to-face, online and other courses. But being a good lawyer at White & Case is also about great client relationships, mentoring others and developing business, our professional development programme supports your technical and business development skills.
Professional development
We believe that professional development is an integral part of becoming a great lawyer, and offer globally available training programmes, supplemented by local practice specific and business skills training. Associates are also encouraged to take advantage of our unmatched global network of offices and secondment opportunities to gain insight into the international nature of our work.
From the start, you will be given real work with real deadlines for real clients. We are committed to training and providing development opportunities to help you grow as a lawyer. We encourage an entrepreneurial approach and involve our associates in direct client contact. The manner in which we staff our deals guarantees that you will have an international component to just about any assignment you are given, no matter which office you call home.
Training
Our customised training programmes are designed to offer you invaluable skills and knowledge of the best practices available. They are developed, refined and taught by our skilled partners and senior lawyers, our in-house professional development team and leading industry experts. Your course progress is monitored closely and, through normal sequencing, you'll meet your Continuing Legal Education requirements.
The Learning Forum
The Learning Forum is a centralised, global learning and development site that gives associates access to the Firm's network of training resources, and control over their professional development. Under The Learning Forum, associates have a variety of practice-specific and business-skills training opportunities at their fingertips, from online training sessions (live and recorded) to external resources available for their development.
Milestone programmes
Milestone programmes bring associates together at similar stages of their careers to receive training on topics that are appropriate for their career level. By bringing together participants from different offices, Milestone programmes also provide opportunities to network and create contacts with colleagues across the Firm.
Section-specific training
Sections offer training programmes that ensure associates continue to improve their legal knowledge, and acquire and develop new skills. The training curriculums are comprehensive, ensuring that associates are familiar with, and understand the foundations of, various legal mechanics and documents. Topical seminars are often given to address innovations and developments in specific practice areas.
Sample section-specific courses include: Analysing Financial Statements, Closing M&A Transactions, Confidentiality Agreements, Drafting Client Alerts, Prospectus Drafting, Interpretation of Contracts, Regulatory Issues in Finance Transactions, Acting for Second Lien Lenders, Security for Costs in International Arbitration, Cross Examination of Experts in Arbitration.
We also offer seminars on ethical issues.
New Associate Conference
Shortly after joining the Firm, new associates participate in a three-day conference in one of our EMEA locations. The conference aims to introduce new associates to the Firm, our culture and vision, and to provide ample opportunity for associates to meet their colleagues. Programming includes substantive training, team-building and social events. By the end of the conference, a new associate will be ready to start his/her career at the Firm.
Career guidance
Throughout your career, we provide formal and informal mentoring and support to guide you in every aspect of your career development.
Our professional development team, which includes former practicing lawyers, also supports your career at every level. The team looks at every associate in our EMEA offices to ensure each is getting the training they need. They ensure that challenging work is being appropriately allocated, and that everyone receives valuable career guidance. They're also there to listen to each associate's needs, suggestions and concerns.
Career Framework
The Firm has adopted a Career Framework. The aim of the Career Framework is to:
Provide you with an indication of the skills and behaviors expected of you and allow you to manage your own development
Outline what is required for you to be a successful lawyer by defining what high performance looks like at each career level, regardless of business section or practice group
The Career Framework is then supplemented with technical skills and competencies to provide detailed guidance on skills to be developed in particular practice areas. Together with the Career Framework, technical skills and competencies provides associates with a clear picture of what is expected of them at each level of practice.
Evaluation process
The evaluation process is a very important part of your career development. Our partners understand the importance of continuous feedback and will always try to sit down with you after each piece of work. You will also receive one formal evaluation per year. The reviews are based on the competencies outlined in the Career Framework. This gives you an opportunity to receive feedback on your work performance and set goals for the coming year.
Employee benefits
We offer a flexible portfolio of benefits, services and programmes designed to support you in your career goals and lifestyle requirements. Some of the benefits currently available include:
Private medical insurance
Group income protection insurance
Life assurance
Group personal pension plan
Childcare vouchers
Group critical illness insurance
Travel insurance
Retail vouchers
Dental coverage
Healthcare cash plan
Health account (which includes options for gym membership)
Give as you earn
Employee support service
Employee assistance programme
Private GP services
Cycle to work
Flexible holidays
Car leasing
Skin cancer screening
Health and well-being checks
How to apply in the United Kingdom
To search for a role at White & Case, please click on apply online and if suitable, submit your CV and cover letter via our careers portal.
White & Case United Kingdom
White & Case LLP
5 Old Broad Street
London EC2N 1DW
United Kingdom
T +44 20 7532 1000