If you would like to purchase a hard copy of The CPR Corporate Counsel Manual for Cross-Border Dispute Resolution: click here.


The International Institute for Conflict Prevention and Resolution (CPR), with the support of White & Case, released The CPR Corporate Counsel Manual for Cross-Border Dispute Resolution. Ank Santens, International Arbitration Partner at White & Case, Chair of CPR's Arbitration Committee and CPR Board member, and Carlos Hernandez, Executive VP, Chief Legal Officer and Secretary of Fluor, Inc. and Chair of CPR's Board, launched the Manual on the opening day of CPR's Annual Meeting in Coral Gables, Florida on March 2, 2017.
Edited by Ank Santens and Jennifer Glasser, Senior Associate at White & Case and Secretary of the CPR Arbitration Committee, the Manual provides guidance on how to draft and manage the dispute resolution methods that are most commonly used in international business transactions (negotiation, mediation, expert determination and dispute boards, and international commercial and investment arbitration). Ank and Jennifer also served as contributing authors, along with several other members of the Arbitration Committee.
The original inspiration came from a Dupont in-house guide on drafting international arbitration clauses that was shared with CPR. CPR's Arbitration Committee, comprising in-house and outside counsel and leading arbitrators and academics from around the world, expanded the scope of the project to planning for and managing any common form of alternative dispute resolution in cross-border transactions.
As Ank explained, "This manual is unique in that it provides both drafting and managing advice for the most common forms of ADR in international business. It contains content that I do not believe is offered in any other publication and is of real practical value to corporate counsel, such as investment treaty planning and drafting arbitration clauses in master agreements, to give only a few examples. We intended, and carefully crafted, it to be a true one-stop solution for in-house counsel. Given the breadth of the CPR Arbitration Committee's membership and the invaluable feedback from several in-house counsel, I believe we have succeeded. I am truly proud of the Committee's achievement and trust that the Manual will be a go-to resource for in-house counsel for many years to come."
"As the former General Counsel of MasterCard, I can particularly attest to the value this new resource will hold for in-house counsel working on international business matters," said Noah Hanft, CPR' s President & CEO. "It will serve as a critical reference tool for issues in-house counsel may encounter in their work."
"The CPR Corporate Counsel Manual for Cross-Border Dispute Resolution is an outstanding resource for any in-house counsel responsible for international dispute resolution issues," said Kelly Tullier, EVP and General Counsel of Visa Inc. "The Manual provides valuable insights and guidance for all types and phases of alternative dispute resolution, enabling in-house counsel to more effectively manage and resolve their company's international disputes. I highly recommend it."
"This Manual is excellent," said Peter A. Drucker, Director, Global Litigation of AkzoNobel Legal Group, based in Amsterdam. "If you are responsible for ensuring that your company or client handles international disputes effectively, then you must have a copy. You will consult it regularly."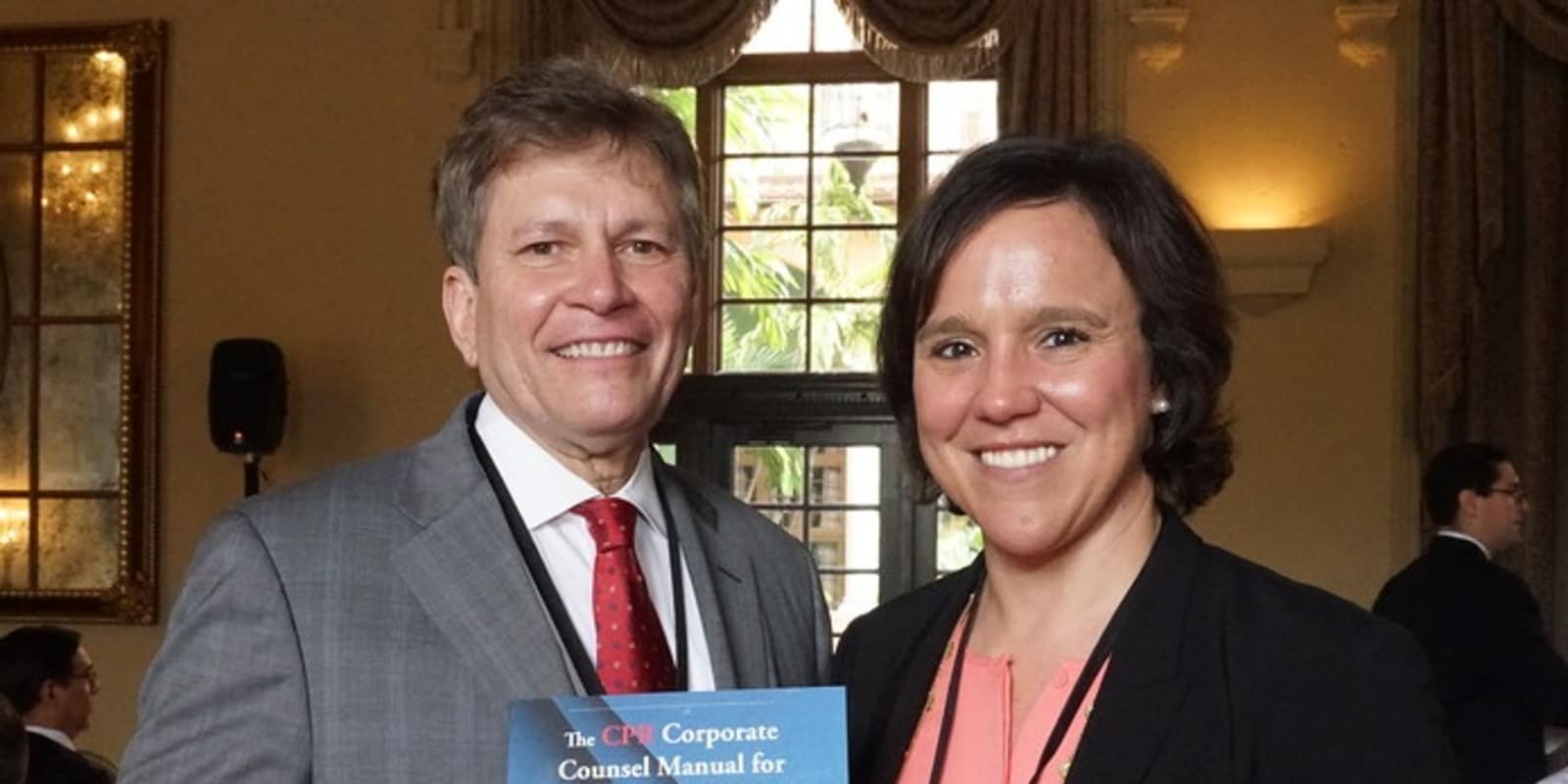 Carlos Hernandez of Fluor, Inc. and Ank Santens of White & Case at the launch of The CPR Corporate Counsel Manual for Cross-Border Dispute Resolution.
This publication is provided for your convenience and does not constitute legal advice. This publication is protected by copyright.