White & Case Technology Newsflash
Since the U.S. Congress began implementing reforms to the patent system, states too have been considering measures to protect their residents and business from abusive patent litigation. While the federal government has exclusive jurisdiction over patent law, it has never passed any federal laws regulating bad faith patent assertions.[1] Thus, states have begun to rely on their powers to enact consumer protection laws and regulate unfair trade practices to address this issue.[2] Since Vermont passed a statute in 2013, making it a crime under state laws to assert patent infringement in bad faith, a total of 27 states, including Texas, have followed suit.[3] Texas passed a law, effective September 1, 2015, prohibiting sending demand letters that allege a claim of patent infringement in bad faith.[4]
Background
These new state laws target the practice of sending vague and deceptive demand letters to coerce inexperienced parties into paying licensing fees. For example, Innovatio IP Ventures, LLC sent over 13,000 letters to end-users, including small businesses and restaurants, demanding payment for providing Wi-Fi.[5] These demand letters threatened that unless the recipient pays licensing fees within two weeks, the recipient will be sued and will have to engage in costly litigation.[6] Another patent assertion entity, MPHJ Technology Investments, LLC, sent over 16,000 letters to small businesses nationwide, demanding payment for using the basic technology of scanning documents to email.[7] In their demand letters, MPHJ misleadingly informed the recipients that "most businesses, upon being informed that they are infringing . . . are interested in operating lawfully and taking a license promptly."[8] Because consumers and small businesses lack the expertise to recognize these demand letters as empty threats, they pay the licensing fees to avoid incurring the high cost of patent litigation.[9]
With no new federal laws, states have stepped into this vacuum, taking a variety of approaches to address this issue.[10] Among the popular forums for patent litigation, some have done nothing: states like Delaware have neither enacted nor introduced any bills addressing this issue.[11] Another popular forum, California, introduced a bill regulating bad faith patent claims, but the bill has stalled.[12] California instead passed a resolution urging the President and Congress to craft a balanced and workable approach to reduce incentives for, and minimize, unnecessary patent litigation.[13] As shown below, a total of 27 states have passed legislation to protect individuals and businesses from bad faith patent assertions.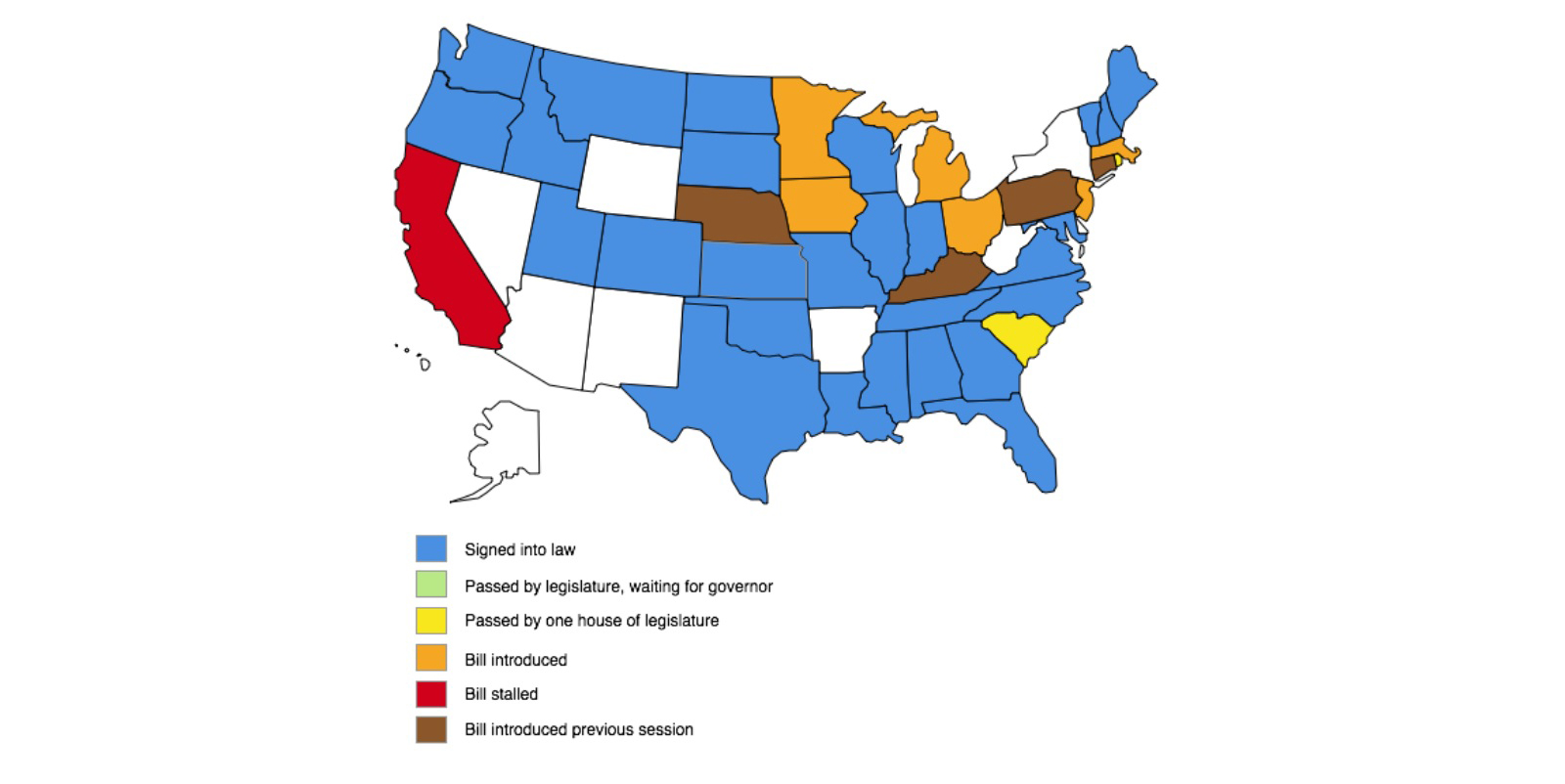 View full image [14]
These state laws vary in scope:
Some states require a person to post bond if the opposing party shows a reasonable likelihood that it is a bad faith assertion of patent infringement.[15]
Some states create private causes of actions, allowing the recipients of demand letters to seek equitable relief, costs and fees, and damages.[16] Other states allow only the state attorney general to bring suits for bad faith patent assertions.[17]
Some states provide specific examples of what constitutes bad faith claims.[18] Other states list various factors a court may take into account in determining whether a claim is made in bad faith.[19]
Texas SB 1457
Given the significance of the Eastern District of Texas to patent litigation, any developments in Texas are likely to have a significant effect on patent litigation, both in that district and on the country as a whole.[20] Recently, Texas joined the group of states that provide a state cause of action for bad faith claim of patent infringement. Texas SB 1457, which was enacted as §§17.951 to 17.955 of Texas Business and Commerce Code, became effective on September 1, 2015.[21] The goal is to protect consumers located or doing business in Texas from vague and deceptive demand letters asserting patent infringement.[22]
The statute defines bad faith claims of patent infringement to include communications that:
Falsely state that the sender has filed a lawsuit in connection with the claim;
Make a claim that is objectively baseless; and
Are likely to materially mislead a recipient because of the communications.[23]
The statute further states a claim is objectively baseless when the sender, or the person represented by the sender, lacks current patent licensing or enforcement rights, the patent at issue has been held invalid or unenforceable, or when all of the allegedly infringing activity occurred after the patent at issue expired.[24] Additionally, a demand letter is materially misleading when it lacks material information regarding who is asserting the claim, the patent allegedly infringed and the product, service or technology that is allegedly infringing the patent.[25]
The statute allows the Texas Attorney General—and only the Attorney General—to bring an action on behalf of the state seeking civil penalty for bad faith patent assertions.[26] Penalties include injunctions and up to US $50,000 for each violation, as well as reimbursement for the cost of investigation and prosecution.[27] While the statute provides no private cause of action, the Attorney General can seek restitution for a victim's legal and professional expenses related to the bad faith infringement claim.[28]
Implications
The Texas Attorney General has not yet announced how the office intends to implement this statute, nor does the statute currently specify any mechanism for individuals to bring violations to the Attorney General's attention. Thus, the next step would be to create a mechanism, such as an online complaint system, for individuals to petition the Attorney General to begin an investigation.
So far, the Attorney General has not publicly announced any investigation or brought any action against any persons or entities. But even so, the fact that the state now has the ability to punish abusive pre-suit tactics could help defendants in settlement negotiations with patent assertion entities. Defendants can leverage the threat of an investigation to lower settlement amounts and to dismiss meritless suits. Since a bad faith claim explicitly includes communications that lack material information, this statute may reduce the likelihood of a finding of willful infringement in situations where the demand letter is vague and uninformative, or reduce the period of time the defendant was on notice for indirect infringement claims. Further, in light of Supreme Court's decision in Octane Fitness and Highmark, courts may consider whether a plaintiff is making bad faith patent assertions in deciding that a case is "exceptional" and warrants awarding attorneys' fees.[29] Moreover, the threat of an investigation by the Attorney General alone may dissuade patent assertion entities from engaging in the patent assertions campaigns, such as those of Innovatio and MPHJ.
With Texas, the most popular forum for patent litigation, taking steps to prevent bad faith patent assertions, more states are likely to follow suit. While these state statutes are largely untested in litigation, this is likely to change as more states offer these state protections to end-users and businesses in their jurisdiction. Until Congress passes legislation to address abusive litigation tactics and clearly preempts state regulation in this area, this trend of states expanding consumer protection and unfair trade practice laws to protect end-users and businesses from bad faith claims of patent infringement will likely continue.
[1] - Const. Art. 1, § 8, c. 8.
[2] - See, e.g., Flor. HB 439 (amending Florida's consumer protection laws to include a Patent Troll Prevention Act); see also Ill. SB 3405 (amending Illinois' Consumer Fraud and Deceptive Business Practices Act to include bad faith patent assertions).
[3] - Vt. Stat. Ann. Tit. 9, §§ 4195-99 (2015); Patent Progress's Guide to State Patent Legislation, Patent Progress (Oct. 29, 2015), patentprogress.org/patent-progress-legislation-guides/patent-progresss-guide-state-patent-legislation.
[4] - Tex. Bus. & Com. Code Ann. §§ 17.951-17.955 (West 2015).
[5] - Colleen Chien & Edward Reines, Why Technology Customers Are Being Sued En Masse for Patent Infringement and What Can Be Done, 49 Wake Forest L. Rev. 235, 252 (2014).
[6] - Abusive Patent Litigation: The Impact on American Innovation and Jobs, and Potential Solutions: Hearing Before the Subcomm. on Courts, Intellectual Prop. & the Internet of the Comm. on the Judiciary H.R., 113th Cong. 10 (2013) (testimony of Mark Chandler, Senior Vice President and General Counsel, Cisco Systems, Inc.).
[7] - Complaint for Permanent Injunction and Other Equitable Relief at 6-8, MPHJ Tech. Investments, LLC v. F.T.C., No. W-14-CV-011, 2014 WL 10222410 (W.D. Tex. Sept. 16, 2014).
[8] - Id. at 8.
[9] - Update: Patent Demand Letter Practices and Solutions: Hearing Before the Subcomm. on Commerce, Mfg., and Trade, 114th Cong. 4-6 (2015) (testimony of Vera Ranieri, Staff Attorney, Electronic Frontier Foundation).
[10] - There are several proposed bills before the Congress addressing this issue of bad faith patent assertions. These bills include the Targeting Rogue and Opaque Letters Act of 2015 (TROL), the Demand Letter Transparency Act of 2015 (DLTA), the Innovation Act, the PATENT Act, and the STRONG Patents Act of 2015 (STRONG Act). TROL, DLTA and STRONG Act are currently still in committee. The House Judiciary Committee approved and sent the Innovation Act to the full House of Representatives, which has yet to take action on it. The Senate Judiciary Committee also approved and sent the PATENT Act to the full Senate, which also has yet to act on it.
[11] - Patent Progress's Guide to State Patent Legislation, supra note 3.
[12] - California Senate Bill 681, which has a similar scope as Texas SB 1457, was introduced on Feb. 27, 2015. On June 29, 2015, the text was replaced instead with a bill dealing with public utilities.
[13] - Assemb. J, Res. 9, Cal. Leg. 2015-2016 Reg. Sess. (Cal. 2015).
[14] - Patent Progress's Guide to State Patent Legislation, supra note 3.
[15] - See, e.g., Ala. Code § 8-12A-1 (2015); Ga. Code Ann. § 8-12A-1 (2015).
[16] - See, e.g., Fla. Stat. § 501.995 (2015); Vt. Stat. Ann. Tit. 9, § 4199(b).
[17] - See, e.g., H. Comm. Rep., S.B. 1457, 84th Leg. (Tex. 2015).
[18] - See. e.g., Tex. Bus. & Com. Code Ann. § 17.952
[19] - See, e.g., Fla. Stat. § 501.993 (2015);
[20] - The Eastern District of Texas leads the country in the number of patent cases filed in federal district court.
[21] - Id.
[22] - H. Comm. Rep., S.B. 1457, 84th Leg. (Tex. 2015); Tex. Bus. & Com. Code Ann. § 17.951 (West 2015).
[23] - Tex. Bus. & Com. Code Ann. § 17.952.
[24] - Id.
[25] - Id.
[26] - Tex. Bus. & Com. Code Ann. § 17.953.
[27] - Id.
[28] - Id.
[29] - Octane Fitness, LLC v. Icon Health & Fitness, Inc., 134 S. Ct. 1749 (2014) ("District courts may determine whether a case is 'exceptional' in the case-by-case exercise of their discretion. . . . [A] case presenting either subjective bad faith or exceptionally meritless claims may sufficiently set itself apart from mine-run cases to warrant a fee award."); Highmark Inc. v. Allcare Mgmt. Sys., Inc., 134 S. Ct. 1744 (2014) ("Because § 285 commits the determination whether a case is "exceptional" to the discretion of the district court, that decision is to be reviewed on appeal for abuse of discretion.").
This publication is provided for your convenience and does not constitute legal advice. This publication is protected by copyright.
© 2016 White & Case LLP